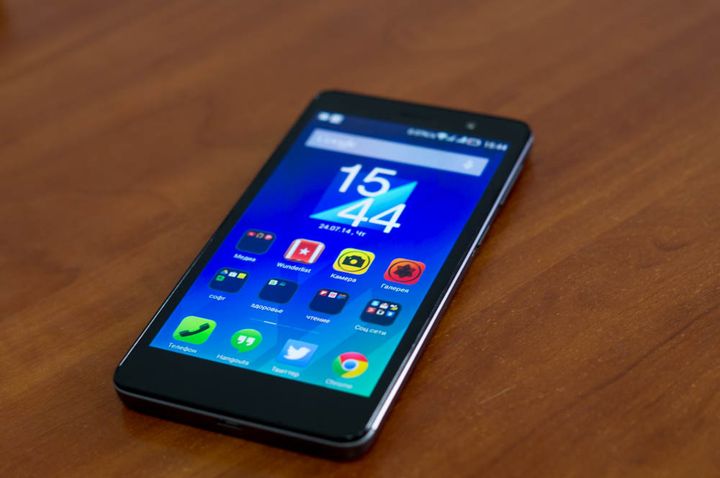 Support for two SIM-cards, large screen, excellent performance, a huge 4000 mAh battery capacity and all this in a solid metal case. Meet smart phone Lenovo S860.
Appearance Lenovo S860
Lenovo is positioning this model as an excellent solution for business users, and it is difficult not to agree with her. Exterior view of the smartphone can be described in three words – a solid, rigorous and accurate. Indeed, pleases the eye no official inscriptions, bulging elements and logo on the front.
The back panel is made of brushed metal and titanium color, which looks and feels quite nice. Panel on each side has a rounded for a comfortable grip device. Located behind the logo of the manufacturer, and above it the flash and camera lens 8 MP in a metal frame.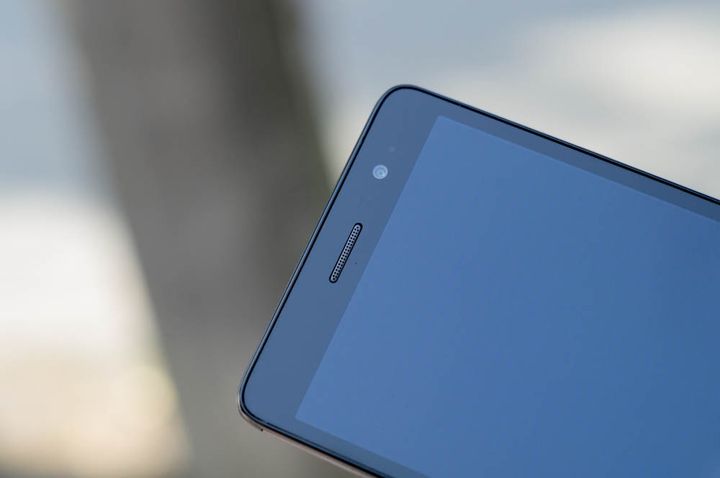 The front panel is even more ascetic and even more boring, all of its area is covered with protective glass. Located on top of the earpiece, and next to it a front 1.6 megapixel camera and proximity sensors and light. The main part of the front panel there is a HD-display with a diagonal of 5.3 ', and beneath it are three touch-sensitive navigation buttons – "Menu", "Home" and "Back". The location of the first I did not like, because of the size of the device (149.5 x 77 x 10.3 mm) to reach it is not very convenient, the situation aggravated by the fact that it is in addition to the menu, and is responsible for the multitasking bar.
Connector for two SIM-cards is on the left hand, with the right to place the lock button and volume control rocker key, she, by the way, is also able to turn on the device's screen, the button layout is successful, both are close by, so they do not need to pull, but this chance to confuse them by clicking the small blind.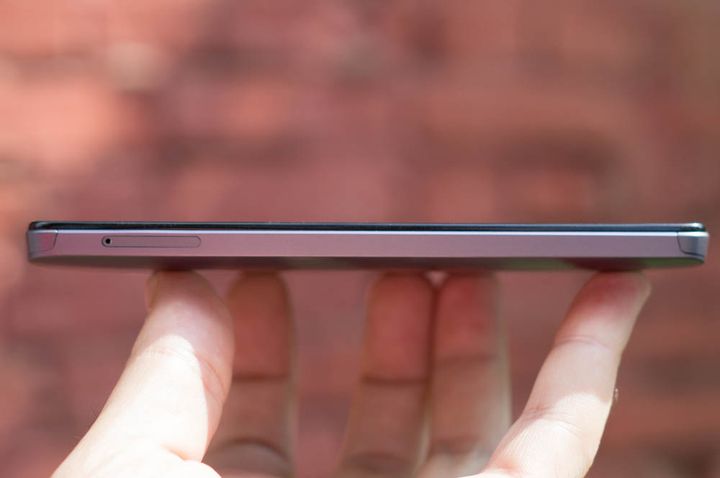 At the top is the headphone jack and an auxiliary microphone for noise cancellation. Bottom center – microUSB-socket on each side surround speaker and microphone Elementary.
Telephone nicely in the hand, it gives the impression of a powerful, reliable and robust system, it also contributes to weight smartphone – 190 grams. Low-key, but at the same time rigorous and solid appearance will be a great addition to the image of business people. Assembling a good, dense, but when pressed in certain places the internal parts of a little rattle.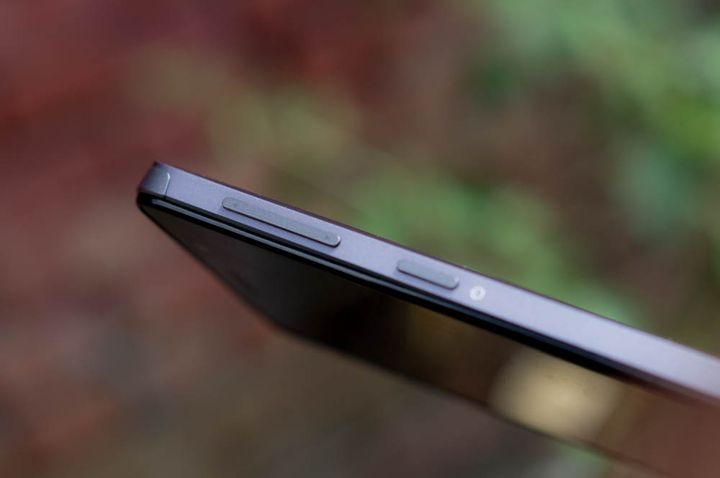 Display Lenovo S860 is not quite the standard for smartphones diagonal 5.3 'and a resolution of 1280×720 (277 ppi). Screen size is very well borders between the categories of conventional smartphones and fabletov watching content on S860 is quite comfortable, but it is its size allows you to easily put the device in his pocket. Despite the fact that the number of pixels per inch mark does not exceed a magic 300 ppi, the screen image pleasing to the eye, clear fonts so that read on this device without problems. Color rendering is not perfect, the picture slightly oversaturated, but not so much that it caught the eye, so this feature can not be considered a drawback. White and black colors are natural, this is no problem. Supply of brightness is not very big when wriggle regulator to maximum, we would like to see a more vivid picture. The viewing angles are not the best, a small deviation colors begin to invert slightly, and with a strong leave in a warm tone and shows "rainbow effect".
Most did not like the oleophobic coating, screen Lenovo S860 pretty quickly covered with fingerprints and greasy spots.
Sound – Lenovo S860
Speaker in this model one and it is located on the bottom panel of the right of the microUSB-socket. In portrait orientation, this arrangement looks very well, since you will not cover his little finger, but in the landscape can be smothered speaker depending on the location of your fingers. The quality of the sound from the speaker is decent, it's pretty loud, call the bag you just hear. When listening to it no claims have arisen, balanced speaker, but no more, at maximum volume a little lost detail.
Included with your smartphone, you'll also find the headset. It sounds high quality, good bass, but at high detail is also lacking. There are claims to the headphone assembly – for some reason the right earpiece several times divided into two parts. If you twist them back, then it works fine, but such a "herd" is not valid, as for me. The quality of the earpiece is great, the sound is clear and crisp.
Performance Lenovo S860
Lenovo S860 runs on a quad-core processor with MediaTek MT6582 1.3GHz, built-in memory device 2 GB. In the synthetic tests S860 quite impressive results at the level of Samsung Galaxy S3, but the real tests all a little differently. Standard launcher is slow and sometimes intermittent animation, but it is a problem of the launcher and the problem is easily solved by installing the same Nova. The record of the shell works quite quickly, occasionally allowing himself a small inhibition. In the browser, there are no problems, the approach and scrolling is smooth and fast.
High performance in games, Dead Trigger 2 for some reason initially is at minimum graphics settings and works in them fine, if you switch to high, it is sometimes possible to observe the loss of personnel. In Asphalt 8 default to medium graphics settings and with them the device works flawlessly. Only in Real Racing 3 managed to get a smartphone occasionally drop frames. Worth to note that the device even in the long run is not heated. Built-in 2 GB of RAM with his head enough for everyday tasks, the device the power even to keep in mind two heavy games, a couple of tabs in Chrome and several open simple programs.
Autonomy Lenovo S860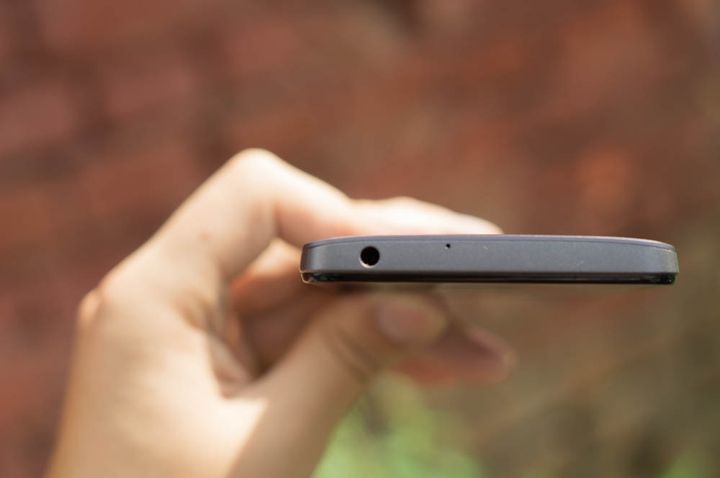 The phone runs on the order of more than most smartphones. The formula for success is quite simple – neflagmanskie characteristics, economical processor, a good optimization and huge battery capacity – 4000 mAh. With this smartphone battery can work for about 2-3 days at normal load. If you use the built-in power-saving modes, it is possible to achieve a running time of about 5 days. When playing mkv HD-video device will last 14 hours and 30 minutes, and HD in the container mp4 – about 10 hours. In S860, there are two modes of energy consumption – and cost extra. The first disables wireless communications, but all the extra chops off, leaving you with only 4 applications – phone, contacts, SMS, and the clock.
Camera – Lenovo S860
On the rear panel is 8 megapixel camera with flash. Immediately it can be noted that the camera is not an advantage of this machine. In good light out good pictures, but their detail is often poor. Macro go a bit featureless and night shooting suffers due to the large amount of noise and the high risk of grease photos, but when you consider the direction of the smartphone on the business segment of users, it is likely that in their gallery will not accumulate dozens of landscapes and working documentation, so the need for a high-quality camera in this device, in my opinion, not so great.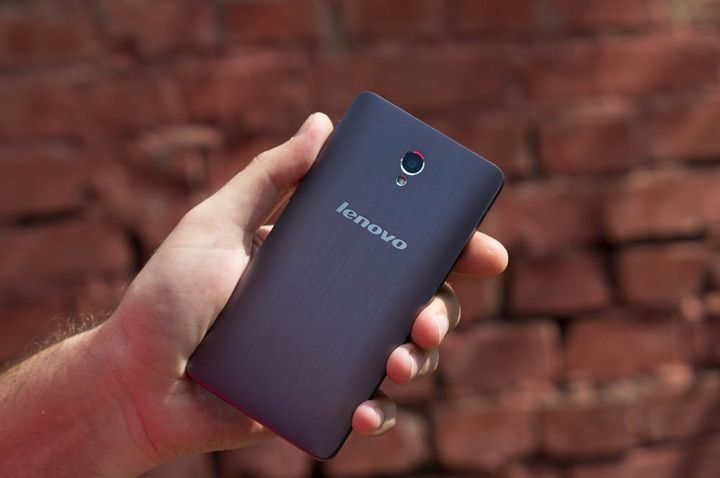 Front 1.6 MP sensor will please its good color, and despite the fact that the resolution of the camera is not very big, the pictures are relatively good.
Standard camera app has a very good functionality, in addition to all the usual modes, you can find one very pretty curious called "exposure bracketing", the gist of it is very simple – the camera takes three shots at different exposures, and then you choose the one you like . Of the advantages of the application you want to call the ability to manually configure the settings of the image, and also to include the level of the horizon, though it is displayed incorrectly due to the fact that shot down the accelerometer. Recommend checking out his work with the purchase.
Soft – Lenovo S860
The device works on the current version of Android 4.4.2, on top of it installed a proprietary shell Lenovo. It features a large number of settings and different parameters. Let's start with the fact that here there is an opportunity to change the interface of the plurality of elements of the system, a simple change in the launcher icon Lenovo is not limited, you can change the appearance of the dialer, boot animation, interface switches and even the lock screen. Some of the topics are quite pretty.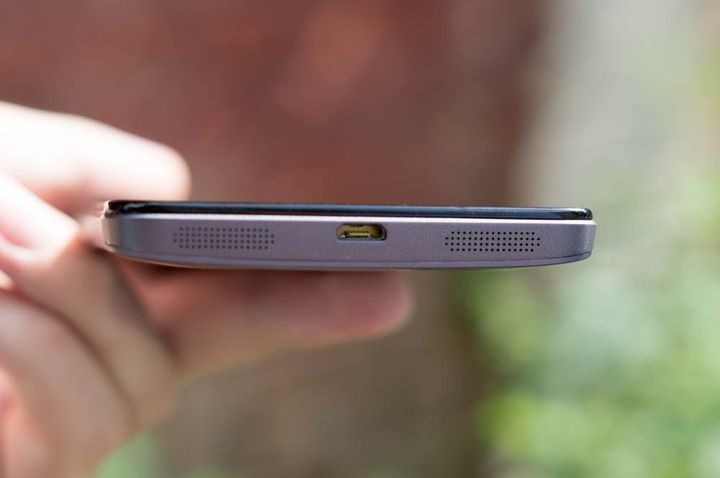 Notification Center, which is done by opening it, you will see a set of five switches, you can significantly extend pulling the curtain around. Without various bloatware in S860 has not been, at the opening of the CO you will "rejoice" corporate antivirus and cleaner Lenovo, can not delete it, except that it is possible to opt out of notifications from him, lest he CORN your eyes its permanent presence. Of really useful applications have a standard data logger, which will create a backup of your contacts, SMS, call log, and load them into your cloud. A few words I want to say that Lenovo has installed this unit different application on many occasions, there is also a driving mode and FM-radio, even a compass there, though I do not remember, that I have ever used in smartphones. Certainly could not have done without pre-installed apps from other developers, they are quite a lot.
Settings smartphone users will enjoy an abundance of great options. Lenovo has thought of a variety of life situations and tried to improve them. For example, here implemented analogues chips from Samsung with a clever anticipation and turning, which are tied to the fact that the device analyzes the position of your eyes and does not grow dim the screen and turn respectively. Also encouraging small convenience type transfer sound from the headset to the earpiece during a call, when you hold the phone to your ear with headphones connected. In the bag, by the way, the proximity sensor will not allow yourself unlocked smartphone, preventing accidental key presses. In general, the shell has lots of functionality, and also boasts the ability to fine-tune for themselves.
Conclusions – Lenovo S860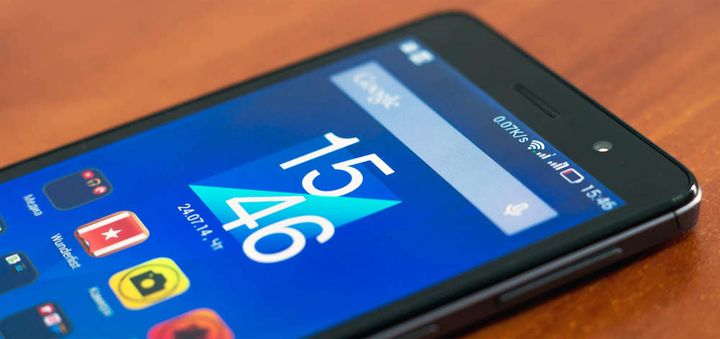 Lenovo S860 smartphone has turned out quite balanced, which can be safely recommend the business segment of users. Two sim card, 4000 mAh battery and strong metal case, in my opinion, excellent components companion for business people. Do not miss a large and high-quality HD-screen, as well as quite a powerful processor in a company with 2 GB of RAM. Oh, and of course Android 4.4.2 with a functional, but with the "Chinese" design and occasionally "podlagivaet" shell. It is so much good fit in this smartphone, which turned out quite dimensional. This is a great workhorse that easily if necessary turn into an entertainment device, because it has to it has everything you need – a quality big screen, good sound and a large battery capacity.
Read another very interesting article about alternative energy of the Sun, water and air.