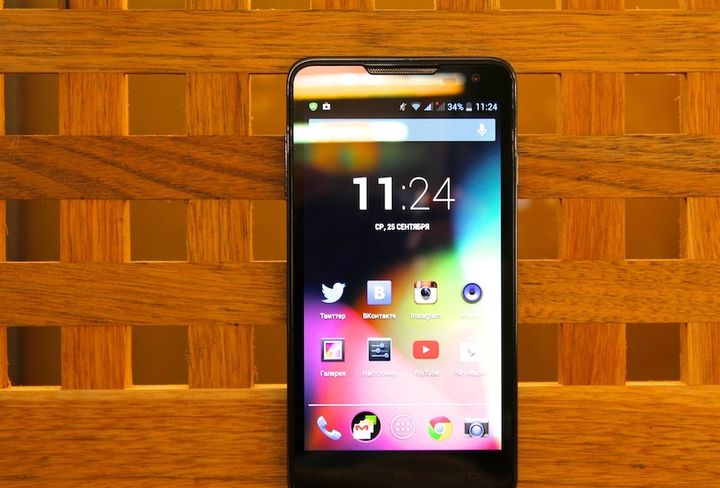 More and more, I notice people dvuhsimniki. It is really convenient for those who have a "home" and "working" mobile. There is also a proportion of such users who do not want to switch to another operator of 3G/4G ( especially true in Ukraine), because the change rooms – is simply not an option. Personally, I have recently changed phone number in school, and I already had two times to finish university. And my number is in so many people that I physically can not communicate all that I had changed. The connection through the Edge is not that sad, it is unrealistic to failure. A quick hunt Internetikom so use it!
And there are thoughts of dual sim. This is quite convenient. After all, for people with a bunch of phones dvuhsimnik free pockets and adds comfort. And for fans of Internets poserfit is the solution change the number . But that's another issue – the price ! After eminent brands are asked for their devices very considerable sums. In such cases, people often turn to less -promoted brands. One of these fast-growing competitors and have the brand Prestigio, which is at a breakneck pace begins to gain an audience interested . Today I 'll show you another product from the line Multiphone – PAP 5044, and , looking ahead , I will say that I did not expect this. Sit back !
Design, buttons, display …
To begin with, it's not a small smartphone . This 5 inch framed in plastic. Use one hand , of course , possible, but uncomfortable. And I do not find fault with this particular model, it is a problem for all large devices. But there is a well- assembled unit. Large Soup, especially in the plastic, often crunchy, but not our guest today. Even with twisting crunch is almost inaudible. With dimensions of 145 x 73 x 8.6 Weight 130 grams device has turned out , and this is one of the lightest in the category pyatidyuymovok. But hand leaves a pleasant sensation, wherein all the parameters.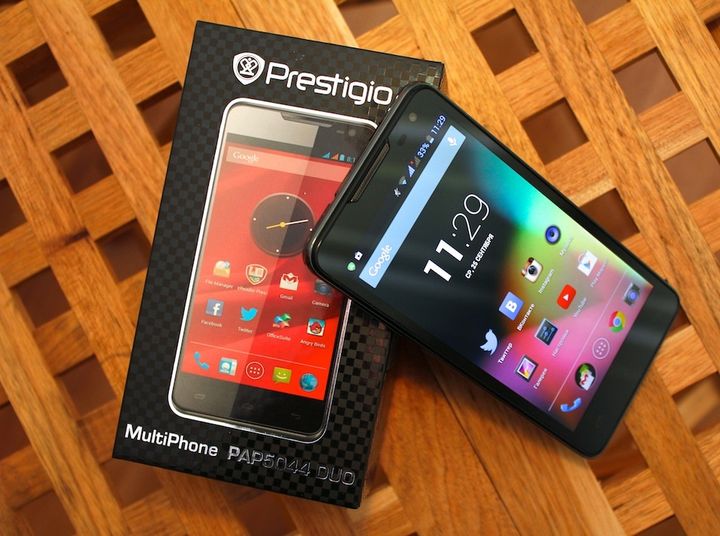 Included is a great feature. Usually Prestigio complements the phone is not only the headset and charging , but the brand cheholchika . In 5044 went a bit further – the set includes removable rear cover with a cover covering the front. Frankly , I'm skeptical attitude to it, but in practice it turned out that I was wrong. The first point – defense . Nice to know that the glass is something once again defends . The second – "magic" with the device on and off by opening / closing the cover . Uncomfortable it is only those who have a lot of photographs , as it is necessary in every possible way to deal with the cover, but it's a matter of habit . It should further be noted that no cover covers quite a bit more on, and let it securely fastened , it is still slightly protrudes over the housing. At work is not affected, but the aesthetic impression is not very much.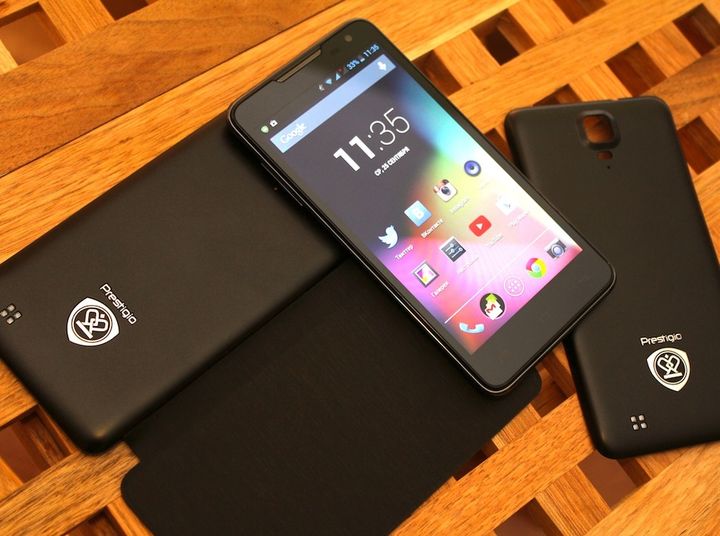 In placing the work item is no innovation . The back of the body from the top – a convex square box camera with a silver outline. Under the camera – flash and an optional microphone to record audio during video . Bottom on the back – the big mirror Prestigio logo and speaker. Now the sides. On the right side hit the power button on the left – the volume rocker . Bottom – only a microphone , and on top – headset jack and Micro USB. All excellent, but Micro USB bottom would be more convenient – to answer a call when the smartphone is charging at home, subjectively uncomfortable.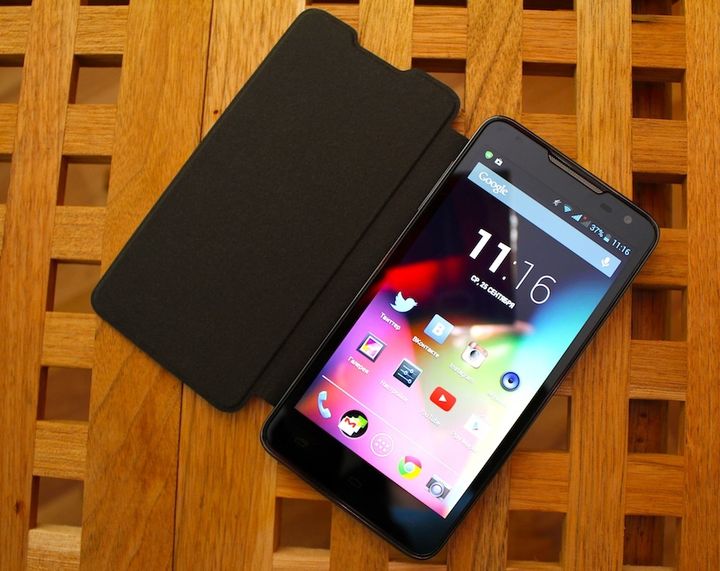 Right side looks much better than all the previous Prestigio, which came to us. And let scanned somewhere familiar elements , it is not so important. Cool that air space was gone , as well as circuit switched off the display. This, as you can imagine, adds +14 to the appearance and the overall experience ! On top of the display – the earpiece grille, which is also hidden under the activity indicator, and a little to the right – light sensors / face and a front facing camera. Below the display – touch buttons "Menu", "Home" and "Back". By the way , the presence of the touch buttons I like more than a version without them, so there is no black bar at the bottom of the display, which also adds a couple of advantages to appearance.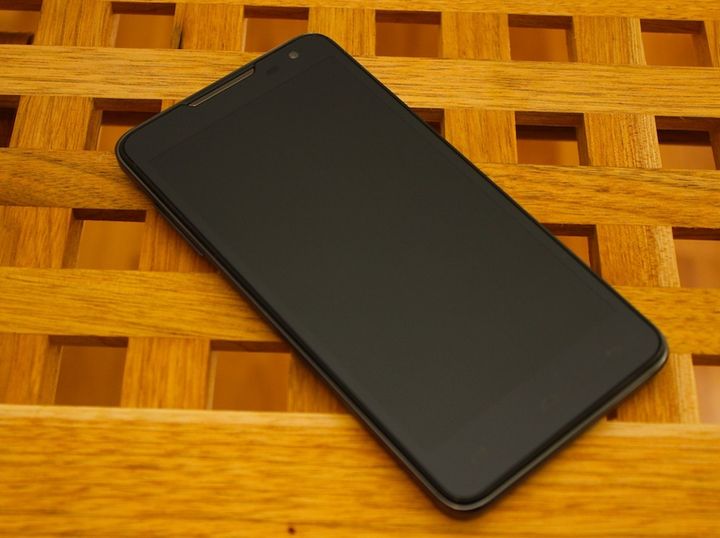 The display also will not spoil the experience. On the contrary ! This 5" HD. That is 1,280 x 720 for five inches – it's not a miracle, but it looks very good. The pixel density of 293 ppi, and that is enough to not see the "ladder" on the round interface elements. Moreover, it is IPS- display, the picture is clear and beautiful. The colors are intense and soft. Illumination sufficient for the sun, but not a lot of stock , and the range of + / – a little . Sensor realizes up to five simultaneous keystrokes and does not slow down as the touch-sensitive buttons below the display. In short, the only thing that can spoil a little experience working with such a screen – prejudice to the authorization. My experience working with him only positive.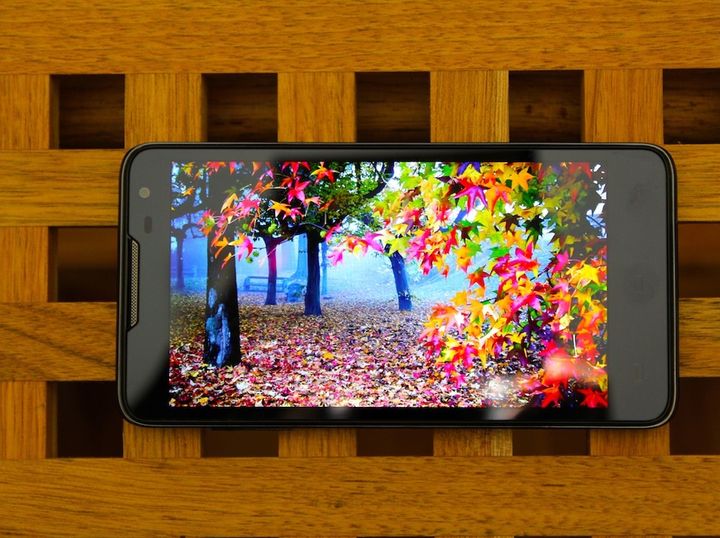 Maybe the design is not the most eye-catching and can be found somewhere borrowed elements, he still pulls on its value. In this case, good build and quite pleasant appearance should not disappoint potential buyers. If sufficiently large body device is convenient to use. Another thing is that full use is possible only with two hands , but then again, buying a five-inch smartphone, the user does not have to rely on the ease of use with one hand.
Camera, photos and video
Very quickly that there are two cameras in smartphones and phones became commonplace, without which there is a certain discomfort. We are used to photograph the food and do portraits of themselves with friends. Our present Prestigio received both the desired cameras. A 2-megapixel front facing perfectly shows you just in a good light. Afternoon on the balcony will be cool, but here in the room with artificial light colors are lost, everything will look a bit dark and there will be a lot of noise.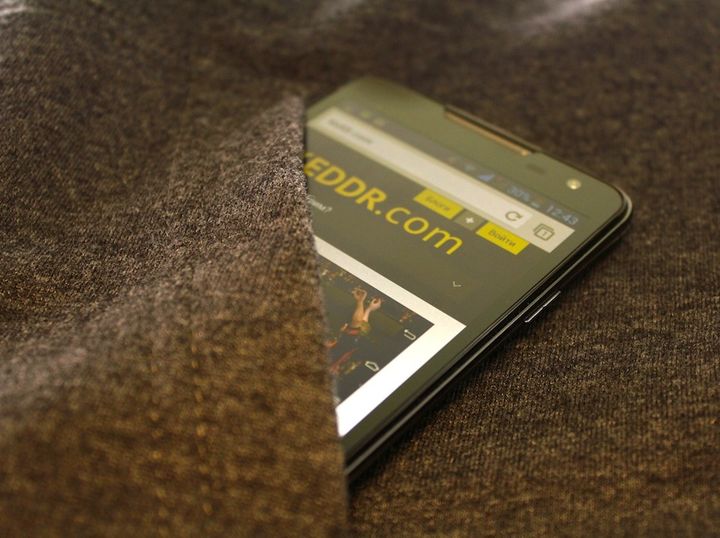 On the main camera a different situation. This is not the 2 and 8 megapixels, there is an outbreak. Sound is recorded for an additional microphone. In practice , again, in a good light camera behaves normally, but its low-light capabilities are not the strongest. Sometimes the autofocus misses (at such times will need to give your camera a little bit of time – and it is adjusted to). But for shooting in daylight camera can (and should) be praised. I remind you that we are not talking about high-end smartphones, but about the middle class. So, in the daytime you can get a good shot in a room with good lighting, but otherwise will be noisy. Clarity is also not the fastest, but it should be enough for most. Yes, exacting photo – geeks do not like it, but if the user has the camera does not come first, then the specific complaints in this regard will not be. A few examples for clarity – and move on to the gland.
Hardware, software and battery
Prestigio PAP5044 DUO performance will bypass all the previous dvuhsimniki that are presented by the company earlier. Of course , this is not a flagship , but the models that we have a year ago boldly called " srednyachkom " udelaet to the nines. So, inside PAP5044 placed MTK 6589 ( quad ARM Cortex A7), clocked at 1.2 GHz, 1 GB of RAM , PowerVR SGX544 and drive 4GB ( available to the user a little less than two ) with the ability to throw memory cards Micro SD. Everything works great in the tests shows a very unexpected ( for Prestigio) results. Frankly , I was surprised by its capabilities. In Real Racing 3, you can look in the mirror , the reflection is. And there is no excessive heat , which is also very nice.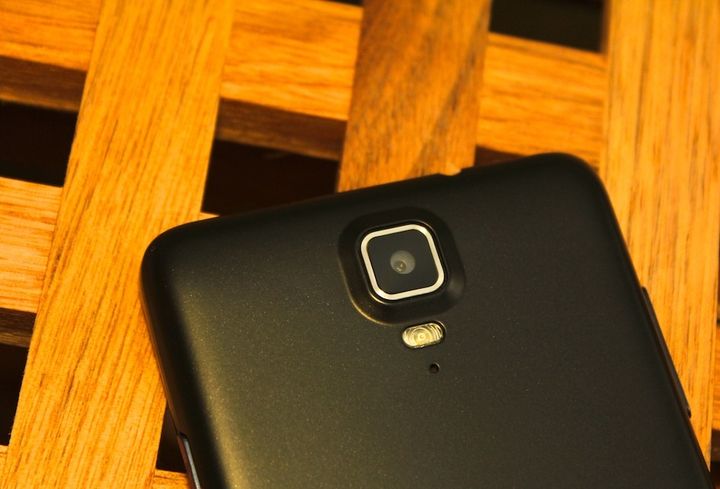 Powered device running Android 4.2.1 without modification. Only traditional advertising screen at startup. But it is possible to justify a software package for Prestigio with optional through its own utility , and you do not need extra time to surf the Play Market, simply mark the desired and wait for the installation.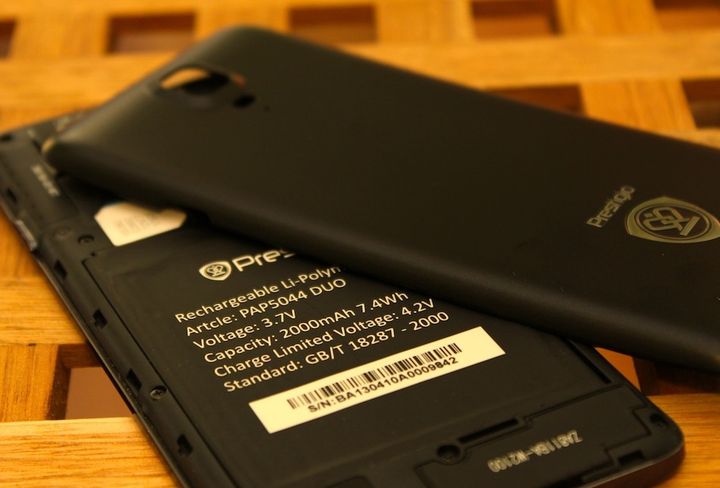 The very same interface works quickly and smoothly as possible, although rare hitch. But , in general, such a device can operate without korvalola. On the contrary, the user will be very pleased, especially for the money. And by the way, he will not be discharged in 10 minutes. The battery capacity of 2000 mAh can comfortably use the active working day. And given the fact that it can be removed, an extra battery just brighten up a long trip.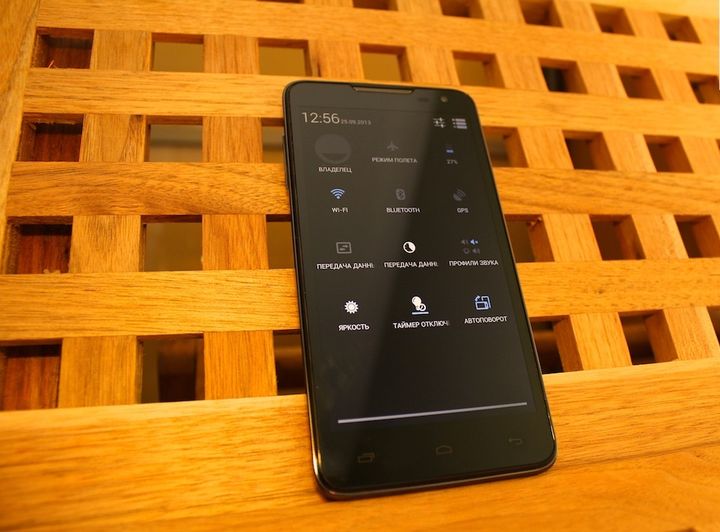 Specifications Prestigio Multiphone PAP 5044 DUO
Dimensions: 145 x 73 x 8.6 mm.

Weight: 130 g

Operating System : Android 4.2.1 JB.

Processor: Quad , MTK6589, 1,2 GHz

Graphics : PowerVR SGX544.

Display : IPS, 5" , 1280 × 720 pixels , 293 ppi.

Memory: 4 GB flash upgradeable (Micro SD up to 32 GB).

RAM : 1 GB.

Camera: basic – 8 MP , video recording at 1080 p, front – 2 MP .

Wireless technologies : Wi-Fi, Bluetooth 2.1.

Interface connectors : 3.5mm headphone jack , Micro USB.

Battery : Li-Pol battery of 2000 mAh .

Two sim-card
Dual Sim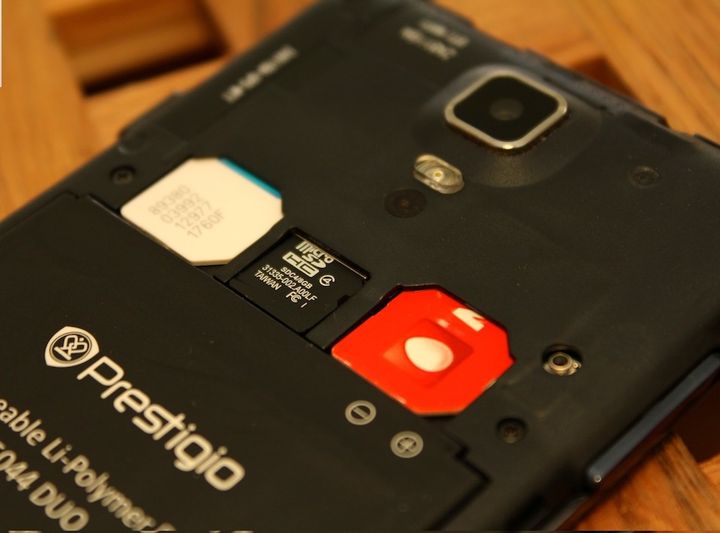 In the organization of the two operators of facilities are not so much. In short, if you choose, with which the sim-card call , you must first press the call button and then select the operator. It's too much action , I like the choice of Sim1 / Sim2. You can link contacts to sim- card, but if you have a lot of contacts ( for comparison – I have more than 200 ), it will take time. In this case, only one is active card , and if you speak first, then the second call will not break . And if you use one for the Internet, and the second – to talk , then while surfing reach you, for it can not survive.
Conclusions and personal impressions
Prestigio – this is the brand to which many refer to grin. He is a young player in the smartphone market, and the cheapest model – it does not really limit desires. PAP5044 DUO but not one of them ! He has a great display ( without the " air" and any problems ) , good build , and it is a normal sound imputed camera. In this design of the device is also very nice. Like any other device, it also has its disadvantages, but among the low-cost devices our present experimental exactly one of the best.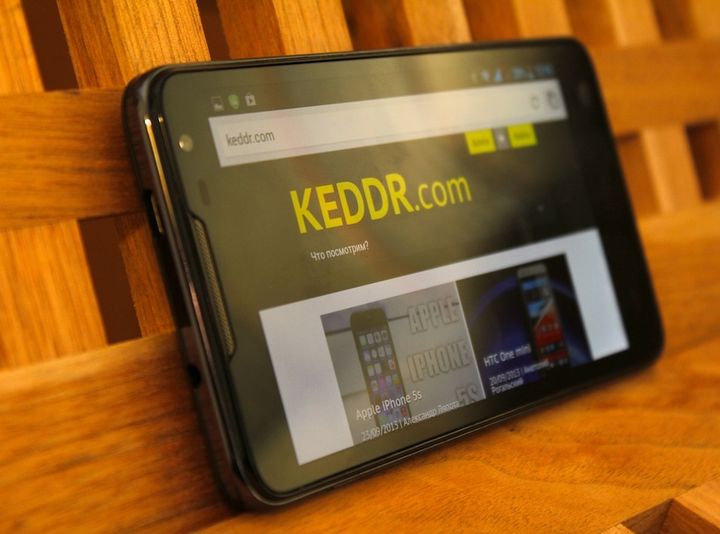 To pay for such a device would have $ 293. If a user needs a large display , two sim-card and a good value / performance autonomy, the Prestigio PAP5044 DUO can be easily seen in the front row. Personally, I like a smartphone. He "took" with me for over a week during this time, and let not excrete. So, if it does not tear over eminent branded badge on the back of the note on this device, it should please you.
Read another very interesting article about alternative energy of the Sun, water and air.