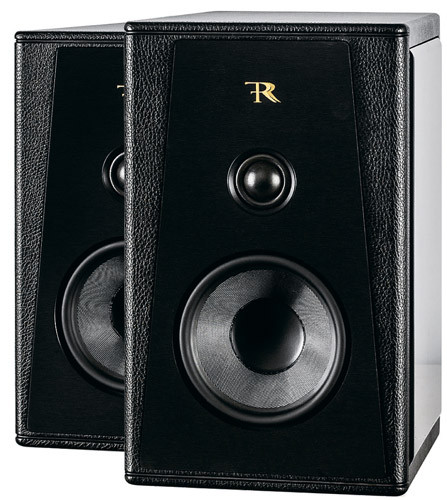 We are continuing familiarity with the younger line of the AU Prestige Series of Rosso Fiorentino. As Napolnikov Certaldo, about which we wrote about recently, polochniki Pienza immediately produce a very good impression with stylish looks. In a refined combination of finishes and paint on the side of leather with milled aluminum shaped 5-mm plates on the front panels, the quality is impeccable.
Side skirts decorated with columns – along with elegant monogram on the front. A choice of lacquered interspersed with marble chips (black and silver) and finished with "alligator" skin
Inch soft dome tweeter and a membrane 13-cm midrange / woofer based composite fiberglass look at them very organic – you do not want to close their protective grilles, which are included or not. Reflex port is on the rear face of the housing.
Pienza is not capricious to the placement, but their sound is more weighty and big, if they are not too far away from the wall – it is easy to determine the optimal distance to the ear. And, of course, they need high quality and beautiful props.
They are easy to fill the room of diverse music. Fourth Symphony by Tchaikovsky they are quite capable thanks to the tonal balance, excellent dynamics, the ability to create the right scene and clear timbre separation instruments orchestra, and in a small room and the sound will be quite significant. Vocals, such as CD Violetta, AC Pienza reproduce vivid, emotionally filled voice actors, rich intonations and nuances. The most appropriate for their size genres – chamber classical, jazz – pleasing study of melodic lines, clear rhythm and naturalness. The sound does not bother to provide a refined and pleasant atmosphere, but if you want a little concentration, you will be able to get into all the details of the works.
At Rosso Fiorentino Pienza is worth paying attention to those for whom a stylish look and the sound quality of speakers are equally important.
Price: $ 3450
Pros: Sleek looks, detailed, tonally balanced, emotional impact, the exact scene
Cons: Nothing, if you're willing to pay extra for stylishness
Verdict: Beautiful speakers with excellent sound – for those who are important balance and in this respect
Read another very interesting article about alternative energy of the Sun, water and air.