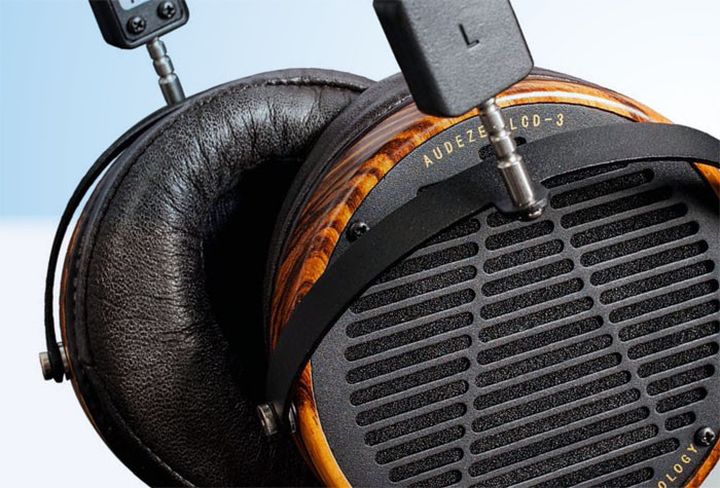 As growing popularity of personal audio segment, not only increases the number of different models and brands of headphones, but are used in a variety of technologies. And if only a few companies recently offered an alternative to conventional dynamic headphones, now the choice is much more.
The American company produces Audeze headphones are not so very long ago, since 2010, but entirely focused on the use of technology and magnitoplanarnoy, adding a number of improvements to this long ago invented the principle has made significant progress. At present, the company's line of three models, of which only one has a closed structure – which is quite natural, since the planar emitters work best in a free registration. Flagship Audeze LCD-3 is also open, which means that complete isolation from the outside world, you do not get – though LCD-3 is discharged outside and let in less sound than many of the known open headphones.
The headband is adjustable in height, so adjust them under your head is not difficult. Find a suitable amplifier, of course, more complicated
Furthermore, although the transducers magnitoplanarnye not require high voltages for their operation, and can operate with conventional dynamic amplifier for headphones in practice LCD-3 is suitable not each amplifier. The best results we have achieved with the Oppo HA-1 ($ 1280), not least because of the possibility of realizing the connection to balanced line – removable cable, four-output you will find in the kit.
A few old-fashioned appearance of headphones coupled with the use in the design of natural materials (wood "Zebrano" cup and genuine leather ear pads and headband for) suggests that this is a very good-quality and reliable thing from that era, when things were for decades, but did not break immediately upon the expiration of the warranty.
During this headset can be forgiven a certain awkwardness and considerable weight, especially as they sit comfortably on the head, and even extended listening does not lead to overheating and sweating ears. But whether they are good in fact, to pay for them quite a large sum?
The answer to this question depends on what kind of music you listen to. If jazz recordings – high quality (with a good jazz is the rule rather than the exception), it is difficult to find a more suitable headphones. Give them a pretty warm, put something by Branford Marsalis Quartet (CD Braggtown), and you will experience a real shock. Openness, transparency and study combined with such ease and ease, as if the musicians play at a party in your apartment. Surprisingly plastic, melodious and perfectly sincere passion sound recording Barbara Zhangr Just Like a Woman in 24 / 88.2. The sharpness, speed, resolution, and comfort performance encouraged to listen to this kind of music for hours.
In magnitoplanarnyh headphones sound creates a thin film coated with a conductive path, which ranges between a pair of magnets. Light weight and a large area of the membrane allows you to play the slightest change in the signal. Unlike electrostatic, magnitoplanarnye headphones do not require high voltage, and in contrast to the dynamic of resistance is much less dependent on the frequency, so in theory to design an amplifier easier for them (in practice, of course, the question of selection). Of course, magnitoplanarov low sensitivity – but it is not as important as the headphones require little power and this can be compensated using strong magnets. And do magnets have to be acoustically transparent – the sound should pass freely through them. Of course, in practice this is not possible – a magnet made just slots. However, due to reflections from the edges of the lattice distorted sound waves. To reduce the negative effect of diffraction on a sound company Audeze stuck on magnets special items Fazor, to make the most uniform radiation.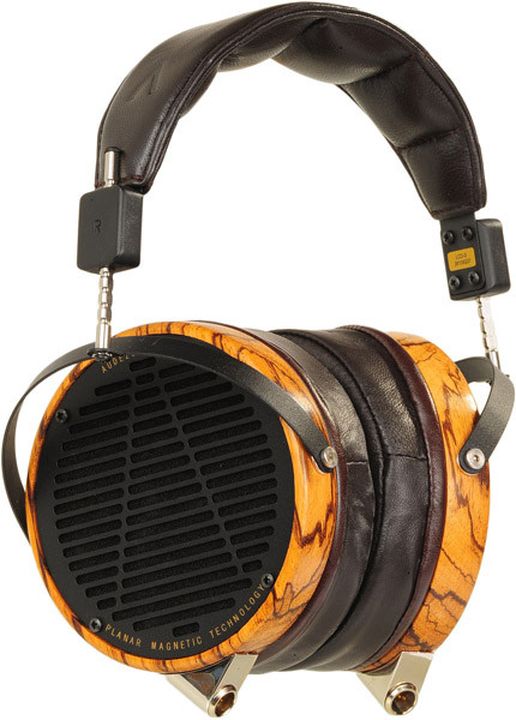 Fortunately, the ability Audeze LCD-3 is not limited to just that. Remastered album Dire Straits Brothers in Arms (SACD) affects the abundance of minute details that abound in the beginning and ending songs, and at the same time, more importantly, the sensitivity in the transmission of the atmosphere of each song. This particular subtlety, tenderness when playing quiet parts – the trump card Audeze – is not involved in the performance of high-profile pieces. Acoustic, but noisy medley Unledded Robert Plant and Jimmy Page's much less impressive as melodic, but tough in electronics Muse Black Holes and Revelations.
The reason is that the tonal balance at high levels gradually begins to move out upwards, so the Bach cantatas sometimes exaggerate sibilance soloists Cantus Colln and high overtones of stringed instruments. The sound does not become harsh or tedious, but appears and disappears straightness layering, subtlety, thanks to which we fell in love Audeze. This feature LCD-3 is not fatal, it simply must be considered when selecting electronic components, for which preferred a full-fledged "analog" sound with a full-blooded middle and clean, dim HF. Of course, this equally applies to the recording itself. For example, "Symphonic Dances" Rachmaninov performed by the Orchestra of Minnesota, in spite of the high resolution (24/96) suffer from excessive rigidity in the loud sounds of wind and percussion – to Audeze noticeable even stronger than we would like. But criticize them for it would not be desirable, because if done correctly, they sound fantastic.
Price: $ 2350
Pros: comfortable sound; extraordinary transparency, especially on quiet levels
Cons: Loud sound fragments can yarkovato and straightforward – a lot depends on the quality of the recording
Verdict: Ideal for lovers of jazz and acoustic music
Read another very interesting article about alternative energy of the Sun, water and air.