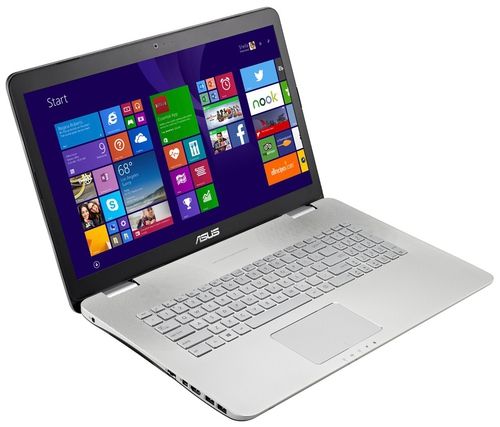 According to the index N in the title, which is characteristic for the classification of laptops ASUS, this model belongs to the category of multimedia devices. To do this, N751JK has everything you need: a large 17-inch display with Full HD-resolution, external subwoofer included, the ability to process sound audio SonicMaster Premium. The important point is powerful enough stuffing in the face of the processor Intel Core i7-4710HQ, a discrete graphics card NVIDIA GeForce GTX 850M, 8GB RAM, and HDD + SSD 1256 GB. By the way, these features provide the use of a laptop as a gaming machine, albeit not at the highest level, however, it is quite decent.
In general, N751JK, in fact, is a redesigned version of the N750 with a slightly new design and filling non-identical, but focus updated version remains the same – quality work with multimedia and little games.
Design – ASUS N751JK
ASUS N751JK body half is made of aluminum – metal cover and are working the surface. Gray top with concentric polished chrome surface and the company logo in the middle. As shown, the cover is tough enough, but in the general build quality raises no objections. It is held by two tight loops, unlike the previous model – there is one loop.
Design of the device is very interesting, however, is not exclusive. And most importantly, a new version of the device has become much thicker: 35.6 mm. The other parameters remained virtually unchanged and make 415h280 mm, weight – 3.4 kg.
The lower panel is made of black plastic, which remarkably quickly fingerprints. There is a compartment for quick access to the memory stick and drive system, it is dotted with ventilation holes and secured by a single bolt. The battery is removable, equipped with its own slider for easy withdrawal.
Display, sound, webcam
17.3-inch screen has a resolution of 1920×1080 pixels matrix IPS, but there are options with TN-matrices and a resolution of 1600×900 pixels or Full HD. What can I say, the display ASUS N751JK very good, and quite worthy to be installed in laptop. The panel has excellent color and contrast, wide viewing angles, and excellent image clarity. The screen behaves well in bright lighting conditions thanks to a matte finish and a high level of maximum brightness. But complete with TN lose all the parameters is very important, high-quality 17-inch images made on this technology on the market yet.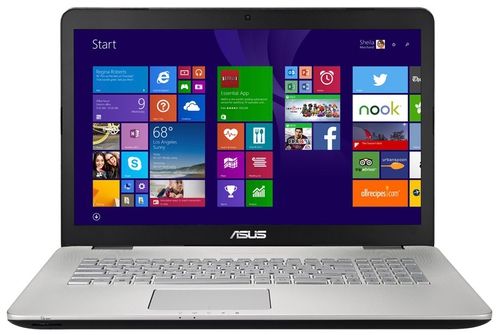 As part of the audio in the laptop is also all right, because it is based on technology SonicMaster Premium. A pair of speakers located in the familiar place – above the keyboard so that the sound is output directly to the user. As for sound quality, in general, if not frustrating, but in the previous version of the laptop it was better. When connecting an external subwoofer that comes, and opportunities equalizer, the situation can be corrected, but the experience is not the same, although the sound is balanced and full of bass, thanks to the subwoofer. But for the ordinary man in the street that should be enough.
Webcam with HD resolution will provide the owner is quite a high-quality video on the image. Thus, communication with Skype will be pleasant and convenient.
Keyboard and Touchpad
On-metal sufficiently rigid substrate located island keyboard. Here everything is light gray, like its predecessor. Keys are virtually silent, have a fairly long stroke. Here there is a numeric keypad and a three-level lighting, which is very relevant to work in the dark. Numpad little too narrow, although in the comfort of work it should not affect. Great inconvenience, perhaps, can be considered as the power button, which is moved to place the button [End]. By the way, but she is the proud owner of a single LED.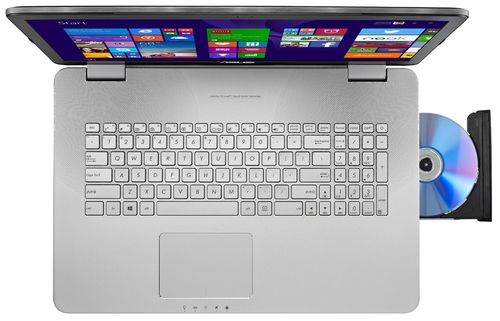 Klik pada has a smooth surface, so fingers glide smoothly over the surface. The sensitivity of the sensor is excellent, supported multitouch gestures. Visible mouse buttons, of course, no, they are hidden under the general area. When you click is heard a faint click, or rather, even as it felt. In relation to the work area, Klik pada rather large, it fits perfectly into the style of notebook as a whole. Beneath it is a row of LEDs: power, battery, hard drive activity, flight mode, Caps Lock.
Performance
ASUS N751JK-T7098H running the operating system Windows 8.1 64-bit. As for the "iron", here has a powerful quad-core Intel Core i7-4710HQ. It is made according to the norms 22nm process Haswell architecture and works with a frequency of 2.5-3.5 GHz. Performance Core i7-4710HQ enough to perform a variety of tasks. It is great to handle even with 3D-modeling and demanding games. The processor supports a variety of technologies to optimize its performance: Hyper-Threading, Turbo Boost, Quick Sync and more.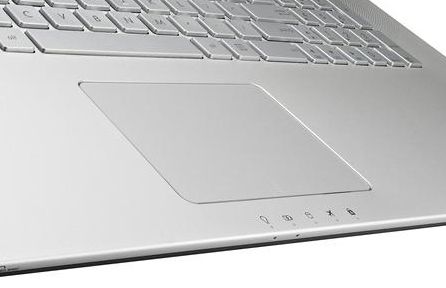 Built-in video card Intel HD Graphics 4600 supports DirectX 11.1 and is equipped with a decoder to handle 4K video content. But the first violin in this laptop supports discrete graphics NVIDIA GeForce GTX 850M. This powerful graphics, the presence of which provides the notebook is quite worthy of gaming machines. It has 4 GB of internal memory and 640 of GDDR3 unified nuclei.
8 GB of memory standard DDR3L-1600 Occupies one of the two available, therefore, the amount of RAM can be expanded to 16 GB without problems and difficulties. The total capacity of the HDD and SSD is 1256 GB, 1000 GB falls on hard drive (5400 rpm) and 256 GB SSD. There is also a slot M.2 at high-speed SSD, which can further accelerate system performance. In other words, the laptop is all right with the system of information storage, and the possibility of expansion and increase in speed can not but rejoice.
Game
With regard to developments in the gaming practice, many toys in 2014, not to mention older go without problems. For example, in The Crew (2014) with high settings and a resolution of 1920×1080 fps rate reaches 28, if the settings are raised to the maximum – lowered to 15. Call of Duty: Advanced Warfare (2014) with maximum settings get about 21 fps.
Ports and Communications
The number of connectors is quite enough for comfortable use device. Front ports traditionally not, except for a number of indicators: power, battery charging, hard drive, flight mode, Caps Lock. Also here is the SD-card reader. Behind completely empty.
To the left is a connector for the charger, ventilation grille, RJ-45, DisplayPort, HDMI, 2hUSB 3.0.

On the right side is a combined audio jack, a pair of USB 3.0, the drive DVD-RW, a port for an external subwoofer and Kensington.
Dual-band module integrates Wi-Fi 802.11 a / b / g / n / as and Bluetooth 4.0, also supports WiDi, developed by Intel. Data transfer rate is excellent, stable signal.
Battery
Capacity 6-cell lithium-ion battery has decreased in comparison with the previous version of the laptop – 56 Wh against 69 Wh. This is enough for about an hour games and five hours of surfing the Internet. The result, in general, good, for such a large and powerful laptop, but for a long time to wean him from the wall outlet does not work.
Conclusion – ASUS N751JK
ASUS N751JK has some nice improvements and advantages that make it a very attractive acquisition. He received an excellent display, slot M.2, relocated to the front of the speaker. In addition, an external subwoofer allows you to enjoy higher quality sound and high-performance stuffing – the speed of the device as a whole.
However, there is a couple of factors that when buying a device may confuse potential buyers because the price for it is very high – almost $ 1,300 for the provided equipment. This will increase the thickness of the shell and partial use in the manufacture of plastics. You can certainly save by modification with a worse display and a weaker processor, but the price is unlikely to be much lower. In short, a decent machine, as long as the price suited.
Source: ASUS
Read another very interesting article about alternative energy of the Sun, water and air.