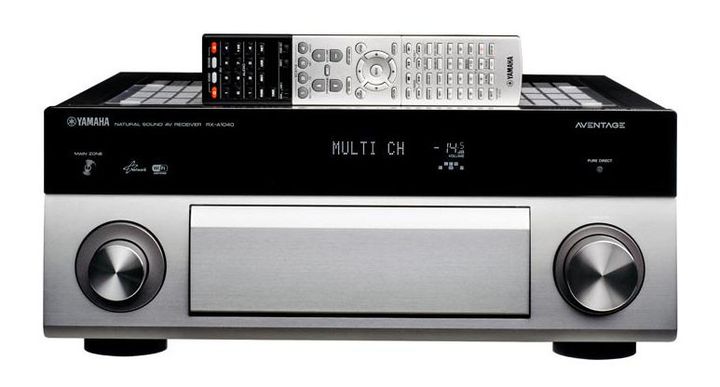 Ruler AV-receiver Aventage always fascinated us a powerful and exciting surround sound. New receiver distinguish usual
strength and power, ut the seven-channel monster is not made us the impression of we've come to expect from models of Yamaha.
However, the advantages he did not take away: Yamaha RX-A1040 sounds powerful, energetic and determined. The film "Captain America: The Winter Soldier" on Blu-ray-drive gives him the opportunity to demonstrate their strengths. Soundtrack format 7.1 DTS-HD Master Audio is transmitted solid and respectable volume effects confidently allocated to the acoustic space of the room. Rumble of explosions, bullets whistling – all effects sound impressive and accurately.
The detail is quite high; clink clank of metal fragments and served hot, but not too sharply. Voices – clean and straight, sarcastic dialogues are not lost in the hectic action scenes. Voice in the song Beyonce I Am Yours in the recording of the concert on Blu-ray-ROM is very soft and soulful; rhythm and enthusiasm of music do not leave the listener indifferent. Perhaps, Yamaha bit lacking precision and coherence for flawless playback of music, but it is executed very exciting.
We are somewhat surprised by the aggressiveness Yamaha RX-A1040. Loud and harsh sounds are more powerful than we expected; excessive rigidity makes flinch in the most energetic episodes. Penetrating HF also suffer excessive sharpness.
We always like to "force" approach receivers Yamaha, but it is usually combined with refinement, enviable scale and extremely accurate distribution effects. Unfortunately, Yamaha RX-A1040 can not boast as much open and overwhelming sound.
Effects showered on the audience from all sides, but they do not allow to track moving objects on the acoustic field. In the episode, when the camera is transferred from a busy street on the roof of a skyscraper, there is no sense of space and openness; receiver lacks depth study to pass zoom.
When compared with the one of the main competitors in the price class, Pioneer SC-LX58, once it becomes obvious that the Yamaha lacks meticulous, able to provide a more expressive sound. Price AV-receiver Pioneer significantly higher ($ 1630), but it is much more elaborate, high-quality and exciting sound.
Solid and sturdy aluminum body Yamaha RX-A1040 delights perfect black or titanium-silver finish. Aluminum front panel looks stylish and strictly controls and inputs are hidden under the hood. Clear display is easy to read from a distance.
Be sure to perform auto-calibration system and optimizing the sound of the receiver within the parameters of the AU and the premises. It is fast and fairly accurate, but we still recommend you to go to the manual settings menu and check the accuracy of the speaker parameters. And if you have at hand there measuring sound pressure levels for fine-tuning, it will be even better.
Yamaha AV Controller app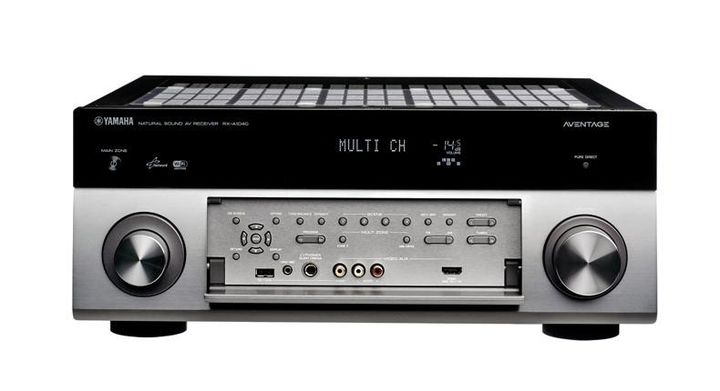 Informative menu is convenient to work with the remote control. It allows you to switch between inputs, control the volume and select one of a plurality of sound processing programs; If you want to steer the process from the tablet or smartphone, download the free app Yamaha AV Controller for devices running iOS and Android. Thought-out interface and bright icons to help you understand all the functions Yamaha RX-A1040. With it much easier to transmit the signal from various devices and services, but it is more convenient to adjust the volume with a conventional remote control.
As you might expect, equipment Yamaha RX-A1040 envy of many competitors. He has as many as eight HDMI-inputs and two HDMI-out; they all meet the latest HDMI 2.0 specifications and support the scaling up to 4K Ultra HD and playback in 3D.
If your system is not yet usual components with HDMI-connectors have a Yamaha you can find a complete set of analog connections, including five composite and three component inputs.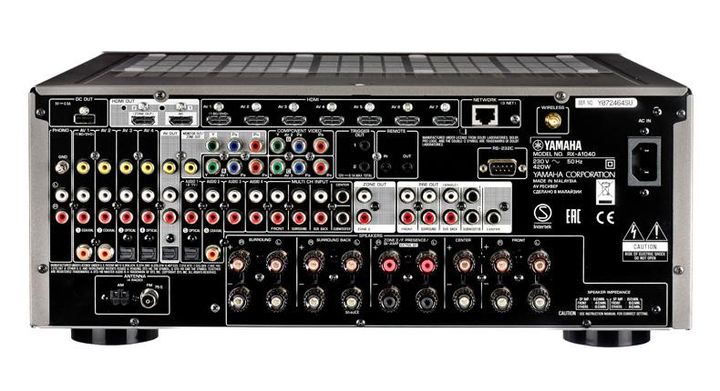 MHL-input allows you to broadcast HD-content with devices running Android; owners models Apple handy USB-port on the front panel (for playback and charging). Files in high resolution (24-bit / 192 kHz), you can play with USB-flash drive or hard drive.
None of the receiver can not now do without streaming capabilities; availability Spotify Connect, Napster, and vTuner Internet radio will allow you to discover many new tunes. DLNA certified allows playback of music collections from a laptop or NAS-server on a home network; owners of devices running iOS for this purpose can use AirPlay.
We always recommend an integrated amplifier for listening to music, but warm and dense sound Yamaha great for pop songs from your smartphone or laptop, especially in low-quality formats.
Those who can not do without Bluetooth, will have to buy a special module YBA-11. You can connect to the network via Ethernet or built-in Wi-Fi (both work quite stable), but you can just connect your Apple device to USB-port and transfer it to Wi-Fi-setting receiver Yamaha – in this case, you do not have to mess around with the setup menu.
RX-A1040 good literally on all counts – equipment, design, usability – except possibly for which it is intended: quality surround sound.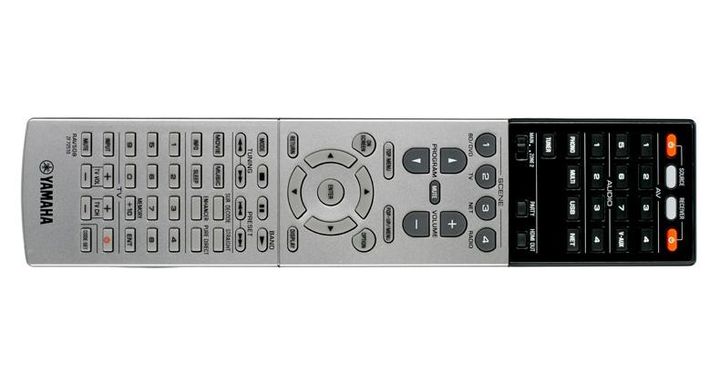 In such a sharp and aggressive tone not at all necessary; moreover, we lack the scale, usually associated AV-receiver Yamaha, regardless of price or position in the lineup Aventage.
However, we do not want to finish the story on a sad note. Strength, power and boundless energy sound RX-A1040, we are very nice; just this machine is not as strong as one would expect in this price category. He availability of its main competitor, Pioneer SC-LX58, although we would have preferred podzatyanut belts and fork on the SC-LX58 – it was too good of his ambitious and exciting theatrical sound. However, let RX-A1040 chance to prove themselves; a functional, powerful and general good AV-receiver – if not the greatest.
Price: $ 1270
Rating: 4
PROS: loud and punchy sound; power and attack; Highly detailed; enviable equipment
CONS: lacking refinement; not the most exciting sound
VERDICT: Excellent equipment and powerful sound, but not as magnificent as we had hoped
Read another very interesting article about alternative energy of the Sun, water and air.