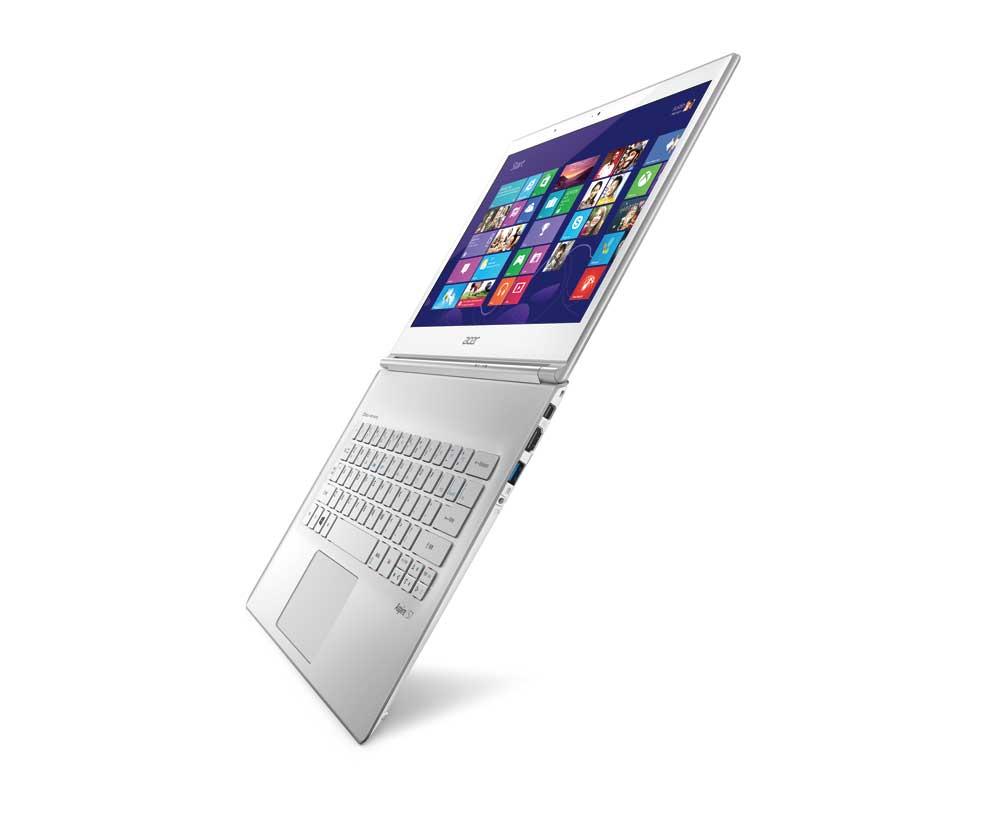 In June 2013 the company introduced a new Acer laptop Aspire S7- 392. Acer Aspire S7- 392 represents a new generation of notebooks Acer Aspire S7. Externally Acer Aspire S7- 392 has not changed . Frankly, it's somewhat reminiscent of a marketing campaign the company Apple: summer is a new generation computer which has undergone only some internal changes in appearance remained unchanged. But we 're not here to talk about marketing . Let's look at this device from a technical point of view.
Design
Thanks to aggressive marketing of device design Aspire S7- 392 may acquire the status icons. Of course , it is unlikely in the near future he will be able to surpass the success of the design for Apple MacBook Air, but , nevertheless , the marketing department Acer did not waste time in vain.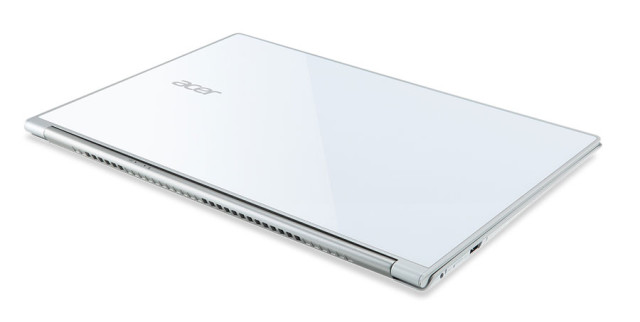 In any case , one you can be sure of a hundred: the Acer really turned out beautiful and stylish laptop. The body of the machine is completely made of aluminum, painted in white, and the lid is covered with high-quality glass from Gorilla Glass. On the cover under glass is a modest company logo can not be said about the appearance of the computer itself.
Our computer screen is quite securely adjacent loop , which allows him to open up to 180 degrees. Under the loop on the back of the base unit are opening cooling system , which in their view did not spoil the overall design of the computer. The operating panel has a smooth aluminum plate that is also painted in white. The touch screen of our laptop is covered with expensive and durable glass that makes the appearance Aspire S7- 392 even more stylish .
 
Screen
As mentioned earlier , the screen of our computer equipped with a touch panel , which has a good responsiveness and support to reached the 10 touches simultaneously.
The screen itself has a resolution of 1920 x 1080 pixels and a diagonal of 13.3 inches. It is a very good result for such a small computer. By the way, the screen on the Aspire S7- 392 a few more modern than the Apple MacBook Air, the display is not changed for generations.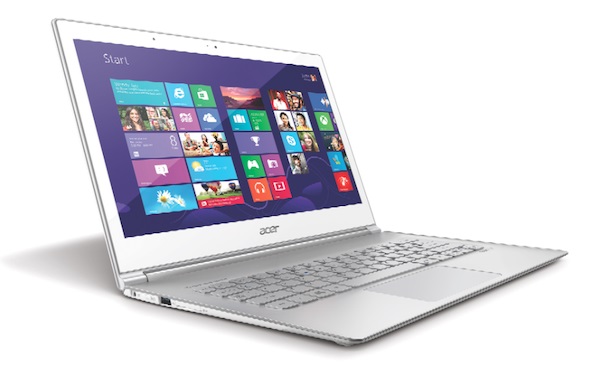 In addition, the display Aspire S7- 392 has a very wide viewing angles and good color reproduction and contrast performance . This is not surprising , because the Aspire S7- 392 is set fairly high-quality IPS matrix.
Keyboard and Touchpad
Aspire S7- 392 is an island -type keyboard with buttons gray colors that are separated by a very convenient distance . Also, the keyboard is equipped with a modern lighting system that adjusts to the light level in the room. Print speed at the keyboard Aspire S7- 392 just below average . This is due to its small thickness of the computer and not very deep way. Touchpad for Aspire S7- 392 is relatively large . It is located right under a "space " and has a slightly rough finish which provides a good grip with your finger . The touchpad does not have physical keys , which makes it look more modern. Touchpad itself is quite normal: " mouse keys " are pressed easily and silently, and the cursor moves smoothly and accurately.
 
Performance
On board this little laptop is pretty powerful processor Intel Core i5-4200U clocked at 1.6 GB , 8 GB RAM, SSD Solid State Drive , 128GB , integrated graphics card Intel Graphics HD 4400.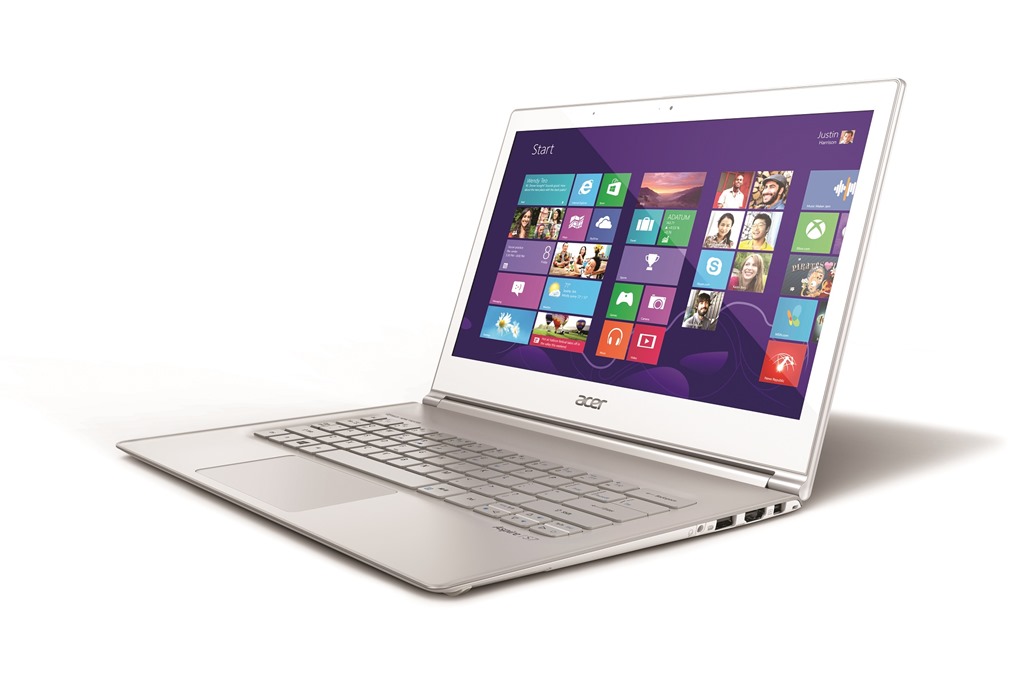 In this configuration, the Aspire S7- 392 is perfect for the speedy execution of daily tasks not only in the office or at home, but also in the way. Also Aspire S7- 392 is suitable for running demanding applications, and some modern games at minimum graphics settings.
 
Interfaces
Aspire S7- 392 is not too large set of interfaces , but it is normal for such a fine laptop. On the right side of our computer ports are USB 3.0 or HDMI, port Acer Converter, 3.5 mm headphone jack combo and lock slot Kensington. On the left side there is another port USB 3.0, SD card reader and a power connector.
Verdict
Aspire S7- 392 is a stylish performance of the computer in the segment of premium devices . Its only drawback , perhaps, is the high price . Starting price tag Aspire S7- 392 is equal to $ 1499 . For many buyers , this amount will seem really high . However, if you need a powerful computer with premium filling and high-quality screen , you should not spare money for Aspire S7- 392, and you will not regret this purchase . And if you prefer ultrabooks running on other operating systems , we suggest that you familiarize yourself with yet another innovation of the past summer : Apple MacBook Air 13.
Read another very interesting article about alternative energy of the Sun, water and air.