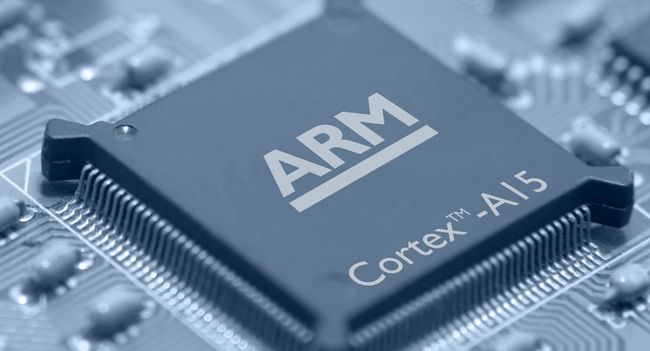 Over the past six months lineup of processors ARM architecture has changed significantly, the update affected not only the top, but the lower price segment. Some manufacturers have lost their influence on the market, while others, on the contrary, have a chance to become famous. More changes will bring in 2014, which will mark the beginning of an era of 64-bit ARM-processors.
First off from the race
Mobile processors ARM – one of the fastest growing markets. Number of players on it compared to x86 processors just rolls. Companies turn intercept palm championship, trying to stand out if you do not speed, but at least reasonable price.
Far from all companies manage to sustain such a high long race pace of innovation. For example, Texas Instruments, recently controlled the lower price segment of tablet PCs, refused to release processors OMAP5 and smoothly passes on the production of chips for the automotive industry.
But the holy place is never empty, so no long queue wanting to take the place of Texas Instruments on the market. Read about the generations of ARM (from ARM9 to Cortex-A15) can be in the article "CPU ARM: architectural features, differences and perspectives" . On the evolution of chips Apple A-series, Samsung Exynos, NVIDIA Tegra and Qualcomm Snapdragon discussed in detail in the article "CPU ARM: manufacturers and models" .
At this time we will talk about the latest chips Apple, Quallcomm and MediaTek, describe the second-tier manufacturers (Broadcom, Allwinner, Fuzhou Rockchip, AMLogic, Marvell, Action Semiconductor and Freescale), as well as speculate about three promising cores ARM: midrange Sortex-A53 , flagship Sortex-A57 and energy efficient Cortex-M3.
Apple's false start
The fact that it was Apple released the first 64-bit ARM-based processor for smartphones and tablets, is a bit surprising. The key difference chip A7 – theoretical support 4 GB of RAM, whereas in practice, iPhone 5S, iPad Air and iPad mini with Retina display its only 1 GB. And it is hardly even a year later RAM iOS-devices more than doubles.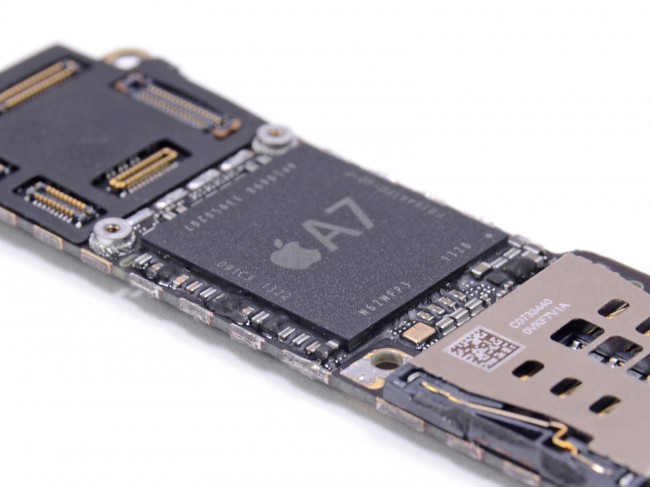 Nevertheless, Apple A7 chip was at times more powerful than its predecessor (A6), and all thanks to the two processor cores ARMv8 Cyclone with a frequency of 1.3-1.4 GHz and graphics accelerator PowerVR G6430. A7 produces still the company Samsung, though before rumors of a possible collaboration with Apple Taiwanese contract semiconductor manufacturer TSMC.
Architecture Cyclone, as well as last year's Swift (ARMv7) – own development Apple, which is not the answer to the reference ARM Cortex-A15, and on the Cortex-A57. Graphical same core PowerVR G6430 – the first representative of the long-awaited series of Rogue Imagination Technologies.
Qualcomm: four flagship year
Throughout 2013, Qualcomm alternately introduced four high CPU ARM, each of which was something innovative. Perhaps no other manufacturer ARM-chips that would be beyond the power, but not in vain because Qualcomm called «Intel mobile world."
Earlier this year, Qualcomm has released a flagship while Snapdragon processor 600 (quad-core Krait 300, Adreno 320 graphics), which became the basis of smartphones HTC One, LG Optimus G Pro and Oppo Find 5. By the summer podospel new flagship Snapdragon 800 (quad-core Krait 400, Adreno 330 graphics) smartphone Sony Xperia Z1, LG G2 and Nexus 5, as well as tablets Asus PadFone Infinity new Nokia Lumia and 2520.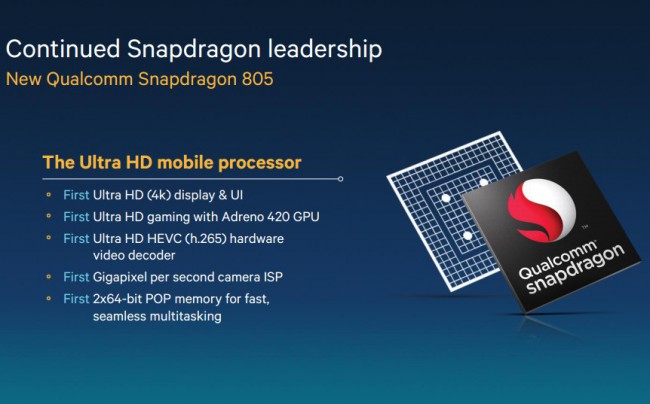 In autumn, was introduced another novelty Qualcomm – Snapdragon 805 future flagship quad-core Krait 450 and hitherto unprecedented graphics Adreno 420. And did not have time to settle down the hype surrounding Snapdragon 805, as was the announcement of mid-level, but still revolutionary Snapdragon 410. This chip opens its 64-bit solutions Qualcomm and is based on the architecture of ARM Cortex-A53. It remains only to guess whether translated Qualcomm Krait own architecture to 64-bit or completely trust in reference solutions company ARM Limited.
ARM Cortex-A53 and Cortex-A57: give 64 bits!
The youngest of the reference 64-bit architectures ARM Limited – Cortex-A53 – performance comparable to the good old Cortex-A9. That is based on it will be mostly entry-level chips with up to four cores. Cortex-A53 has a multimedia coprocessor NEON, supports hardware virtualization and is backward compatible with 32-bit architecture ARMv7.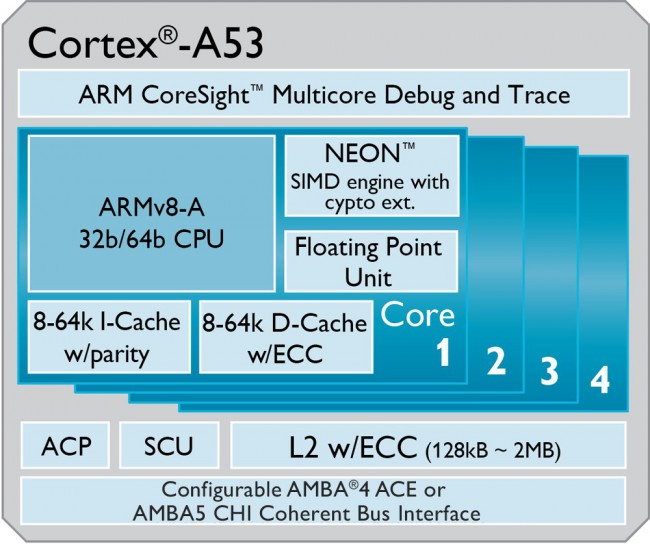 Older ARM Cortex-A57 performance by about a third faster than the current leader – Cortex-A15. Chips of this architecture will have up to sixteen cores, but it will likely server solutions. In addition, ARM Limited offers combine Cortex-A57 and Cortex-A53 scheme big.LITTLE, but only two cores each species.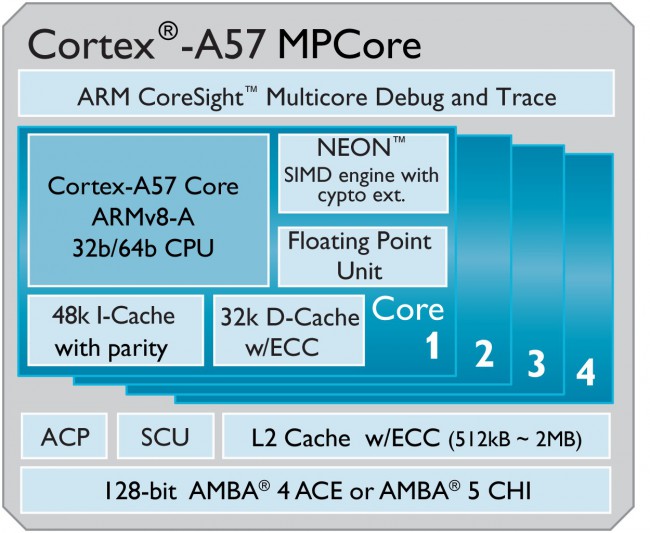 MediaTek: not quality
Just a few years the company has gone from MediaTek producer ultrabudgetary processors for Chinese iPhone clones to one of the most influential players in the semiconductor market. It was she who took the vacant after the departure of Texas Instruments in TOP5 chipmakers, along with Samsung, Apple, Qualcomm and NVIDIA.
So, that MediaTek has created the first true eight-ARM-based processor – MT6592. Recall that the Samsung Exynos 5 Octa made under the scheme big.LITTLE, that is, at the same time can work only four of its core. Another thing is that the processor cores (ARM Cortex-A7), and graphics (Mali-450) at the MT6592 comparatively weak, and the number of threads is unlikely to parallelize at least one Android-application. But from a marketing standpoint move certainly correct. The first "real Eight" smartphone should become THL T100.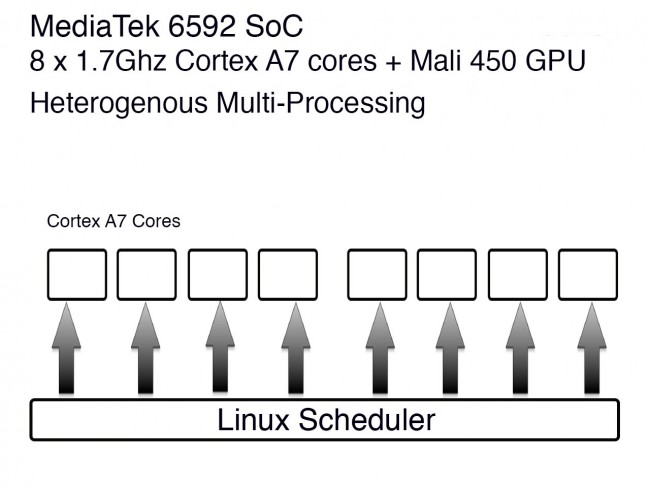 In place of last year's budget single and dual-core chips MediaTek architecture Cortex-A9 have new, more energy-efficient processors MT6572 and MT6589 (two and four cores respectively). Energoappetit managed to reduce by switching to architecture ARM Cortex-A7 and 28 nm process technology. In MT6572 chip integrated graphics core Mali-400MP, and MT6589 – PowerVR SGX544MP. By the way, have MediaTek and 8000 series of ARM chips without built-in 3G, focused on tablet PCs.
Broadcom and Marvell: exclusives for Samsung
Company Broadcom and Marvell, in fact, became the sole supplier ARM-processors for smartphones and tablets Samsung entry level. Thus, a single-core chip Broadcom BCM21553 Thunderbird (single core ARM11, graphics Video Core IV) in the last year used in Android-smartphone Samsung Galaxy Y and "badafone» Wave Y.
And this year the foundation smartphone Samsung Galaxy Ace 3 and Mega 5.8 became SoC Broadcom BCM21654 (two core Cortex-A9, graphics VideoCore IV). There are a range of Broadcom and quad-core Cortex-A7 – model BCM23550. The first smartphone based on it will be Xolo Q1000 Opus.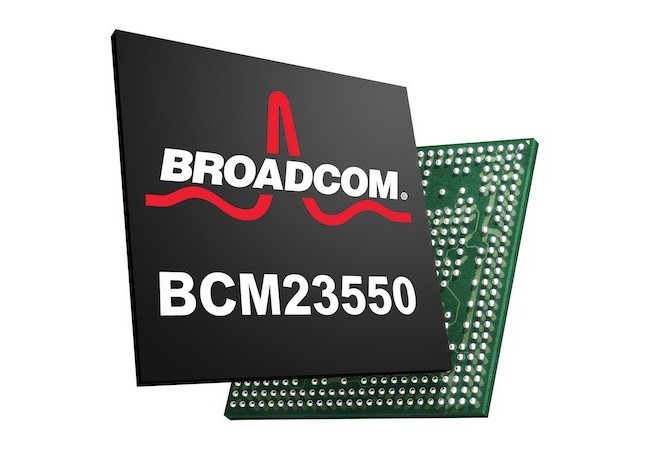 In turn, the tablet Samsung Galaxy Tab 7.0 3 applies chip Marvell Armada PXA986. By the way, it is Marvell in 2006 bought out the production of processors Intel XScale. Most often, this company chips found in network attached storage (NAS). The model also contains two PXA986 core Cortex-A9 and graphics Vivante GC1000 +.
Allwinner, Fuzhou Rockchip and AMLogic: three sisters under the window
Market-oriented policies of companies Allwinner, Fuzhou Rockchip and AMLogic very similar: they are rather slowly embracing new technology, but hang on their ARM-based processors are very favorable price tags. That is why chips "three sisters" are often found in Chinese Tablet PC manufacturers, as well as Ukrainian and Russian brands that are essentially the same.
Thus, the company now offers a dual-core Allwinner chip A20 (Cortex-A7, Mali-400MP) and quad-A31 (Cortex-A7, PowerVR SGX544MP), and also announced an eight-A80 Octa. Fortunately, overheated and inhibitory single core Allwinner Boxchip A10 remained in the past.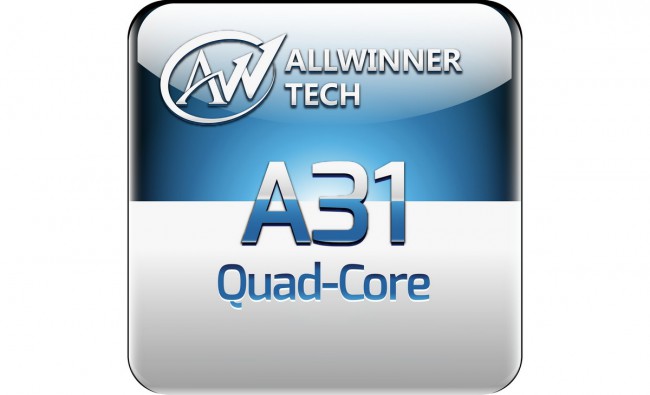 In turn, the company Fuzhou Rockchip, find success with CPU RK3188, planned for 2014 transition to architecture ARM Cortex-A12 (energy efficient successor Cortex-A9). It was on her schedule and Mali-T624 will build a brand new chip RK3288.
The company plans AMLogic and does "Napoleon": quad-core chip firing M802 (Cortex-A9, Mali-450), she is working on models M9 (64-bit architecture and graphics series ARMv8 Mali-700).
Freescale and Action Semiconductor: in oblivion
In 2004, the semiconductor division of Motorola separated into a separate company called Freescale. Since then, the core business are Freescale chips for the automotive industry. Latest ARM-processors are models of i.MX6 Dual and i.MX6 Quad (two and four core Cortex-A9, respectively, graphics Vivante GC2000). However, widespread popularity they do not enjoy even the Chinese Tablet PC manufacturers. Comes to mind except that the tablet Ampe A10.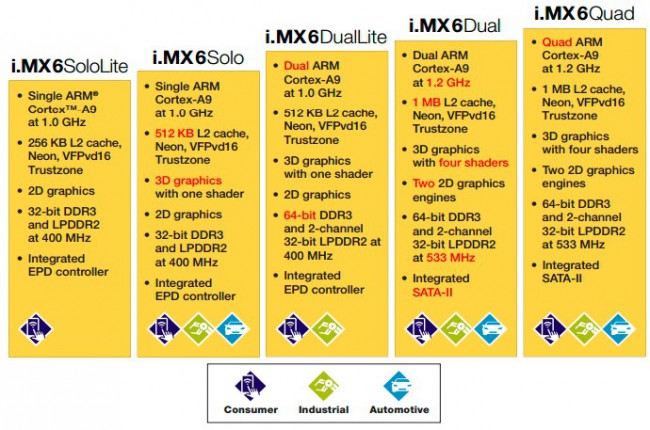 Things are going a little better from the Chinese company Action Semiconductor. Its entire range is reduced to two chips: ATM7029 (four core Cortex-A9, graphics Vivante GC1000) and ATM7019 (architecture MIPS). Yes, the MIPS processor architecture operating system Android, starting with version 4.0, also supports.
What will the coming year?
In 2014, the market of ARM processors should be a new, but well-known player – the company AMD. Lower power x86 processors to a sufficiently low level AMD have failed, so she began working with ARM Limited.
In early 2014 we will see new flagship Samsung Exynos chips and NVIDIA Tegra. But, the main question – whether the company with its Intel Atom chips to press the ARM in the smartphone market, as it has already done with tablet PCs. If this happens, ARM Limited and its licensees will be hard times. They have to go back to basics – producing chips ARM Cortex-M3 with ultra low power consumption.
Cortex-M3 architecture still remains a "dark horse." It is these processors are often used in wearable computers: smart watches and bracelets. For example, the basis Pebble Smartwatch is 80 MHz chip STM32F2 from Swiss company STMicroelectronics.
CPU ARM Cortex-M3 yet simple and cheap, but it is only a matter of time. With the development of industry wearable computers they will gradually grow into new opportunities.
Read another very interesting article about alternative energy of the Sun, water and air.