As many of us know, the Chinese market leading smartphone manufacturer Xiaomi is preparing to release its new flagship Xiaomi Mi 5. It is already known that official presentation of smartphone will be held on February 24, 2016.
We should say that Xiaomi Mi 5 will be one of the first smartphones in the world, which will work on processor Qualcomm Snapdragon 820. Moreover, thanks to previous leaks we have been known some specifications Xiaomi Mi 5. However, we did not know the size of the screen until today. Now it is no longer a secret.
Today new flagship of Chinese company appeared in the site GFXBench, which allows to test the performance of devices. So we were able to learn the basic technical characteristics of Xiaomi Mi 5 from very reliable source.
As you can see at screenshot below, Xiaomi Mi 5 will receive 5.7-inch screen with resolution Full HD (1920 x 1080 pixels), the newest processor flagship Qualcomm Snapdragon 820, 3GB of RAM and 64GB of internal flash memory for a redundant system and user data. Eventually, the user will be available 54 GB of memory for games, movies, music etc.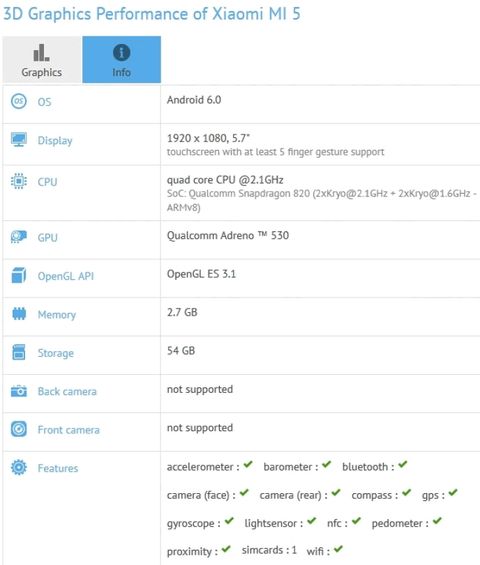 Previously it was assumed that Xiaomi Mi 5 will have screen size of 5.2 inches. However, now we know that the screen size will be 5.7-inches.
GFXBench said another new information that we did not know before. Xiaomi Mi 5 will have one slot for SIM-card. Previously, many sources suggest that Xiaomi flagship will support the work with two SIM cards.
Maybe we're dealing with one of modifications of Xiaomi Mi 5, which is followed by "basic" model. At the moment, we can not say exactly. However, it does not have to wait so long, and after two and a half weeks we will see the presentation of new flagship Xiaomi Mi 5.
Read another very interesting article about alternative energy of the Sun, water and air.