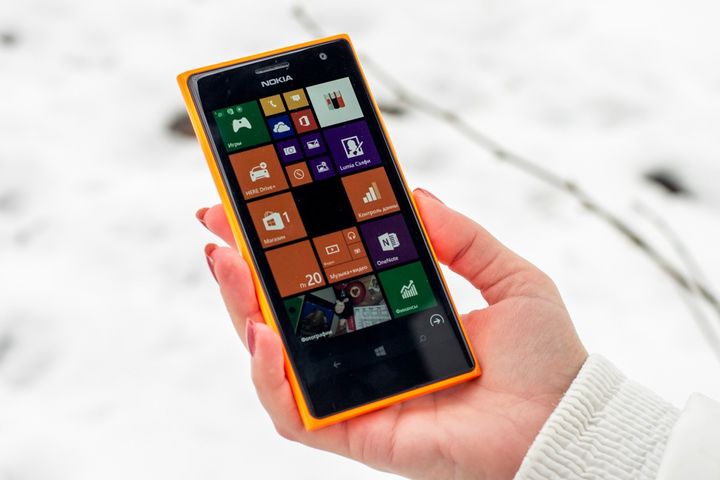 Mass model with good equipment, including a 4-core Snapdragon 400 processor, 1 GB RAM, supporting two active SIM-cards and battery with 2220 mAh. "Zest" smartphone – striking design and Wide 5 megapixel front camera for self. Is this enough to win the love of consumers to the machine with a price tag of $ 250, said later in the review.
Options – Nokia Lumia 730 Dual SIM
Lumia 730 Dual SIM comes in a box of cardboard, decorated similarly to other mobile brand products. Placed himself inside her smartphone charger with built-in micro-USB, instructions, and warranty card. Unfortunately, the headset and, more surprisingly, USB-cable locations supplied was not found.
Design and functional elements
When you first look at the test apparatus is evident by the fact that while he is in your hands from the prying eyes of others you do not slip. The point here is the design of the housing. Its main feature – a "nuclear" colors. By the way, in addition to "screaming" Orange has a version in bright green. Available, however, and classic white and black.
The housing also attracts attention with its construction. The smartphone is made of a single piece of glossy and fairly durable polycarbonate, which concluded its "iron" plus top-attached display unit. Material, in truth, quite controversial. Yes, due to gloss device looks very impressive at the same time, it slides easily into your hand and collect minor scratches. However, on the bright plastic will last yet unobtrusive.
Ease of use – another plus in favor of the Lumia 730 Dual SIM. Due to small dimensions – 134,7×68,5×8,7 mm and a diagonal screen 4.7-inch smartphone securely in your hand, and most importantly be manipulated with one hand.
Functional elements
Housing Lumia 730 Dual SIM collapsible. Perhaps that is why at strong squeezing hear some squeaking plastic, and play at least the minimum, but felt.
Under the cover of the machine are slots for two SIM-cards and format micro memory card, and a removable battery.
Marginalia on the right gadget even touches you can find the power button and volume rocker. To connect microUSB-cable port is provided on the bottom and Headset 3.5 mm audio jack on the top.
The front panel is divided smartphone 4.7-inch screen with a narrow strip on-screen touch buttons, eye 5MP camera, light sensor / proximity, and earpiece.

On the rear panel to settle multimedia speaker, microphone noise reduction, LED-flash, eye 6.7Mp camera nap is- "hint" to the presence of Carl Zeiss optics and logo of the manufacturer.
Display – Nokia Lumia 730 Dual SIM
Special attention should display Lumia 730. It is the technology of organic light-emitting diodes, has a diagonal of 4.7 inches and a resolution of 720×1280 pixels. The density of pixels per inch – 316. In this indicator pixelation invisible.
The screen is bright and contrast, provides clear images, including small fonts, as well as a good readability in bright sunlight and at any angle. No credit for this latest technology ClearBlack.
When manual control is available for the conventional three fixed levels: low, medium and high. However, there is provided an automatic mode. In addition, the disposal of the user several display modes of the display – Use the slider to play with the brightness and saturation to make more muted colors or overstated.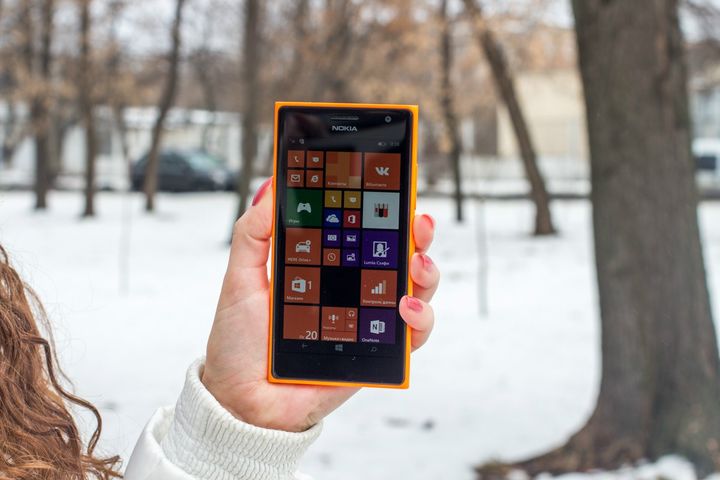 Implemented manage gloves and additional feature that allows you to work in bright light.
Other features of the display, it is important to note the presence of excellent oleophobic coating and protective glass Gorilla Glass 3, which should provide good protection of the screen against external mechanical impacts. Sensor layer detects up to 10 simultaneous touches.
Memory
The amount of internal storage Lumia 730 Dual SIM – 8 GB. Of these, the user can use only about 7 GB. However, be an obstacle that should not, as the gadget supports microSD-card capacity up to 128 GB plus 15 GB of cloud storage is offered OneDrive.
Features and performance
Inside the bright body tested model has 4-core Snapdragon processor series 400 from Qualcomm processor with a clock frequency of 1.2 GHz and graphics Adreno 305. The RAM of the device is 1 GB.
Smartphone without a problem reproduces Full HD-video and handle most applications. Gnocchi Asphalt 8 downloaded from the store Windows, working without legs.
Wireless modules and interfaces
A set of wireless communications in Lumia 730 is almost flagman sky: Wi-Fi 802.11 b / g / n, Bluetooth 4.0, GPS c A-GPS, A-GLONASS, BeiDou. There's even NFC-chip and technology Miracast – protocol-based WiFi-Direct, which allows you to broadcast video from a smartphone to a compatible TV.
On top of the device has received support for two SIM-cards, working in networks of 2nd and 3rd generations. The radio module is one, but at the expense of special modifications WP 8.1 OS and technology X-divert, sim cards work at the same time even when you call one of them.
Battery
The smartphone installed battery capacity 2220 mAh, which is not possible without removing the memory card and get one of the SIM-cards.

According to the manufacturer the battery life – 9 hours of video playback, 10.5 surf the web, listen to 60 hours of audio or 22 hours of conversation in 2G networks, which, however, and is confirmed in practice, provided dimming panel to a minimum.
Mode, which includes only periodic calls, mail and news readers on the web – a smartphone can work without recharging 2-2.5 days. Provided power save mode.
Dynamics
The earpiece good and loud. Only claim to it – is undisguised and palpable recessed relative to the plane of the screen slot – sort of a Pyles borsch IK.
Multimedia speaker provides good sound quality. Without wheezing it keeps even the maximum volume.
You can also use the graphic equalizer to adjust the frequency ranges and to give surround sound headphones, activate Virtual Surround.
Camera
Lumia 730 was the main photo module with 6.7 megapixel sensor 1 / 3.4-inch BSI-matrix. The camera is complemented optics Carl Zeiss, autofocus, 4x digital zoom, and LED-flash. The effective focal length of 26 mm, the minimum focus range – 10 cm, and the maximum aperture – f / 1.9.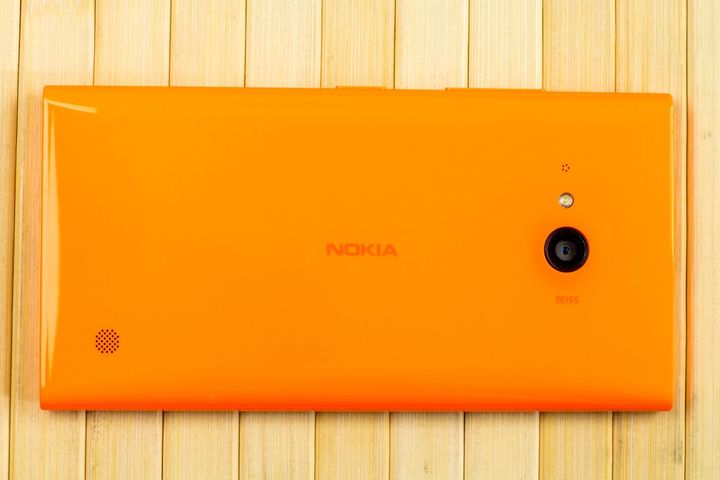 Even seemingly small size of the camera sensor, coupled with rich settings Camera application, include the ability to adjust ISO, white balance and shutter speed, activation of the timer function "bracketing" and much more, Lumia 730 allows you to take good photos with good detail, especially when there is sufficient light.
For working with photos and video on board the smartphone, also provides for the Camera application, Lumia Stories, Lumia Revived photos, and Studio.
Incidentally, in the case of the Lumia 730 Dual-SIM is 5MP front camera with wide-aperture f / 2.4 and a focal length of 24 mm are most attracted my attention. She, like the main, able to record video at a maximum resolution Full HD.
Competitors
If we consider the Lumia 730 Dual SIM as dual sim, the competition he can make such Android-smartphone is Lenovo Sisley S90, Sony Xperia C3 Dual, Samsung G530H Galaxy Grand Prime, and HTC Desire 620.
But among dual sim based on OS Windows Phone 8.1 for the tested model was found only one competitor – 5-inch Prestigio MultiPhone 8500 DUO. However, he concedes Nokia handset on the part of the "iron", as the features are much less productive Qualcomm Snapdragon 200.
Software
Powered smartphone operating system Windows Phone 8.1 update Lumia Denim. On the desktop, traditionally present live tiles resizable, for which an application can display some content and notifications.
Falling outside the top notification bar offers quick access to parameters such as the camera, screen brightness and Wi-Fi module and Bluetooth. In turn, by swiping your finger from the bottom up, you can show / hide the navigation bar.
In addition to the built-in Internet Explorer 11, FM-radio, Skype, software for social networking Twitter, Facebook and Vkontakte, off-line maps HERE Maps for easy navigation as well as services Bing, which are related to tourism, sports, weather, news, health, and so on, there is a number of applications that are useful to business users. For example, utilities, office suite, Microsoft Office.
You can also select "Corner of applications", which allows you to create a program that a user would like to demonstrate or give used second person. In addition, the available mode "Children," in which children are given access to only those games, applications, music and video, which the owner of a smartphone for their pre-chosen.
Findings – Nokia Lumia 730 Dual SIM
Well, if you prefer WP-backgrounds that could distinguish you from the crowd, the Lumia 730 Dual SIM should not be ignored. Especially bright appearance, not all of its advantages over the competition. A significant role in the overall positive perception of the smartphone plays fast and economical "iron", excellent battery life, bright OLED-screen, well, front camera, capable of high-quality self.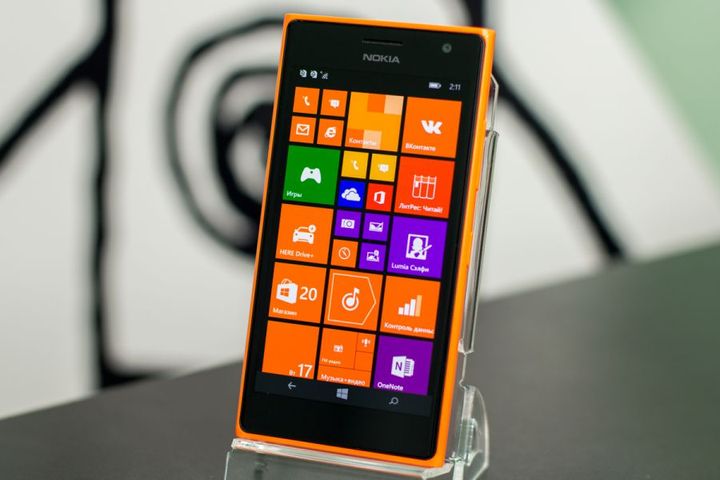 Not without its drawbacks, which include the still limited selection of applications in the Windows Store and the best assembly, but, in fact, none of them can not be considered critical for the price tag of $ 240.
Pros:
Ergonomics;
Qualitative OLED -Screen with good viewing angles / protective glass Gorilla Glass 3;
Mode of operation with gloves;
Memory card support up to 128 GB, inclusive;
Good performance and battery life;
Supports simultaneous operation of two SIM-cards;
Opportunities cameras;
Volume and sound quality speakers.
Cons:
The absence of micro-USB cable supplied;
Backlash cover;
Source: Microsoft
Read another very interesting article about alternative energy of the Sun, water and air.