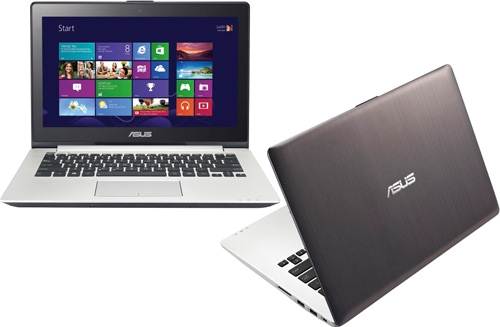 Not so long ago the famous family of portable laptops from ASUS VivoBook replenished next novelty – ASUS VivoBook S301LA. This model belongs to the segment of ultrabooks and can prompt the user processor Haswell, touchscreen, modern design, and the ease and portability.
However, this gadget has another nice bonus and important – its price. Agree that meet today ultrabook cost, on average, $ 800 is not so easy, but with external and internal data, like ASUS VivoBook S301LA, almost unreal. This means that you had a chance to meet with a laptop for quite an adequate price, which may able to meet all your requirements. Let's deal.
Design ASUS VivoBook S301LA
In ASUS VivoBook S301LA nothing is superfluous. Laptop perfectly tailored, all its details appear in its place. Cover and worksurface gadget made of the same material – aluminum, but differ in color: in the first case it is black, in the second, on the contrary, silver. Unfortunately, the cover turned out pretty easily soiled, but this is not much of a problem, because you can always use wipes and wipe the surface. Coloration ultrabook available in a single embodiment, may seem boring to someone she, nevertheless, we have what we have.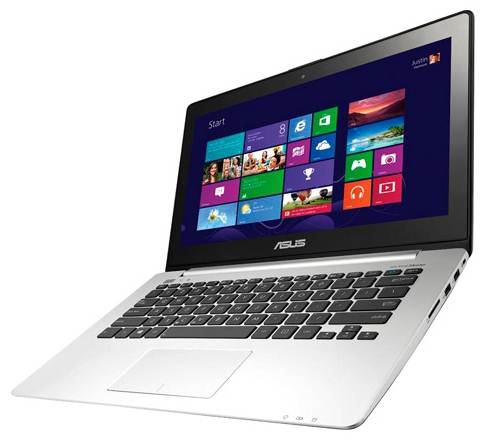 The screen is glossy, from possible damage its protective glass protects. Above the display there is a webcam. The keyboard feels comfortable and ergonomic, aided compact keys and a clear course. Below is a small touchpad silver.
Bottom, probably like most other laptops, frosted plastic. As for the upgrade, it is not possible for all the hardware components of the ultrabook. Thus, for example, lends itself to a hard disk upgrade, but memory, unfortunately, can not be replaced. Several different with battery: it seems to be and can be replaced, but do own is not recommended. Better to trust the professionals, so they know a lot about such matters. By the way, self-clean the fan in this laptop is no problem with this effortlessly handle virtually every owner.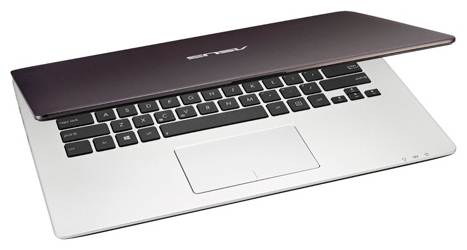 ASUS VivoBook S301LA dimensions are: 331h234h22 mm, weight is relatively small, it is 1.75 kg. Also it should be noted separately strength of the notebook. Its hinges are strong, though the laptop and opens with one hand. Deflections are largely absent (only slightly pressed lid), play nowhere. The only obvious drawback – it is possible staggering of the screen while the touch input, which, however, is not fatal.
Display, audio and webcam ASUS VivoBook S301LA
13.3-inch display, frankly, not the strength of this laptop. Needless to say that by modern standards, resolution 1366×768 pixels has long been popular, but the manufacturer somehow neglected this fact. Given that it uses conventional TN-matrix screen quality is poor. So, quite naturally, that the viewing angles are bad, so the display will continuously adjusted to the optimum angle. Brightness is also not up to par, as well as black level, but to contrast any claims not available. By the way, working with laptop outdoors, especially in sunny weather, it will be problematic, because the screen is visible and tangible glare.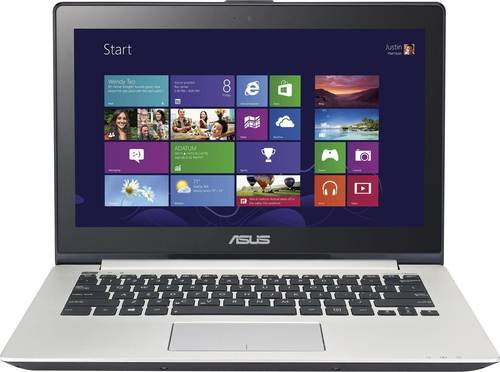 Touch input information is very convenient to use, mainly because there is implemented a high level of accuracy, but because there are no good sensitivity and braking delay. In addition, the display supports 10-point multi-touch, scrolls, scaling, rotation, etc. So with this laptop, you can work without resorting to the keyboard and touchpad functions.
Betting dynamics engineers ASUS clearly did not, because their quality is not the best. No, for viewing videos, movies, it will be enough, but to fully enjoy the sound of music will not work: the bass still pumped up. By the way, the speakers are located on the sides of the laptop, through which the sound does not seem muffled.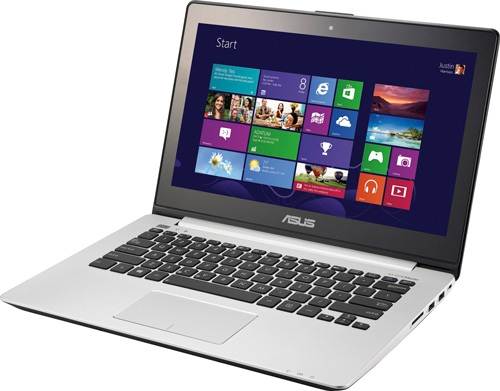 Of course, in the present device and a web camera, in this case with the HD-resolution. Any illusions to its quality feed is not necessary, but as an intermediary for video fits perfectly.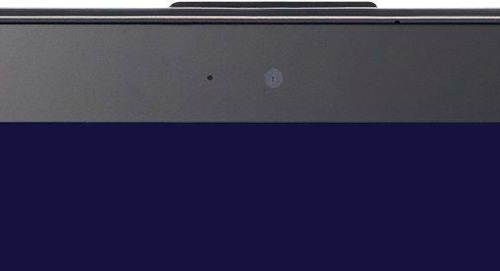 Keyboard and Touchpad ASUS VivoBook S301LA
As mentioned above, the working surface of the laptop aluminum and Mark, which is very convenient, given constant contact with her hands of the user. Incidentally, this part ultrabuka monolithic, i.e., all of its whole surface, and the slit made for the keys. By itself, a typical keyboard, get used to it will not be difficult. Its square shaped buttons, made of opaque plastic and labeled monotonous white. During intensive printing user can feel like the keyboard a bit of flex, but it's not so felt to bring discomfort to the workflow.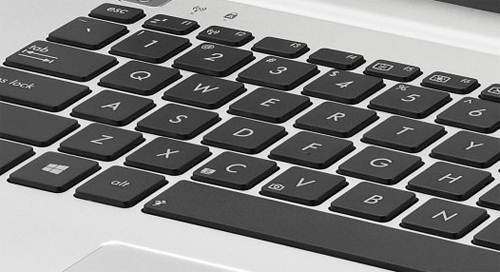 Some features of the form of construction or no keys. For example, [Enter] – Single row, long, however, as both keys [Shift], so definitely not for promazhesh! Same dimensional and is [Caps Lock], but [Ctrl], on the contrary, presents a form can not boast. Nampad expected absent, switch unit is small but quite comfortable. Gap also trimmed and it is good for the convenience of printing. Lights, unfortunately missing, so if you need to work in the dark, will be guided only by the reflection of the display.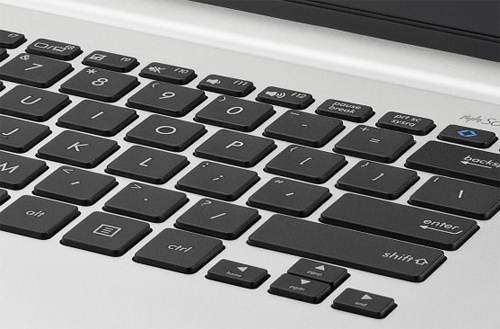 Above the keyboard, from the left edge, you can see the metal rectangular button on the Ultrabook, and an indicator of the state of Wi-Fi and on / off Caps Lock. Located under the keyboard touchpad, located almost in the center. He's a big, smooth, with sharp edges, which are easily grope. Physical keys at the touch of the manipulator is not, but the zone is visible visually mouse keys, so you just do not miss. The touchpad supports multitouch gestures, such as zooming, scrolling, and others.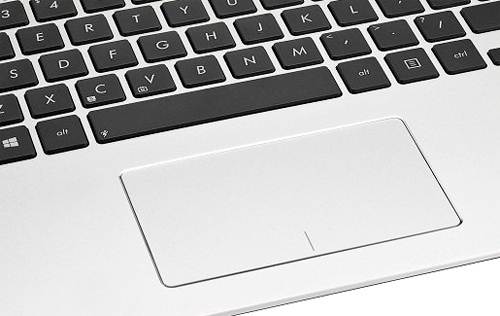 Performance ASUS VivoBook S301LA
In ASUS VivoBook S301LA (S301LA-C1011H) pre-installed operating system Windows 8, although this is not surprising, given the support for touch input display information. One of the central locations of hardware processor takes the case with our complete set – is a low-voltage chip Intel Core i5-4200U generation Haswell. He dual-core, but thanks to Hyper-Threading technology can simultaneously handle four threads. Processor clock speed is 1.6 GHz, but it can also increase and up to 2.6 GHz. Cache Level 3 is 3 MB, moreover, energy efficient CPU, because consumes only 15 watts.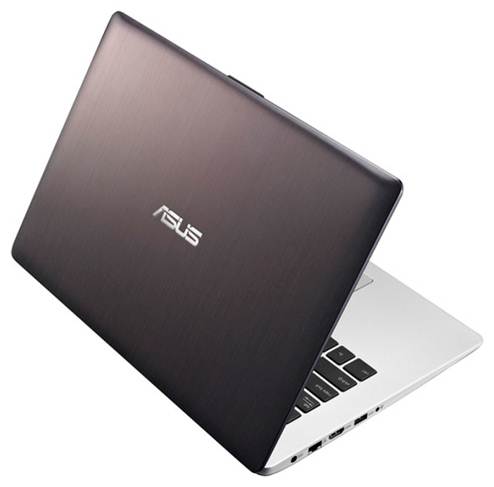 In fairness, we note that in addition to this processor, the buyer are available to choose two more weaker and, conversely, more powerful: Intel Core i3-4010U and Core i7-4500U, respectively.
As for the graphics component, in this case it is represented by integrated graphics Intel HD Graphics 4400. Video, as well as processor, built on 22 nm process technology, support DirectX 11.1, Shader 5.0, and is equipped with an encoder and decoder Quick Sync for processing 4K video. Performance of this graphics controller enough for many tasks, of course, not too demanding. Still, this is not a discrete graphics card, and so on games with complex graphics have to forget. But it is understandable, because in gaming laptops and the price tag, and the hardware is quite different. Nevertheless, it will be possible to play Total War: Rome II on medium settings with 25-27 fps or Dota 2 with a frequency of about 30 frames per second. In this case change the display resolution is not necessary, it will remain the base – 1366×768 pixels.
Note that RAM soldered on the motherboard. RAM is 4GB standard DDR3L-1600 MHz, but found in other trim levels and 8 GB. But thanks to the storage of information provided by the hard disk capacity of 500 GB. Depending on the configuration, the manufacturer offers a hard drive capacity of 320 GB, 750 GB and 1 TB even. Moreover, the rotation speed may not only be 5400 rev / min, as in this case, but the above – 7200 rev / min. In short, there is plenty to choose from.
Ports and Communications ASUS VivoBook S301LA
With ports in ASUS VivoBook S301LA no obvious problems, but have a claim to the number of connectors USB 3.0: it is just one. It would seem to date this standard is already firmly entrenched in everyday life, almost all models come with him, but engineers ASUS, apparently believe that one is enough.
So, on the left side of the notebook fit USB 3.0, video output HDMI, LAN port RJ-45, combo audio jack and actually jack for charging the device.

The right side has two more USB, but the standard 2.0, card reader 2-in-1 (SD / SDHC) and Kensington lock.

The rear part is empty, but you can see the front three LEDs, which are seen icons, namely the state of the battery, HDD and work laptop.
In the role of wireless communications supports Bluetooth 4.0 and Wi-Fi standard 802.11 b / g / n.
Battery and heating ASUS VivoBook S301LA
The notebook uses 2-cell lithium-polymer battery of 5186 mAh (38 Wh). This is not particularly powerful battery in tandem with low screen brightness and energy-efficient processor is showing very good results. For example, in reading mode with the included Wi-Fi module gadget can work for 5:00, and while watching movies discharged, respectively, before. The result, though not the highest, but, in principle, acceptable.
For excessive heating of the user may not have to worry, because the grille above the keyboard is cool, which copes well with its tasks, bringing warm air. Thus, ultrabook remains comfortably warm, even under load.
Conclusion ASUS VivoBook S301LA
That was our introduction to the ASUS VivoBook S301LA, which certainly made for each different impression. In general, the laptop has proven itself well in it, as in any other model has its advantages and disadvantages. Perhaps the most important drawback can be considered poor display quality with a very low resolution compared to modern standards. In addition, pumped up the brightness and viewing angle stability. If the user has previously worked with a better screen, then adjust to this it will be difficult. Touchscreen – it is certainly a plus that many will appreciate.
Of special note is an ergonomic keyboard and touchpad, which is very pleasant to work with. Has not gone unnoticed, and good build ultrabook, and used in its construction aluminum. As part of the performance is no unpleasant surprises, because thanks to a good processor and integrated graphics workflow Haswell will, though not the highest, but it is worthy. Of course, it is impossible not to mention the price of the device about $ 800, which by the standards of the market ultrabooks not too expensive.
As you can see, the arguments "for" buying ASUS VivoBook S301LA significantly more, and if you are willing to put up with poor quality display, we suggest that a better look at the laptop.
Read another very interesting article about alternative energy of the Sun, water and air.