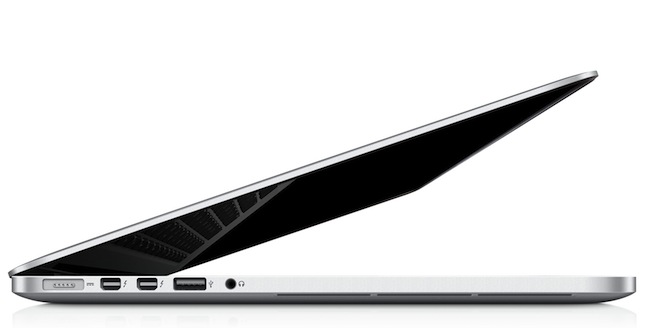 Waiting for updates line of professional notebooks Apple exacerbated by the fact that the first computers running Haswell processor family broke its own sales record .
The fact that the update will come this year, is almost a fait accompli, but we do not give rest to the exact date of fulfillment of the event. Recent rumors floating around the new line of MacBook Pro updates and predicted, as a result, the announcement in September of this year. However, according to the China Times, these data may not be correct.
As reported by Chinese journalists, professional updates for Apple computers should not be expected until October. It is necessary to assume that Apple will introduce update the entire line of MacBook Pro. Let me remind you that last year 15-and 13-tidyuymovye models were presented at different events, but then it was a radical renewal of the ruler. This time, Apple's expected to update processors. The new "Proshka" like MacBook Air will be transferred to the family processors Haswell .
Do not expect a significant increase in new computers performance. The modern MacBook Pro – a fairly powerful computer, and what he did not have enough, Apple will add in the coming update. I'm talking about increasing battery life. It is necessary to assume that the new "Proshka" will be able to work for 10-12 hours on a single charge. It should be quite enough for one day.
By and large special value date of the announcement of new laptops do not have. A month earlier, a month later, the main thing about this is that Apple will not integrate with the MacBook Pro update event which will introduce new iPhone , iPad, iPod and upgrade operating systems.
Still the question remains the future of the previous generation of MacBook Pro deprived display Retina. How Apple will go with the already obsolescent models of its computers is anyone's guess. However, the fact that the current MacBook Air gradually grow to the level of "Proshek" of the previous generation, makes you wonder about the necessity of their stay in the line of mobile computers Apple.
Read another very interesting article about alternative energy of the Sun, water and air.