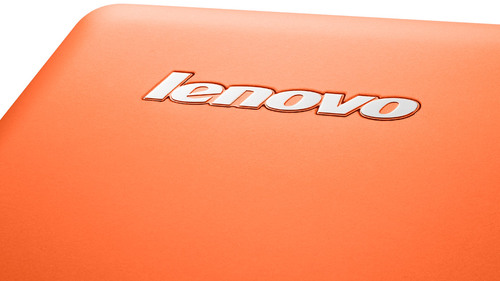 Do not have time to appear on sale Lenovo IdeaPad Yoga 11 as a couple of months, at CES 2012 Chinese was introduced another novelty – Lenovo IdeaPad Yoga 11S. The models differ substantially filling: predecessor was equipped with NVIDIA Tegra 3 processor and a stripped-down Windows RT, while its follower is built on the platform of Intel, as in an operating system is a full-fledged Windows 8.
The design of the notebook-transformer Lenovo IdeaPad Yoga 11S has not changed, and pleased with his strict, but at the same time a nice design. The highlight of this gadget is that it can be used equally as a laptop and a tablet.
To understand better what is the Lenovo IdeaPad Yoga 11S, can only be thoroughly acquainted with all of its technical characteristics, which will be devoted to the review.
Design
Appearance Lenovo IdeaPad Yoga 11S definitely makes draw attention to themselves. This gadget is a laptop that by rejecting the cover 360 degrees, is transformed into a tablet. We can not say that the idea of ​​such a device is new, however, agree to meet a similar model can not often.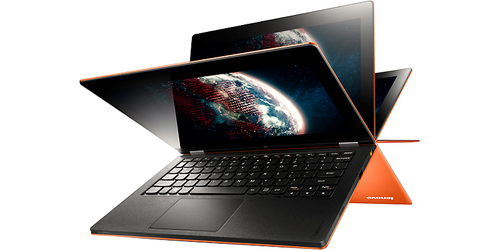 Laptop represented in orange and gray, with gray does not seem boring and orange – tawdry. Regardless of the colors of the cover, the keyboard will definitely black. It has a matte flexible coating that does not linger fingerprints. Rather, the choice fell on this type of material for practical use of the laptop as a tablet.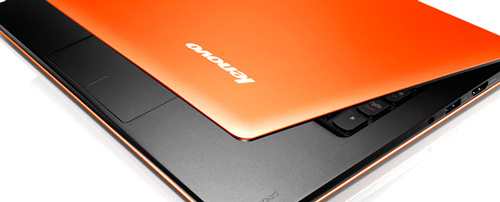 Gadget plastic cover, with a winner and looks very stylish. In addition, it is not the brand, but for this type of laptop, the user can use it in several positions, this criterion is very important.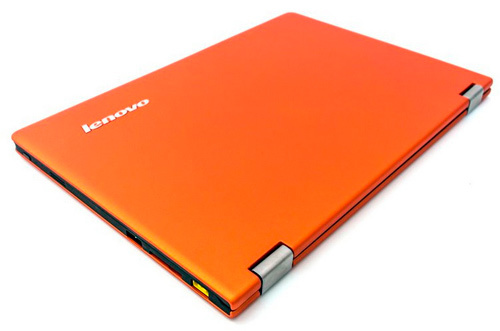 As mentioned above, the main feature IdeaPad Yoga 11S is its ability to use as laptops and tablet: in normal position we usual laptop but should reject screen 360 degrees – and obtain tablet. In this case, when the keys are here in this upside down, they are automatically turned off, so the risk of accidentally pressing something is reduced to zero.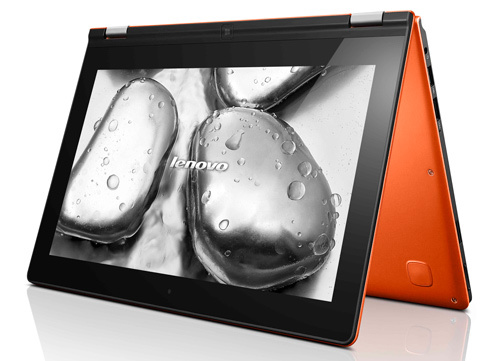 In this connection there is a justifiable question: is it this? After all, lean back keyboard still felt under the fingers, because the gadget and do not keep in contact with the rear panel is not possible. Moreover, given the weight of the device – 1.4 kg, ease of use hybrid has also been questioned. On this basis, we can assume that the best way to use it – put on your knees or on the table, using the keyboard as a stand.
As for the dimensions of the Lenovo IdeaPad Yoga 11S, its width is 29.8 cm, length – 20.4 cm, and the thickness – 1.7 cm
Display, audio and webcam
Laptop Lenovo IdeaPad Yoga 11S is equipped with a 11.6-inch screen with a resolution of 1366×768 pixels. Matrix hybrid all-glass and it is logical, given that the touchscreen display. In addition, he is a glossy, so on a sunny day is to be ready to glare.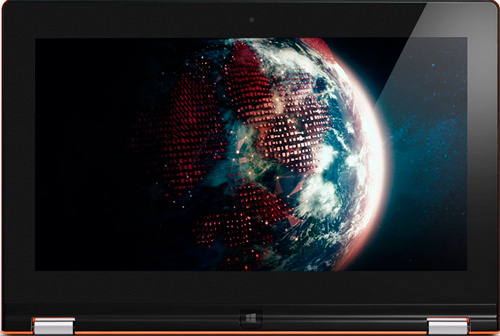 Thanks to the IPS-matrix angles in the laptop is great. With vertically, horizontally no color distortion, the brightness level also remained.
Above the display is a 720p webcam, with which easily get to chat in Skype, video conferencing, etc. Of course, doing full photo camera with this resolution clearly does not, however, buying a hybrid device, and no one expects to get a high-resolution web-camera as an extra bonus.

Manufacturer equipped IdeaPad Yoga 11S two-speaker Dolby, located on the lateral ends of the device. They are small in size, so if the sound at medium and high frequencies is still quite good, the bass and the bass is poor.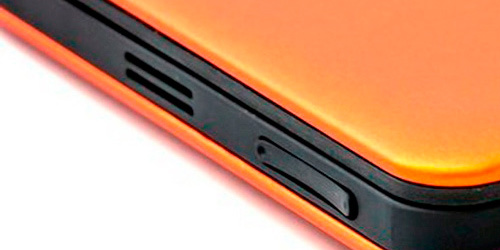 Keyboard and Touchpad
The working surface is made of high-quality rubberized textured plastic, so that the palms comfortably cool. Keyboard AccuType provides a clear keystroke. Because the IdeaPad Yoga 11S – a hybrid device, not a full-fledged laptop with keyboard numpad missing. For this reason, these keys as [Backspace], [Enter], [Caps Look] reduced. Another disadvantage can be called proximity keys [PgUp] and [PgDn], with a small pointer block. Because of this, there is a risk that when typing a user accidentally touches the wrong buttons. A major shortcoming of this can hardly be called, because to this point, you can adapt himself.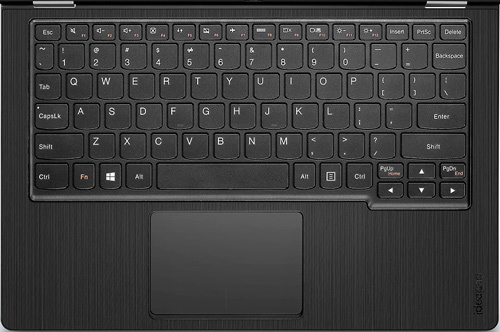 The keys have a rectangular shape, the bottom part is a bit rounded and it dilutes the rigorous design of the keyboard. Marking buttons white, and function keys – red.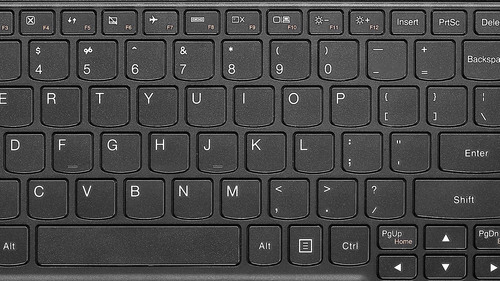 In general, the keyboard Lenovo IdeaPad Yoga 11S leaves a good impression, it comfortable to work with, functional and practical. In addition, its rugged design, and the lack of deflections is good.
Under the keyboard has a touchpad, slightly offset to the left. It is quite large, matte, has a rough surface. The boundaries are clearly delineated touch pad, find them by feel there is no trouble. The touchpad supports multi-touch gestures, his response is very fast. Physical keys are not available.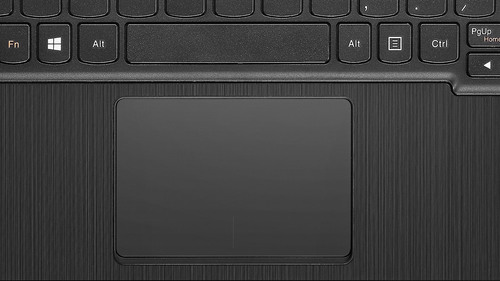 Performance
Lenovo IdeaPad Yoga 11S – 59370512 comes with the operating system Windows 8 64-bit. In addition, the filling of the hybrid includes also the processor Intel Core i5-3339Y-generation Ivy Bridge processor with a clock frequency of 1.5 GHz. With support for Turbo Boost mode operating frequency of the processor can be increased up to 2.0 GHz. This equipment is not the only one in the other configurations, the notebook can be equipped with both younger and older processor – Intel Core i3-3229Y or Intel Core i7-3689Y.
It is also worth mentioning about available in the gadget online store Lenovo Cloud Storage, through which the user can store any information of up to 5 GB for free. However, you can download and more information, but it was already will have to pay.
Image processing in the device assigned to the integrated graphics Intel HD Graphics 4000. It is characterized in that it supports DirectX 11, made on 22 nm process technology and is quite energy efficient. Thus, the performance of simple daily tasks, which, by and large, and is designed IdeaPad Yoga 11S, video card can handle without any problems.
The notebook has a maximum possible in this case, the amount of memory – 8 GB standard DDR3-1600 MHz. As for storage, there is provided a 128GB SSD. In fairness, we note that in some other trim rolls powerfully used by more capacious 256GB solid state drive.
Ports and Communications
You can not say that the Lenovo IdeaPad Yoga 11S has a rich set of interfaces, rather, on the contrary, the number of ports is poor.
So, on the right side has a USB 2.0, card reader SD / MMC, socket for charging the laptop, as well as key lock screen.

The left-hand side together USB 3.0, video output HDMI, composite connector for headphones and a microphone.

Behind some interfaces are missing, and the front has a button on the gadget, and the battery status indicator.
As for the wireless communications, the IdeaPad Yoga 11S is equipped with Bluetooth 4.0 and Wi-Fi standard 802.11 b / g / n.
Battery and Heating
In the Lenovo IdeaPad Yoga 11S mounted removable 4-cell lithium-ion battery of 2520 mAh. By and large, its capacity is sufficient for this type of device. In idle battery life was about 8:00, but under load – about 2 hours. Indicators, if not abolished, even very good.
Speaking of heating laptop, here, perhaps, the user may experience a little discomfort. Even during downtime gadget warm, but, of course, critical temperature of the hot can not be named, even under load.
Conclusion
So, the new Lenovo IdeaPad Yoga 11S – this is certainly an interesting and attracting the attention of the product. According to the manufacturer, the device can be used in four modes: as a laptop, tablet, console, and for making presentations. Definitely, this is a great option for mobile and modern people who are used to operate the multi-function gadgets. In addition, the laptop is available in two color variations, so it will please both lovers of classical music, and people who prefer bright colors.
As for the toppings, there is also provided a wide range of customers, ranging from less powerful and complete sets to the more powerful. Do not let us down and battery life: the device can be used for a long time without recharging.
Lenovo IdeaPad Yoga 11S – this is a huge step in favor of new mobile technology, which means it will definitely a lot of fans around the world.
Read another very interesting article about alternative energy of the Sun, water and air.