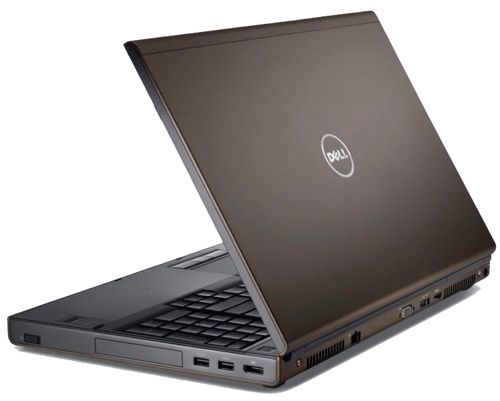 Many large companies involved in computers, laptops and other such appliances, devices for professionals, such as workstations. For example, Lenovo's line of ThinkPad W, from MSI – Series WT, from HP – a new solution ZBook. With a full line of Precision Workstation from Dell pros know firsthand. This manufacturer is an expert in all matters relating to serious work. Time-tested, these devices do not catch up, and are on a par with the powerful modern innovations created for those who work requires the participation of every minute, and the blunders and inaccuracies should be reduced to zero. Dell Precision M6800 is just one of these laptops. His performance can be the envy of any, because in this case is a professional workstation graphics card NVIDIA Quadro K5100M, which has the support of the quad-core Intel Core i7-4800MQ and 32 GB of RAM. Of course, for such a stuffed harvester will have to pay quite a round sum of about $ 6,000, however, the flagship of the Precision M6800 will work it off.
Design – Dell Precision M6800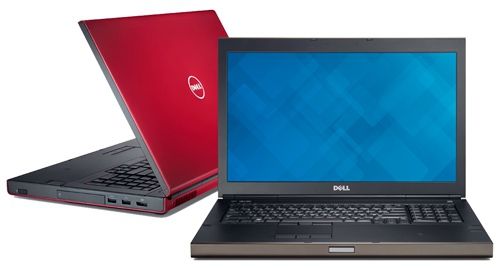 The laptop case is made of magnesium alloy and aluminum. It has mainly brown coloring, although the keypad buttons – black. Appearance is very strict, considering it does not occur even thought that the device is intended for entertainment. It is. Dell Precision M6800 – a typical workstation, it looks impressive and the cast, and most importantly – safe. Design of the notebook is made in the spirit of minimalism, this does not distract from the important task. However, there is also other colors – red. Possible, and such models will be to the liking.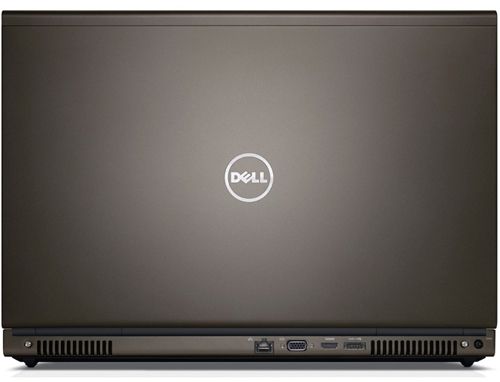 And the laptop a solid and strong enough, it can not be said for that cheap. By the way, compliance with MIL-STD-810G and not an empty phrase, you can be sure that the workstation will withstand changes in temperature, altitude, different levels of humidity and vibration and dust.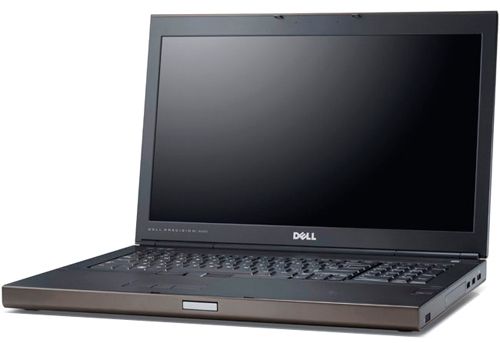 In fact, laptop Dell Precision M6800 is optimized for various business trips, he is not afraid of different climatic conditions. At the same time the size of 416x270x37 mm and weighs 3.6 kg mean very dimensional and relatively heavy device that is hardly convenient to take with you every day. Rather, it is a fixed version, which place in the office or at home, where you can also carry out design work.
Display, audio, web camera – Dell Precision M6800
Laptop screen technology has the Dell UltraSharp 17.3-inch diagonal and Full HD-resolution of 1920×1080 pixels. Matt and widescreen display that can be better if the main tasks performed related to the work. Glare no space enough to accommodate a sufficient amount of information. By the way, the viewing angles are quite wide, typical for IPS-matrix.
The brightness level of the display is in the range of 250 cd / m 2, which is enough for indoor use. At the same time on the street will have a little look closely to the picture. Contrast ratio 730: 1 being the highest, however, it is worthy of praise. But excellent color rendition will not leave you indifferent.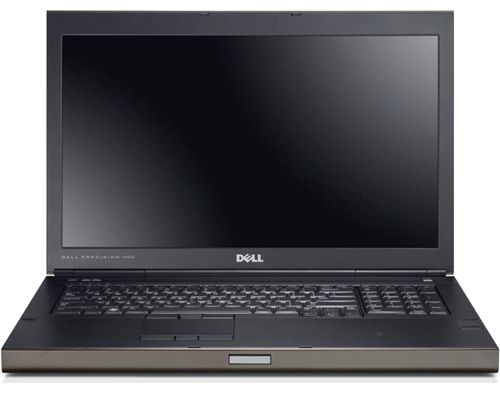 Acoustics workstation Dell Precision M6800 has two stereo speakers. They sound very loud, but not quite accurately. By the way, here is the bass, and they are much better than the mid and high frequencies, which lacks expressiveness. Help improve the sound settings Waves MaxxAudio Pro, but even in this case, it is unlikely you will be able to call sound perfect. If we talk about the webcam, it is only available as an option.
Keyboard and Touchpad – Dell Precision M6800
Now many manufacturers equip their laptops island keyboards. However, the Dell Precision M6800 left of installing a conventional keyboard with a two-stage structure, which enabled the optimal distance between the keys. Of course, it is not so great, but does not cause discomfort. Also note that the surface of each key is concave and clearly marked, and the function keys as opposed to the main highlighted in blue.
It should be noted that the main key, and dial nampad block is not reduced. The latter even reduced to one row below the main unit. All the buttons are pressed gently and clearly.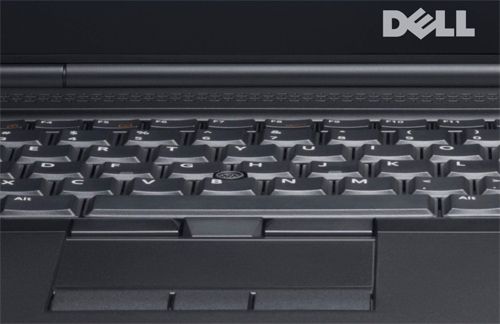 In the middle of the keyboard is located Track Stick – a small mini-joystick, very comfortable with cursor control. He has a black coloring and a pleasant spot surface. Such a positioning device is especially suitable set of blind followers, so they do not lose precious seconds to move to the mouse or touchpad.
By the way, the touchpad itself, surprisingly, not very big, but very sensitive. Each team, multitouch gestures, he performs with great precision, which is very important in the work. Top and bottom of it is surrounded by the physical keys, including management Track Stick.
Podladonnoy on the site closer to the right side, is a fingerprint scanner. It will surely appreciate the professionals for whom security is important.
Performance – Dell Precision M6800
Dell Precision M6800 (210-AAYI-003) runs on 64-bit Windows 7 Professional. Performing complex professional tasks, this notebook relies on a powerful processor Intel Core i7-4800MQ. This chip has four cores and can handle up to eight streams of information simultaneously. CPU frequency is 2.7 GHz, while the amount of cache in the third level – 6 MB. Interestingly, in the Turbo Boost mode indicator clock frequency can reach 3.7 GHz.
Under the RAM in the laptop is allocated four slots, while the total amount of RAM is 32 GB standard DDR3-1600 MHz. This is a very impressive size that it is unlikely that it will stop. Running professional and other demanding applications, it will seize on the fly.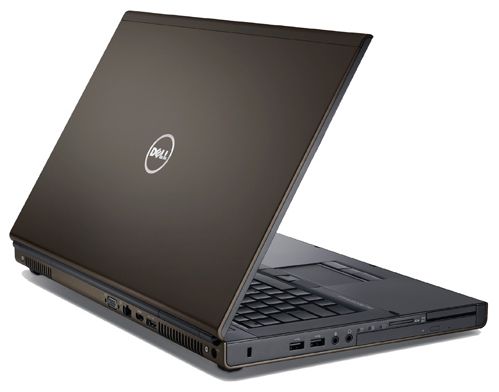 The top filling the workstation impressive literally in all respects. That's a discrete graphics card NVIDIA Quadro K5100M of them. It has 8 GB of internal memory standard GDDR5 and can provide high performance in complex engineering calculations during simulation applications AutoCAD, SolidWorks, Autodesk 3ds Max and others. Depending on the configuration can be a graphics accelerator – Quadro K3100M or K4100M , and and graphics card from AMD – FirePro M6100 Mobility Pro, too, from the category of professional.
As for storage space, then all the files you can store on your hard drive SATA III 750 GB and 7200 rpm. For all sorts of documents that will be more than enough. If Dell Precision M6800 will fall from a small height, HDD read head is locked in a timely manner that will not lead to loss of important data on the hard disk. By the way, this configuration is also provided, and SSD, whose capacity is 512 GB. Thanks to the SSD workstation boots and runs much faster.
Ports and Communications – Dell Precision M6800
As for ports and connectors, they are here quite a lot. In particular, it is located on the right side drive bay, a couple of USB 3.0, DisplayPort and a small switch Wi-Fi.

Left also has two USB 3.0, headphone output and microphone input. In addition to them, you can see the slot for Kensington lock, ExpressCard / 54, two audio jacks for headphones and microphone. In addition, it houses a slot for a smart card, card reader (SD, SDXC, SDIO, MMC, XD, MS, Mini-MMC, MMC +) and a built-in optical drive.

Not all interfaces instead of on the side faces. Some of them fit perfectly on the rear panel: VGA, HDMI, slot for charging, Gigabit RJ-45 and eSATA, combined with USB 2.0. In general, part of the wires connecting the various devices will no longer interfere, since they are located behind.

As for the bottom, then there is a terminal to which you connected the docking station. Under the hood Dell Precision M680 is a slot for Micro-SIM. But the front end of the interfaces available.
For the exchange of data, you can use Bluetooth 4.0, to communicate with the Internet you will need a Wi-Fi 802.11 a / c.
Battery – Dell Precision M6800
The notebook Dell Precision M680 has a removable 9-cell Lithium-Ion battery 97 Wh. When you surf the web it is discharged within five and a half hours, with the screen brightness reduced to 60%. As for operation under load, in this case Dell Precision M6800 shut off after 2 hours and 30 minutes. Charging the device is the power supply capacity of 240 watts. Accelerates this process technology support ExpressCharge.
Conclusion – Dell Precision M6800
Without a doubt, Dell Precision M6800 – a true flagship devices for professionals, it will be indispensable in the work. His dignity is not in need of representation, in particular, this notebook a reliable and stable. It fully confirms the words of Dell that is the most powerful 17-inch workstation in the world.

What to speak of other advantages are evident: versatility, powerful hardware components, comfortable input device, including the Track Stick. Display workstation also remain out of work, because he has the optimal resolution Full HD, good stock and good color contrast. In addition, the Dell Precision M6800 enough ports and connectors. All this will ensure flawless and effective work even with demanding applications.
Of course, the top-end equipment will be expensive – about $ 6000, but we are not talking about a spontaneous purchase, which soon forgotten, and the serious performance of the machine, which will have to be used on a daily basis to perform complex professional tasks.
Read another very interesting article about alternative energy of the Sun, water and air.