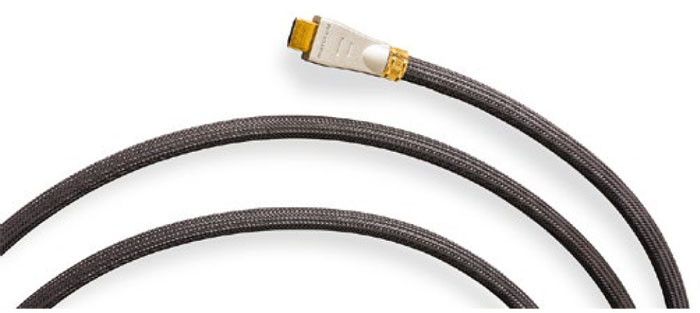 Today, when the projectors and DC in the homes are no longer a rarity, it becomes more and more urgent the need for long HDMI-cable. However, as moodiness HDMI-connection has become almost a byword, mistaken with a choice of cable, especially long, does not want. We managed to test in one of the options – a 15-meter cable HDMI 1.4E domestic firms Tchernov Audio.
Note that although the model is made in China, it developed here in Russia. Structurally, the cable consists of five single-wire twisted pair of copper wires in air-porous polyethylene insulation (CAFPE) and seven service stranded conductors in polyethylene, and polyethylene insulators used in high purity, without artificial polymerization accelerators – domestic production. Copper ore produced from the Urals and passes electrolytic cleaning.
In contrast to the commonly held view that the quality of the copper is determined by how little oxygen in it, in Tchernov Audio is considered more important to minimize the content of substances such as silicon, sulfur, germanium, arsenic, etc., And therefore bought for their products electrical copper desired chemical composition (BRC). Protection against harmful interference provide individual and overall shielding copper foil based on PET, as well as external braid BRC density of more than 80%. Thanks to these technological solutions can successfully transmit cable video with Full HD resolution and 4K at a distance of 20 meters without the use of active repeaters.
To test the cable into the real work we have joined with the help of BD-player and projector SIM2 M.120, and then to compare the model instead Tchernov Audio used our usual HDMI-cable of the same length and with equal value. Of course, we are aware that the evaluation of any conductor to transmit digital information many "skeptics, materialists" can be perceived ironic. Nevertheless doubters can check our own conclusions. The film "Cane toads: Occupation" is impressive not only because of the voice acting effervescent Ivan Ohlobystina, but also a clear, detailed picture – and it's a given that the theme of the film would not really interested in the Russian audience. Cable gives the image a slightly higher contrast and sometimes if it adds volume. This is clearly noticeable, for example, in the film "Angels and Demons": the scene in St. Peter. Peter and the Sistine Chapel cause more emotional stress than when using other HDMI-cable having a softer image.
The only comment we have was the fact that because the cable is quite thick and heavy, with the installation of equipment necessary to ensure that no mechanical stress on the HDMI-connector. But in general it can be recommended to fans of home cinema.
Price: $ 50 (0.6 m)
PROS: Careful design, image contrast and sharper than with some other cables
CONS: Nothing significant
Verdict: An excellent solution to create a DC-based projector, just need to take care of fixing the cable ends
Read another very interesting article about alternative energy of the Sun, water and air.