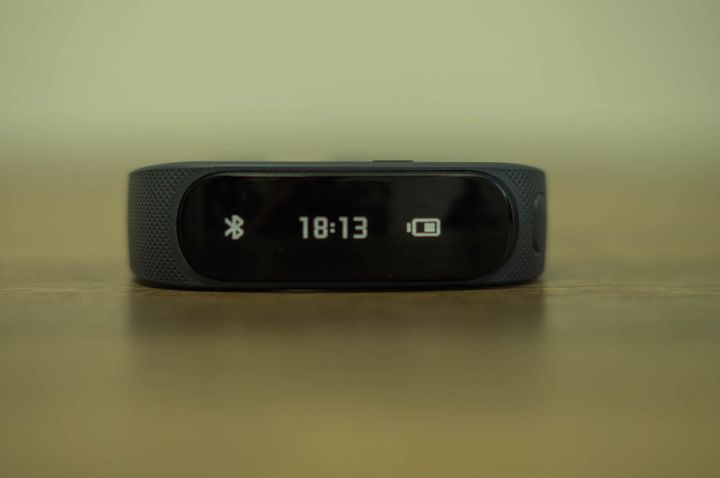 More recently, Huawei has shown an interesting accessory, which is a unique combination of intelligent fitness bracelet and Bluetooth-headset. We managed to get some time on the device and hold it fully tested in real operation. What came of it, see and read in our of Huawei TalkBand B1 review.
Market sports bracelets small Huawei TalkBand B1 review, but diverse, take them here Samsung c Gear Fit, where great emphasis is placed on sports component. This is an excellent device with a unique curved display, which fits the hand. Or Misfit Shine , which can be worn on almost any part of the body. Needless listing good fitness trackers, we can not ignore the two most popular – Jawbone UP 24 and FitBit Force. This year, the market is now, Huawei TalkBand B1 review device with its unique "two in one", analogues to date does not exist. Meet the sports bracelet headset Huawei TalkBand B1 review.
Components and appearance Huawei TalkBand B1
The device comes in the original box. Huawei even drew carefully the instructions on the "tongue" of the box, so you can fold it correctly. Acquisition devices is minimal, to be honest, I initially thought that there is nothing except the bracelet and is not, and only a few days later guessed open bottom drawer, which I thought was a decorative, there I was able to find the user manual, and two removable mounting.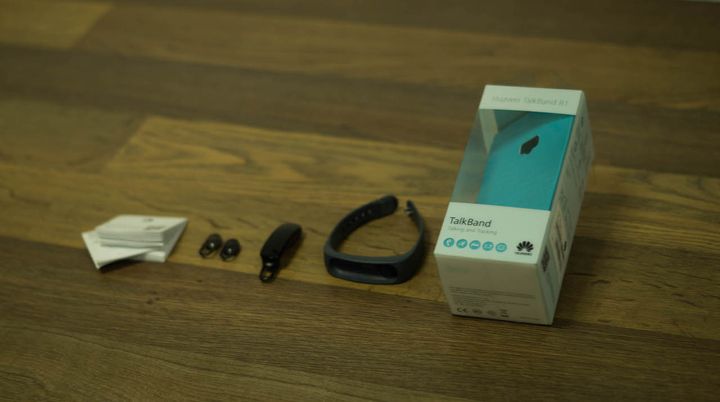 Huawei TalkBand B1 review consists of two parts: the first – rubberized bracelet gray c touch-point texture in the sale will have black, white, blue, yellow and pink color options as well as in two sizes – small for people with wrist between 135 -170 mm and great for those with a size between 160-200 mm. As you can see in the photo, bracelet disproportionate to his left side is thicker than the right, the pill just only there right column. Interesting design solutions that will make a bracelet Huawei TalkBand B1 review such a form that it looked organically in your ear now as a headset.
At the edge of the strap is closed with USB-output. I must say that on the one hand it is a very convenient solution. Along with Gear Fit, for example, is a private station with microUSB-input for charging, which is very easy to lose, here have absolutely nothing to lose. On the other, purely visual side, there is a claim to what looks like a bracelet on the charge – it just sticks out of the USB-port, it looks strange. Himself bracelet has six mounts for different size hands and clasp with two teeth on the back of which is the logo Huawei. The clasp is made of polished metal, and, unfortunately, due to frequent contact with the surface scratches not it inevitable.
The second and main part of this design – a pill that has a OLED-screen diagonal of 1.4″. Its resolution is unknown, but the picture looks pretty pixel. On the back side there are the contacts for the connection with the bracelet and earpiece. The device Huawei TalkBand B1 review has two microphones – one on the side which will be in conversation closest to your ear, and the second – from the side, for noise reduction. The overall design looks not particularly noteworthy in that colors that was on test here, the blue looks interesting.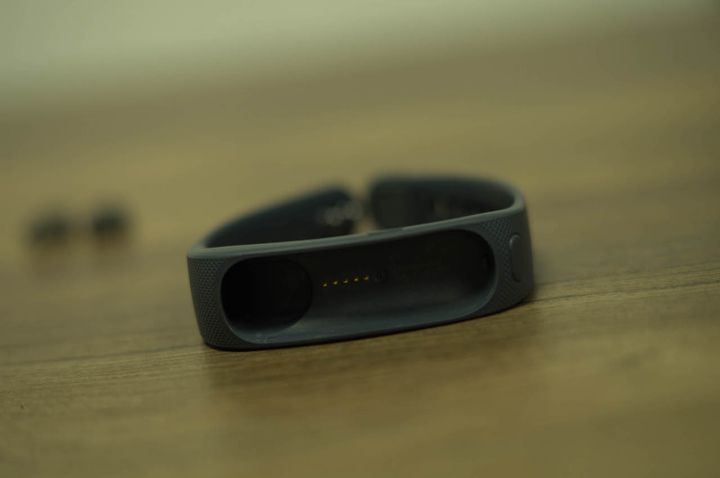 Once you have fixed the bracelet on his left hand, the management will be as follows – by clicking on the left side, you unlock the screen of the device, further pressing will switch you information about your activity, you can not lock the bracelet, its screen itself goes out after 10 seconds. When you receive a call, the upper part of the strap you click on the button and pill rises from deepening.
Soft – Huawei TalkBand B1 review
Bracelet Huawei TalkBand B1 review is friends with all devices on iOS 5.0+ and Android 4.0+, in the appropriate app store you need to download a proprietary program called Huawei TalkBand. Connect the tracker with a smart two ways – via Bluetooth or NFC.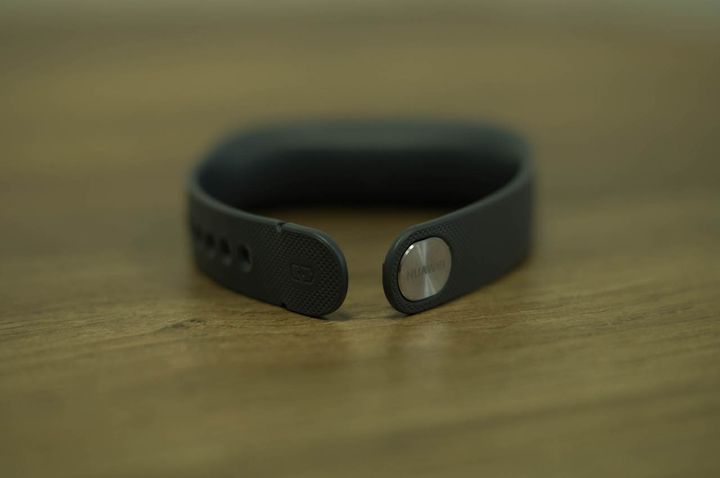 The main application menu shows all your activity for the day. On top are two circle that shows the number of calories burned and total sleep time. Clicking on one of them, you will get access to statistics by days, weeks and months.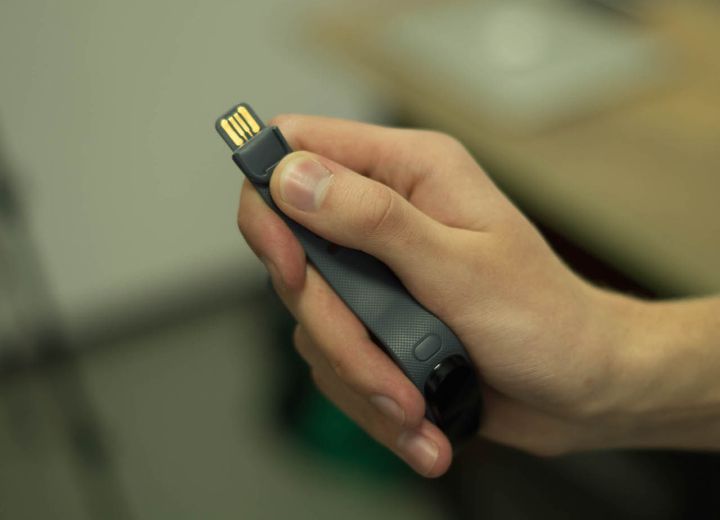 Under the circles are two sections – "active" and "Dream". In the activity displayed by you passed steps, distance and total time in motion. In the dream, you can view information about how much you were in a phase of deep sleep, and easily, as well as taking the time to sleep. Somehow, in the last paragraph I have always been a mark 0 hours 0 minutes, apparently tracker thinks I chopped off as soon as I lay down on the bed, oh, if it was actually.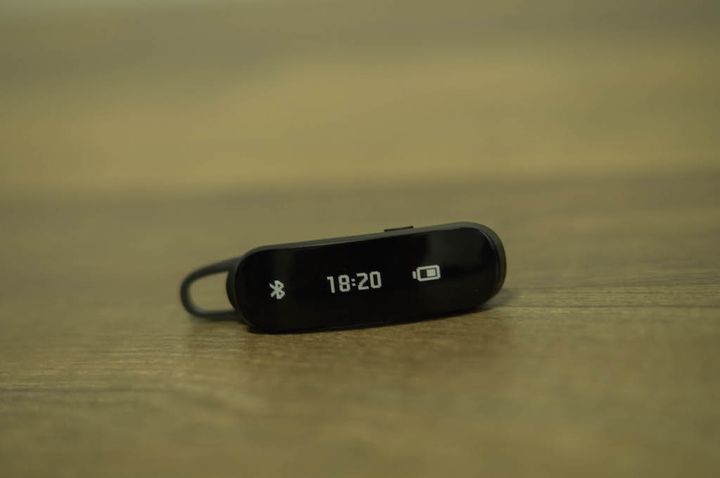 In application settings, you can see the battery status, edit their data and set a goal for the day. In the "Reminder" can customize the periods when Band 1 will remind you of what you need to slightly shake their buns, if noticed that you do not move for 30 minutes. For example, Monday to Friday, it will vibrate, and on Saturday and Sunday will not bother you and stop lying on the couch. In the "Smart Service", you can set wake-up time, as the tracker monitors your sleep, then wake it you will not exactly at this time, and in the optimal phase of sleep in 30 minute interval between the time-setting. This item I'd passed on the main screen, as he often put alarms on different time and climb over these settings uncomfortable. In the "About" you can download the new version of the application and update the firmware for the bracelet.
Jobs Huawei TalkBand B1 review
Tracker is switched by pressing the side, on the main screen you will see the time, battery and connection status – if the connection fails, it will signal this bracelet. Would not prevent the reverse interaction, because once such a situation occurred that bracelet unbuttoned and fell on the pavement, I did not notice it if it were not for my girlfriend, who drew attention to these things misunderstanding, this Huawei TalkBand B1 review would you now hardly read.
Sports component Huawei TalkBand B1 review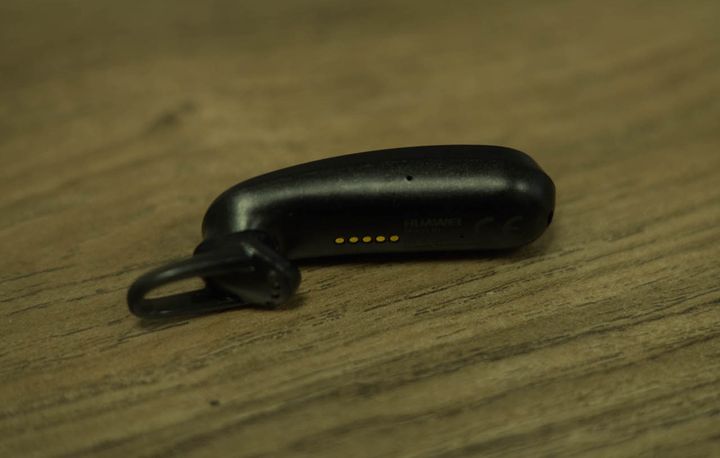 It is about the same as in the other bracelet Huawei TalkBand B1 review – count steps, calories, distance traveled and total activity time. For completeness, I would add here counting steps. On paper, almost all the trackers are the same, but the quality of each sport can be identified only borrow it. Huawei TalkBand B1 review definitely not name the most accurate fitness tracker. Active gesticulation it is not fooled, but during the operation, I began to notice that a gyroscope in bracelet counts too many extra steps, but, unfortunately, even this did not help me reach my daily allowance of 10 thousand. Steps, and it is a sign, so that something in time to change his life. All trackers are calculated, but Huawei TalkBand B1 reviewtoday the error is too great to accept the displayed figures for the real picture. However, in our review of the test sample is a product that has not even hit the stores, so we hope that the Chinese company programmers work on this problem.
Dream – Huawei TalkBand B1 review
Turning to the monitoring of sleep, we note that Huawei TalkBand B1 review somehow must take the time you spent on sleep, because for all the days never use numbers have not changed since the index 0 hours 0 minutes, even though I fall asleep long enough. In this case, I prefer option when you yourself informs the tracker that you go to bed, I think there would sleep data would be more accurate.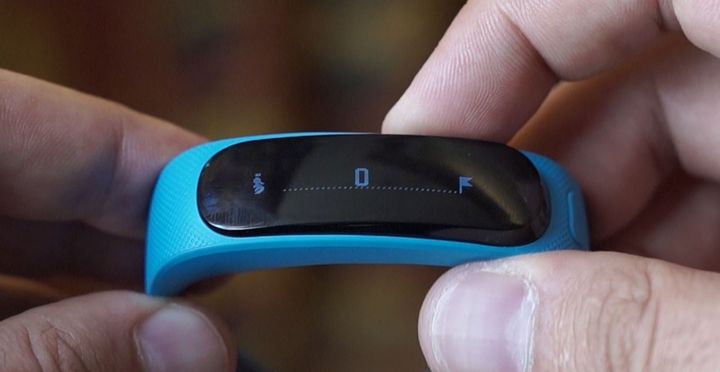 We review on Huawei TalkBand B1 review was pretty limited time and these days he woke me with your vibration is not very powerful, but it was enough. Looking at the data on your sleep in the morning, and comparing them with the real picture, we can conclude that the Huawei TalkBand B1 review – good sleep tracker. If you do not wake up at night, the problems should not arise at all, but the few times I woke up, climbed on the phone and went to bed. A device that activity does not recognize and drifted in section "light sleep." In general, the situation is better than tracking activity, but also has plenty of room for improvement.
Bluetooth-headset – Huawei TalkBand B1 review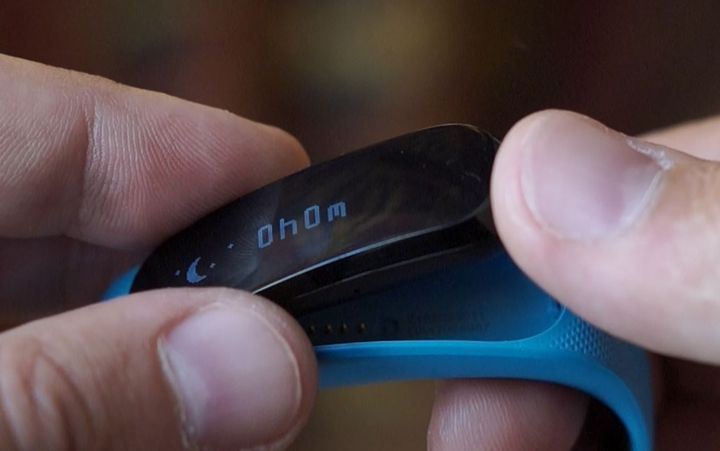 A unique feature of this bracelet is that it is also Bluetooth-headset. When you receive a call, the screen displays the number of Huawei TalkBand B1 review and the name of the caller. Once pulled from the tracker bracelet, then press the button and answer the call. I am very pleased this function, it is more convenient than reaching for the smartphone in your pocket when you are traveling in the subway, it's easier than getting out of bed to answer the incoming, it is handy when you're in the bath answer the call and do not leave her to answer it with a smartphone. The quality of communication in most cases acceptable, two microphones do their job well. Interlocutor always heard clearly, but I sometimes asked to speak louder. Lies in the ear B1 handy when talking does not fall, but run with it just will not work.
Autonomy Huawei TalkBand B1 review
Inside this pill installed battery capacity of 90 mAh. The manufacturer promises 14 days of standby time and 6 days in operation, as well as 7 hours of talk time. My sample spent 5 days on a single charge, so you can safely say that with autonomy are all good. Charging bracelet Huawei TalkBand B1 review about two hours.
Conclusions – Huawei TalkBand B1 review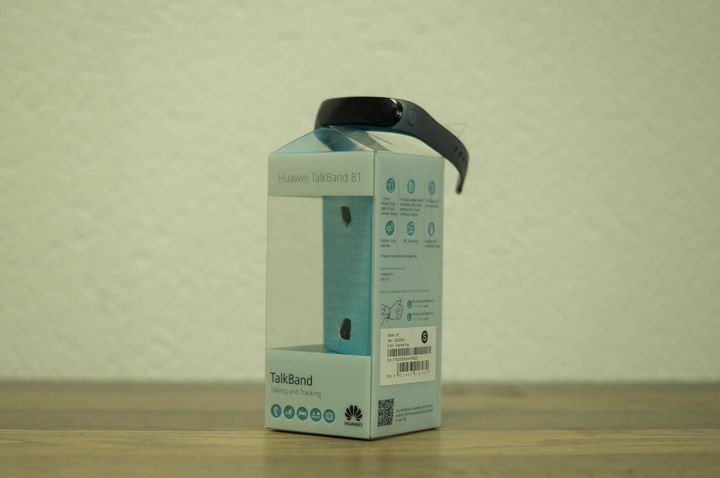 I will not say that Huawei TalkBand B1 review got a great device, but I will say that he can get a great device if the engineers of Huawei remove all jambs that are at the moment. I greatly enjoyed the unique feature Huawei TalkBand B1 review – the ability to use it as a Bluetooth-headset. It's incredibly convenient realization accessories that currently almost no one has yet taken advantage of. The surrounding is very surprised when you talk on some pieces that had just pulled from his wrist. All other device capabilities, components, in fact, the foundation of any fitness tracker, and their implementation in Huawei TalkBand B1 review yet leaves much to be desired. Why not look for something that will fix all the shoals in the release version of the product.
Huawei TalkBand B1 review in different countries can be found for around € 90.
Read another very interesting article about alternative energy of the Sun, water and air.