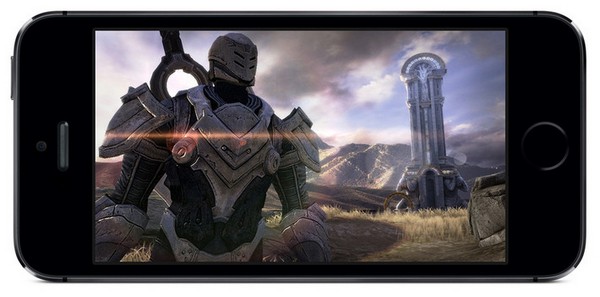 Game Infinity Blade 3 from Epic Games, which appeared on September 18, was the first app in the App Store is fully optimized for 64 -bit processor architecture A7, which are equipped with a flagship smartphone Apple – iPhone 5S.
Tests iPhone 5SNekotorye experts were skeptical about the release of 64-bit smart phone, arguing that the new architecture will not produce much gain in performance, calling the move Apple marketing ploy. The share of truth in this – iPhone 5S is equipped with "only" 1 GB of RAM (like the iPhone 5), while the 64 -bit processor can easily cope with Gb.Vozmozhno 4 , Apple , and hurried to the transition to the new architecture, as his time AMD, releases a 64 -bit processors in the absence of appropriate software. On the other hand, according to numerous tests, the new processors on the architecture ARMv8 significantly increased in performance. In addition, the transition will encourage developers to build 64- bit applications that will be compatible with all future iOS- devices.
But, will receive a visible performance boost end-user ? To find out, observers RedmondPie website decided to hold a visual comparison of performance iPhone 5S and iPhone 5. With the help of one of the game Infinity Blade 3 journalists managed to draw some conclusions.
Video demonstrates some of the differences: on the iPhone 5S image more realistic and better quality anti-aliasing. In addition, in some scenes the superiority of the new flagship model of the previous generation in terms of visualization – the new processor is better at 3D-rendering.
Read another very interesting article about alternative energy of the Sun, water and air.