If your Visual Land tablet freezes, you can press Power button for 10 seconds to turn it off. Then press button again to turn on the tablet. So you do a simple reboot (reset) the Visual Land tablet.
However, there are situations when it is necessary to hard reset Visual Land tablet or return factory settings. For example, your tablet is unstable, there are viruses, you bought it used and you just want to delete all the files and settings of the previous owner.
The following instructions will help you make it easy to hard reset Visual Land tablet. However, do not forget that the result will lead to the loss of all personal information, delete all installed apps. Personal data can be restored by syncing with your Google Account. If your tablet has a slot for microSD cards, you can copy files on it.
Problems with tablet can arise for various reasons, including the user's fault. If you accidentally wrongly set up your device, you can try to restore settings, but if it is not possible, you should hard reset Visual Land tablet.
You can restore the settings in the menu of tablet, or hard reset Visual Land tablet via Recovery system menu. The second method is more complex and there is a risk to make a mistake.
We'll tell you about the two ways to hard reset Visual Land tablet.
Before you hard reset, make sure that the tablet is charged.
Method 1: If the Visual Land tablet normally turns on and runs, go to Settings, select "Backup & Reset", then press "Factory data reset" and "Reboot". It will take a little time, however, as a result you will get completely cleaned device with the factory settings.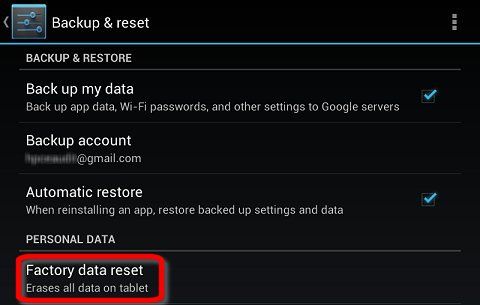 Method 2. This method – so-called hard reset Visual Land tablet – is suitable if the method 1 cannot use due to malfunction of the tablet and operating system, for example, it cannot turn on or freezes.
Turn off your Visual Land tablet.
Press and hold Volume+ button and simultaneously press Power button.
Hold the buttons until you see Android logo, then release them.
Press Volume+ button for 5 times to enter Recovery menu.
Using Volume+ and Volume- buttons to select from the menu and click on Power button to confirm.
Select "wipe data" from the menu and then "reboot system now".
Read another very interesting article about alternative energy of the Sun, water and air.