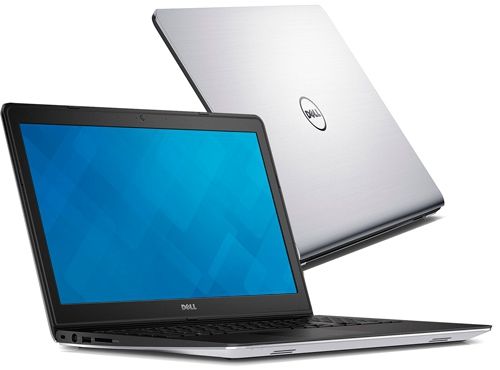 As a result of updating the five thousandth series, Dell Inspiron 17 is now possible to see a number of models that are equipped with more modern processors Broadwell, who replaced Haswell. Besides Intel Pentium filling device may comprise a data chips fifth generation Core i3-i7, having a low power consumption. In addition, laptops Inspiron 5000 Series 17 are on board high-capacity drives up to 1 TB and up to 8 GB of RAM. Dell Inspiron 17 (5749) – one of them. It is formed in a casing of plastic and aluminum is polished not only stylish, but also adapted to perform various tasks, including multimedia. In general, as well as any other novelty, this laptop is of interest and a number of questions that try to reveal in this review.
Design – Dell Inspiron 17
The laptop looks very attractive. First, here is selected matte surface, as well as classic and very successful colors: black with silver. Secondly, the case Dell Inspiron 17 (5749) contains strict lines, stylish longitudinal grinding on the cover. Incidentally, by the use of plastic and aluminum structure will be more robust, and, therefore, stable to minor mechanical damage.
Case dimensions constitute 414x286x28.4 mm. It is normal for a laptop 17-inch form factor. The weight does not exceed 3 kilograms. Apparently, such a device is better to be in the office or at home because hardly frequent transportation in the hands will be very convenient.
Display, sound, webcam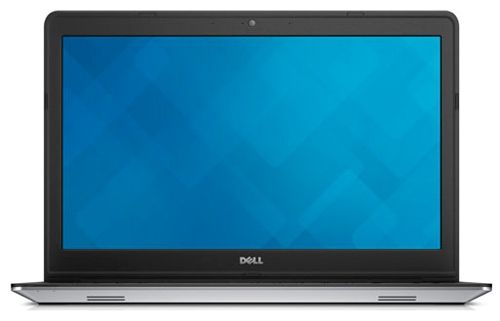 The display of this laptop diagonal size 17.3 inches and a resolution of 1600×900 pixels. Shortcomings of the screen is a glossy surface, reflecting objects, as well as TN-matrix, which is not wide enough visibility. The rest of the display is bright, contrasty, saturated colors, however, do not touch. The image is realistic, transmitted every detail.
In the frame of the display, lens is located webcam. She has a small resolution of 1 megapixel. Camera can be used to communicate in Skype, however, have to put up with enough clear images.
Stereo speakers laptop can provide excellent sound only through the headphones. Without them, you will not hear the bass, is that high frequency. However, the settings in the Waves MaxxAudio 3.0 will help improve the quality of the reproduced content, but not enough to bring it to the studio.
Keyboard and Touchpad
The keyboard in the laptop is very spacious since we are dealing with a work area 17-inch device. All keys, including gamepad, relatively large, except for a slightly reduced unit pointer. However, the management of the arrows is easy to get used to. Buttons are pressed clearly and not too noisy.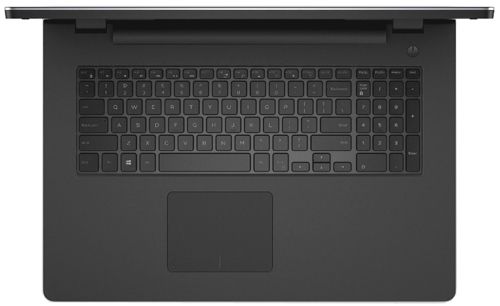 But the depression in the area of the touchpad louder. He large, sensitive, gesture support zooming and panning. Separate physical buttons below the touchpad is not provided, the entire touch pad clickable. By the way, the matte surface of the manipulator is well suited for cursor control, fingers glide over it without delay and not sticky.
Performance – Dell Inspiron 17
The notebook preinstalled modern operating system Windows 8.1 64-bit version. Filling in the Dell Inspiron 5749-9304 consists of a processor generation Broadwell, namely, Intel Core i7-5500U. He is a dual-core, low-voltage, running at 2.4 GHz, which can be increased up to 3 GHz, with the support of technology Turbo Boost. The chip has a cache memory of the third level is 4 MB, used in its manufacture 14-nanometer process technology. This CPU is ideal if you are going to do video editing or photo, web surfing. His performance will be enough for a variety of multimedia tasks and even for today's games. Depending on the configuration, you might be less powerful processor, for example, Intel Core i3-5005U or Core i5-5200U, choose, in the end, you.
By the way, for visual computing in a complete set provides two video cards. First – this is straight from the tin accelerator integrated Intel HD Graphics 5500, which appeared in early 2015. More refined compared to graphics generation Haswell. In particular, HD 5500 performance of the HD 4400 by a quarter. Built-in video card supports DirectX 11.2 and OpenCL 2.0, with its help, you can output to an external display resolution up to 3840h2160 pixels. Of course, it will be possible in the presence of interfaces DisplayPort or, for example, HDMI.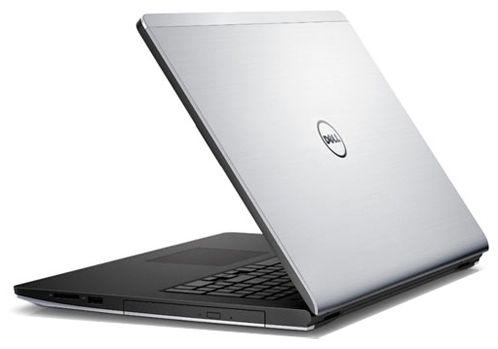 By the way, Intel HD Graphics 5500 coped well with many modern games, but it is better for such problems to use discrete graphics NVIDIA GeForce 840M, which is easy to switch from using the technology NVIDIA Optimus. The video card is built on the 28 nm process, has 384 shader core and its own memory capacity of 2 GB GDDR3. In terms of performance can be attributed to the average level, so that not all modern toys will go great with it. In some cases, will have to reduce the display resolution to 1366×768 pixels, and change the settings. For example, in the Risen 3: Titan Lords, Watch Dogs or The Crew will play at medium settings with a frequency of 30 fps.
As for the memory, then its volume, in this case, is 8 GB standard DDR3L-1600 MHz. Under the RAM allocated one slot. The specified volume is not subject to increase, however, and 8 GB is more than enough to all the programs were "like clockwork", and the system worked flawlessly.
As a data warehouse supports terabyte hard drive connected via SATA III interface and having a rotation speed of 5400 rev / min. Undoubtedly, this volume is enough to accommodate not only all the necessary software, and multimedia content.
Ports and Communications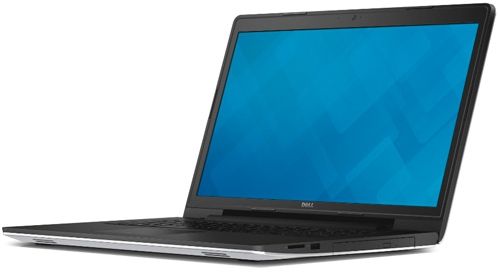 On the right side wall of the laptop is the optical drive DVD ± RW Super Multi with support for DL, there is also a USB 2.0 port and a card reader card formats SD, SDHC, SDXC. On the left side of the interface more: USB 2.0 and 3.0, HDMI, RJ-45. Plus a microphone jack and a headphone jack for charging laptop and a slot for a Kensington lock.
As for the front end, then it has a LED indicator and can be seen on the bevel lattice stereo speakers.
Wireless communications this notebook – it's Wi-Fi 802.11 b / g / n and Bluetooth 4.0.
Battery
The laptop is equipped with a 4-cell lithium-ion battery cylindrical shape. Its capacity is 40 Wh, would not be able to provide high autonomy. In addition, the device can be equipped with a more capacious six-cell battery – 65 Wh.
Conclusion – Dell Inspiron 17
If your budget is not big enough, but I want to become the owner of the notebook for multimedia entertainment, the Dell Inspiron 17 (5749) would be a good option. It provides for generation processor Broadwell, 8 GB of RAM, two graphics cards. For watching movies best fit 17-inch display with a good level of brightness and color reproduction. Of course, the notebook has everything you need for work but called Inspiron 17 is ideally equipped and high performance will not work. It is, therefore, worth considering whether to lay out $ 950 or better to look for other options competitors.
Source: Dell
Read another very interesting article about alternative energy of the Sun, water and air.