Recently, we received a message:
I have activated a protection pattern on my Galaxy Note 5, my sister picked up the phone and repeatedly enter the wrong pattern. Now the phone to ask for some kind of login and password, but I do not remember what I need to enter. Tell me what to do and how to get access to the phone. Thank you.
Today we'll show you how to remove unlock pattern and turn on your smartphone.
To remove the unlock pattern you really need to enter the data from Google Account. However, if you do not remember them, then you need to hard reset galaxy note 5.
Hard reset is the process that delete all user data in order to return the system to its original state. hard reset galaxy note 5 can be done through the phone's settings, system recovery menu and service code. In fact, there are no differences between these three processes, the result will be the same – remove all files and return smartphone to factory settings.
How to hard reset galaxy note 5 through the phone's settings
Hard reset can be performed as follows: go to the phone Menu, then in Settings, go to the section Backup and reset and select the item Factory data reset. This is the easiest way to hard reset galaxy note 5.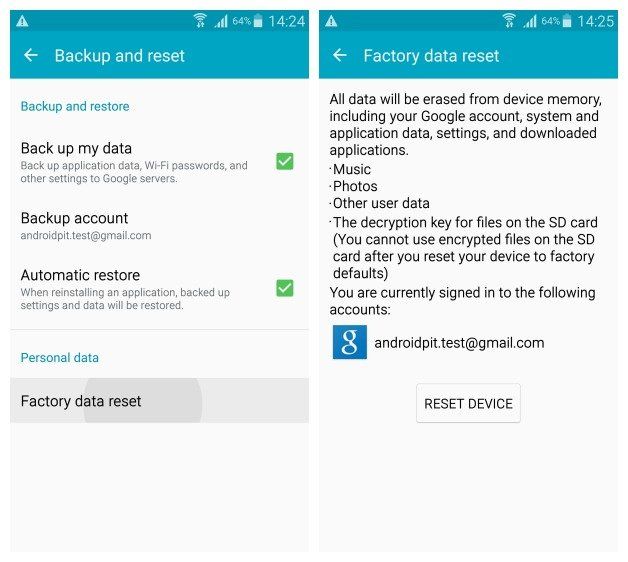 You can also select Clear SD-card to erase all data from it.
How to hard reset galaxy note 5 through recovery menu
Sometimes smartphone is not loaded and you cannot to enter Menu. In this case, you must start your smartphone in recovery mode.
Turn off the phone and remove the battery for 5-10 seconds. Then put it back in and you are ready for hard reset. At the same time hold down the three buttons – Volume Up button (the upper part of the volume rocker) + Home button (Home, in the middle of a phone screen) and the Power button (on / off). When you see a label Samsung Galaxy Note 5 powered by Android on the screen smartphone you should release the Power button while still holding the other two buttons until the recovery menu.
Touch screen does not work in recovery menu, so you need to use volume up and down buttons to navigate and power button to select. Select wipe data / factory reset, the next item Yes – delete all user data and then reboot system now to reboot smartphone.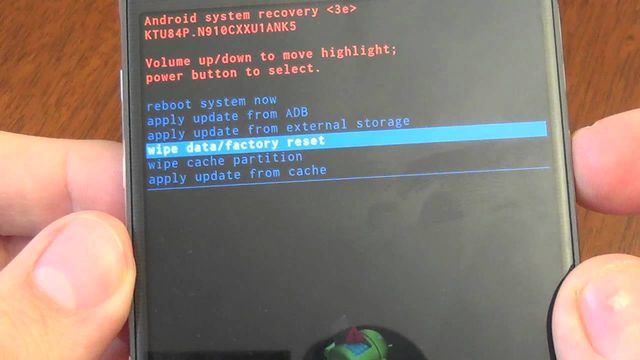 That's all! You hard reset galaxy note 5, and now it is in a factory state.
Read another very interesting article about alternative energy of the Sun, water and air.