Android smartphones have a function to restore factory settings. Usually it is used when you want to sell your smartphone and delete all personal data. In this article we will see what you should do to hard reset Galaxy Core Prime and return it to factory settings.
Many people believe that if you delete phone numbers, emails and messages you clear all personal information and the new owner of the smartphone will not get access to them. But this is not true, because it is easy to restore what has been simply deleted. If you want to remove all stored data, you must hard reset Galaxy Core Prime.
If you do not want to delete personal data, you have to make a backup before hard reset Galaxy Core Prime. Thus, you will have the opportunity to recover everything that was on your smartphone.
Now we see the procedure to perform the hard reset Galaxy Core Prime. It is not so hard, because the steps to follow are very simple and you will have no problem if you follow step by step the contents of the guide below.
Turn off Galaxy Core Prime.
Now turn it back on again but this time pressing the Volume Down button + Power key.
On a smartphone screen you will see some features including: reboot system now, apply update from ABD, wipe cache partition and others.
We are interested in wipe data/factory reset, which will allow us to hard reset Galaxy Core Prime.
We select this item and expect the process to be completed.
This is one of two methods that can be used to hard reset Galaxy Core Prime. Also you can make a hard reset directly from the Android operating system. Let's see how to do it.
We go into Settings, find the section Backup and Restore, go to the item Factory data reset and click Reset phone.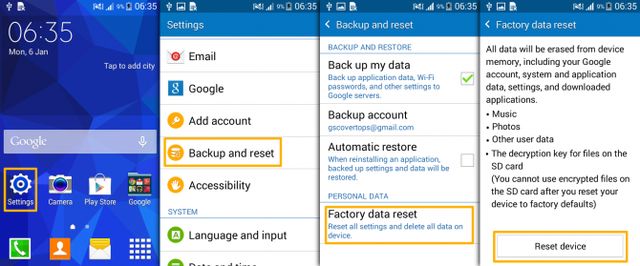 After the process hard reset Galaxy Core Prime is complete, your smartphone returns to the factory settings, as if you just bought it.
Read another very interesting article about alternative energy of the Sun, water and air.