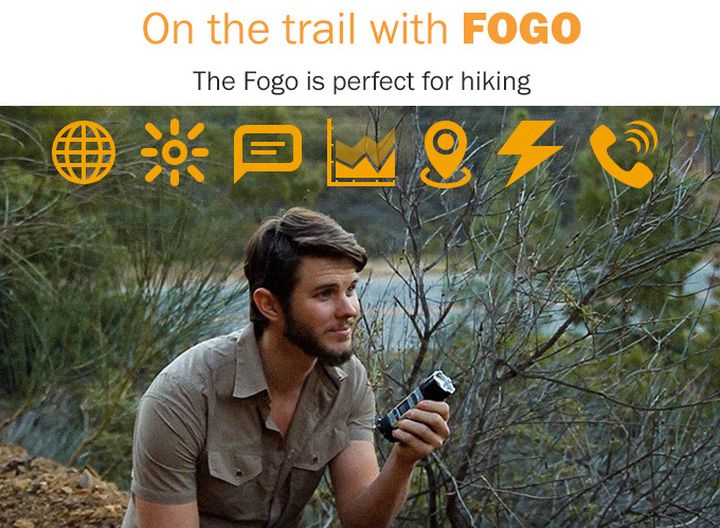 Wearable gadget Fogo is an electronic "magic wand" and "guardian angel" for tourists. Its functionality is present all that is necessary to ensure travel. Including, SOS, sensors, radio Walkie Talkie, text messages, a flashlight module GPS, Bluetooth, and the ability to use it as a USB charger!
Hand-held multi-tasking gadget tourist Fogo
All of these features fit in a relatively small package. Ease of use and management is determined by the presence of a small display. The model is able to notify the light signal in case of deviation from the set route, respond to changes in heart rate, check the status of a tourist on impact. If the client does not answer the question Fogo about his condition, the device will send a notice to all members of the group SOS.
The product created by Fogo Digital from Salt Lake City, Utah, USA. Originally it was developed for adventurers – survivalist, adventurers, hikers, bicycle riding, as well as for fishermen – hunters and fishermen. Its main purpose – to guarantee the security escort on the way, tracking activity, synchronization with a smartphone, energy supply in case of contact with the wilderness. However, the list is very long.
Functional wearable electronics marching Fogo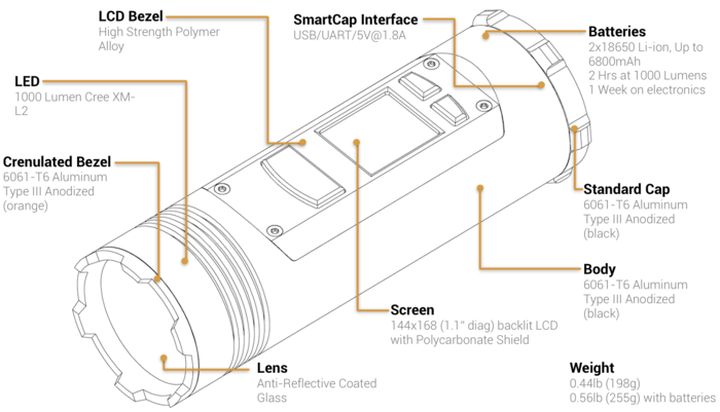 The main functions of Fogo:
GPS-receiver.
Powerful Flashlight 1000 lumens with the strobe signal, adaptive light sensor and the ability to automatically adjust the brightness of the beam.
USB battery (powerBank).
Ability to use batteries.
Software-based OS.
Bluetooth LE (Bluetooth Smart).
Motion Sensor / Pedometer (accelerometer).
Backlight LCD screen.
Digital compass (magnetometer).
Bike Computer (sensors speed, altitude, odometer, Bluetooth).
SmartCap interface (USB / UART / 5V supply).
Clock / Calendar / Alarm.
Built-in memory 128MB.
Digital radio Walkie Talkie SmartCap.
The radio includes:
The ability to send / receive SMS-messages.
Ability to carry voice communications in real-time.
The ability to synchronize with your smartphone to obtain terrain data, indications of the whereabouts of the band on the map, etc.
Digital Voice Messaging.
Built-in microphone and speaker.
Interface SmartCap.
Dimensions Fogo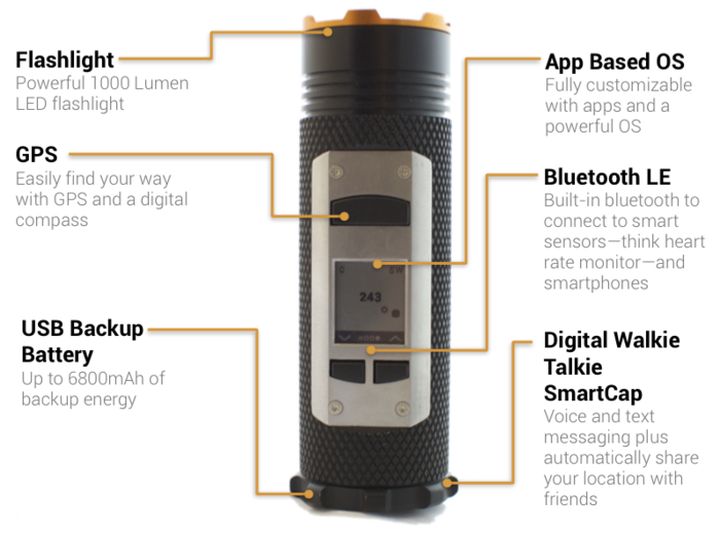 The following year, the developers, at least, will include a new instrument in 2016:
Satellite modem Beacon SmartCap.
Laser Rangefinder SmartCap.
Receiving and sending SMS via mobile phone.
Thanks to your application, in addition to the usual functions, the device is capable of tracking an increased sound (roar) and ask if everything is fine with the traveler. If over time there is no response to the signal, Fogo sends a message by radio all within range of the radio. In addition, in a dark tent is easy to find: it flashes when his touch or move.
Fogo is compatible with devices Mac / Windows / IOS / Android. Proprietary software is open and accessible to the development of new applications and features. The device is enclosed in a rugged aluminum housing and is available for pre-payment on Crowdfunding for as low as $ 200 apiece. The beginning of deliveries is scheduled for November 2015.
Source: Kickstarter
Read another very interesting article about alternative energy of the Sun, water and air.