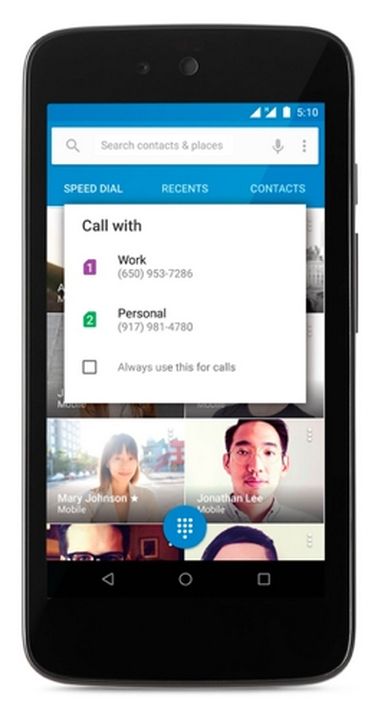 New update Android 5.1. Among other innovations, the new version adds support for several SIM-cards and function Device Protection, similar Activation Lock the iPhone.
Google released Android 5.1 – the first major upgrade platform Android Lollipop, launched late last year. Its two main new features are support  devices and protection function Device Protection.
Manufacturers produce Android smartphones with support for two or three SIM-cards for years. However, in the Android operating system to date, support for more than one slot for SIM-card has not been provided, and vendors have to pre-install additional software to implement the ability to work with more than one SIM-card. Now present in support of the platform, including the adaptation of the graphical interface.
In turn, Device Protection allows you to block access to the data on the device in case of loss or theft loss. When enabled, the user thief or the person who found the device will not be able to unlock it until you enter the password of your Google account of the owner. Restoring factory settings can not unlock access, added to Google.
Device Protection – Google's response to Apple's feature called Activation Lock («Lock activation"), which it launched about a year ago. When the Activation Lock, if the device falls into the wrong hands, the new owner of not be able to disable the device search for GPS Find My iPhone («Find iPhone») and not be able to configure it to work with another account Apple. In June 2014 in the pages of New York Times published an article that introduced a new feature to help reduce the number of thefts iPhone in London, San Francisco and New York, 24%, 38% and 19%, respectively.
In addition, Android 5.1 adds support for HD sound quality in video calls. But it must be supported by and is irrelevant to Russia. Also in the panel Quick Settings («Quick Settings"), new features for managing connections over Wi-Fi and Bluetooth.
It is expected that the owners of devices Nexus, in particular, Nexus 4, Nexus and Nexus 7, 5 (2013), will receive the update to Android 5.1 Lollipop today, 10 March. Availability of other devices will depend on the manufacturer. Function Device Protection will be available on the Nexus and Nexus 6 and 9 on the new devices coming out on the market with Android 5.1.
Version of Android Lollipop, published in late 2014, was the largest platform upgrade during its existence. In addition to the new GUI Material Design, medium change was run Java-based applications that enhance productivity and improve the power consumption, and has been redesigned notification system.
Source: Forbes
Read another very interesting article about alternative energy of the Sun, water and air.