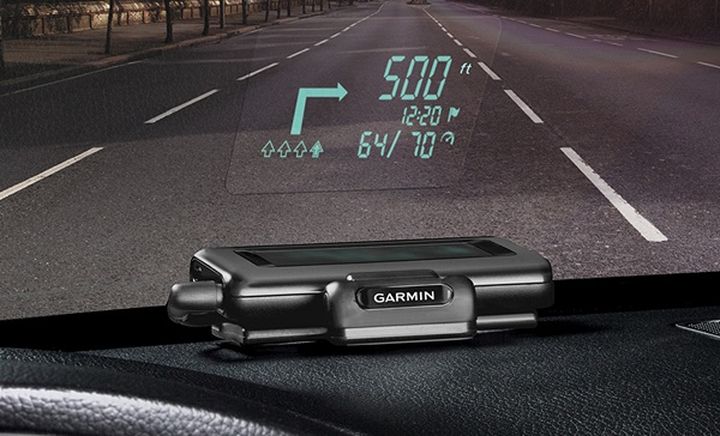 Find a way in a complex urban road infrastructure can be a daunting task even for an experienced driver, not to mention the newcomers. For the convenience of motorists, smart developers have created Navigator showing all the necessary traffic information. But look at the road and distracted by the navigator can also be very convenient.
Developers Garmin went further and created a navigator with the projector. This device projects the data necessary driver or the windshield (need special paste film) or a plastic cover. Garmin HUD shows which way to rotate, how much is left to turn, how many you can arrive at the scene.
Design and installation
Externally Garmin HUD looks pretty simple. The case – black display – Vacuum Fluorescent (VFD). The image on the screen bright, contrast, due to this information and can be seen on the windshield. The navigator and the stand are equipped with an inclination angle of 0 to 50 degrees vertically. With regard to horizontal – there are no restrictions whatsoever.
Due to the special shape of the stand project can be installed on the surface of almost any shape: flat, even though, the convex.
Charging the device is equipped with even additional USB-ports, allowing you to connect not only the device, but other devices.
Working with device
Installing the gadget is held for a few seconds: located in a comfortable place, paste the film, if necessary, connect to the Auto Chargers. In addition, it is necessary to conduct a one-time pairing Garmin HUD via Bluetooth with the device, which is a necessary application: Garmin Street Pilot (iOS), or NAVIGON (iOS, Android, WP). This application is a source of information for navigator-projector, which displays all the necessary information to the driver.
Project images clearly visible to the driver only. Actually, the passenger is not necessary.
After you connect and pair your phone with the gadget is ready for operation. We can say that Garmin HUD – this addition to your smartphone or tablet, but not a standalone unit. Compatibility: iOS, Android, Windows Phone.
The display may show the following information:
The direction of movement;
Distance to the turn / maneuver;
Current and maximum permitted speed;
Proper lane;
Traffic information;
Data from the cameras;
Warning when speeding.
It is worth noting that the Garmin HUD displays only what is shown above, the card device does not display.
Conclusion: Garmin HUD – a good addition to the navigation system of the vehicle. The driver will see almost everything that he needs at the moment: to know where to turn, how fast to move. Map also, if necessary, can be viewed on the dual smartphone.
Source: Garmin
Read another very interesting article about alternative energy of the Sun, water and air.