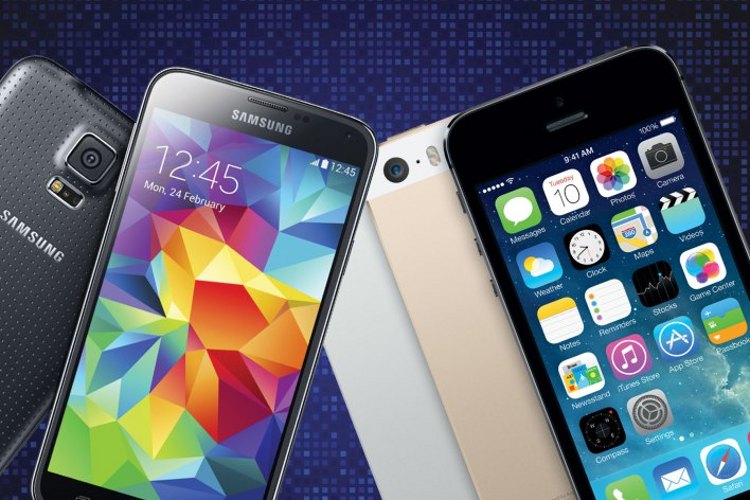 Even a little interested in high-tech people have heard about that on the MWC South Korean company Samsung has introduced its new flagship Galaxy S5. First there was enthusiasm and frustration. But now the first and most vivid impressions subsided and you can safely speculate about whether the Galaxy S5 eclipse shine iPhone? And what are the recipes for success Samsung?
Speculate on this topic took commentator Simon Hill Android Authority, for which he thanks. Will it have the South Korean company to create a new dream phone?
Hindsight
Despite invested huge funds in it and a long list of software features, Galaxy S4 looked mistake Samsung. He could sell better than other Android-smartphone premium class, but nothing compared to the iPhone, he did not go.
In April, the market will be Galaxy S5, and can be viewed on further developments. Is it possible to return to the game rules Samsung times S3? As you know, the South Korean corporation likes to collect in its flagship devices together the best features of modern consumer electronics, listening carefully to what consumers want to see. She does it in such a way that its proposed set of superior competitors offer. But this is not always enough to make an impression on the audience.
Samsung again listens to the users
Improvements in the Galaxy S5 touched such things, which are of greatest interest to users. Incredibly important factor that is taken into account by many people when choosing a smartphone is its camera. 16-bit camera technology trends ISOCELL autofocus, of course, deserves attention. Of little interest to most users the technical details. For them, it is important that you can shoot faster (0.3 seconds per picture) and less comfortable lighting conditions.
Water resistant Galaxy S5 is also important. Although it made a kind of standard for flagship devices company Sony. In addition, and taken some steps in the direction of increasing the battery capacity and the integration of energy-saving software features.
Today in fashion fitness. At the CES-2014 appeared wearable electronics for physical training. It is not surprising that the heart rate monitor and found S5 updated application S Health. In addition, the South Korean company pleased lovers healthy lifestyle fitness bracelet Gear Fit.
Samsung keeps abreast of market trends and react to them in a timely manner, giving users exactly what they expect.
Significant gaps Samsung
Many of you reading this will say that Samsung is not all done perfectly. People want to see the new design, they are tired of plastic "under the skin". Wide frame around the screen does not cause any pleasant emotions. Members hoped to see 64-bit, eight cores. However, it is expected that the version on the basis of eight-S5 CPU will nevertheless. People crave real innovation, not incremental improvements!
However, frustrated connoisseurs can not just buy a new phone. Samsung have quite enough loyal customers.
Samsung reaping laurels Apple
Long before the advent Galaxy S5 to the general public, many people have already formed opinions about the unrepresented novelty. There were those who loved the new phone in advance and set out to buy it. Were haters. Fans always audible voice.
Nothing reminds you of this theater of the absurd? Technical press criticized Galaxy S4, but this phone sold millions of units, and Samsung has reached figures that were previously only afford to Apple. Brand recognition and customer loyalty are very important for phones. According to rumors, in 2013, Samsung has invested in marketing and advertising U.S. $ 14 billion. However, the corporation produces not only smartphones and not only advertises. South Korean corporation has sold more than 200 million phones Galaxy S. Meanwhile, Apple has sold 420 million of its legendary iPhone.
Both companies year after year produce excellent device. And they – the leaders! Competitors may make comparable and even superior to the device, but to take a bite of the pie they can not leaders.
When a company becomes so big player, it is less and less love. After all, compassion and support made weak. Together with the status of the leader and that Samsung has received a portion of criticism in the comments, which had previously only getting any Apple. However, this criticism does not reflect the state of the consumer market.
S5 for the supporters of the classics of the genre
We should not forget that we are talking on the phone, which is not yet among users. Here one can only speculate. But the device is worthy of benevolent administration. And Samsung cares about his well met. The company will build partnerships with retailers and operators. Producer cooperation with telecom operators is particularly important for success in the U.S. market.
Unlike the Galaxy S4, technical innovation was met journalists mostly favorable. Partially warm welcome from the press explained a wide range of improvements, and partly – fairly modest presentation. After the technical press is not too supportive towards the motley booths around the new device.
Many users consider novelty as their next smartphone. But there are two specific categories of users: those who still do not have a smartphone and fans of high technology. They will look something completely new and unheard of before.
Samsung – for the mass market. For those who are already used to a certain "format» Android-smartphone, not waiting and do not want fundamental changes.
Read another very interesting article about alternative energy of the Sun, water and air.