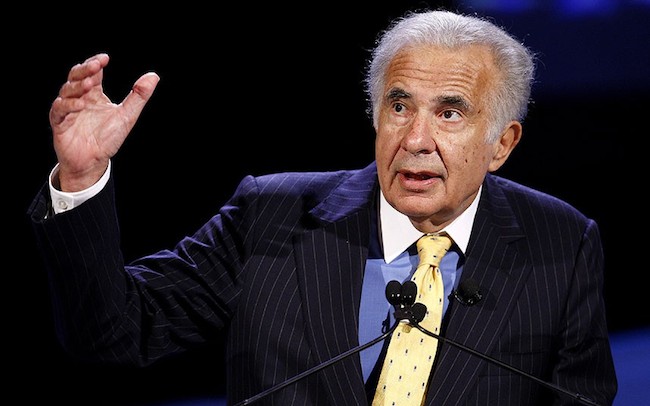 The billionaire, the famous American investor and part shareholder Apple Carl Icahn has recently attracted a lot of attention to himself . It all started with the fact that at the end of this summer helped Icahn rate securities company to overcome the 500-dollar mark, stating underestimate Apple and purchase a large block of its shares. Then there was nothing unusual: such situations occur every time a positive news from some corporation. But as it turned out later, Carl made his purchase, not without a hidden intent.
In October, the shareholder personally sent a letter to Tim Cook, which was subsequently published on its website. The message Icahn made ​​a recommendation regarding the use of available funds and Apple announced that the company will need to spend as much as $ 150 billion to buy back its own shares. Carl argued its position high probability of growth securities up to $ 700-750, if the board approves Apple this venture.
Cook to lure to his side, the investor met him three times , but in fact their negotiations came to nothing lead. Therefore Icahn decided to enlist the support of holders of securities and Apple on Wednesday announced his intention to arrange a vote of shareholders at the increase in the program to repurchase shares. However, according to Bloomberg, it is a sum of less than $ 150 billion.
According to the newspaper, even in the case of a positive result of voting technology giant's board of directors is not required to satisfy the wishes of the shareholders, as they are advisory in nature. Nevertheless, any pressure on the top management of Apple (in particular, of the Cook) always has a negative impact on the activities of the managers – they begin to "dance to the tune" of investors.
Than it threatens free tools Apple? After all, the corporation has accumulated in their accounts more than $ 150 billion and is constantly increasing its reserves. 100 billion of that money will have to pay dividends and repurchase shares in accordance with the established plan. In the case of program changes Apple is likely to remain without any available funds. And that, you see, is not very good.
How would neither Icahn tried to portray the good counselor, his true intentions may be quite different. Carl got a long reputation as a corporate raider and greenmailers who intentionally bought securities of large companies to put pressure on their leaders. Therefore billionaire likely have little interest cloudless future Apple. On the contrary, it can "merge" their large stake immediately after their course overcome those same 700 dollars.
Aykanu now owns nearly five million of securities in the amount of $ 2.6 billion.
It is hoped that all these "dispute" within Apple will have no impact on the quality of its products and plans to release new devices. However, at any point in history can take an unexpected turn.
Read another very interesting article about alternative energy of the Sun, water and air.