Mad Catz manufacturer of peripherals and accessories for fans of digital entertainment, is a modular mobile gamepad LYNX9 for smartphones and tablets based on Android, as well as computers running Windows. New mobile gadget will turn into a fully fledged gaming console, it does not take much space and will last up to 30 hours without recharging.
With the development of the mobile gaming industry stationary game consoles gradually fading. Play now possible everywhere: on the bus, plane, train or even on the move. However, fans of 3D shooters and RPG are often faced with a vexing problem: manage virtual character using the touch screen is extremely inconvenient. New gamepad Mad Catz will solve this problem and give comfort to the game on mobile devices.
Engineers Mad Catz did LYNX9 most compact without compromising reliability and ergonomics. The developers have taken the usual gamepad and removed all unnecessary, retaining only those items that are needed to complete the game. Much of the design of the device is made of aluminum with a small plastic inserts quickly modular components attached to each other by means of magnets and clips, and buttons and switches are calculated per million keystrokes. Gamepad compactly formed as a Swiss army knife, it was convenient to take with you on the road.
The package includes LYNX9 holder for smartphones any size. If the user is accustomed to playing on the tablet will come to the aid of a universal frame stand, accommodating device with a diagonal of up to 7 inches. Gamepad quickly divided into three parts and is attached to the left, right and top sides of the stand, providing a comfortable grip. With tablets larger controller is recommended to use separate, in Classic mode.
Novelty has everything you need to control games and navigation. In addition to the classic D-pad, buttons and sticks device has a touch manipulator performing the functions of the mouse, and included detachable QWERTY-keyboard. All this will allow to browse the web, work with office documents, answer e-mails and use voice search – to your controller has a built-in microphone.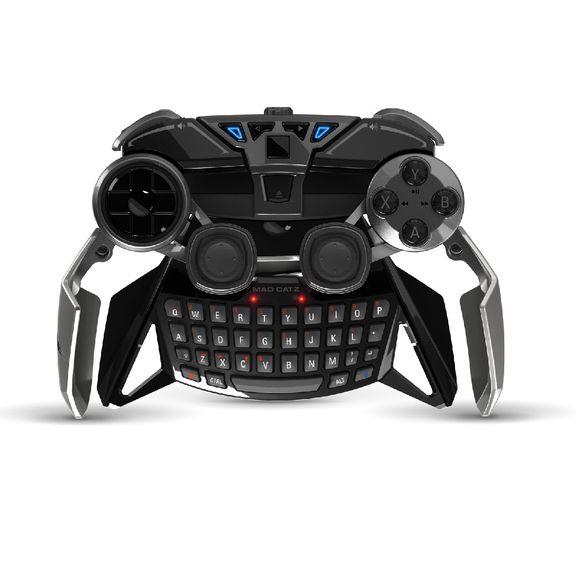 The set also comes branded HDMI-cable MHL-adapter. With it LYNX9 can be connected to a TV to play on the big screen. Connect with smartphones and tablets occurs protocol Bluetooth Smart, thus reducing energy consumption – a novelty ready to work up to 30 hours without recharging.
LYNX9 compatible with many popular mobile games: Knights of the Old Republic, Grand Theft Auto, Game of Thrones, Modern Combat 5: Blackout and others. With the application Mad Catz LYNX9 can adjust the sensitivity of the controls of the controller to set the device to individual playing style.
Read another very interesting article about alternative energy of the Sun, water and air.