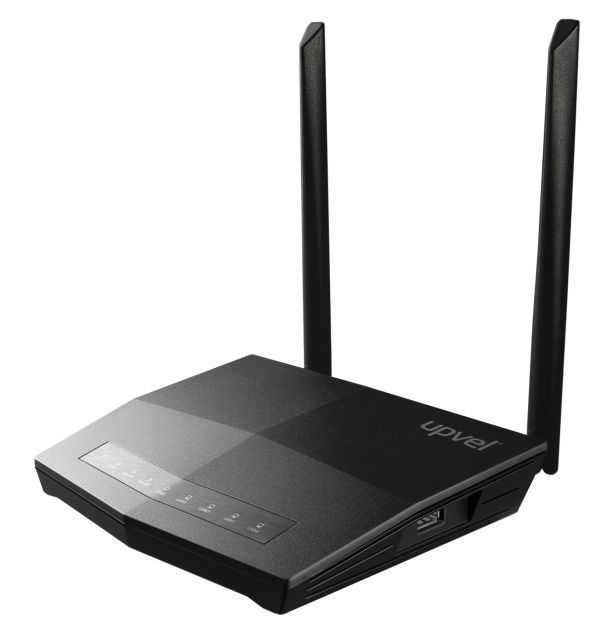 Company Upvel, a leading US manufacturer of networking equipment, is a router UR-814AC with support for Wi-Fi 802.11ac and port USB. Novelty is the youngest model in the line of AC Upvel routers with support for external 3G / LTE modems, and is designed for those who want to get high-speed connection to the network and at the same time save money.
AC router Upvel UR-814AC with support for 3G / 4G / LTE modems
Upvel UR-814AC is connected to the Internet via Ethernet-cable support providers used by the Russian connection types Dynamic / Static IP, PPPoE, PPTP, L2TP, and protocols IPv6, TR-069, and creates a powerful wireless network with speeds up to 750 Mbit / s. A router operates in two bands. For demanding applications, the "heavy" and streaming media files, a network 5 GHz AC current standard speeds up to 450 Mbit / s. At the same time, for a conventional web browsing and downloading small files used by the network N of the standard 2.4 GHz at 300 Mbit / s.
New supports most of today's 3G / 4G / LTE modems all major operators in Russia. If you connect to the Internet through a regular Ethernet cable is not possible – it does not matter, the router can be connected to a network using 3G and LTE modem. The web interface of the router translated into Russian, the basic settings in a Mini-easy interface and quick setup proprietary tool will help to connect the router UPVEL UR-814AC in minutes.
Connecting home devices to the network is very simple: communication is established at the touch of a button WPS, activating technology Wireless Protected System. In addition, a connector housing router USB. Use it to connect 3G / LTE modem, or connect to the network USB-device: USB flash drive, external hard drive and printer.
Developers Upvel paid special attention to security issues. The model supports all modern standards of network security: from 64/128-bit WEP to WPA / WPA2-RADIUS. For those who are concerned about the safety of their own and their children, the device has a function "Guest Wi-Fi» and "Parental Control".
Read another very interesting article about alternative energy of the Sun, water and air.