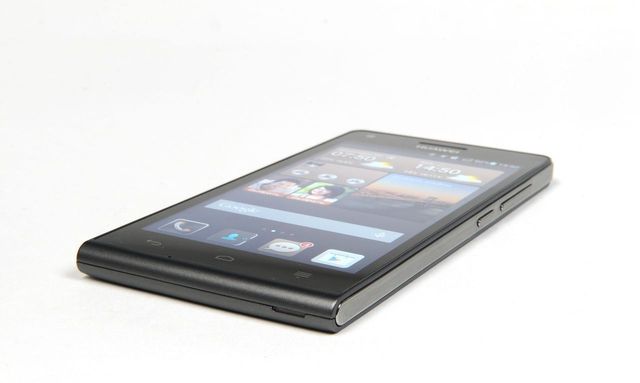 Pros: design, decent platform, high-quality front camera
Cons: autonomy, the quality of the main chamber, the location of connectors and 3.5 mm Micro-USB
Conclusion: balanced smartphone middle segment, the success of which depends on its cost, which will be known closer to the start of sales
Most of the new products shown by Huawei at the MWC 2014, we can find in the stores only the beginning of the summer , but one of them we were able to meet now. In this review, we will tell you about the smartphone HUAWEI Ascend G6, which is actually a simplified version of the Ascend P6 . Most of the "mini-versions" of expensive smartphones look quite boring on the background of the original models, but suddenly the company was able to reverse this trend?
Supplied HUAWEI Ascend G6
For an overview of the sample we got marketing, packaging smartphone so we will not tell, but the show that will be waiting for you inside: a charging unit with an output current of 1 A and frosted optic, USB-cable, a wired headset and documentation.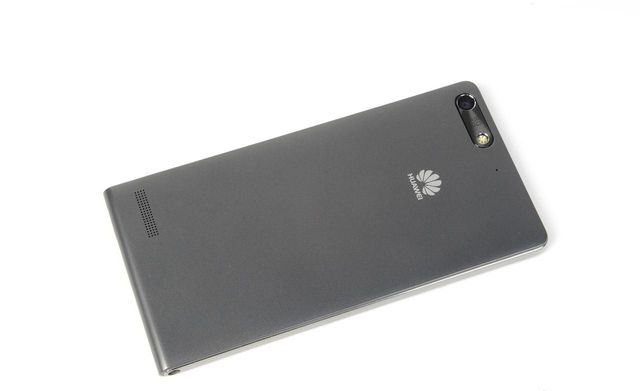 Design and ergonomics HUAWEI Ascend G6
Externally Ascend G6 strongly resembles P6, but in the placement of controls and the materials used are enough differences. So, on the screen there is: the front camera lens, a set of sensors, mesh earpiece and a miniature LED indicates battery charge status and any missed events. Under the screen, instead of the onscreen virtual keys, now there are three physical touch "Back", "Home" and "Menu". Long press "Home" Assistant launches Google Now, «Menu» – list of recent applications that are running. On the right side are located the power button and the volume button on the left – 3.5 mm plug on the top edge – the interface connector. Physical keys protrude above the body, have a quiet short click, use them conveniently. Sensitivity of the touch buttons is good, but their lighting is not uniform, it can be completely disabled in the settings. See rear main camera lens with flash placed on a metal pad, second microphone hole miniature and small lattice ring dynamics. Under the cover of thin plastic is non-removable battery and memory card slots and a Micro-SIM.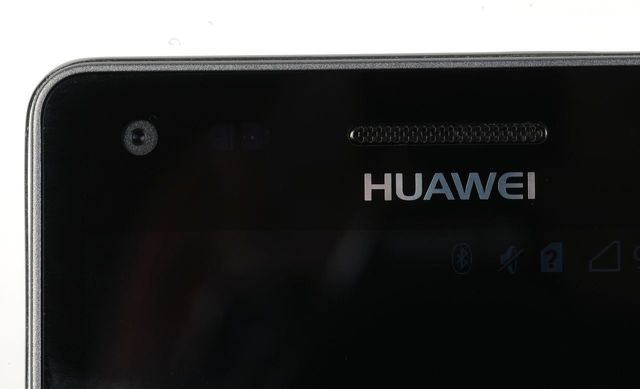 At comparable with Ascend P6 dimensions in hand smartphone felt quite differently. The reason lies in the fully plastic case without metal elements. This may seem like a disadvantage, but it is not so obvious. In the original model were sufficiently sharp edges that dug into his palm, periodically causing not the most pleasant sensation. Saved from complete silicone case that makes the model less slippery, but understated sense of "things in hand." In the case of Ascend G6 palm nothing hurts, it fits comfortably in your hand and felt moderately thin, though still the same slippery.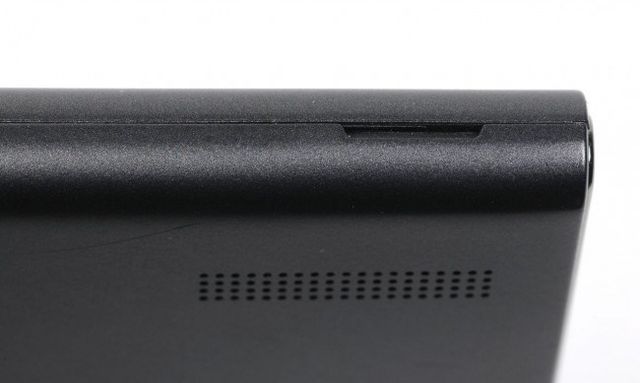 Assembling the machine at a good level – if there is a strong squeezing small creaking plastic, but the whole body is sufficiently rigid and tightly knit.
Screen HUAWEI Ascend G6
In HUAWEI Ascend G6 used IPS-matrix diagonal of 4.5-inches and a resolution of 960 by 540 pixels. Minimum brightness is 19.7 cd/m2 average – 216.7 cd/m2, maximum – 421 cd/m2, contrast – 679:1. Checking the quality of the factory calibration revealed that exceed the space gamut sRGB, other parameters are also very strongly deviate from normal values ​​- judging by them, used a matrix with a certain stretch, average quality.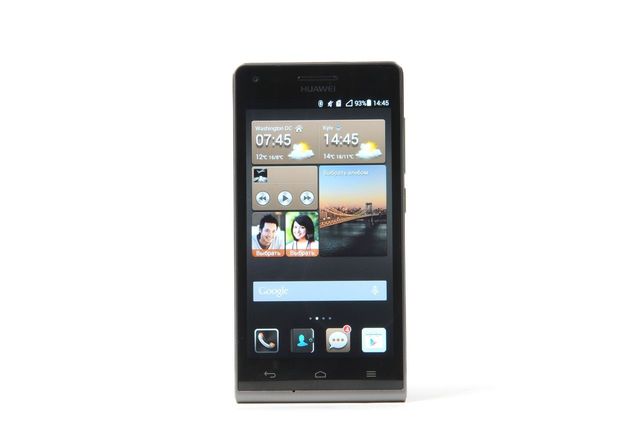 If we talk about the subjective impressions, the screen looks good – the maximum viewing angles, color reproduction is calm, natural. No air gap, so it is readable outdoors on a bright day.
Finger slides easily on the glass, and the sensitivity of the sensor response is good, only the control mode in gloves in Ascend P6, not here. Glass quickly collects fingerprints, but they are easily removed. The only thing that upsets – is the work wear-leveling brightness. Indoor brightness understated want to increase it to the same brightness jumps occur periodically.
Interface HUAWEI Ascend G6
The smartphone runs on Android 4.3 operating system with a shell Emotion UI 2.0 Lite. At first glance – it's the same Emotion UI 1.6, which has already been described in the review HUAWEI Ascend P6 and Mate . Similar functionality – supported themes, there is a manager power settings gestures (movements), Notification Manager.
Dwell only on innovations. Actually, it is exactly one – in the settings you can enable "simple" desktop mode, resulting in a matrix of icons is reduced to 2 to 4, and in embedded applications increases the font size. This display method may be useful for people unfamiliar with smartphones, the elderly or the visually impaired.
Calls and multimedia HUAWEI Ascend G6
The quality of spoken and ringing speakers no complaints – they are medium in volume, have a pleasant enough sound. Vibrating alert is average in power, there is not always the case.
Quality music with headphones is good, it will satisfy most users. There are built-in "improver" sound DTS, but its use is not always justified, in some cases it can turn track in the "mess." Unpleasant moment darkens musical ability HUAWEI Ascend G6 – 3.5mm connector location. He was left in the same place and the older model – at the bottom left-hand end. Headset plug complete L-shaped and short, he almost merges with the body, but to find a third-party headphones with the same will be very problematic, any direct plug will interfere.
In terms of omnivorous embedded player is not pleased – he refused to play the files in the container AVI, regardless of their resolution, so that likes to watch videos on your phone, you are to select a third-party player.
Performance and memory HUAWEI Ascend G6
If you believe the information provided on the official website, Ascend G6 is based on chip Qualcomm MSM8X12, which (according to the information available on the network) refers to a family of Snapdragon 200. But based on what version of the smartphone with support for 4G frequencies is based on Qualcomm MSM8926 as well as information from the benchmark, used a version of Snapdragon 400 with 4 cores Cortex-A7 or Krait 200 operating at 1.2 GHz and GPU Adreno 305.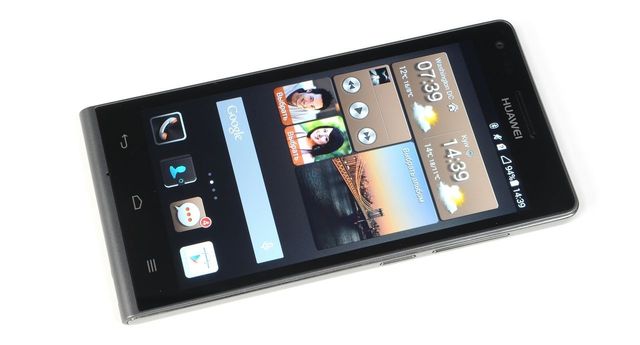 This is confirmed by performance tests and games support – on a smartphone without podlagivany are Real Racing 3, Modern Combat 4. Amount of RAM is 1 GB built-in – 4 GB, it can be expanded to a memory card. In the settings you can specify the type of memory used by default. If you select the SD-card, it is mounted on a permanent place, the smartphone will assume that it has a built-in storage for large volume. This makes it possible to completely avoid the problem of lack of space for data storage applications, but should refrain from attempts to produce "hot swapping" memory card.
In everyday use, smartphone runs fast enough desks scrolled smoothly, lack of performance is not felt. At execution time intensive tasks cabinet slightly heated.
Search for GPS satellites is rapid data transfer speed Wi-Fi-network almost maximum.
Camera HUAWEI Ascend G6
The smartphone has two cameras – the main with a resolution of 8 megapixels, autofocus and flash and a front facing 5 megapixel. Camera application allows you to select one of the shooting modes make the basic settings.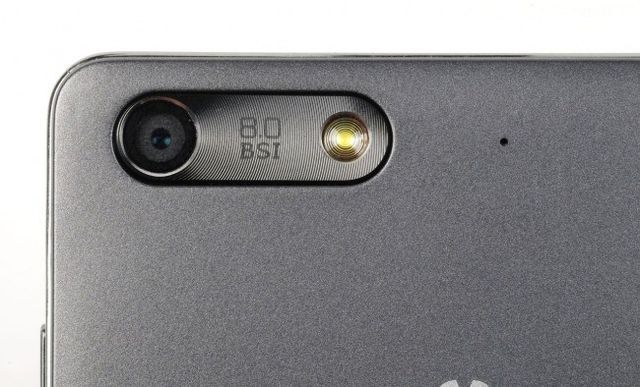 The quality of images is average. Despite similar Ascend P6 resolution main camera module significantly less quality. Even in near-perfect shooting conditions noticeable mediocre detail shots in low light there is a strong noise.
Against the weakness of the main unit, front camera seems a real revelation. It seems that it migrated from the older model without modification. Given the resolution of 5 megapixels, it can be considered one of the best cameras available in the front devices middle segment.
Autonomy HUAWEI Ascend G6
The smartphone is powered by a non-removable battery capacity of 2000 mA * h Under typical operating conditions for the author, with an average load, smart phone worked for about a day.
Personal impressions tests confirm autonomy. Given the diagonal screen, the platform used, the battery capacity, Ascend G6 has everything to work longer, but as long as autonomy – not his strong point.
Results HUAWEI Ascend G6
Creators HUAWEI Ascend G6 bit overdone with the simplification of the original model. Compared with Ascend P6, smartphone lost quality metal body, a great screen, good basic camera deteriorated autonomy. Unfortunately, retained controversial decisions: 3.5mm connector located on the side, Micro-USB on. At the same time, you can find small advantages over the original model: the body does not hurt the hand, and used the platform is more versatile in terms of support for games.
If you do not try to compare with the G6 P6, it turned out good middling smartphone. It has an interesting design, balanced performance, pleasant in everyday use. HUAWEI Ascend G6 can be an interesting choice for users who pay attention to design, looking for a device with a small screen. But now the market offers a lot of good models of low middle price segment as from top manufacturers, and from B-brands. Last year's model HUAWEI stood out among competitors, including an attractive price / performance ratio. Cost Ascend G6 will be known at the time of its appearance on the market. If this will be expressed at the local presentation hryvnia 3000, the model simply get lost against the competition, but with a price tag of 2000-2500 hryvnia Ascend G6 become more attractive purchase.
Read another very interesting article about alternative energy of the Sun, water and air.