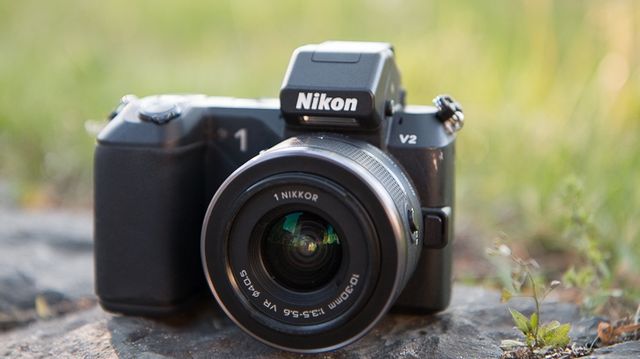 Earlier in fotomire reigned exclusive primacy principle – if you have a big hand in a weighty DSLR, then you photographer. Everything else – the soapbox for photos in a family album. Dalnomerki stood alone. It is to this market and are used with Canon Nikon, releasing cool and reliable technique.
But times are changing now, and slowly to a place under the sun began to wade bezzerkalki. And if at first the market leaders quietly chuckled, then eventually come to understand what a huge part of the market goes to the competitors, and they also introduced their own system camera.
The representative of the mirrorless cameras in the second generation of Nikon today and we'll see. Nikon 1 V2.
Design and Ergonomics Nikon 1 V2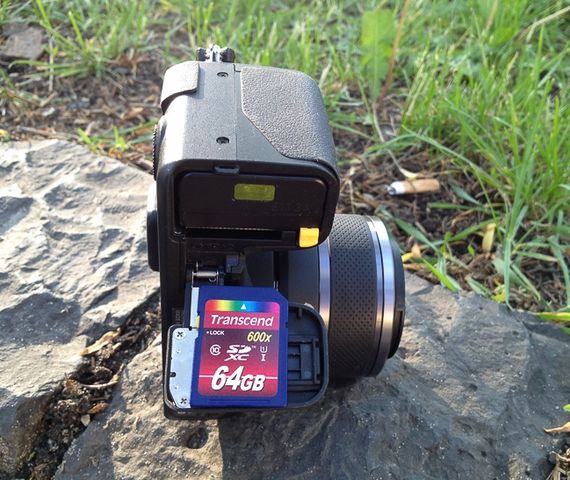 The device is just to put it in a pocket or small bag / purse / clutch / whatever and carry always. In this case there is no sense of fragility – if in self-defense to throw it into someone in a dark alley, can cause significant damage to HP. In the production of magnesium alloy is used, so that the tactile sensation spectacular. Last but not least thanks to the rubber coating to prevent slipping.
Ergonomics camera also deserves praise – despite its small size, the camera fits in your hand like a glove, thanks to strong serving arm. Although women in neat handles it looks much more organically, but also for men's suit. All kinds of buttons and levers a bit and most of them are small. Still, after a week of use accustomed.
On the front side, except for the lens release button, you can not find anything else. No, you can – there are also two stereo. The right side is empty. At the bottom – tripod socket and a compartment under the battery and memory card.
On the left side – MiniHDMI, MiniUSB and port for an external microphone. Which can not but rejoice.
The upper end of a busy flash and click to open it slightly offset to the left side and a small speaker next. The flash (mine decorative pentaprism) – standard hot shoe. The right side of a little more loaded. There – the shutter button is framed ring on / off button to record video and two wheels. One is responsible for selecting modes PASM, but besides all that you can find there an extended video recording mode, automatic mode, create creative photos and stuff. The second wheel is responsible for changing various parameters, and it is a mystery. The thing is that the wheel – and even buttons for parameter selection. Only need to click on it, pushing forward until it clicks.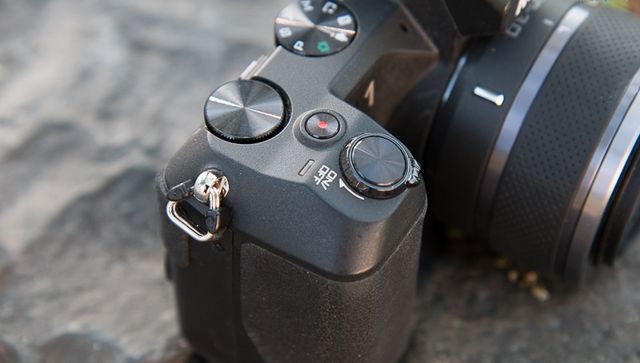 Rear aspect most capacious. Offset to the left is an optical viewfinder with 1440k pixels, proximity sensor and diopter adjustment ring. The proximity sensor can operate in two modes: "Attenuation display, including the viewfinder," "Off and the display and the viewfinder; activated when the last offering to the eye. " It saves energy.
Left of the screen – four buttons, among them – Playback, Menu, Disp (analog Info) and deleting pictures.
Right of the screen – a microscopic four-way joystick-wheel inscribed with the OK button. Here hung a variety of functions, but that's to have prilovchilis size. Top – button Fn.
In the spotlight – a three-inch display with a resolution of 921k dots. He did not touch, do not swivel, but bright enough to see what is happening, or what menu item to select. By the way, here it is revised and is in no way resembles a reflex brethren.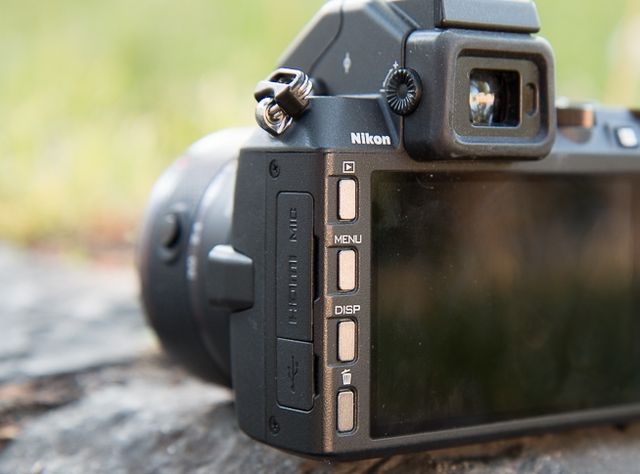 Immediately at this point to say that was not pleasant.
The first thing you want to pay attention to is the power button. I used to use the system when you feel a click after a little effort. To understand see how organized wheels turn DSLR Nikon. Immediately I was confronted with the fact that the wheel goes smoothly back and forth, always returning to the starting position. That is pulled back, let go – is on. Same for the shutdown. Absolutely embarrassing, because you can easily turn your device into a bag or pocket.
The second thing I want to note – it's completely useless attachment system flash. Although the button for opening and for that, but a slight movement of the flash moved to the operating mode. I do not know how anyone, but I think that to break off her backpack is simple. Although, maybe it caught us disorderly instance – write in the comments.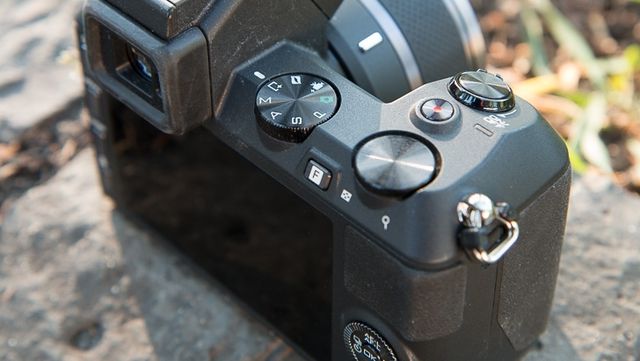 And the third – Nikon 1 V2 suffers from the same illnesses as adults Nikon'y. Namely – unstick bands. I do not know, maybe the factory workers party superglue send in the end?
And the last – place on the body, in principle, enough to make the same joystick bit more. Or add at least a couple extra (no, they are not redundant) buttons. Although I have carp.
What's inside?
The lens is clearly visible inch CMOS-matrix only 14 MP. Although this value with his head enough to get great shots. The processor inside – Expeed 3A. It's just a recycled version of the third. Although it is recognized that handles tasks such stone to cheer. Lags and did not notice any slowdown when browsing menus or photos or shooting and otsmotren material. Writing takes place smartly – even after a series of 15 to / from the buffer to fill in about 50 pictures on a memory card is written about a second or two, but you can continue to shoot single immediately. We used a fast card Transcend 64GB SDXC UHS-I Ultimate (her review here ) to produce such results.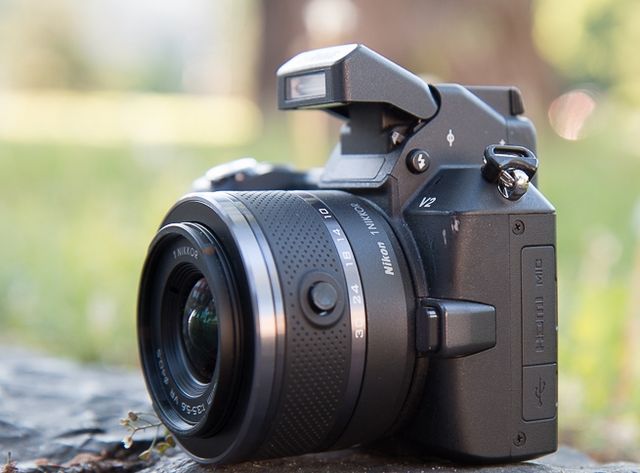 ISO speed – from 160 to 6400 ISO. I am personally very pleased that Nikon decided not to show how many times they can amplify the signal and decided to stay at reasonable numbers.
You can shoot at all values, in this case dating back to 1600 in RAW. After a competent processing images with values ​​above fit anywhere – even for WEB, though print, though not above the A5.
Dynamic Range pleasantly pleasing to the eye. You can shoot even difficult lit scenes, still the owner will receive a well-researched picture with volume. If necessary, you can include D-Lightning, which will draw more details, but if you want to HDR, have to do everything by hand – in an episode of FotoHack I'll tell you how to do it.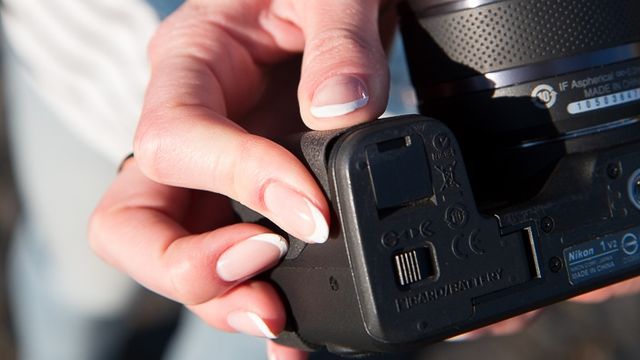 Separately want to mention the ability to create dynamic images. It works like this – you take a picture with the appropriate configuration and the output becomes the second mov with sound (setup in just four types). To this need, I know.
Autofocus Nikon 1 V2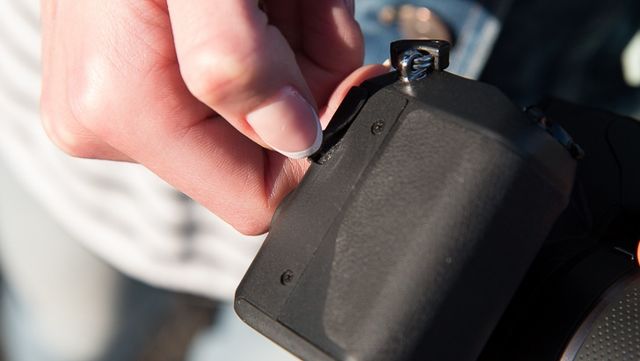 The camera has a system of 71 points, you can rely on completely. Focusing system allows it to grab the object that you wanted. Even in poor lighting conditions autofocus works quickly and accurately, providing the sharpness of the main subject. By the way, this system works even in video, then precisely as needed. Now create cinematic perefokusy easier – is just point the camera at a different subject.
Video capabilities Nikon 1 V2
Rollers are written in FullHD 60i/30p, HD – at 60p. It is possible to connect an external microphone and flexibility to control the aperture and shutter in Live-mode. But here there is one small bug nuance – to control the sound level on the schedule can not (or I am bad looking?), And there is no output for headphones.
Shooting TimeLapse'ov which has always distinguished the company, there are also available – will have to remove his hands from further processing.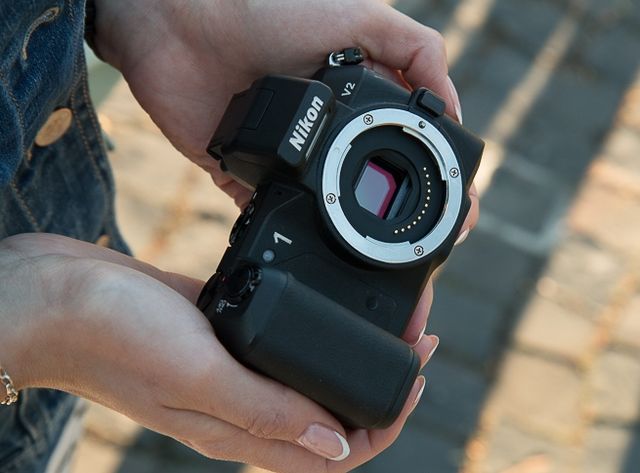 But instead an opportunity to shoot sssuuupppeeerrr-ssslllooouuu-mmmooouuushshshnnn – 400 / s at a resolution of 640 x 240 pixels and 1,200 c / s – at 320 x 120. Discontinued this movie 3 seconds, the output is 16 and 48 seconds, respectively, at a frame rate 25 / s. Possibility of something cool, except that quality becomes so awful that it is much better to shoot in 60p and slow down image on a variety of plug-ins post. Yes, and the minimum exposure limit 1/1200s is not happy – it turns out that the survey can be made only in great lighting.
Good Nikon 1 V2
Mass and dimensions.

Ergonomics.

Autofocus.

Image quality.

Dynamic range.

Continuous shooting.

Ability to record animated images.

Port for a microphone.

Video quality.

Shooting Slow Motion.
Poorly Nikon 1 V2
Price.

Peel off the gum.

Inconvenient power button.

Opening flash.

Lack of access for headphones.

Lack of graphics sound.

Lack of Time Lapse Motion.
Trimmed customization options for pictures (HDR, filters, vignetting control, etc.).
What glass to take
1 Nikkor VR 10-30 mm F3.5-5.6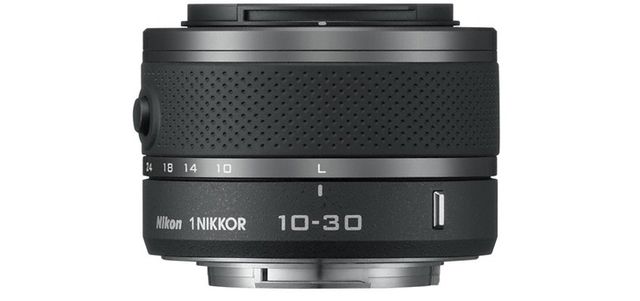 Universal, not too light lens will become an indispensable companion for every day as a whale. My opinion – everyone in the coffer to be a glass, which just do not mind. A more detailed overview can be found here . Cost – about $ 200.
1 Nikkor VR 10-30 mm F3.5-5.6 PD-ZOOM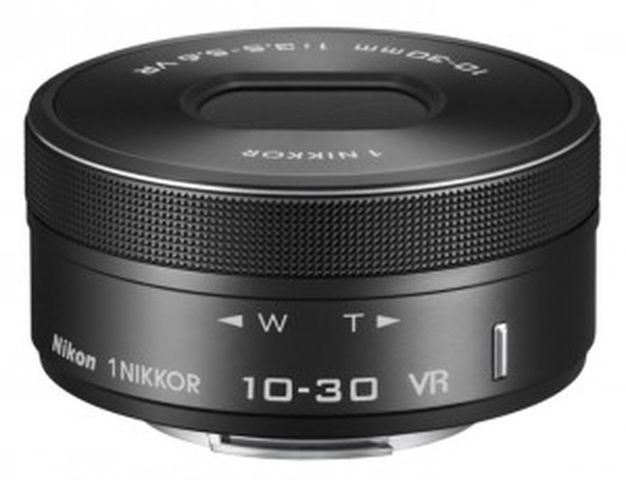 In fact, the same lens as above, only with a motor for smooth zooming during movie recording. Worth 100 bucks more.
1 Nikkor VR 70-300 mm F4.5-5.6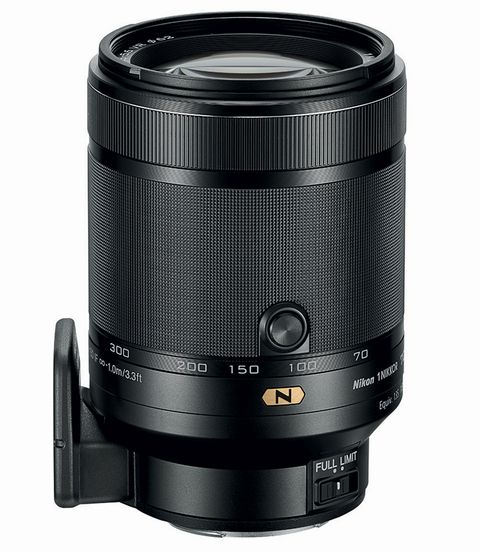 Not astounding aperture, this lens is simply irreplaceable for those who can not imagine my life without shooting reportage and distant objects. Cost – $ 1000.
1 Nikkor AW 10 mm F2.8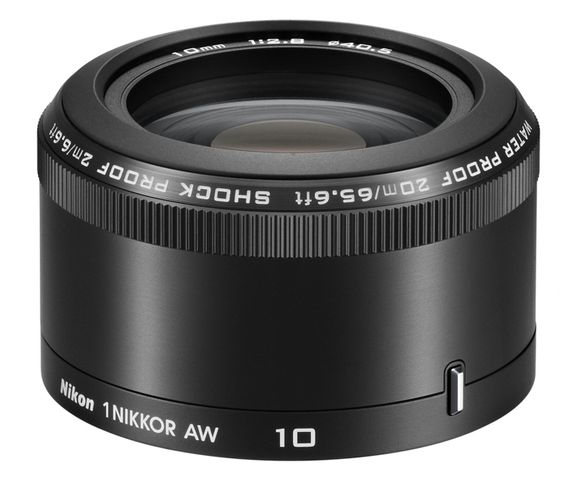 Bright, wide-angle can boast that is protected from a variety of adverse environmental conditions – it is waterproof, cold-resistant and shockproof. In general, it is what you need to travel. After wide angle makes everything better. Price – $ 200.
1 Nikkor 10 mm F2.8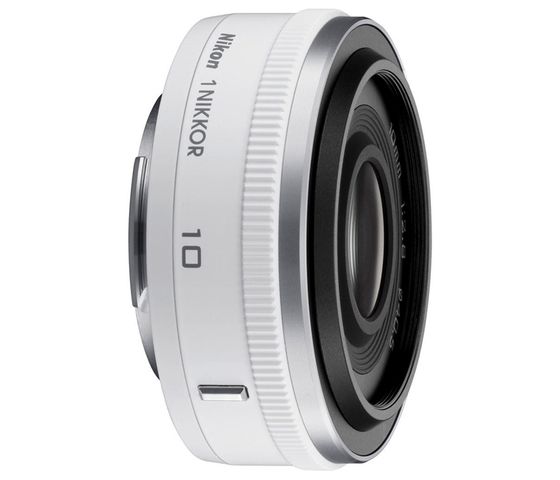 This is a variation on the theme of large-aperture wide angle without safety features. Suitable for travel, but obviously not for the extreme. It costs 250 dollars.
1 Nikkor AW 11-27.5 mm F3.5-5.6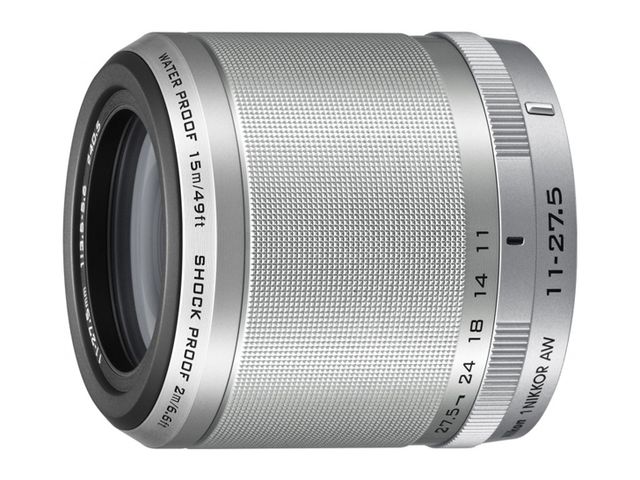 Protected zoom developed taking into account the camera's capability AW 1, so fans shoot in bad weather it is a must. Besides, the focal length of 30-70 mm equivalent can easily make it to the main carcass. Cost – $ 220.
1 Nikkor VR 6.7-13 mm F3.5-5.6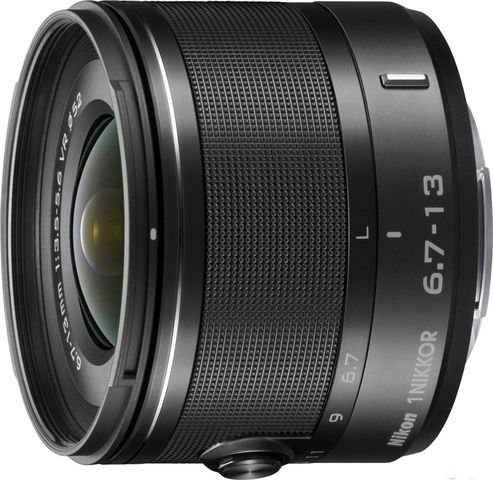 Not really aperture sverhshirokougolnik-zoom – great choice for shooting travel, architecture or genre pictures. Will cost the owner of 500 bucks.
1 Nikkor 18.5 mm F2.8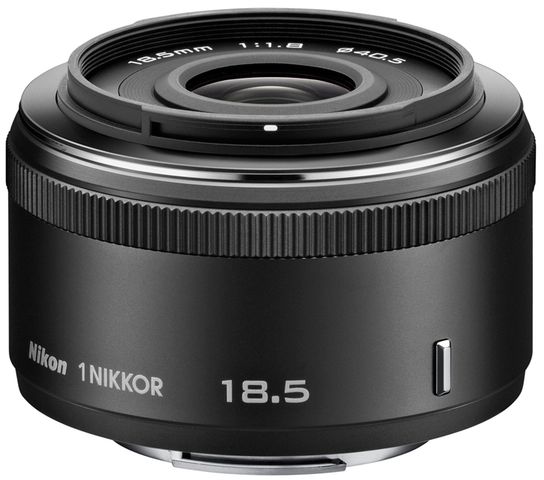 Focal length of the lens – about 50 mm equivalent. This means that the aperture can easily fix you live on camera, taking pictures of everything – from the architecture to the general reports. All for 200 bucks.
1 Nikkor 32 mm F1.2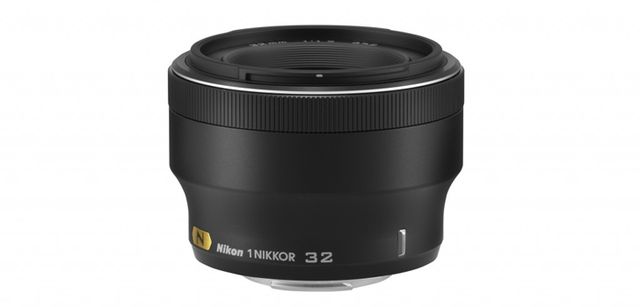 Supersvetosilny representative of the family of lenses 1 Nikkor. This is a classic portrait lens with 85mm focal length roughly equivalent. Removing it, you will get a nice blur the background and the ability to not worry about ISO or shutter speed even in low light conditions. The cost is $ 900.
Alternative
Sony Nex-6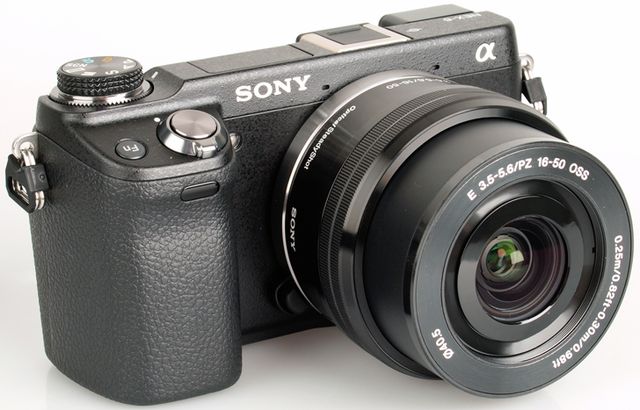 Bezzerkalka hybrid autofocus, matrix format 16 MP APS-C, swivel touch screen and Wi-Fi. Its cost is about $ 700. "Six" is an excellent choice for those who love to travel light and prefer to have a large selection of optics, including third-party manufacturers. Review is here.
Fuji X-E1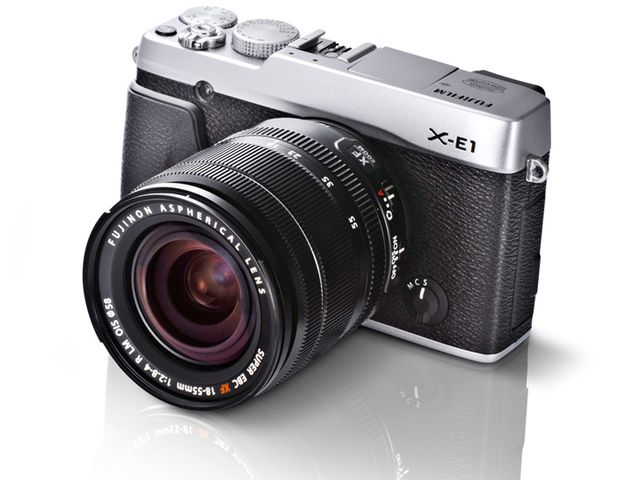 Camera, made in retro design, not exactly impress almost anyone. Clean lines, metal, imitation coating under the skin, as well as a bunch of film simulation modes. However, the port for an external microphone is not here, just as in the previous model. Cost – about $ 650. By the way, here matrix – 16 MP, format APS-C. Read the full review here.
Samsung NX-300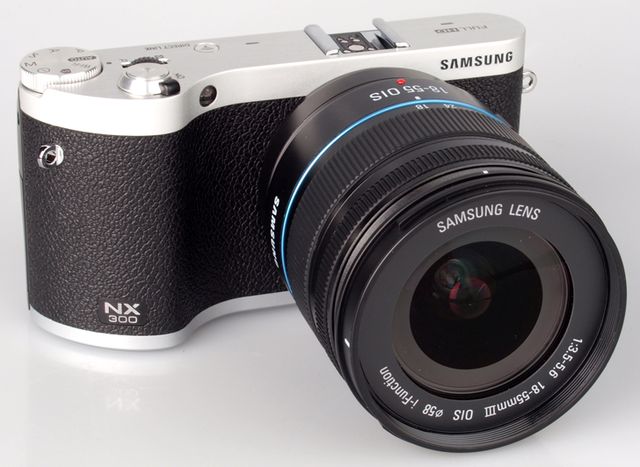 The camera features a large 3" touch screen, support for Wi-Fi, 20 MP APS-C matrix has a stylish modern design and good PhotoChances. Cost – about $ 550. However, there is no viewfinder – sight only on the screen. Review is available here.
Canon EOS M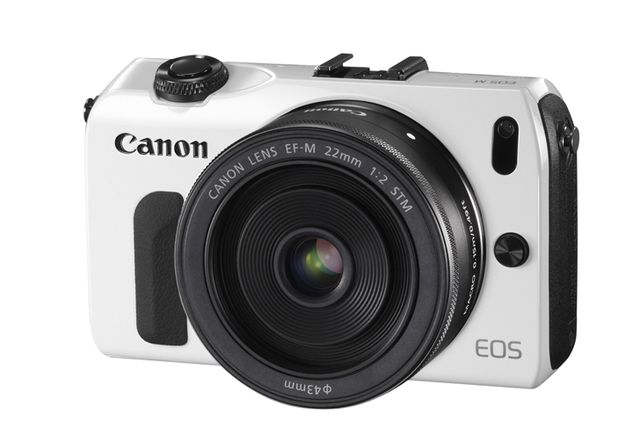 Bezzerkalka from Canon boasts 18 MP matrix format APS-C, the presence of a port for an external microphone, compact size, but it has no viewfinder. In addition, the display – immovable, so that non-standard angles have a little try. Cost – about $ 550.
Olympus E-M5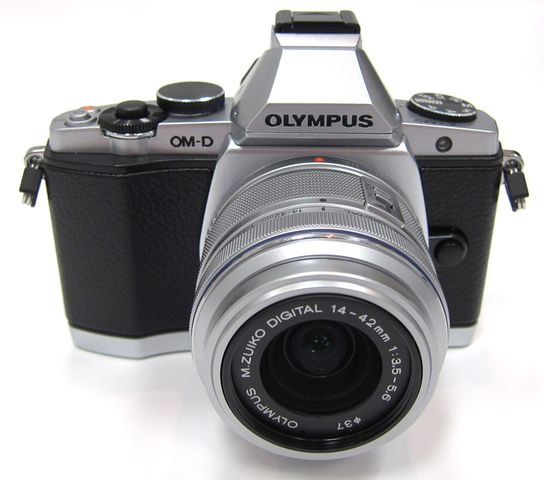 Camera with matrix size Micro 4/3. Here there is also a good design, and swivel display and viewfinder, and just cool matrix stabilization system, which smooths trembling hands. But at the same port for an external microphone is not. Camera worth about $ 850. We have made ​​it a full review.
Panasonic DMC-G6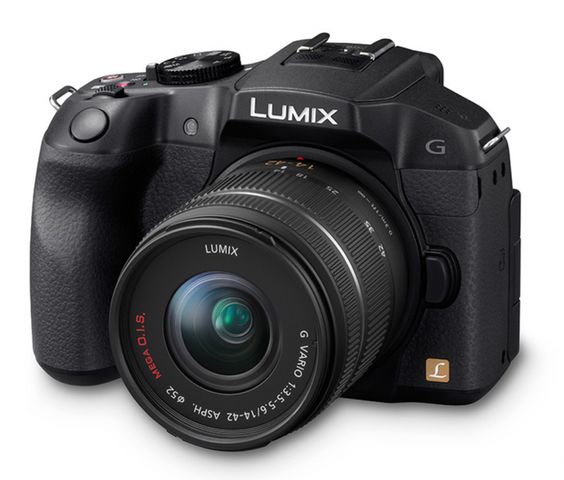 Another representative of the Micro 4/3 can not boast of ultra-compact dimensions – outwardly resembles a small SLR camera. But while there is a lot of advantages – mic, viewfinder, turning on three axes touchscreen display, a large number of mechanical controls. Cost – about $ 750. A full review is available here.
Panasonic DMC-GF6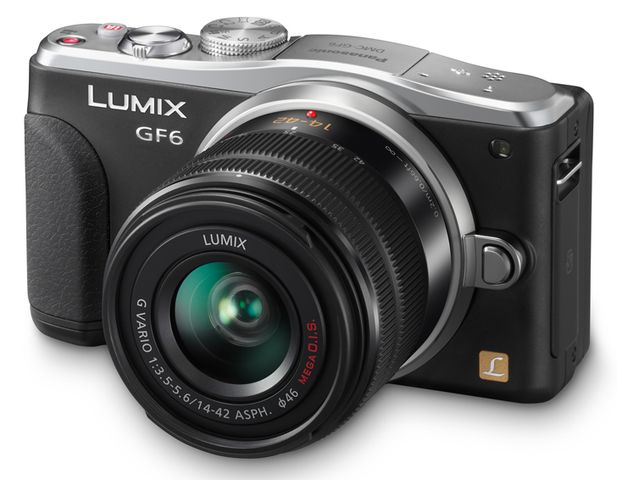 Compact camera without a viewfinder, with swivel touch screen, small size and good PhotoChances is a perfect companion in all kinds of travel. Cost – $ 600. Review here.
Nikon 1 AW 1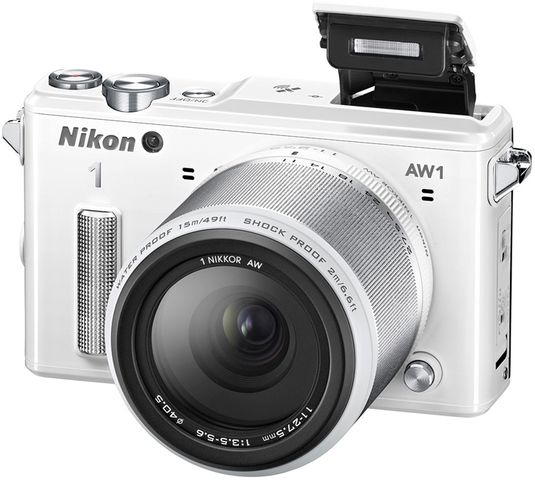 Foolish not to mention alternatives that representative bezzerkalok from Nikon. This camera – simply brilliant solution for those who can not sit still and spend their leisure time in an extreme situation. Secure the camera can withstand immersion in water up to 15 m, a fall from a height of 2 m and frost down to -10. Also here there is also a navigation module, which includes GPS, compass and barometer with depth.
Summary Nikon 1 V2
Spending with the Nikon 1 V2 enough time, I realized I did not know what to conclude. To say that the camera is bad, I can not that good – too. Rather, it is neutral. It takes good photos, but the stars from the sky is not enough, she takes good video, but the film clip or shoot her, I would not. Like, it's cool, and like – damp.
The result was a camera for $ 750 for those who need a small camera for every day or travel, but that does not expect anything from him supernatural.
I believe that the direction the company took very good. If only slightly modify the video and PhotoChances, as well as many minor illnesses, this camera is an excellent choice traveler or someone looking for an inexpensive and high-quality instrument.
Read another very interesting article about alternative energy of the Sun, water and air.