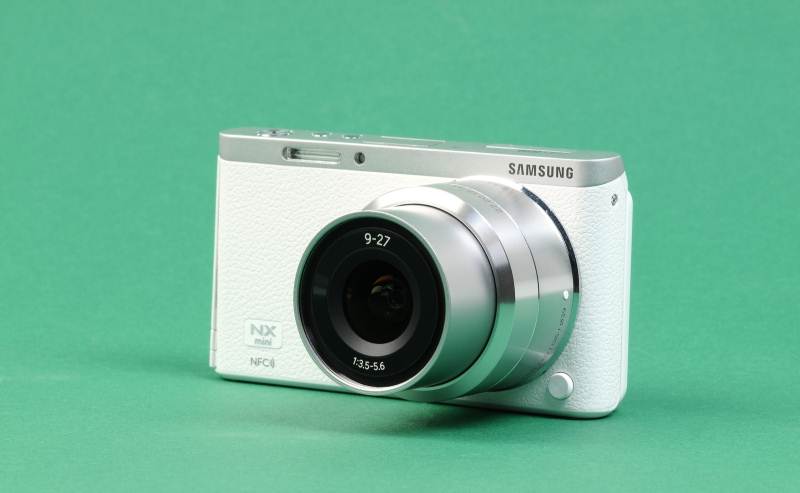 A great choice for those who want to be with the camera Samsung NX Mini. This baby is ready to die with an inch stoke some mirror devices for purchase which would have to spend twice as much money.
Design and ergonomics Samsung NX Mini
Samsung has expanded its range of digital cameras, introducing a new system NX Mini. While there is only one camera and a pair of lenses, but survey results suggest the possibility that the story will be continued, and it will be interesting.
Miniature size – that's one of the trump cards of Samsung NX Mini. Even with triple zoom lens camera comfortably in the spacious pocket of the jacket, but nothing of the bag and say nothing. Weight of about 200 grams, which is still required from the machine every day?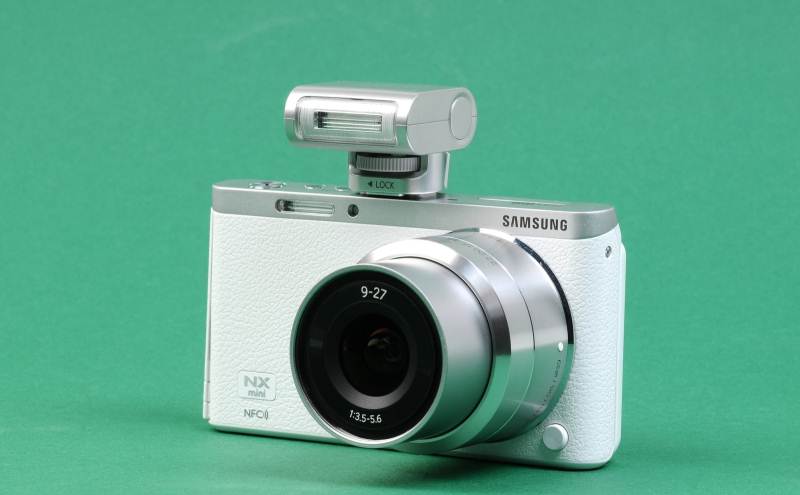 Eclectic design – silver upper body hints at fashionable in certain circles, retro, other parts is pure digital classics. The choice of five colors are available, including plain black and elegant white.
The front panel mount Samsung NX-M, AF assist lamp (switchable via menu) and built-in flash.
Supplied there is also on-camera flash, it is installed in the slot on the top edge of the frame and secured with a screw. Unfortunately, the direction of light can not be changed: design is not turning. When using an external flash inside off automatically.
Next three buttons – establishing a wireless connection, turn on the power and descent.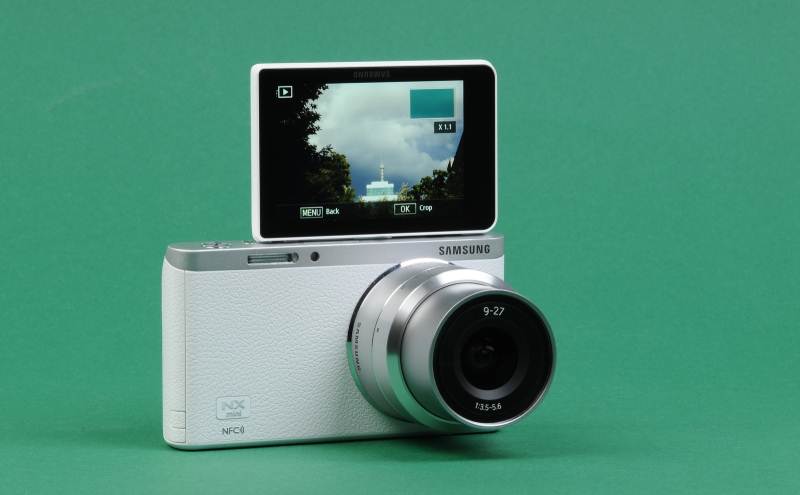 Under the hood on the right side of the casing with memory card standard microSD, Micro-USB connector and output HDMI.
The battery is removable, but it occurs in the charging chamber, the bundle includes a USB-set: cable and AC adapter. On a single charge (2330 mAh), the device may take up to 650 shots – the result for mirrorless models great.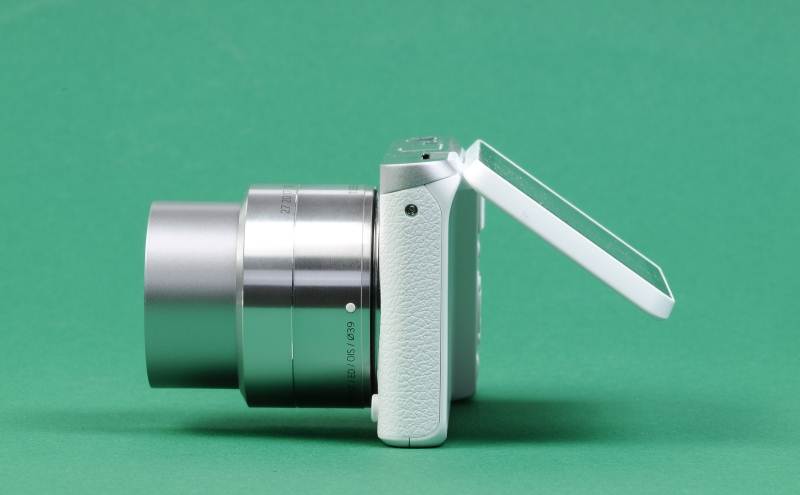 The camera can shoot and charge simultaneously, so that the question of the number of frames rather goes into your tank pauerbanka plane.
Swivel LCD screen, touch screen, its diagonal three inches, and the number of pixels – a little more than four hundred sixty thousand. Capacitive technology, accuracy and responsiveness – great.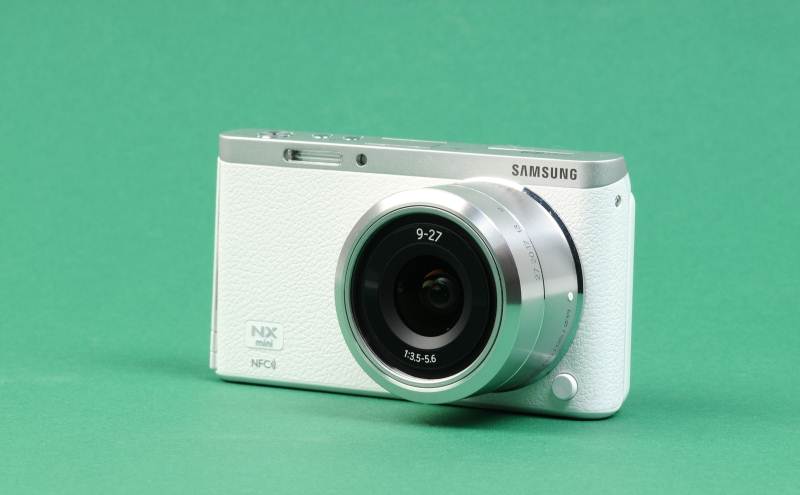 One degree of freedom, but the design is optimized for self-portraits. If you rotate the screen 180 °, the camera will change its setup: including certain faces in the frame and the timer.
On the rear panel, there is a five-way joystick (it derived input exposure compensation, AF mode selection, broaches and display information on the display), and five hardware buttons, including for video recording.
Functionality Samsung NX Mini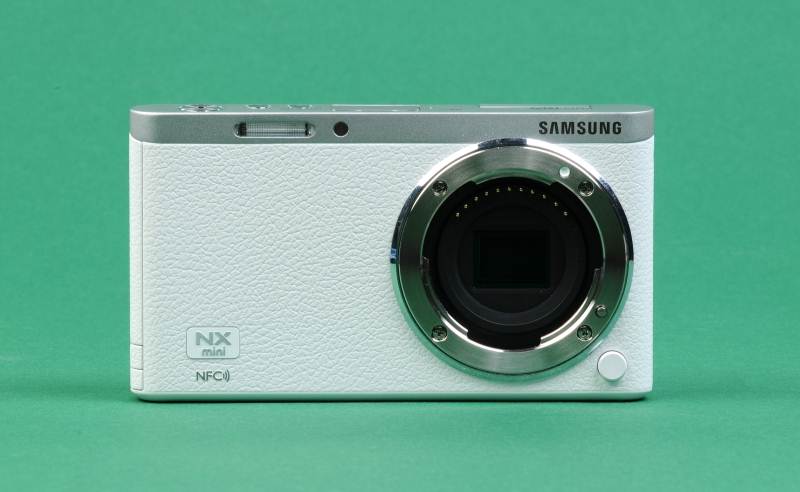 Matrix size of 13.2 x 8.8 mm (one inch diagonal) creates a 21-megapixel pictures that can be saved in RAW. Sensitivity ranges from ISO 160 to 12,800, expandable from ISO 100 to 25600.
Shutter speed range of the electronic shutter from 30 seconds to 1/16000, there is the manual focus. Flash sync at shutter speeds up to 1/200, there is a choice between the first and second 'blind', which allows, for example, to capture beautiful photos of moving objects with blurred train.
Management optimized for work with screen, it is well thought out: almost all the parameters can be changed in one menu.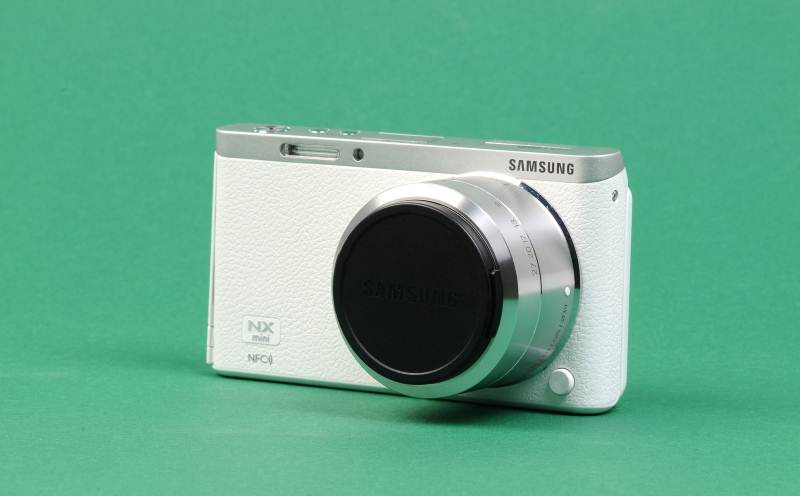 Available software and priority, and manual exposure modes. For beginners, there is a fully automatic mode. Also provides a set of presets for filming in different situations, such as macro or silhouette and "computing" modes – HDR, panorama, Auto Enhance portrait etc.
In the self-portrait mode the camera detects a wink as a signal to shoot.
Contrast AF system deserves praise for his ability, even at very low light the sharpness, giving odds to many mirror devices with phase sensors, although it does not record speed.
As you can see, little can practically everything you need for a photograph. Now only two lens system – Three optically stabilized zoom with a focal length equivalent to approximately 24-70 mm aperture 3.5-5.6, as well as "pancake" 24/3, 5, with which the camera and did fit in a jacket pocket . When the announcement was promised system lens with a focal length of about 46 mm and aperture of 1.8.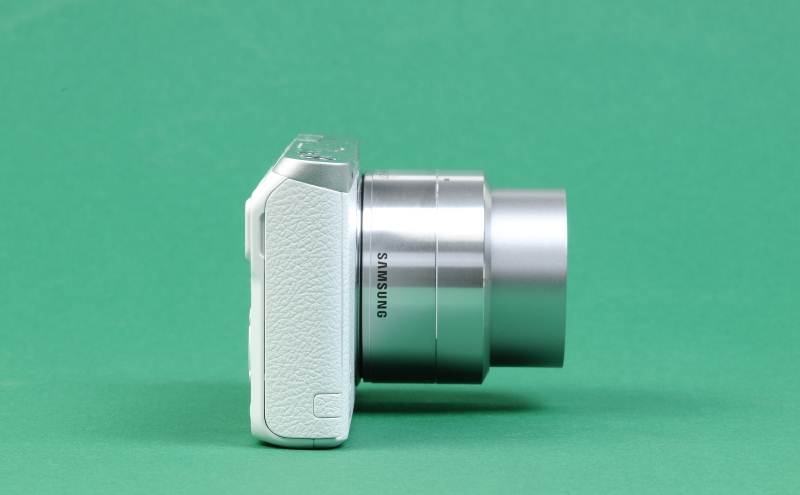 Crop factor system NX-M – x2, 7. Officially supported by the installation system of lenses through the company's NX adapter.
The camera records Full HD-video at up to 30 frames / s. On the big screen, the picture looks good, detailed and lively. Thanks to the Multi Motion machine can make videos in the style of Time-laps, choosing the acceleration time in five, ten and twenty times.
Since Samsung NX Mini module is equipped with a wireless communication unit can be controlled remotely from a smartphone / tablet. Samsung Remote Viewfinder app has platforms Android and iOS.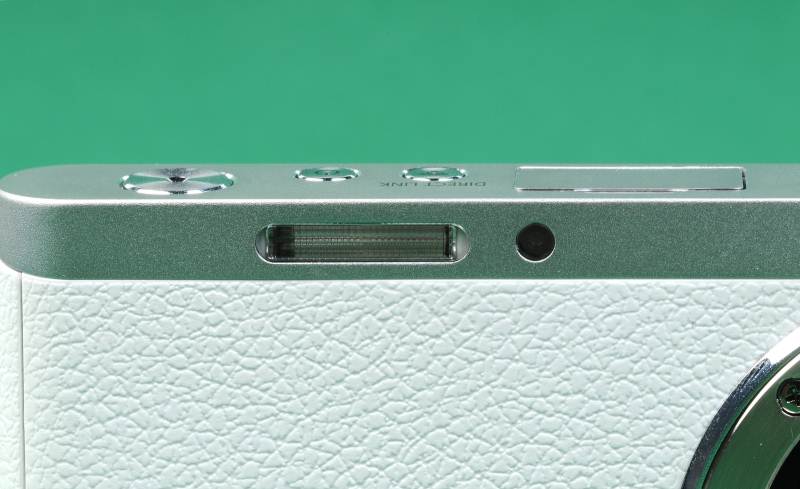 The camera creates its own Wi-Fi-network, so that the router is not required. NFC chip simplifies the connection with an appropriately equipped mobile devices.
Through the convenient OSD change basic camera settings, focus point selection works by touching the image.
To conserve battery power, turn off the camera screen quickly.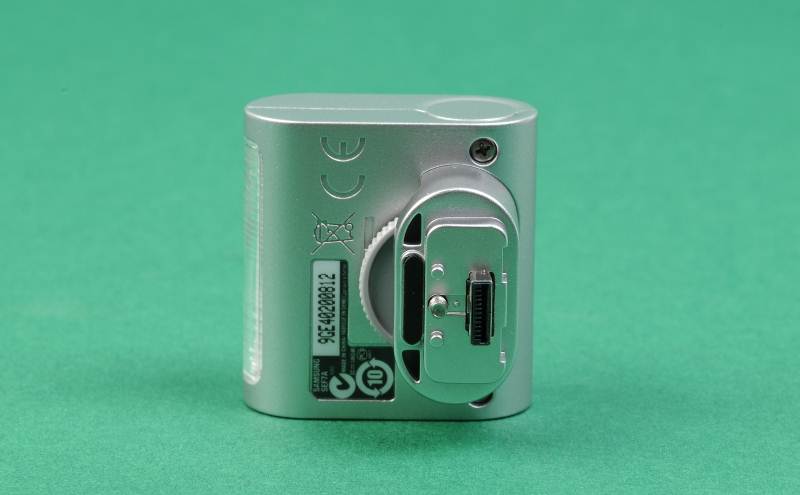 However, remote control – not all. The footage can be sent by e-mail, automatically transferred to your computer, upload to Dropbox, Picasa or Flickr, place in social networks.
Samsung NX Mini is able to work as a network security camera, for example, the child left in the bedroom. Enough to install on mobile app Baby Monitor and connect the machine to a wireless network, providing for continuous operation in-house catering.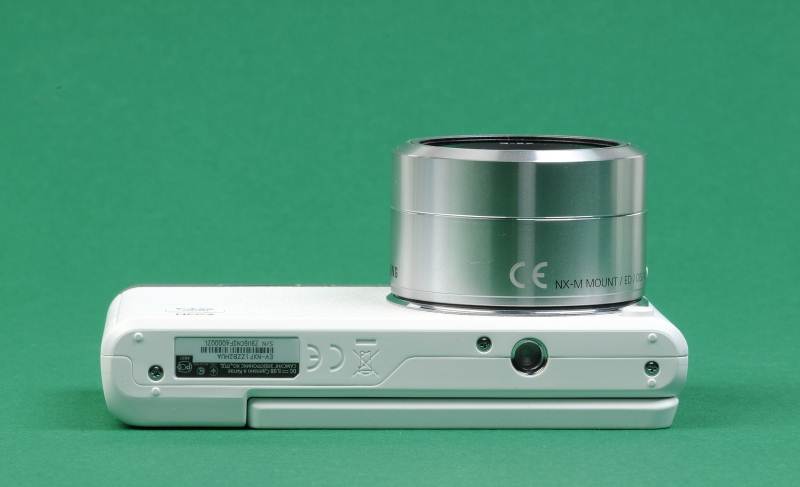 Translation is in real time, and if you want your smartphone to enable the AF illuminator. If the camera is "hear" sound occurred (child awoke and began to cry), the notification appears on your phone.
The quality of images Samsung NX Mini
There is a bias that small matrix – it's not serious. But Samsung NX Mini bet. Files for independent scrutiny available on this link.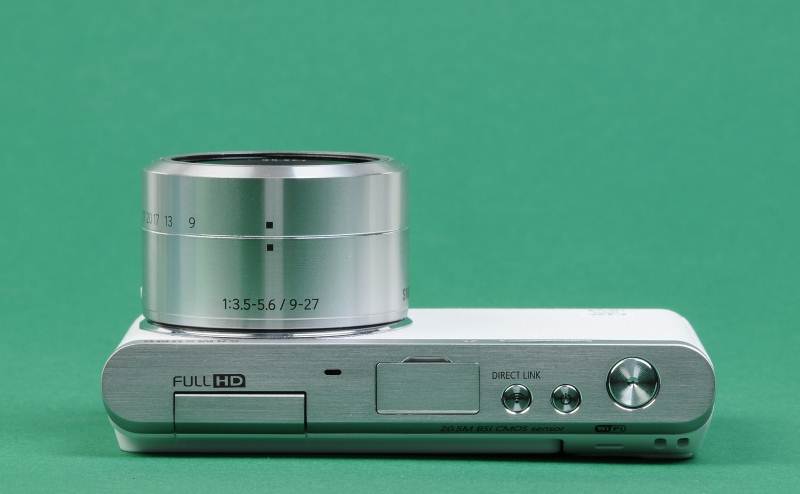 Shots taken outdoors under normal lighting living and juicy. White balance in most situations is determined correctly. 20-megapixel sensor can significantly reduce the image when using, be it print or on-screen viewing, respectively, artifacts that are visible at 100% (again, since considering pictures, usually only the author) will simply be invisible.
No wonder there are so may all devices. However, it should increase the sensitivity and the situation will change.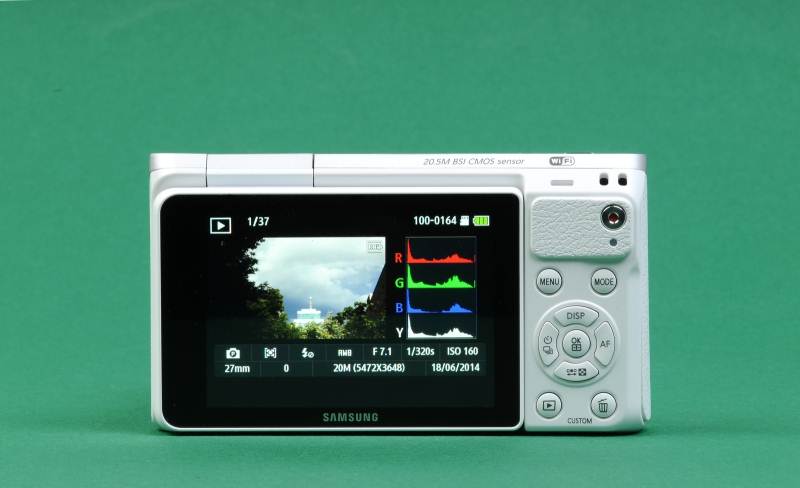 When I first looked at the pictures taken at ISO 6400 and 12800, I thought he made a mistake and did not change the sensitivity. Results, especially considering the size of the matrix, startling.
Left – a fragment of a file Samsung NX Mini, right – of a SLR camera with APS-C-matrix (the price is about twice more than the Samsung  NX Mini, model 2013), ISO 6400, 100% scale.
And that results when shooting under ISO 12800. Impressive? It is clear that directly compare the ultra camera with interchangeable lenses with a mirror, even APS-C, is not true: they are different devices with different usage models. But these examples clearly demonstrate the successes of engineers and programmers Samsung.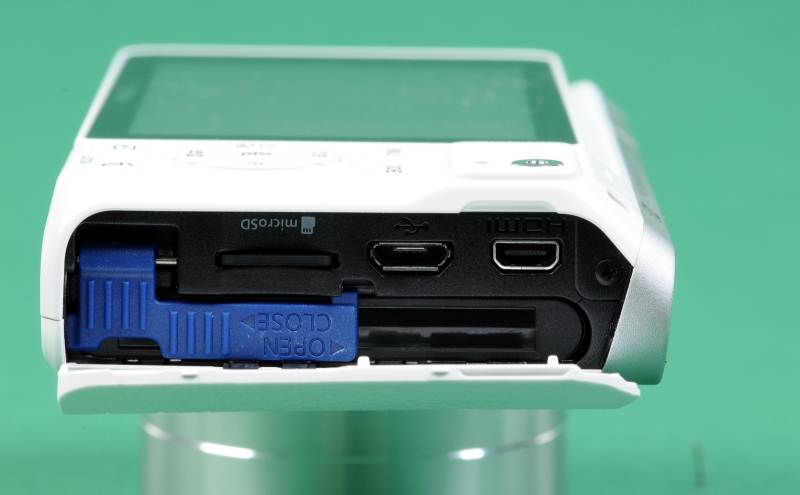 This is a smaller version of the file, the survey was conducted at ISO 12800. Approximately it will look like the imprint of an appropriate size. Apparatus even in JPEG provides results that are suitable for printing on amateur format 13 x 18 cm, with minimal processing, in difficult cases, of course, better to have a RAW-file.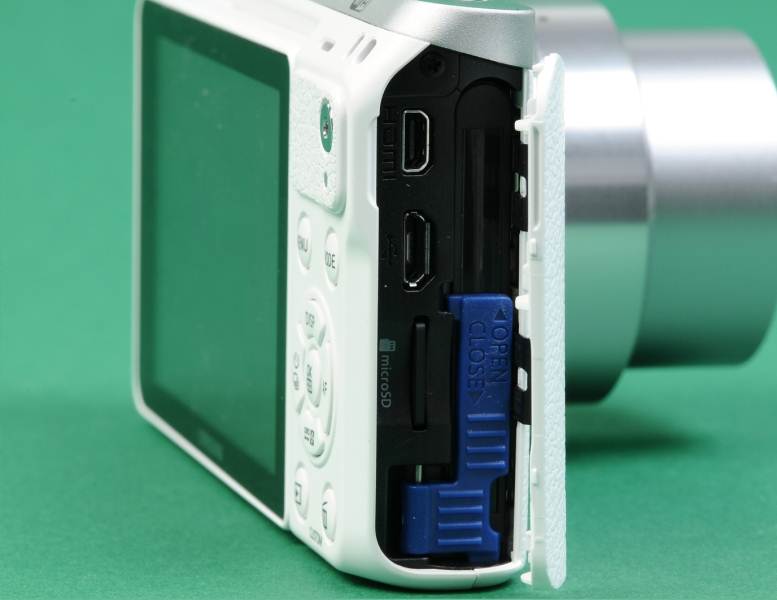 Speaking of RAW. Files from Samsung NX Mini Offering Agile resistance to underexposure and overexposure. Here is an example of processed image captured in low light at ISO 200 underexposed three stages. In Adobe Photoshop Lightroom can be extracted from a very dark image is a lot of information, and the noise will still be at an acceptable level. This feature helps when shooting high-contrast scenes, when you have to consciously choose between the need to use HDR-technology (which is not always possible) or leave extract details from the "wrong" exposed regions on the post-processing step.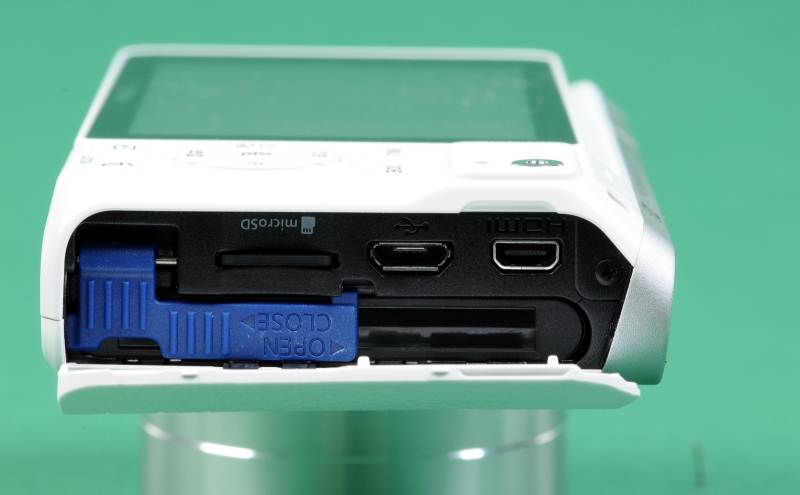 In conclusion – another example. Shot was taken in low light at ISO 6400 with overexposure to three f-stops. Typically, such a distortion is detrimental to yellow even cameras with APS-C-matrix, but simple manipulation in Photoshop yellow (as well as blue) colors have been restored to an acceptable level. Opportunity to extract useful information from the burned-out area is particularly useful when shooting winter landscapes, dark objects when an insignificant part of the frame, but the detail in them is important for a photographer.
Verdict Samsung NX Mini
Samsung engineers were able to create a very small camera with interchangeable lenses. She looks great and is easy to operate. Despite the size (and body and matrix) is a very serious tool capable of in the right hands to implement a wide range of creative ideas.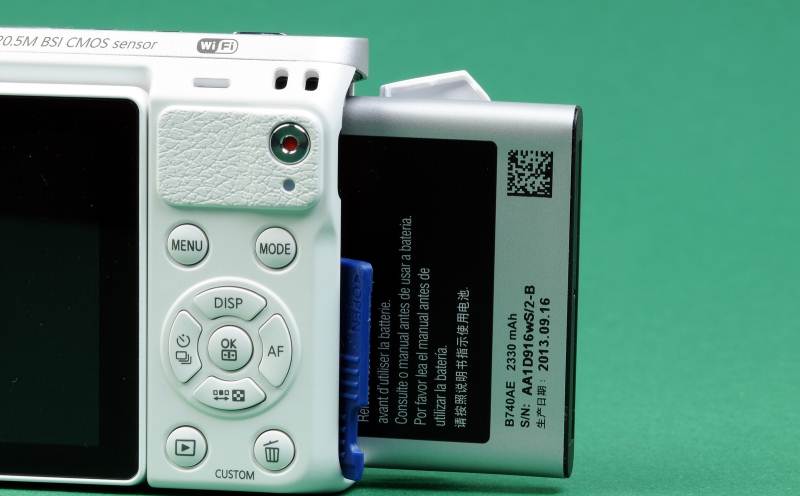 If you wish to buy lightweight, compact unit for each day, be sure to include in the list of candidates for the purchase Samsung NX Mini. He surely win any competition in the smartphone image quality in difficult conditions, and if you choose a complete set with the zoom lens, the smartphone and do better to become a partner – a remote viewfinder, ending the match.
The package also comes fully functional and does not require a subscription to Creative Cloud version of the best cross-platform application for managing digital photo archive and process images Adobe Photoshop Lightroom 5.
Pros Samsung NX Mini:
Miniature housing dimensions (by the standards of system cameras), even with the zoom lens, the presence of many professional features, excellent photo quality for this class of vehicles, complete "boxed" version of Adobe Lightroom complete.
Cons Samsung NX Mini:
There is no on-camera flash rotating mechanism, there is no attachment to a neck strap, manual focus is activated only via the OSD (Lens 9-27/3 ,5-5, 6).
Read another very interesting article about alternative energy of the Sun, water and air.