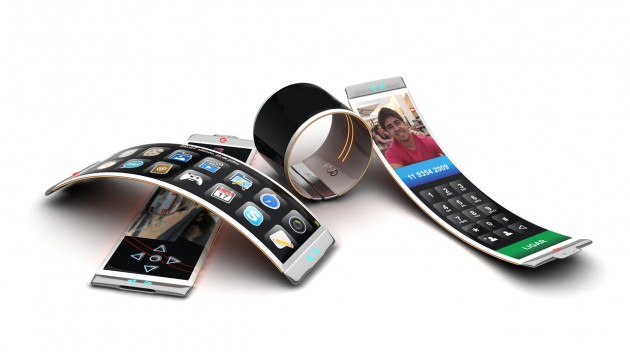 Apple has the right to use the patent, which describes a smart, controlled by a flexion. It also describes the flexible displays are used as advertising media.
American United States Patent Office has reported receiving a patent for an Apple gadget controlled by folding.
The patent is number 8,855,727 and, as the name suggests, is issued to "mobile electronic device with an adaptive responsive flexible display."
While the documentation described gadget consistently referred to as "wearable computing device" or "advertising device", as described in the patent, it is a smart phone with the ability to share content with a remote stationary server. By creating a long-standing patent it underscores the flexibility devices to send and receive MMS.
Based on the information from the Patent Office, users of the future "flexible iPhone" will have the opportunity not just to bend it or fold, but can also, changing the shape of the device, control its functions.
The patent contains only the most general description of the physical principles of operation of the device, but it describes the ways in which the user, bending it can give him the command (run video, send e-mail, etc.).
Besides in the patent describes how to change the size of the flexible display enable several small flexible displays in a large screen, folding the flexible display in a compact rectangular or cylindrical shell for transporting and fastening it to the external structures for use as an advertising medium.
Interestingly, the original patent Apple's interactive flexible display direct author of the idea was listed Harry Vartanian, writes Apple Insider.
In 2011, a patent was issued to a small research company called HJ Laboratories, owned Vartanyan and Jaron Rhodes. It remains unclear whether Apple bought the patent, license, or get right to it in another way.
HJ Laboratories owns numerous inventions in the field of geo-but a patent for a flexible display is still the only patent originally registered HJ Laboratories, and assigned to Apple.
Now HJ Laboratories number of actions a company registered in the state of Pennsylvania, however, can not be excluded that the assignment of a patent Apple it means that it has already absorbed "apple company," the authors write Apple Insider.
Read another very interesting article about alternative energy of the Sun, water and air.