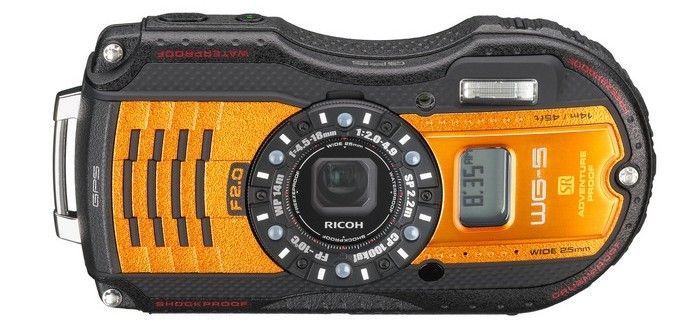 The company RICOH IMAGING COMPANY, LTD. announced the launch of the digital compact camera RICOH WG-5 GPS, key features of which are water-resistant, improved GPS and increased impact resistance.
RICOH WG-5 GPS can withstand immersion in water up to 14 meters, falling from a height of 2.2 meters, and is also resistant to low temperatures down to -10 ° C. Through a combination of high-aperture lens (maximum aperture f / 2.0) with 4x optical zoom and high-sensitivity CMOS sensor with reverse flare, the camera takes high quality pictures without noise, even when shooting poorly lit subjects, such as underwater scenes, night scenery and various sporting events indoors and outdoors. Also, the model includes several new features that allow you to get the perfect shot in any situation. Among them: optimization of white balance depending on the shooting location; special flash mode for underwater photography; Vibrant and shooting styles Reversal Film, gained popularity among users of digital SLR cameras PENTAX.
Camera specifications fully corresponding to the compact in its class, it is an excellent lens and a double stabilization, video recording mode Full HD (1920 x 1080 pixels) and a 3-inch widescreen LCD display. WG-5 is equipped with a GPS receiver in the same data from satellites and global positioning can record information about the location shots in EXIF-data snapshot. In addition to all, the camera is equipped with an altimeter / barometer / digital compass and depth gauge. Design model WG-5 GPS continues successful concept of "off-road" cameras RICOH – body, which is very convenient to hold a wet hand or gloved hand, the location of the lens and flash, which can not accidentally close a finger in the process of shooting, thoughtful layout of the controls. The camera is available in two color shades: juicy orange and silver metallic.
Since the model WG-5 is equipped with a GPS zoom lens with a maximum relative aperture of f / 2.0, it makes beautiful images with minimal noise, even objects in low-light conditions. With a 4-fold zoom, with a range of focal lengths from 4.5mm to 18mm (approximately 25mm to 100mm in 35mm format equivalent), this versatile lens can be used for different purposes, from macro and landscapes to portraits and photographing distant objects.

Camera WG-5 GPS in a special mode "Underwater photo" and "Underwater Video" optimizes playback shades of red, which are often lost when shooting in the water element. In addition, the WG-5 is able to optimize what is happening under the water fall contrast images. Management Program aperture and shutter speed in these modes is optimized so as to maximize avoid blurry subjects when shooting underwater. In addition, with the flash adds a new original mode in which the camera takes 2 frames sequentially with the flash and without flash and then combines them into one image, thereby reducing the negative effect of light scattering on bubbles and suspended matter in the water.
The double stabilization in the camera WG-5 GPS combines the mechanism of displacement sensor SR (Shake Reduction) mode and digital stabilization Digital SR, to more effectively compensate for the effects of camera shake or subject movement during shooting in difficult conditions such as twilight, sunset or filming the underwater world.
WG-5 GPS has advanced features GPS, allow you to save data on the geographical location within the images, information on the movement (Track), as well as measure the depth of the dive or climb the height using the integrated barometer (barometer data displayed on the optional LCD monitor and recorded in metadata file). In addition, the camera is equipped with a digital compass, all of which makes it an indispensable travel companion.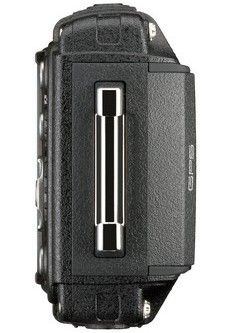 Other interesting features
Two receivers for infrared remote control (one front, one rear) provide convenience to control the camera from a distance.
Mode «Auto Picture» automatically selects the most appropriate shooting mode from 16 different scene modes.
Crop and reduce the image to apply the desired effective filter to impose an interesting frame or even remove the effect of "red eye" – all this can be done in-camera, without the need to connect a PC.
The camera allows you to quickly adjust the image according to the preference of the photographer and subject, using styles: Bright colors, Standard, Monochrome, Slide.
The included strap with carabiner allows you to conveniently and quickly mount the camera on a backpack, waist belt and other equipment.
In addition, there is a wide range of accessories for cameras Series WG in a variety of conditions: Bike Mount bike mount on the clothing and equipment for the conduct of the shooting is not holding the camera in his hand, unsinkable strap and more.
In the off state press the "OK" button displays a clock face, turning the camera shockproof waterproof chronometer. There are also useful in the travel alarm clock function.
Read another very interesting article about alternative energy of the Sun, water and air.