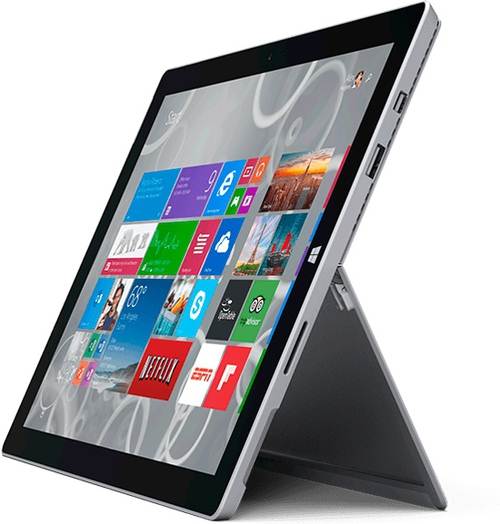 Externally, the tablet is very similar to its predecessor Microsoft Surface Pro 2, but it became lighter (800g vs 900g) and thinner (9.1 mm to 13.5 mm). Moreover, Microsoft officials claim that this tablet is the thinnest among other models, operating on the basis of processor Intel Core. Of course, these features are not the only ones and Microsoft Surface Pro 3 has something to offer to the user!
Design Microsoft Surface Pro 3
Since the existence of a ruler Surface, the appearance of Microsoft Surface Pro 3 has not undergone any significant changes. It's all the same tablet, completely made of magnesium alloy, with clean lines and rounded edges. Entire screen is 12 inches, and it means that the device is enough headroom, despite the fact that a thin (its length is 292 mm and the width – 201 mm). The display is surrounded by a wide frame, on top of which was placed a webcam, and on the right side – touch button Windows. Rear of the unit light gray color as the stand, which will be discussed further. Docking keyboard in Microsoft Surface Pro 3 is available, however, it is sold separately from the tablet. The keypad is in this case serves not only for input of information, but also for protection from external damage devaysa.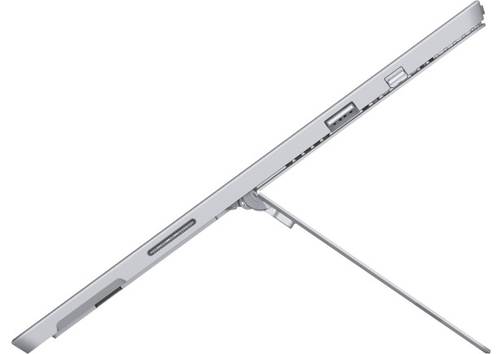 Thus, all the plates unusual chip Surface plate is adapted to the back of the gadget so that it can be used to put the device on a table or any other surface. In terms of functionality, it is undoubtedly very convenient and practical. However, in the previous one, the second version, this feature was probably somewhat flawed: the opening angle of the stand was not regulated and was only 45 degrees. In Microsoft Surface Pro 3 this is no problem, because now stand can stand at an angle of from 22 to 150 degrees. Thanks to this broad angular range with this tablet PC can work quietly on his knees, drawing, etc. But in the hands of his hold too long, still 800 grams, though not too much weight for a 12-inch tablet, but will be felt.
With regard to the strength and reliability of the tablet, here it at the highest level. For example, to demonstrate how strong body, representative of the manufacturer deliberately throws the gadget on the floor while he is not broken. However, do the same thing with a concrete floor, he did not dare, but then the result is great, do you agree?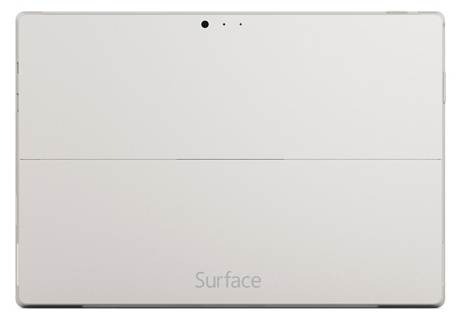 Display, audio and webcam Microsoft Surface Pro 3
Glossy display Microsoft Surface Pro 3 can boast a 12-inch diagonal and a resolution of 2160×1440 pixels. Aspect ratio – is not familiar to us 16:9 and 3:2, so the screen can contain more useful information. At the presentation of the Microsoft representative said that the company's engineers work hard to ensure better viewing angles, the same goes for brightness and contrast. In principle, all of the confirmed actually.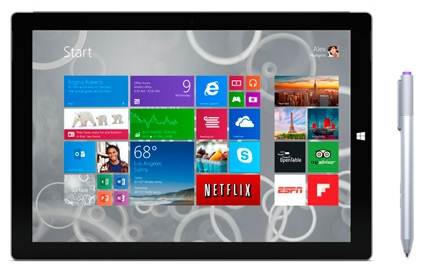 Touch screen device, it supports multi-touch, responds quickly and accurately, however, for greater convenience in the Microsoft offer to use the stylus Surface Pen, in fact, the electronic pen. Note that in the new tablet has an interesting feature associated with the digital pen: synchronization with the cloud and OneDrive program OneNote. In the latter, by the way, you can immediately edit just taken.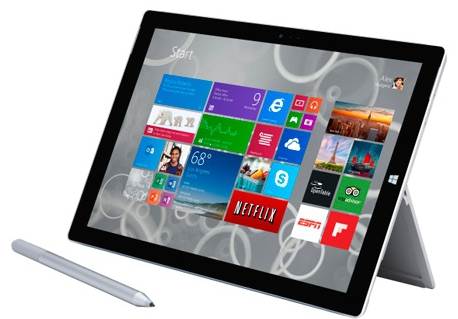 Also on the stylus has a button, clicking on which turns the pen tip eraser, and it means that you can, without being distracted, wipe, say, a bad touch. Also, clicking on the screen handle immediately evokes application OneNote, which is very convenient. All this is possible thanks to a wireless connection via Bluetooth between the stylus and the tablet itself. By the way, the electronic pen is made in gray, made of plastic, supports 256 levels of depression and comes bundled with the tablet. However, if necessary, the stylus can be purchased separately for $ 50 on its official website.

Resolution rear and front of webcams is not the same – 5 and 2 MP, respectively (compared to the previous version had two cameras at 1.2 megapixel each). For very high-quality images such authorization for each camera is unlikely to be enough, but for quick photos where not too important high definition image camera amiss.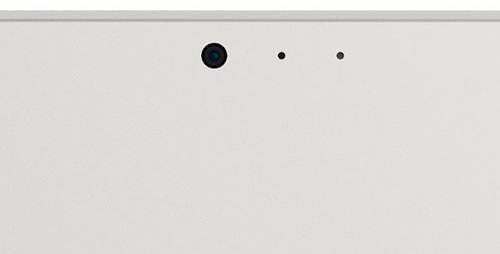 As for the sound, then at the sides are stereo speakers, there is support for Dolby Audio. According to the manufacturer, compared with the previous versions of the sound quality has improved by 60%. But when you consider that it used to be quite high, then the novelty sound clearly surpass all your expectations!
Keyboard and Touchpad Microsoft Surface Pro 3
Transform the tablet into a laptop would have been impossible without a keyboard, in this case – is Surface Pro Type Cover $ 130 on the official website, available in 5 colors: purple, red, blue, black and blue. As we have noted, the keyboard is not just for text input, but at the same time and is the cover that protects the gadget from damage. It is in the Type Cover provides space for the stylus, but in the tablet it is absent.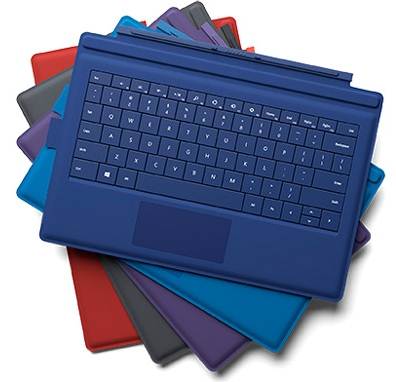 Note that the keyboard is magnetic, it is easily connected to the bottom of the plate using a magnet, and just one touch, detached. When the Surface Pro Type Cover used as a cover, the display is automatically turned off to prevent accidental pressing. Conversely, when you open the tablet PC comes out of sleep mode.
Keyboard in Microsoft Surface Pro 3 does not touch, in contrast, for example, from the very first model of Microsoft Surface. Although she is not an island type, but the keys under your fingers – mechanical. It is much more convenient, because, first, when you feel the response, and secondly, to work with the regular keyboard still familiar. Magnetic stripe with which secure the keyboard to the tablet, has close to a sort of a tongue, pulling that, Surface Pro Type Cover can be lifted. This adds convenience while typing, especially if you want to do it on his lap. The disadvantage of this keyboard, for that matter, any other used in the series Surface, include the absence of the additional battery, which could extend the life of the tablet when they work in tandem. This is a minus, given that many manufacturers have long complement its docking keyboard battery.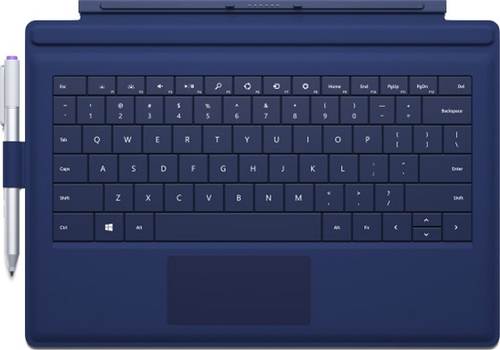 The top row of the keyboard function keys make F1-F12. Square keys, those that are often used, for example, [Enter], [Shift] – oblong, the optimum size to hit it and do not touch nearby buttons. The keyboard has a backlight, which is activated in the absence of external light.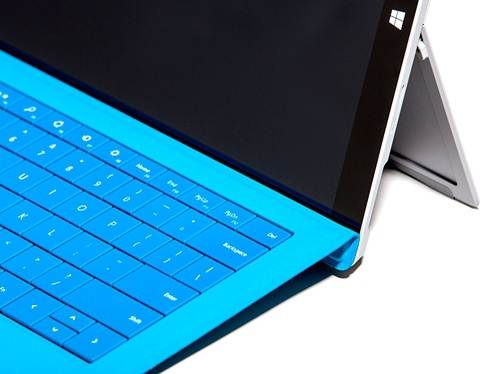 Under the keyboard is the touchpad made of glass. And if, before work on the Surface Pro 3 user dealt with conventional laptops, manipulator seem to him frankly small and uncomfortable. However, soon get used to it, but if you do not want to wait, you can simply buy the same mouse on the official site ($ 70) and easy to work with her. By the way, the mouse is able to perform its functions at a distance of 30 meters.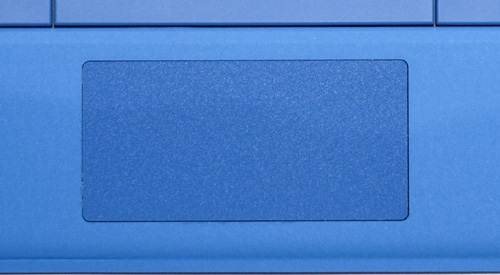 Performance Microsoft Surface Pro 3
Microsoft Surface Pro tablet available in three 5-minute modifications, however, all of them operate on the basis of the operating system Windows 8.1 Pro. Price each subsequent configuration differs from the previous one, and quite significantly, as a result of the difference between the lowest and the top-end is equipped neither more nor less – $ 1,150.
We chose an intermediate option – and Dual Low Voltage processor Intel Core i5-4300U, whose frequency is 1.9 GHz and, in turn, can increase up to 2.9 GHz. With support for Hyper-Threading technology can be processed simultaneously four streams. CPU built on 22nm process technology architecture – Haswell. It has a cache third level is 3 MB, and the maximum power consumption 15 watts, which is a very good indicator.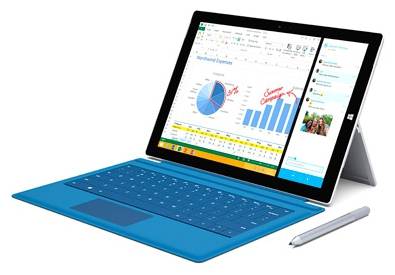 It is also commercially available as a complete set with weaker chip, and with strong. And if you want to be absolutely accurate, in addition to the above processor, additionally you can choose between Intel Core i3-4020Y and Intel Core i7-4650U with different variations of volume SSD. As can be seen, all these configuration have a right to exist, they are not only its own characteristics, respectively, and the price.
Integrated graphics Intel HD Graphics 4400 nothing outstanding can not boast, it can confidently be called a typical middling. To perform complex tasks her performance will probably be small, but for a daily undemanding work – is enough. The card supports DirectX 11.1, Shader 5.0, has at its disposal 4K decoder and an encoder Quick Sync.
The amount of RAM available in the amount of 4 GB, but in stronger trim this figure twice, ie, 8 GB. As for storage, in the case of our modification of the present capacity of 128 GB SSD. Incidentally, we note that the processor can be bought with a solid state drive with 256 GB. The maximum amount available in the same top-end configuration – 512 GB.
Ports and Communications Microsoft Surface Pro 3
In terms of interfaces, not really something changed compared to its predecessors. On the left side we can see the audio jack for headphones, adjust the volume rocker and a speaker.

On the right side ports and connectors few more, namely: USB 3.0, Mini DisplayPort, card reader microSD.

Perhaps everyone is waiting for the presentation of new products from Microsoft, which took place in May this year. Company representatives promised that the public will show a tablet that successfully replaces laptop, and in general, kept his word. The only main character presentation was Microsoft Surface Pro 3 – successor ruler Surface, streamlined and modernized.
Above is just a power button gadget, and at the bottom there are no ports, there is only a magnetic strip to attach the docking keyboard. As sensors are available in tablet gyroscope, accelerometer and magnetometer. As for the wireless communication, then it is possible to note the presence of Wi-Fi 802.11 a / b / g / n or 802.11ac, as well as Bluetooth 4.0 standard.
Battery Microsoft Surface Pro 3
On the manufacturer's official website stated that Microsoft Surface Pro 3 is able to work about 9:00. By and large, this figure is not so far from the truth, of course, this is not your view or video games, most likely, general web surfing. Of course, more demanding program gadget discharge much faster. By the way, the package includes 36 W power adapter, battery charging, but if necessary it can be purchased separately for $ 80.
Conclusion Microsoft Surface Pro 3
Microsoft Surface Pro 3 presented recently, but this model has become the heroine of many rumors and gossip. Obvious advantage in it is a considerable improvement shortcomings of previous models, the manufacturer clearly chose the right course. The tablet has become thinner and lighter – are important aspects to proudly point out the company's engineers. In addition, significantly increased display resolution: in just one year it has grown with 1600×900 pixels to 2160×1440 pixels! Also, special attention is paid to the functioning of the stylus, which is compared with an ordinary pen, so its use is simple, and most importantly – clear. Now, the manufacturer offers the user to work with the tablet PC, even on his knees, and to do it with amenities! To do this, Microsoft increased the opening angle of the stand and made the keyboard more fitted for such purposes.
But there are claims to the plate, where the same without them. For example, I would like to see more ports and connectors, and their quantity in this case more than modest. Furthermore, it is surprising that in the Microsoft Surface Pro 3 is not provided or 4G, or GPS; battery performance level would also increase, because this tablet is positioned myself so look to the future, but in fact, at some point it turns out that it's greetings from the past. As for the cost, there is something difficult to state categorically. Yes, the price is not the smallest, given that if the buyer sets his sights on a model, it is unlikely that he will choose the most minimal equipment. And it means that you have to pay at least $ 1,000. But on the other hand, such non-standard devices, and many other manufacturers are to take at least Lenovo ThinkPad Helix, which we wrote about earlier: it looks less presentable, and its price starts at $ 1,900. It turns out that if you want to get hold of some interesting new feature, it will have to spend considerably, and there is nothing changed.
Read another very interesting article about alternative energy of the Sun, water and air.