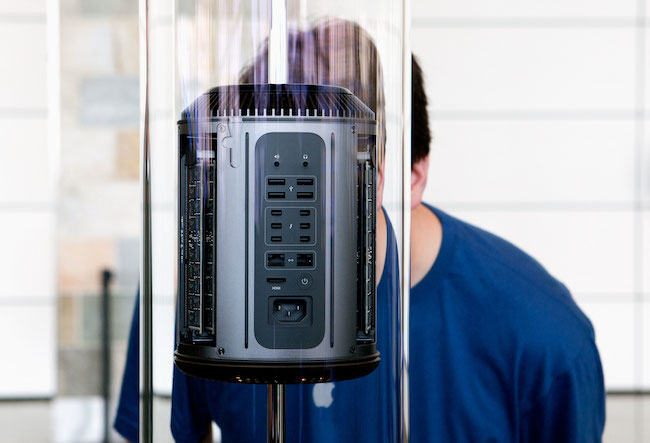 Although the new generation Mac Pro will be available only in December , continue to appear on the Web performance test results of new computers, carried out with the help of the popular utility Geekbench. This time, the basis of the results of the program experts have found information on the version of "Proshka" with a six-core processor, which will certainly interest those who want to buy this machine as soon as it will appear in retail stores.
According to the publication MacRumors, Mac Pro, equipped with a six-core processor Intel Xeon E5-1650 v2 with a frequency of 3.5 GHz, has demonstrated a significant increase in performance compared to its predecessor. If the score is six-core Mac Pro 2012 in Geekbench benchmark is 14,000, then the new generation, he has passed for 18,000. Computer, seen during the tests, uses for his work OS X Maverick version of 13A4023, which is not final.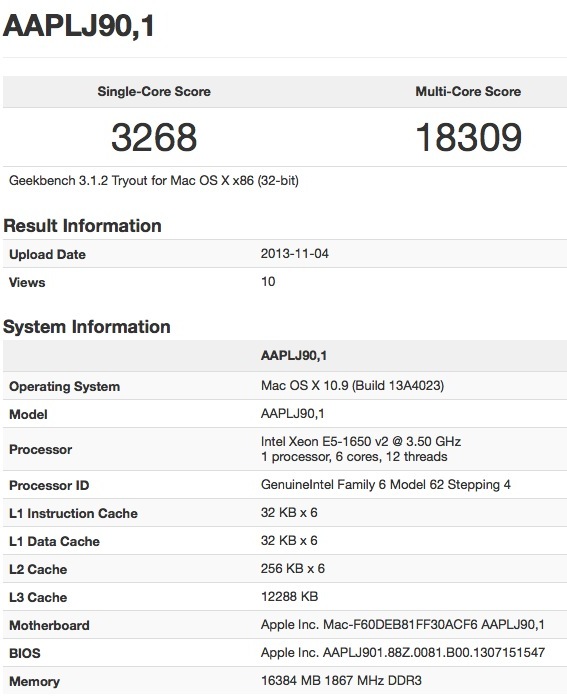 The first tests of 12-core Mac Pro appeared during the Worldwide Developers Conference WWDC in June of this year – then his account was 23 901. A model of an eight benchmarks found only in September. Almost as much as it was at the 12-core Mac Pro last year.
How is the performance of an eight-core version was higher than the 12-core? The fact is that for the last test was used utility Geekbench 2.4.3 and benchmarks younger models that came later, were carried out with the help of an updated program Geekbench 3.1.2. Therefore, to compare these results with each other simply inappropriate.
Productivity gains of six-core Mac Pro has provided not only a new processor Intel Xeon E5, but two graphics chips AMD FirePro. The computer comes with 16 GB of DDR3 memory and PCIe flash drive capacity of 256 GB. Price new is four thousand dollars in the U.S. Apple store.
Analysts had expected the start of sales of new Mac Pro immediately after the presentation of iPad on October 22, but Apple has decided to postpone the official release as much until December. The exact dates Phil Schiller did not say, but computers must be in the shops before Christmas.
Read another very interesting article about alternative energy of the Sun, water and air.