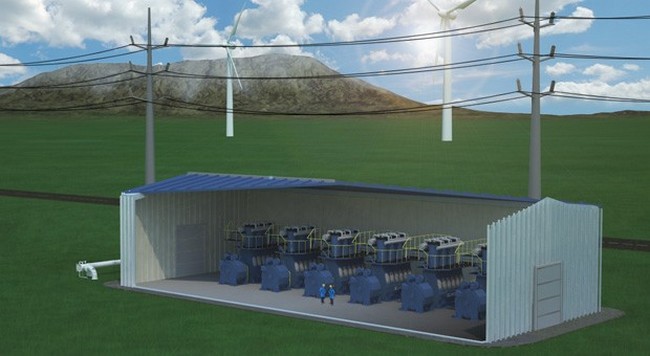 The facilities in which to store the energy conservation and compressed air is used for quite a long time considered to be quite effective environmentally friendly solutions, but in recent years have not been able to get broad support across the world. However, in the near future, things can change.
Company SustainX showed the world's first large enough energy storage type. The new system type ICAES (Isothermal Compressed Air Energy Storage), established in Seabrook (New Hampshire, United States), big enough to connect to the mains and to accommodate a 1.5 MW power than kilowatt potential competitors.
Despite its impressive size, the system ICAES is quite stable and will not break down over time, as opposed to chemical counterparts. Recall that the same lithium-ion batteries are not only insanely expensive, but not durable. Furthermore, this installation requires no "dirty" energy for compression or movement of air to the generator.
It is worth noting that the drive has been created with one purpose – to generate interest from other companies. SustainX company hopes that the first commercial example of this type will be put into operation in China in the next year.
If ICAES and similar technologies are successful, you will soon can we expect the mass appearance of solar and wind power, which will be able to supply power even when idle.
Read another very interesting article about alternative energy of the Sun, water and air.