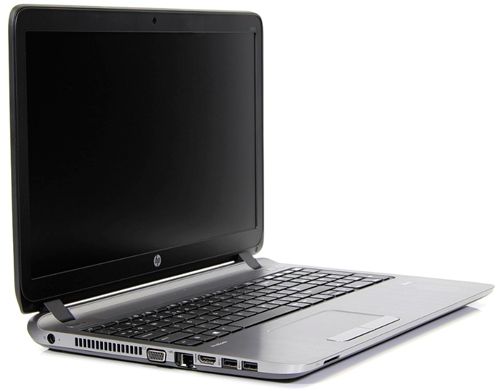 In the line of ProBook, designed for business users, there was a novelty HP ProBook 450 G2. She, like all of her siblings, is an excellent working tool and not just because here, along with integrated graphics and discrete provided. So in addition to office tasks can even play simple games. A great option to catch several birds with one stone. I wonder what else will be able to please the ProBook 450 G2?
Design – HP ProBook 450 G2
This 15.6-inch device has dimensions 375x262x23-25 ​​mm, and its body is used matte soft-touch plastic and aluminum. Draws and colors the device, although it is fairly standard, or rather classical. The lid and the bottom of the ProBook 450 G2 black, whereas the working surface – silver. As for the back of the laptop, then it has the vents, compartment, under which includes the memory modules and hard disk, as well as battery and clips to eject / locking. As regards the form, then there is nothing original. Cover and base angles slightly rounded body actually narrows, except that it is thicker behind a couple of millimeters.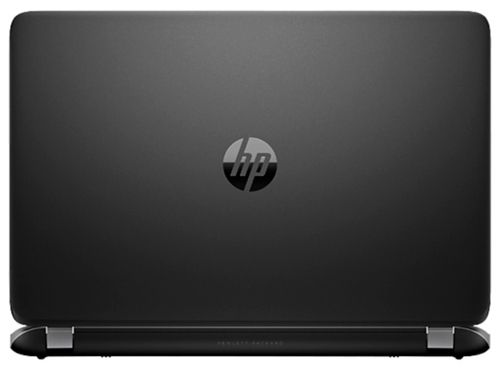 If we talk about the weight of the device which are 2.1 kg, it is not only small for such a form factor, but also the best, so as not to feel discomfort during travel and business trips. In addition, the laptop is assembled well, in any case, an unpleasant experience in the operation, he does not leave.
Display, audio, web camera – HP ProBook 450 G2
The screen of the laptop has a 15.6-inch diagonal and a fairly low resolution of 1366×768 pixels. Of course, for it would be enough, but now the figure is not particularly attractive in the eyes of users. By the way, the brightness and contrast is too high, especially if you use a laptop on the street, but not as critical for the tasks to be performed on the ProBook 450 G2. And the matte display surface is more comfortable than the glossy, not only for movies but also for office work. As for viewing angles, then they are not so broad that, without loss of image quality watch video or photo from the side, rather than just being directly in front of the screen. Also optionally available alternative: display with Full HD-resolution, touch controls, and support for 10-finger multitouch.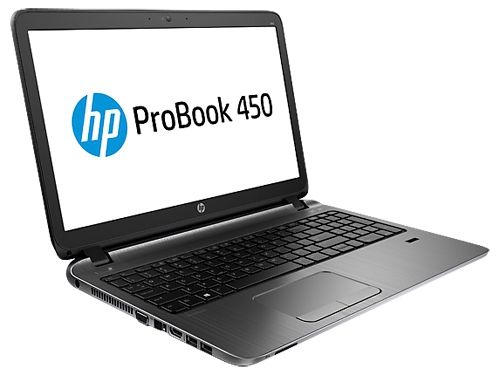 The laptop is a 1.3 megapixel webcam. It is enough for video calls in Skype, to keep in touch with friends and colleagues. In good light picture of the camera, it will be better.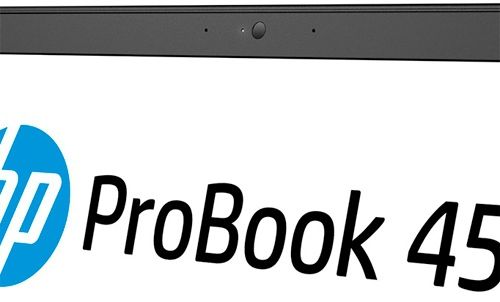 For audio output is enough two stereo speakers located above the keyboard, and the settings DTS Sound +. The sound is transmitted without distortion, except that in addition to high frequencies would like to hear a little bit of bass. Unfortunately, the laptop is not enough volume so that you are probably not worth parting with headphones. At the same time, the device is a business-class, so the acoustics of the basic rates and are not made.
Keyboard and Touchpad – HP ProBook 450 G2
At the keyboard, standing in this laptop, there are several advantages. This is primarily a waterproof surface that will not pass to the internal components spilled liquid. It is also an island, full-size, includes nampad.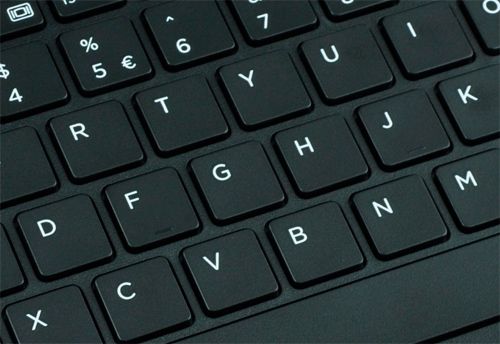 The buttons have a middle course, pressed without too much effort and not too noisy. Keys and is outside the keyboard, they are responsible for the inclusion of a laptop, the activation of wireless modules and mute.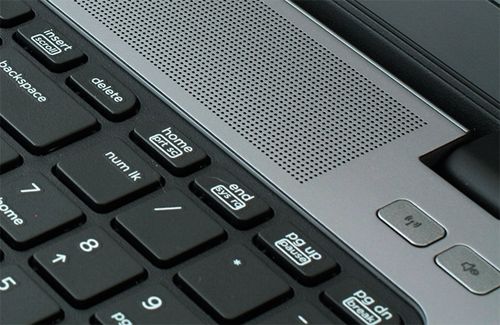 The touchpad has a good responsiveness, performed with the help of two-finger scrolling, and both horizontal and vertical. Moreover, you can rotate or zoom, flip. Manipulator does not besknopochny, here there are two physical mouse button.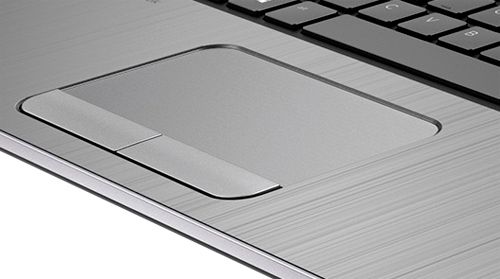 To the right of the touch pad is a fingerprint scanner, its presence is very convenient for business travelers and all those who used to protect your data from prying.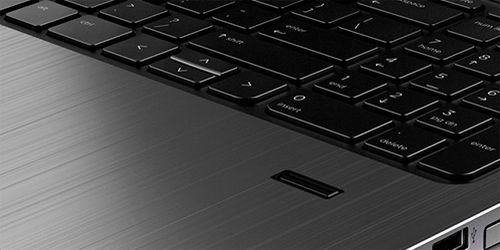 Performance – HP ProBook 450 G2
New works on 64-bit operating system Windows 8.1. In case HP ProBook 450 G2 (J4S24EA) hides the low-voltage dual-core Intel Core i5-4210U , having a clock frequency of 1.7 GHz and a cache in the third level of 3 MB. This chip is built on Haswell 22 nm technology, the number of its features include support for Turbo Boost, which allows to increase the frequency to 2.7 GHz with a single active nucleus, as well as Hyper-Threading, by which the two cores is processed up to four data streams simultaneously. As you can see, compared to its predecessor Core i5-4200U here slightly increased clock speed as the base, and one with which the processor operates in a mode Turbo. I must say that Core i5-4210U cope with office tasks and multimedia, but if you need a more powerful laptop, then alternatively you can choose a complete set with core Core i7.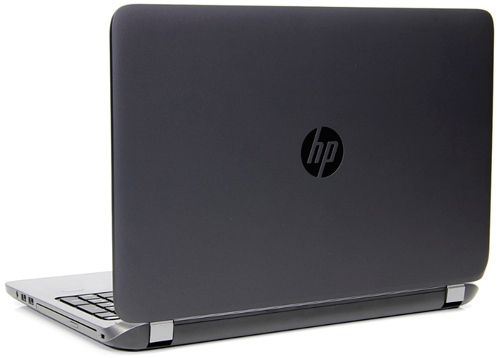 Graphics Card Intel HD Graphics 4400 integrated in the chip, is a good option for simple graphics tasks. For example, watching videos, editing pictures. But with more complex operations better able accelerator discrete AMD Radeon R5 M255. Its frequency is less than 940 MHz, he supports DirectX 11.2 and has 2 GB of internal memory standard, DDR3. Performance of this card wool, to ensure good image quality, in particular, is a very good option for gaming. Between integrated and discrete graphics can be switched.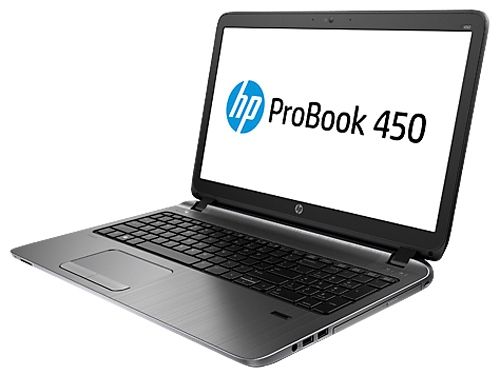 As for RAM, then it has two slots, one of which is worth plate 8 GB DDR3L-1600MHz. Undoubtedly, this will be enough capacity for demanding applications and fast work, especially since the reserve is possible to install the maximum amount of RAM – 16 GB.
You can store data on a hard disk capacity of 750 GB and a speed of 5400 revolutions per minute. So in addition to office documents you no doubt fill in "piggy bank" your laptop multimedia files and even games. Depending on the configuration as a disk drive can be installed HDD smaller volume or 128 GB SSD.
Ports and Communications – HP ProBook 450 G2
Just note that on the right side of the notebook is a smaller number of ports than on the left. So, on the right you can see the built-in optical drive DVD +/- RW SuperMulti DL, next to which are two USB 2.0 ports and a combined microphone jack and a headphone jack. At the end faces visible slot for Kensington lock.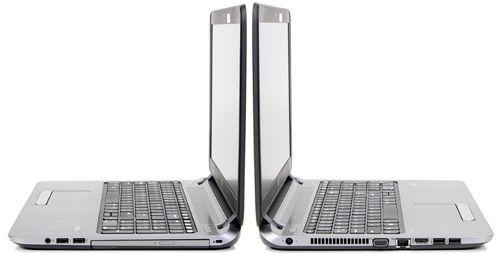 On the opposite side is a range of different interfaces. This VGA, HDMI, connector for the charger, two USB 3.0, as well as network RJ-45 port. In addition to the ports on the left side of the HP ProBook 450 G2 provides the vent to remove hot air.
Indicators in the laptop enough, but they are not located in one place. Several can be seen above the keyboard. In the left corner is a light switch on, on the right – two LEDs (work wireless network, mute). In addition, there is a display at the keypad – Num Lock and Caps Lock. But on the front end is only the LED of the hard disk, which is provided near the card reader, reading formats SD, SDHC, SDXC.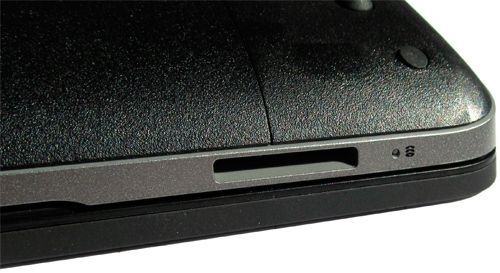 Wireless communication in a laptop via Wi-Fi 802.11b / g / n and Bluetooth 4.0.
Battery – HP ProBook 450 G2
HP ProBook 450 G2 Battery Kit with 4 sections. Lithium-ion battery has a capacity of 40 Wh and charging 65-watt power supply. On the autonomy of the laptop is not much effort Records, working without recharging mode web surfing about three hours, and under a load of no more than 1.5 hours.
Conclusion – HP ProBook 450 G2
So, this novelty, part of a series ProBook, will appeal to those who work daily on a laptop, but he was no stranger to entertainment. That HP ProBook 450 G2 will help distract, allowing to play, listen to music or watch videos. Is that a trip to this pastime will not stay too long, because of the low operating time of the battery. Of course, too high-quality images from the display, you do not wait, because brightness and contrast are short, and the schedule is far from being the Principal level. Yet this notebook – it is a viable option for daily tasks.
The cost of this device is about $ 1000, which may in part be explained by modern productive filling, the presence of a fingerprint scanner and a water-resistant keyboard. Although with the price tag, you can search and other equally functional and productive model. In general, if you need a laptop mostly for work and for leisure is secondary, at the ProBook 450 G2 can not really thinking to choose.
Read another very interesting article about alternative energy of the Sun, water and air.