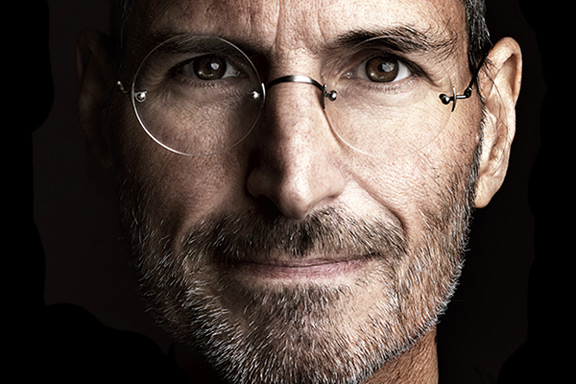 On Thursday, the Russian rolling out a film about the founder of Apple «Jobs. Empire of temptation. " In the West, managed to get a picture of the lowest scores of film critics and viewers complain of dull and tightened the script too creative interpretation of events, as well as incorrectly transmitted images of the main characters. Edition Digit gathered in Article 10 digits of Jobs' life, so you can check how truthful film.
April 1, 1976
Jobs, Steve Wozniak and Ron Wayne officially registered his company, which was decided to be called Apple Computer.
The founders of the future of Apple and Steve Jobs became Steve Wozniak. Over time, their company appeared and third party – Ron Wayne. In the early 1970s, Ron Wayne was a senior developer at Atari. Steve Jobs has worked as an engineer at Atari, and Steve Wozniak worked in a corporation Hewlett Packard. The idea of ​​creating a personal computer was born in their minds already.
671,4 thousand dollars
unknown buyer paid in May this year for the hard-working Apple-1, released in 1976. The computer was sold at auction in Germany, the price was a record for the first computer to be Apple.
It is noteworthy that the value of Apple-1 at the start of sales was a thousand times smaller – 666.66 dollars.
27 years
Jobs was the first time he met the sister. As is known, the biological parents abandoned Jobs, he was raised in a foster home. Contact with these parents, he did not support, and even after the death of Steve Jobs by his father, a native of Syria, said that he has "nothing to say."
However, the founder of Apple was a sister, Mona Simpson, a fairly well-known writer. They first met when Steve was 27 years old, and, as they say the media has had on him a lot vliyat. "We are very close with my brother, I do not cease to admire it," – said in an interview with Simpson. "We talk on the phone almost every day," – confessed Jobs.
$ 1
costavlyaet base salary after Jobs returned to the company in 1996. In addition, he was deprived of any other fixed bonuses.
Despite this, Jobs was a billionaire – he owned 5,426 million shares of Apple, but also 138 million shares of Disney.
$ 40 billion
Jobs was willing to spend on the war on Android. According to him, due to the popularity of the Android platform copying technology Apple. "I will fight to the last breath if need be, and spend every cent of the $ 40 billion of Apple, to correct this injustice – said Jobs. – I'm going to destroy Android, because it's a stolen product. I'm willing to go thermonuclear war on him. "
Apple actively engaged in patent proceedings with major manufacturers of Android-devices – Samsung, and HTC. According to Jobs, his goal was not money, but the desire to prohibit the use of his ideas in Android.
It is noteworthy that the former CEO of Google, and now chairman of the board, Eric Schmidt, from 2006 to 2009, he served on the board of Apple. However, the yield on the Google new markets tightened competition between corporations, whose interests have practically never intersect.
9 years
Jobs lived with cancer – in 2003 he was diagnosed with "cancer of the pancreas." In 2004 he underwent surgery in which metastases were found in the liver. Jobs was held chemotherapy. By 2008, the disease began to progress, then he underwent surgery for a liver transplant. By the end of 2010 the state of Jobs' health deteriorated. In January 2011, he went on indefinite leave, then resigned as head of Apple, but he continued to work as chairman of the board of directors.
Steve Jobs died on October 5, 2011.
426 billion dollars
Apple was worth on the next trading day after the death of Steve Jobs, the dollar was worth 373.33 shares at the opening of the exchange.
With Jobs in August 2011, Apple has become the world's most valuable company by market capitalization, surpassing oil giant Exxon Mobil. However, this is not the maximum value of the capitalization of the company in its history: a few days after the presentation of the iPhone 5 Apple's share price topped $ 700 for the first time, and capitalization at the time exceeded $ 650 billion.
90%
Apple employees have never met Jobs. In a declassified FBI file that queries of his colleagues, said that many of his colleagues have noted an unusual Jobs' management style and the associated frequent friction between Jobs and colleagues. They also spoke about his "Spartan and sometimes monastic lifestyle," addiction brainstorm, and that he was "seriously succeeded in meditation." Some colleagues have characterized Jobs as an unreliable person who does not always behave openly and honestly.
At the time of Jobs' departure from the post of CEO in the company had about 60,000 employees.
700000000
Until the end of September, the company expects sales of the 700 millionth device on its mobile platform, iOS. The iPod, iPhone smart phones and tablets iPad in turn, performed their mini-revolution in the mobile market and become trendsetters.
In the face of strong competition, where Android has already announced the activation billion devices, Apple has to make experiments, which can be attributed to the release of iPad mini and colored iPhone.
50000000000
The company announced a 50-billion-downloading from the App Store in May of this year. To date, the App Store has more than 900,000 programs.
Apple launched its online application store for mobile devices of its own production in 2008, and the company's first managed to create a successful model of selling software for mobile electronics. This model was then borrowed and competitors – Google for Android-based devices, Microsoft for Windows Phone and others.
Read another very interesting article about alternative energy of the Sun, water and air.