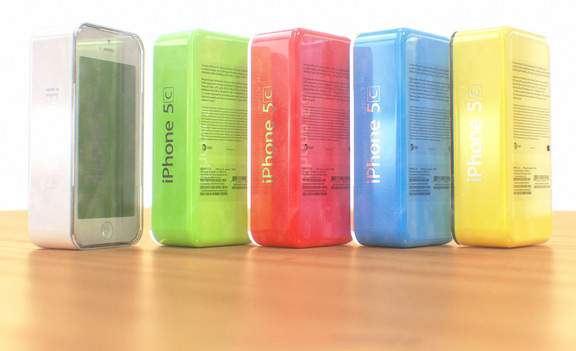 Mobile phones with a rich set of features to satisfy most buyers. Such tubes and sold in much larger quantities than smartphones. But while these devices out.
According to the analyst firm Gartner, smartphones in the II quarter of 2013 for the first time surpassed the volume of sales of mobile phones. Smartphone sales in the quarter increased compared with the same period of the previous year by 46.5%, reaching 225 millionth milestone. During that same time, ordinary mobile phones sold 210 million units, up 21% less than last year. For the quarter, the share of "umnofonov 'in the mobile market of 51.8%.
Leading Korean company Samsung, increased its sales by 56.5% to reach 71.38 million units, making its market share rose from 29.7% last year to 31.7% in the quarter.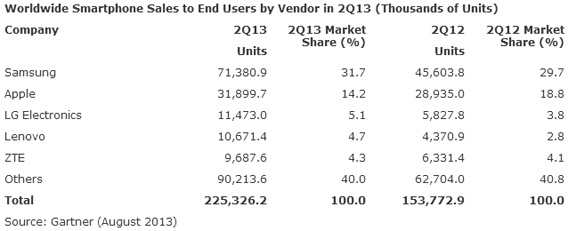 Despite the increase in sales of the iPhone at 3,000,000 units, Apple has reduced its market share by 4.6% – from 18.8% in the second quarter of last year to 14.2%. Third place goes to 5.1% of the market the company LG Electronics, have significantly increased the release of "umnofonov." It was followed in close proximity to Lenovo and ZTE, whose market share is 4.7% and 4.3%, respectively.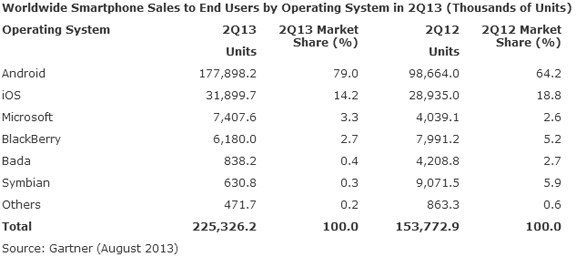 Among the mobile platforms Android leads with a market share of 79%. In second place is iOS, now occupying 14.2% of the market of operating systems for mobile devices. It should be noted the success of Microsoft Windows Phone (3,3%), which was published in third place, ahead of the first with the BlackBerry OS, which now has a market share of 2.7%. Samsung's Bada OS is on the fifth position with 0.4% market share, as previously dominated by Symbian, Nokia closes the top six with 0.3% market share.
Read another very interesting article about alternative energy of the Sun, water and air.