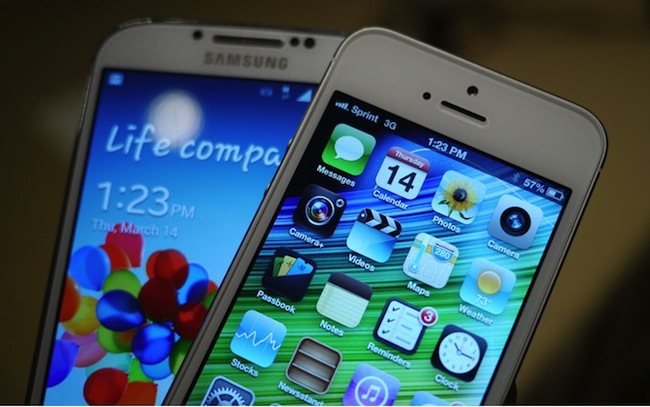 Following the publication of the financial results of Apple for the second quarter of this year, the experts' attention was drawn to the report of its most important competitor – South Korea's Samsung. Despite the significant increase in performance, technology giant again disappointed analysts as forecasts for revenue and net income were higher once again. According to the news agency Bloomberg, it has not prevented Samsung to take away the title of Apple's most profitable smartphone maker.
In the second quarter of 2013, the corporation has shipped 72.4 million smartphones versus 31.2 million iPhone, writes The Verge. In this IDC estimates the share of Samsung in the global smartphone market in 30,4% – Apple is content with a modest 13%. The reasons for such a scenario is quite clear: Apple can not speak on equal terms against Korean "army" with only one iPhone. The range of gadgets from Samsung is so huge that it is easy to get confused.
However, from 2009 until the summer of this year, Apple maintained its leading position in the profitability of smartphones. Sales of iPhone provides the company with a stable income of several billion dollars, and none of the competitors could not come close to its performance. This time, Samsung earned on sales of $ 5.2 billion smartphones, Apple surpassed $ 600 million.
Earn as an astronomical sum Samsung has allowed its smartphone Galaxy S IV , presented in mid-March of this year. IDC said that it also includes income from sales of regular phones, while Apple they are not and never has been. Net income Korean giant still lost – 6.8 billion dollars against 6.9 billion dollars from Apple. A trifle, but nice.
Since last fall, Tim Cook has not updated "park" smartphones and tablets corporation. Very soon after the presentation of the iPhone 5 will be held for a year, and in anticipation of new sales of old gadgets are known to have a tendency to decline rapidly. So for July and August Apple is unlikely to please their shareholders. Now all hopes for September.
According to experts, the failure of the mobile division of the company are also associated with problems of Apple in the Chinese market. At a recent conference on the quarterly results, journalists specifically raised this issue. Cook confirmed that sales of smartphones in China so far below the expectations of top management of the corporation.
It is possible that by the end of the fourth quarter in front of us appear very different picture. Especially if Apple still dare to present a budget version of iPhone.
Read another very interesting article about alternative energy of the Sun, water and air.