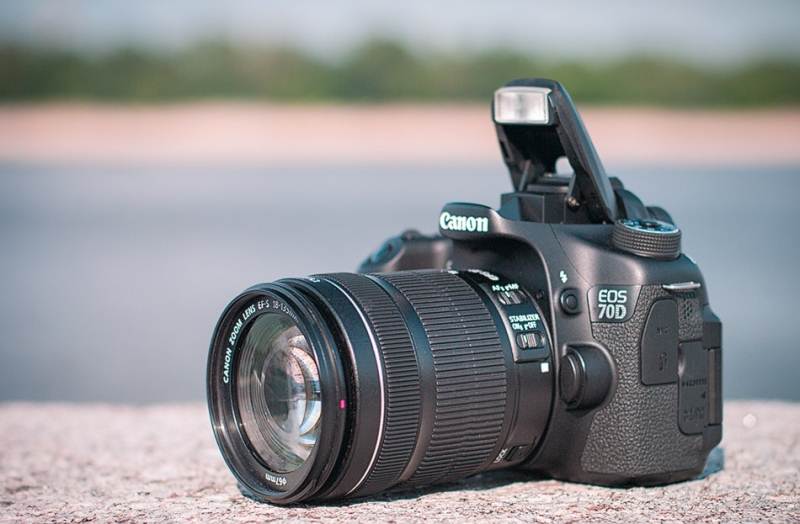 SLR camera Canon EOS 70D is a great choice for professionals on a tight budget and lovers who are really in love with the picture. This camera is able to stockpile a lot of top models, but it is easier and less
Design and Ergonomics Canon EOS 70D
By design, ergonomics and Canon EOS 70D can be safely attributed to a cohort of professional cameras. The device is kept in excellent hands and a small lens with a fixed focal length lens and a large heavy zumami.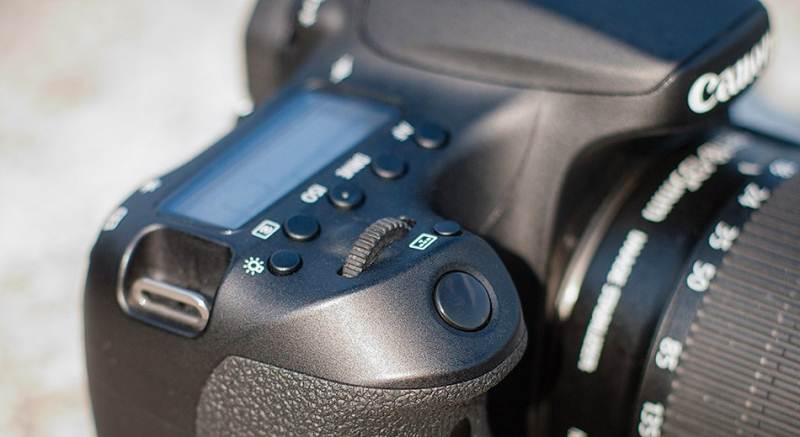 The layout of the top panel is standard for this class of vehicles. The mode dial to the left, he aligned the power switch. This means that a right turn on the machine, you can not, that, partly offset by a good system of conservation. However, do not forget the eve included Wi-Fi, which is in sleep mode and not averse to eat electricity.
Lock prevents accidental rotation of the wheel that makes a full rotation in either direction.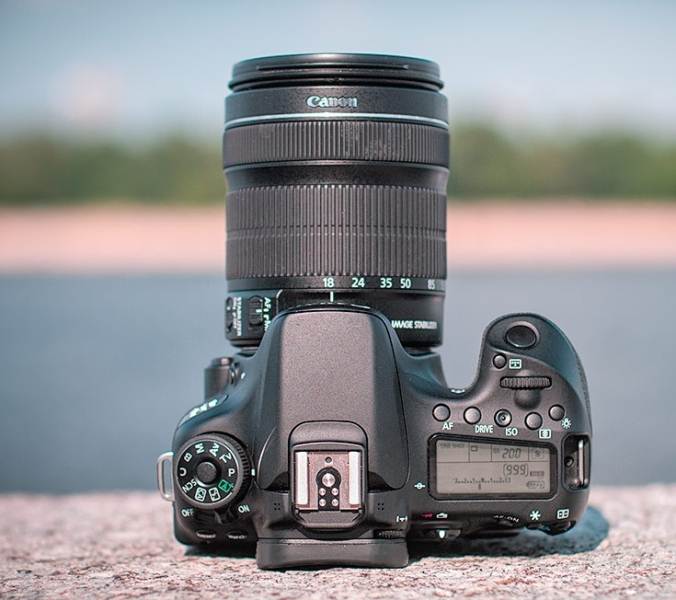 Right small LCD screen with backlight, it shows the basic settings. This is another trump card – you can see the settings before shooting without attracting attention manipulation device.
A couple of microphones located in close proximity to the hot shoe. When shooting video, on-camera flash nobody uses, but the shoe is often installed on-camera light, and it may degrade the radiation pattern, as well as reduce the sensitivity of the microphones. This is not a disadvantage, because the 70D has a standard 3.5mm input for an external stereo microphone, both radio and wired. Unfortunately, the headphone output for operational quality control and sound level is not, so videographers have to settle for an indicator on the LCD screen.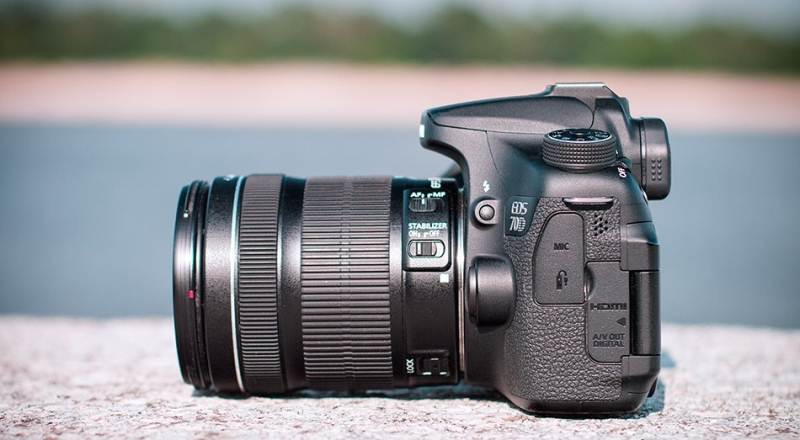 Right on the top face of the body four hardware buttons for the sensitivity setting is marked for comfortable work blindly. Between click and Descent is change the wheel, as well as another hardware button.
Location controls thoughtful, when working thumb and forefinger without problems reaches for all the right points, the basic settings are changed with one hand.
On the rear panel there is a joystick, wheel framed second parameter changes and a few hardware buttons. I believe that the joystick is too low, which is especially felt when working with heavy lenses, but it is a very subjective opinion.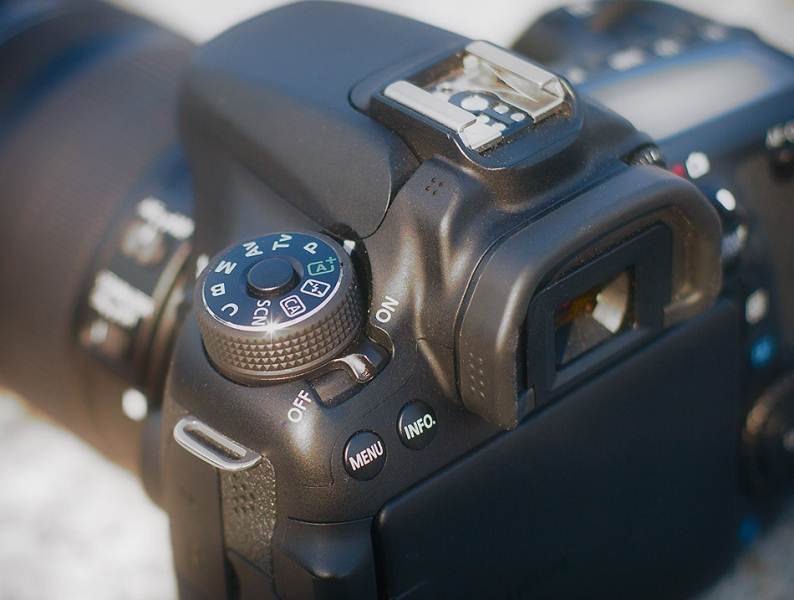 In a three-inch touch screen two degrees of freedom and a million-odd pixel. Capacitive sensor technology, so prepare gloves with the tips cut "fingers" for shooting in cold weather.
Viewfinder with diopter adjustment covers 98% of the future frame and provides an increase of 0.95 x. Its dimensions are relatively small, but this was largely offset by the track selection and Focusing on the LCD screen.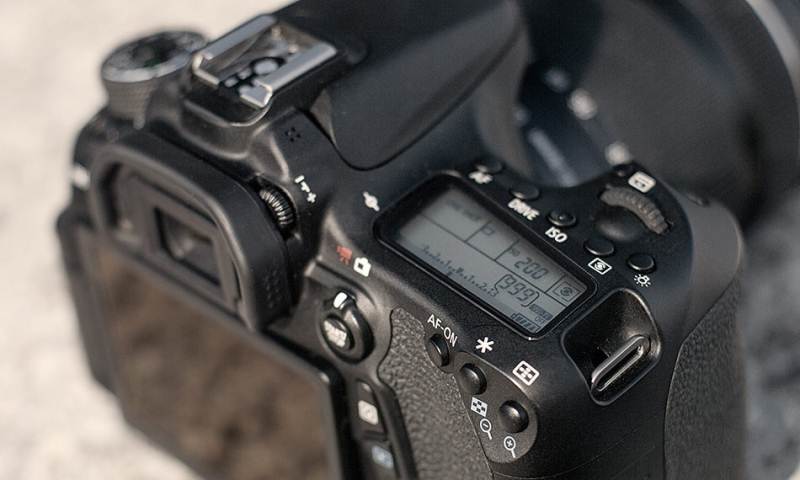 Slot for SD memory card hidden under a separate flap in the right pane.
Battery is in the mine at the bottom edge of the frame, tripod socket is located on the optical axis of the lens.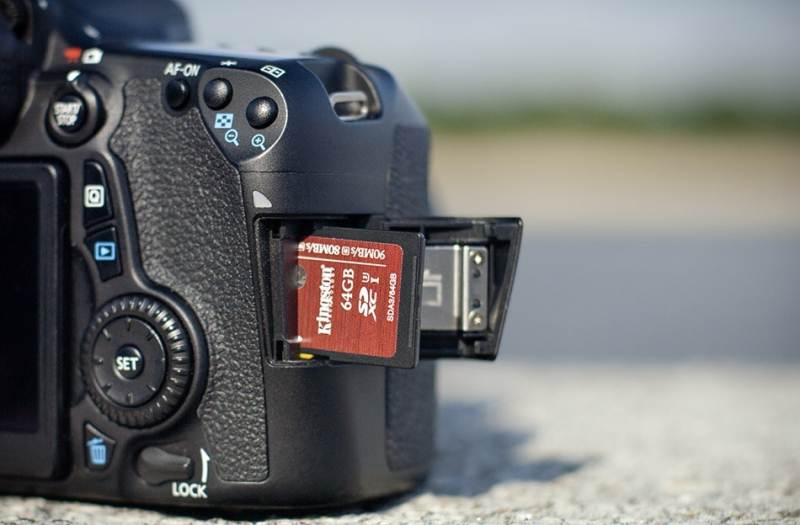 USB and HDMI, as well as jacks for an external microphone and a wired remote control – under the plugs on the left panel.
Front Receiver infrared remote control, timer indicator and mount the camera performance with all EF / EF-S. Crop factor 1.6x.
Button repeater diaphragm easy to press only the index finger of his left hand.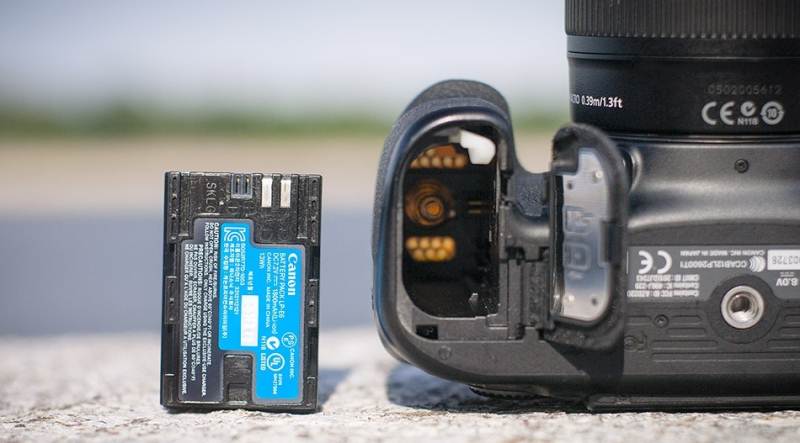 Lifting electrified flash: off and sleep mode, it does not rise. Button is designed for pressing the left thumb.
Housing is protected against dust and moisture, but the apparatus is not wet in the rain enough to take simple transparent bag, which is fixed on the lens rubber band.
Functionality Canon EOS 70D
In Canon EOS 70D debuted a new matrix dvadtsatimegapikselnaya Dual Pixel CMOS.
The idea is to digitize each pixel hardware used two photodiodes, right and left. Evaluating the difference between them can get information for a focusing system when the mirror is raised and the traditional phase sensor does not work.
As a result, the accuracy and speed of focusing in Live View and movie better than previous models.
The most interesting way to achieve focus in Live View mode indicates where the image directly on the LCD screen. Sensors collect phase information with 80% of the matrix, so tied to the hardware of the phase point is no longer required. This (except for videographers) fans will appreciate the macro, as you know, you have to install the camera on a tripod, which clearly contradicts the old recipe to focus first, and then – to crop.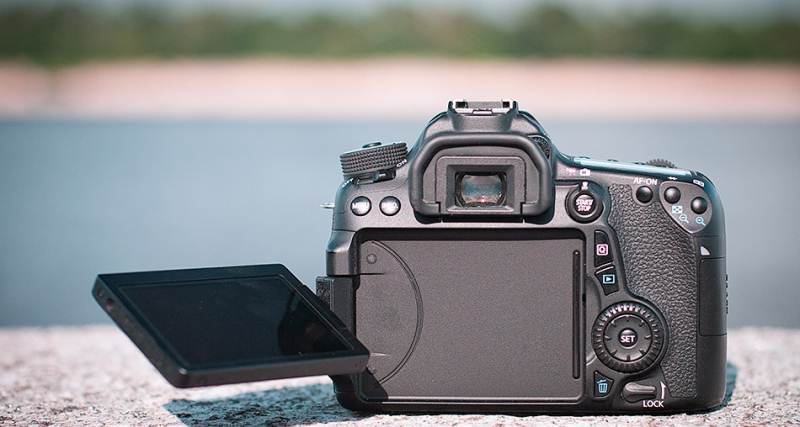 When the mirror is omitted, the data for a focusing collects traditional phase sensor with 19 points, all of them are cross-shaped. Location in the frame rather uniform, the choice can be made without taking your eyes off the viewfinder.
Shutter speed range of the mechanical shutter 30 seconds to 1/8000. Flash synchronization is performed at up to 1/250.
Auto Exposure Bracketing – basic tool HDR – up to + / – 3 EV of 3, 5 or 7 frames in steps of ⅓ or ½ step. If the block does not fast-moving objects, you can get a very wide dynamic range. Incidentally, the new versions of Adobe Photoshop can handle collected bracketing series of 32-bit files in Adobe Camera RAW module and receive HDR without characteristic HDR-atrefaktov.
The device allows you to remotely control the external system flashes Canon EOS 70D Speedlite series EX, supports E-TTL II. Even with one external flash, placed, for example, at the front, you can get a simple, but much more "photographic" lighting scheme than as set out in the hot shoe on-camera flash, not to mention using only built.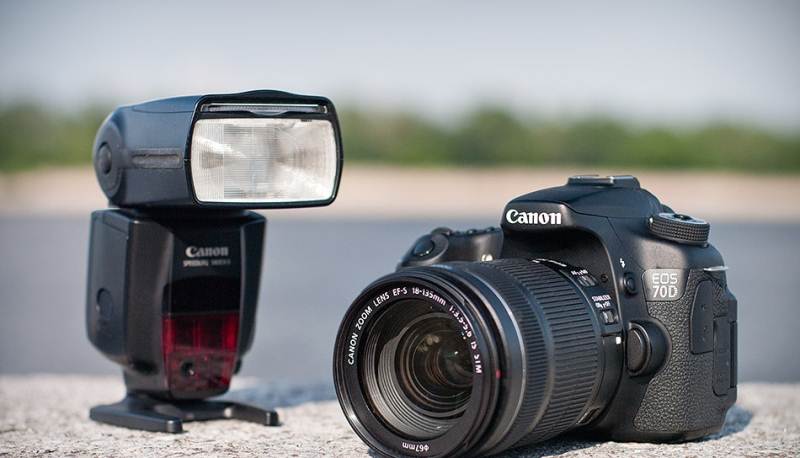 External flash settings are changed in the camera – given power ratio (in E-TTL II – introduction of amendments, but more accurately obtained manually divider reaches 1/128), if several outbreaks can create two groups and change the parameters of each separately. The camera has four channels of control.
One of the interesting features of the 70D – quiet shooting. Mechanical shutter works, but much quieter than usual. This is especially noticeable during continuous shooting.
Speaking of continuous shooting. When using a fast memory card such as this, the rate of approximately 7 frames per second, for pictures with the usual settings buffer can hold up to 65 JPEG or 16 RAW. Further, the speed drops, but the camera continues to make from one to three and a half frames per second to fill the card. Verification was performed with a fast card Kingston 64 GB SDXC UHS-I U3 .
In the Canon EOS 70D has a wireless module, so that the camera can be controlled with smatrfona. Remotely configurable sensitivity and exposure compensation is introduced in the priority modes of the shutter speed and aperture, and manual – both. Provided and the manual focus (if the lens support). The footage can be viewed on your smartphone / tablet and upload from the camera to be sent by post / placement in social networks, etc.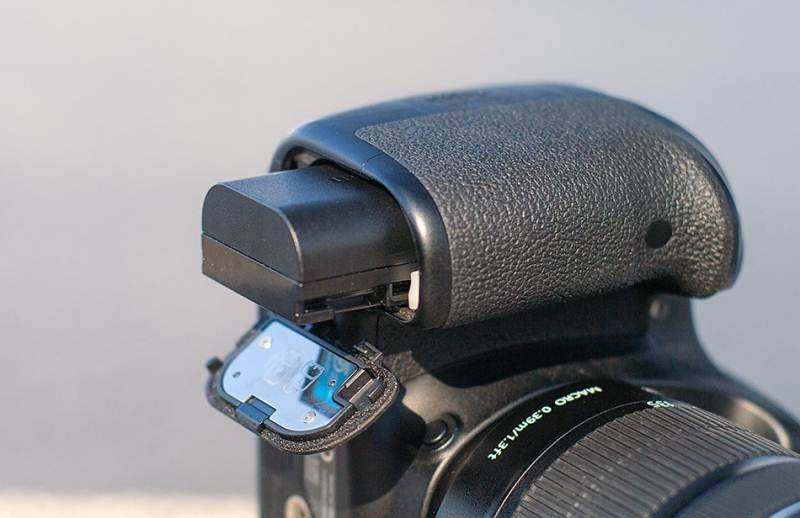 Capacity LP-E6 battery 1800 mAh battery lasts for about 920 shots at room temperature or 850 at zero. To achieve these parameters, it is necessary to abandon the Live View and Wi-Fi. To increase the autonomy (and easy shooting in a vertical, portrait, orientation), it is desirable to buy battery grip BG-E14.
Canon EOS 70D allows you to enter an amendment to the autofocus system + / – 20 steps up to 40 lenses individually that compensates for any errors intact optics, or a total for all lenses in the same range.
Options Canon EOS 70D
On the market available several options for configuration Canon EOS 70D. Can only be purchased the camera or choose one of the sets of lenses.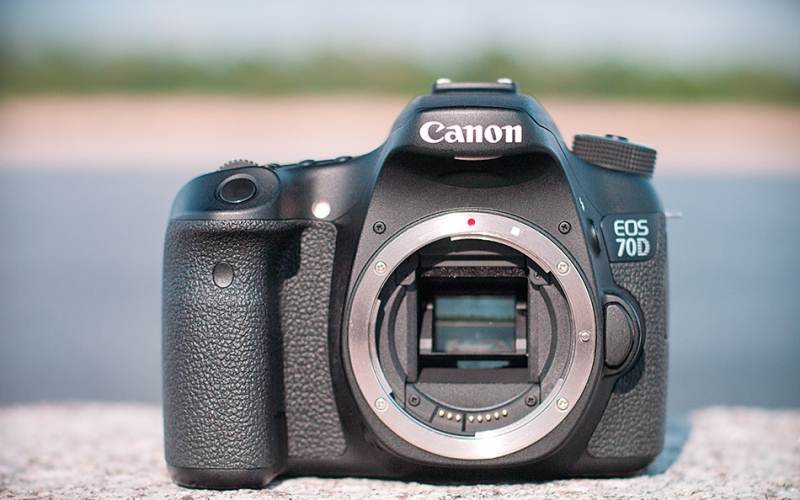 Focus range varies from the "whale" up to 18-55 universal 18-200 superzoom. There are versions of lenses with STM-drive, which provides a quiet and smooth focus in video mode.
If you think that the price of 70D high, acknowledge that at the end of 2007 for the 40D had spread $ 1,500. A fast Compact Flash memory capacity of 4 GB is even more at $ 100.
The quality of images Canon EOS 70D
The combination of the new sensor and processor DIGIC 5 + provides excellent results when working in a wide range of sensitivity. As always, files for independent scrutiny, you can download it at this link .
To white balance no complaints. Canon EOS 70D footage live and juicy. While ISO 6400 ISO reaches of noise you should not worry, though it is perhaps already extreme.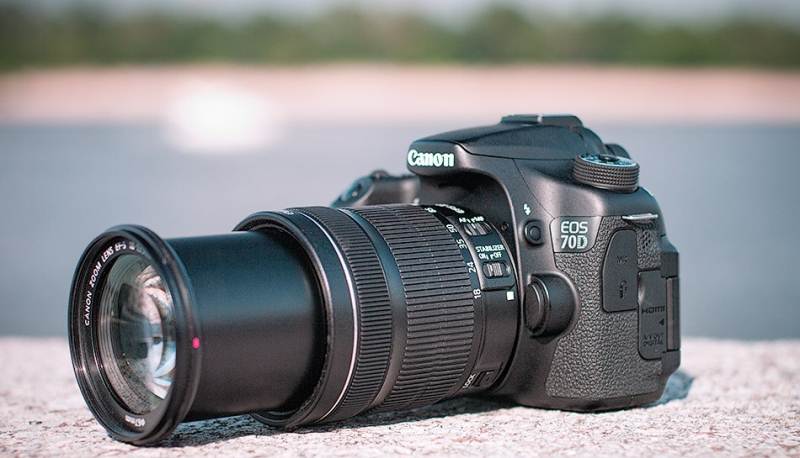 Testing 70D, I remembered that the material prepared for Canon 40D in autumn 2007 and decided to compare the results of shooting for the level and nature of noise. Benefit and RAW and JPEG preserved and still life since then has not changed much … Files will not lead, take my word. Accounts 70D 40D «great grandson" – the third generation (except astrofotograficheskoy version 60Da). During this time the business has grown with the ISO 1600 and 6400, but most importantly – the chromatic noise managed to seriously reduce and reduce its impact on image quality.
Verdict Canon EOS 70D
If you need a balance between price, capacity and performance camera will note 70D. It can be very much of an arsenal of top products Canon EOS 70D, but not strongly aggravates bag. Add a couple of good lenses and a tool for creating masterpieces ready.
Pros Canon EOS 70D:
picture quality in a wide range of sensitivity, hybrid AF system in Live View and movie, a larger buffer and a good burst speed, the ability to adjust to the features of autofocus lenses
Cons Canon EOS 70D:
At ISO 6400 more results are not so impressive flash AF illuminator
Read another very interesting article about alternative energy of the Sun, water and air.