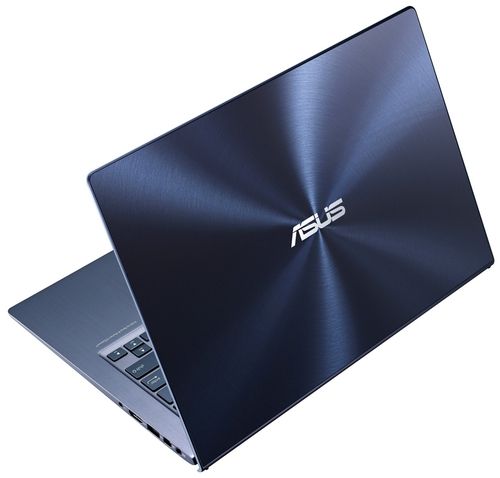 Line ZENBOOK is proudly ASUS, and each new ultrabook, which is available as part of this series – another proof of that. Laptops in this series – the executive class, and their combined elements such as metal body, besides solid, good battery and high-quality toppings. Of course, the price of such devices is above average, but given all their advantages, it is justified.
This review would be desirable to devote ASUS ZENBOOK UX302LG – ultrabook, the idea of ​​which is fully consistent with the concept of brand ZENBOOK. This model, as well as his fellow ZENBOOK UX301, presented last year at the exhibition Computex 2013. Both devices together are very similar, but the differences do exist. So, ZENBOOK UX301 has a top hardware components, it is thinner and lighter, the glass had not only cover, but also the work surface. In addition, the display has a resolution of 2560×1440 pixels, and it, is already a new level. Well before ZENBOOK UX302, is also worthy of attention, even if the processor is slightly less powerful, but in picking UX302LG installed a powerful discrete graphics card that can handle even with demanding tasks. But this is not its only virtue. What else is capable of this "kid" and we will tell you in this review.
Scope of delivery – ASUS ZENBOOK UX302LG
Scope of supply can hardly be called a standard, yet often manufacturers in this economy, but in our case is just the opposite. "Packed" laptop, as well as the entire line ZENBOOK, in a beautiful matte black cardboard box, in which in addition to the device is the power supply, firm cover of a synthetic material, an adapter Mini DisplayPort / D-sub adapter and USB / RJ45.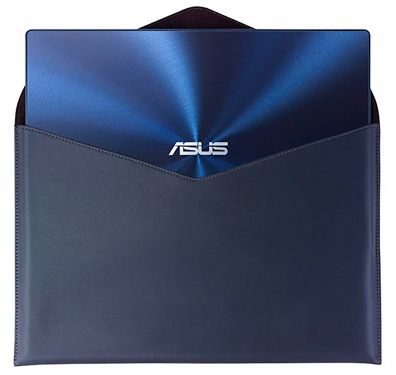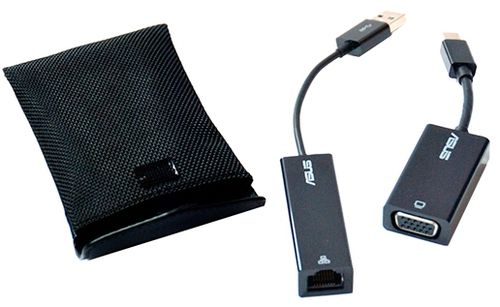 Design – ASUS ZENBOOK UX302LG
ZENBOOK determines the style and status of its owner, it is not surprising that this line of laptops purchased are serious people who do not waste your time on trifles. ZENBOOK – a brand the opportunity to express themselves and show themselves. Ultrabook ASUS ZENBOOK UX302LG fully consistent with this idea, and looks incredibly stylish, but without unnecessary frills. Its body is made entirely of metal, and the cover is additionally coated with a layer of glass Gorilla Glass 3. this way, producers were able to make the upper surface of the laptop is more robust, and more subtle.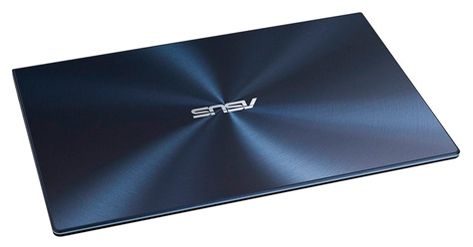 However, this approach has a downside: the surface is already too brand, and given that its color is dark blue, all prints are very noticeable, so the napkin should become an indispensable accessory of such a gadget. Additionally, we note that in the middle of the cover is the brand logo of the company, which is also highlighted in white light.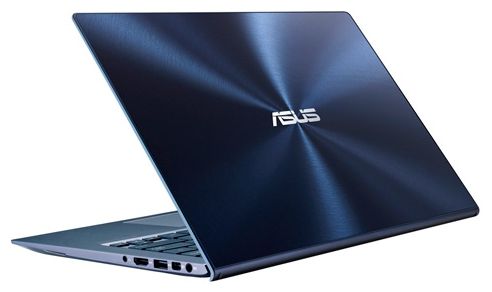 Display device frameless from edge to edge is also covered by a protective glass. At the top, you can see the webcam, under it – another logo ASUS. Podladonnaya surface of the laptop is made of aluminum, it is not covered with glass, as is the case with the ZENBOOK UX301, most likely, to the thickness of the gadget is not too conspicuous, as it so well and increased by installing a discrete graphics card.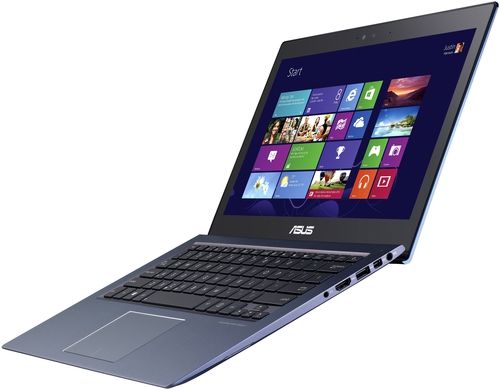 The bottom of the laptop is also made of aluminum, and the whole. However, it is not very convenient, since you will not be able to change the filling to a more productive (for example, it is impossible to establish a more capacious hard drive or SSD) with no chance of losing your warranty. Along the perimeter of the bottom you can see the four legs that hold the unit on any surfaces. There, close to the rear edge, visible air vents, which act as a heat sink.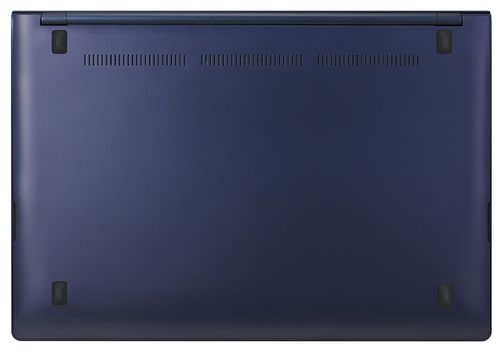 As we mentioned, the cover ASUS ZENBOOK UX302LG turned out fine enough, but, nevertheless, very strong. And in general, the size of the gadget allow you to take it everywhere, it is very light and mobile. In numbers, it looks like this: dimensions 325h226h5-17 mm and weighs 1.5 kg. For comparison, MacBook Air 2014 has almost identical dimensions and weight, namely 325h227h17 mm and weighs 1.35 kg.
Display and sound webcam – ASUS ZENBOOK UX302LG
Of course, such an arrangement did not skimp on the display, and equipped with ASUS ZENBOOK UX302LG 13.3-inch screen with Full HD-resolution, IPS panel and multi-touch. Pixel density – 166 ppi, brightness and contrast are at a high level (350 cd / m 2 and 690: 1, respectively), there is an automatic brightness control. Recall that the sensor adjusts the light level depending on the environment, saving energy as well as more comfortable for the eyes work. For comparison, the ASUS ZENBOOK UX301LA much impressive resolution – 2560×1440 pixels, matrix IGZO, but for a 13 "inch laptop is a pixel density is simply not needed.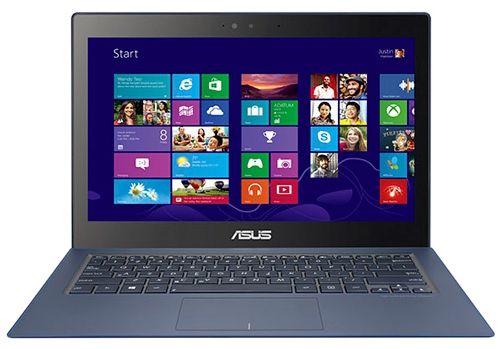 Expected for IPS-matrix angles here are great, there is no inversion, regardless of the angle. Given that in this case, the screen is also an input device, it should be noted that this function he copes fine. There is a 10-finger multi-touch-enabled multi-touch gestures. Fingers glide over perfectly reflective display, the sensor response is fast, locked up and no braking is not in sight. By the way, even on active work with the touch screen, laptop stands firm and does not falter, suggesting sturdy hinges and a high reliability of the design as a whole.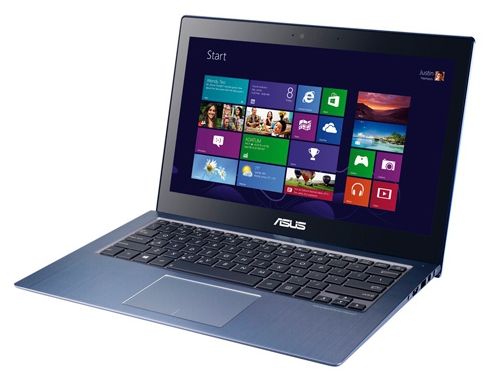 Two speakers from Bang & Olufsen ICEpower, located at the sides of the laptop, complemented by technology SonicMaster. Acoustic level at ASUS ZENBOOK UX302LG good – the sound loud enough, the range is wide, but the maximum can be heard wheezing, and with the bass have a problem.

Resolution webcam is only 720p (1280×720 pixels). Of course, to perform good shots it will not work, but for video with business partners – completely.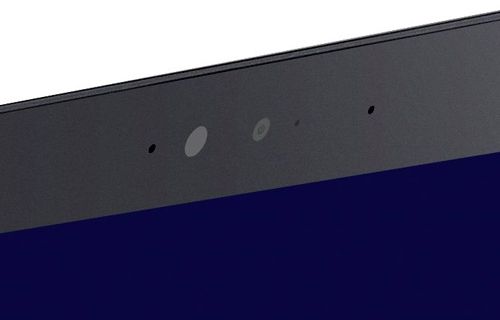 Keyboard and Touchpad – ASUS ZENBOOK UX302LG
Island keyboard slightly recessed inside. Square keys with the distance between them, which is very convenient to use. Nampad, of course, is no. The top row of keys and the dial pack sufficiently compact size, if not to say a little. But we must make allowances for the fact that this ultrabook, and such a problem in all of them. Even with vigorous pressing the substrate does not flex and nothing rattles. It features an adjustable backlight, so even in complete darkness, you can print without problems.
Is somewhat inconvenient location of a key on your notebook: top right, next to the button [Delete]. Because of its small size it can easily be hurt the most inopportune moment. In general, the keyboard ASUS ZENBOOK UX302LG has excellent characteristics: key travel is short, they are pressed almost silently and effortlessly.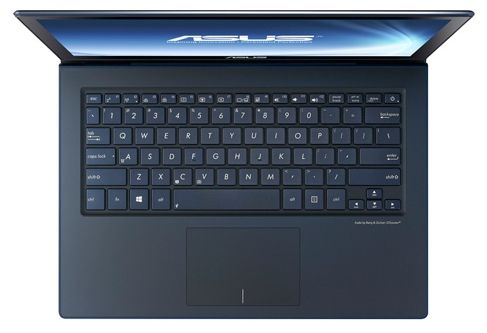 Located directly below the keyboard large touchpad. Its surface is made of frosted glass, it is smooth and quite pleasant to use. Touchpad supports multi-touch gestures, such as zooming, scrolling, dragging, etc. Physical keys is missing, but there is a visible area of ​​alleged mouse keys.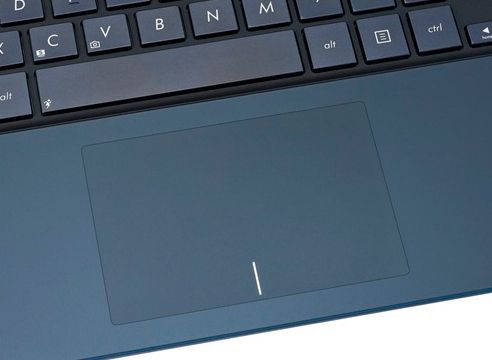 Performance – ASUS ZENBOOK UX302LG
Ultrabook ASUS ZENBOOK UX302LG (90NB02Q1-M01590) is based on Windows 8 64-bit, what is not surprising, given the possibility of touch-control laptop. The user can also completely free to use cloud storage ASUS WebStorage 32 GB over the next 3 years. In order to synchronize the data is fast and comfortable, in a laptop, a special technology MyBitCast.
Go directly to the stuffing. So, as the "engine" enabled dual-core Intel Core i5-4200U, built on an architecture Haswell. Thanks to Hyper-Threading Technology him two cores can simultaneously process four threads. CPU clock speed is of 1.6 GHz to 2.6 GHz with a single active nucleus or 2.3 GHz with two active nuclei. The processor is built on 22nm process technology and consumes very little power (15 W).
To perform simple tasks on a laptop, you can use the built-in video card Intel HD Graphics 4400. It is quite well established in the work, and it can be compared easily with a discrete graphics card AMD Radeon HD 7610M. In addition, the editing software supports DirectX 11.1, Shader 5.0, has a 4K decoder and encoder Quick Sync. But the main difference from the model UX302LG UX302LA is the presence of a discrete graphics card NVIDIA GeForce GT 730M with 2GB of memory standard, DDR3. It is quite productive and supports DirectX 11.1, as well as equipped with PureVideo HD video processor of the fifth generation, able to decode all major video formats. GT 730M is built on 28 nm process technology and is quite energy-efficient solution, of course, when compared with other discrete adapters. In addition, it can provide quite a decent gaming performance. So, with a native resolution on high settings the game GRID: Autosport show 23-26 frames per second. Tomb Raider with a resolution of 1366×768 with 40 fps will go at medium settings and 23 fps on high. You can also start F1 2013 native resolution, getting 20-23 fps on ultra settings. But for Call of Duty: Ghosts and Battlefield 4, this laptop will be weak, and play them without any inhibitions you just can not.
4 GB of memory standard, DDR3L-1600 MHz soldered on the motherboard, but there is one empty slot DIMM, which you can insert the memory stick of the same volume, and thereby get the maximum 8 GB. As to the storage of information, in this laptop provides 750 GB hard drive with a spindle speed of 5400 rpm and SSD 16GB, acting as a cache.
Ports and Communications – ASUS ZENBOOK UX302LG
With interfaces with ASUS ZENBOOK UX302LG virtually no problems. The left side houses two USB 3.0 ports and a card reader 2-in-1 (SD / SDHC).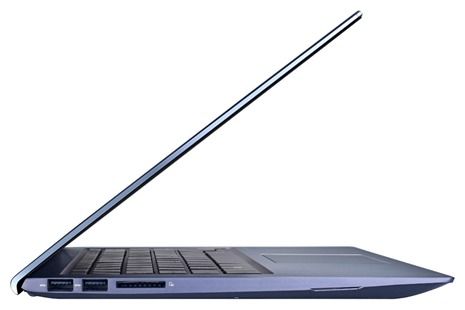 On the right side there is another USB 3.0, the video output HDMI, Mini DisplayPort, and a combined audio jack socket for charging the device.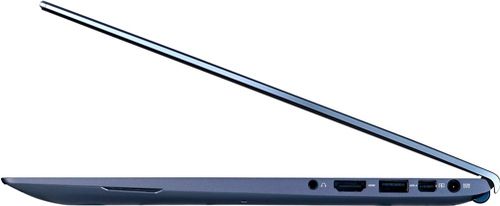 No front ports and connectors have, as well as the rear.


Of course, pleased with the presence of entire 3-port USB, but the whole picture slightly spoils lack of ports VGA and RJ-45. Wireless modules, of course, also includes, in the case represented they ZENBOOK UX302LG Wi-Fi 802.11 a / b / g / n / ac, and Bluetooth 4.0. Of the sensors is provided only a light sensor.
Battery and heating – ASUS ZENBOOK UX302LG
In ultrabooks set 3-cell lithium-polymer battery 4480 mAh (50 Wh). Manufacturer claims that this should be enough for up to 8 hours of battery life. And he does not cheat, though it concerns only mode web surfing. If you run on a laptop more demanding tasks, they have worn it for a much shorter time: about 2-3 hours. But, by and large, the result is still excellent, and in this respect ASUS ZENBOOK UX302LG ahead of many of his colleagues with the same form factor. By the way, the device is enabled technology Super Hybrid Engine 2, with which the gadget will save battery life when running less demanding tasks.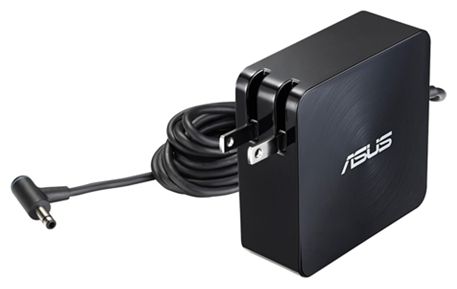 Productive filling expected may result in such unpleasant things as heating laptop. Fortunately, we are considering the laptop is thoroughly planned, but because of overheating do not worry. In ASUS ZENBOOK UX302LG implemented a special cooling system that uses beryllium copper radiator. In comparison with the conventional copper alloy it is better heat dissipation. Very convenient that leaving the vents under the screen hinge, as it absolutely does not hurt the user. By the way, thanks to high-quality cooling system ultrabook is always comfortable, cool, only when running complex tasks can get a little warm, and it is not essential.
Conclusion – ASUS ZENBOOK UX302LG
Once again, the line ZENBOOK defended their right to leadership, and proved it by ASUS ZENBOOK UX302LG, which is fully consistent with the image of an independent, and wealthy business people. Laptop wins at first sight, starting with stylish design – concise, but at the same time, careful attention to detail, and the last performance of the hardware platform (still ultrabook with good discrete card is not much).
Can not be ignored, and an ergonomic keyboard and high-quality display, excellent performance and autonomy. However, a little pumped up interfaces, because among them there was not a VGA, or an RJ-45. As for pricing, it is not very democratic, for the considered in our review of the complete set (not a top-end) will have to pay about $ 1,100. On the one hand, it seems like not a very low cost, and on the other, that price has long ceased to shock, and has become the norm rather respectable for such devices. For comparison, ASUS ZENBOOK UX301LA will cost $ 1500 to $ 1900 depending on the chosen configuration.
Read another very interesting article about alternative energy of the Sun, water and air.