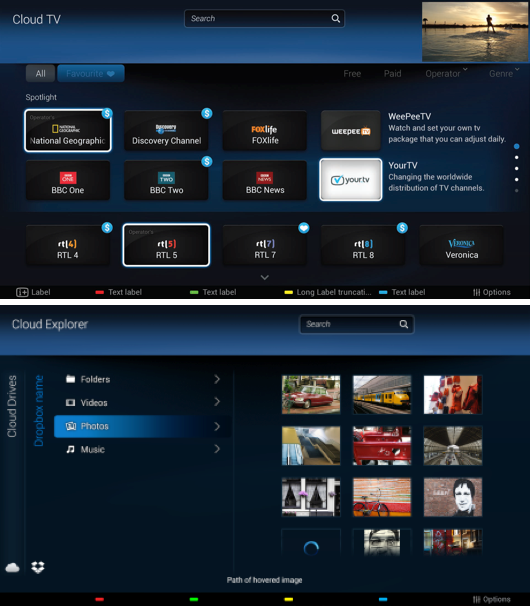 TP Vision Company announced the expansion of the platform Philips Smart TV at the expense of cloud services Cloud TV, Cloud Explorer and Cloud PVR. Cloud TV technology allows users to enjoy watching hundreds of channels broadcast via the "cloud ." Cloud Explorer allows you to play videos, music and photos from reliable and trusted online data storage systems and applications using Cloud PVR owners TVs Philips Smart TV will be able to record TV programs to a cloud server instead of using traditional drives. From now on, new services will be available to residents of Europe , and in the near future – for Russia . Cloud TV, Cloud PVR and Cloud Explorer will be available on TVs Philips Smart TV, starting from the lineup in 2012 and beyond.
Cloud TV overcomes the limitations of cable television
Technology Cloud TV brings traditional TV viewing to a whole new level by giving owners TVs Philips Smart TV free access to hundreds of local and international channels that are broadcast over the Internet by means of technology OTT (Over The Top). * At the same time, the application Cloud TV, posted on the homepage page of the Philips Smart TV, offers intuitive control and offers users a convenient search among the available TV channels , sorted by genre and popularity.
Cloud Explorer simplifies content sharing
Technology Cloud Explorer allows users to Philips Smart TV access to videos, music and photos from cloud storage , and application of the same name shows all playable files , sorted by type and laid out in the appropriate folders . Service Cloud Explorer runs on Dropbox, so the earlier of its registered customers can use their current account and in the Cloud Explorer.
Cloud PVR allows you to record TV programs to a cloud server
With the new app Cloud PVR Philips Smart TV owners can record TV programs directly to the cloud storage system . Cloud PVR – a paid service , the cost of a subscription which will vary depending on the format of your content . Currently, the solution is available to users in Germany, Austria and Switzerland , but in 2014 it is planned major expansion of its geography .
"We are organically integrated cloud technology to our platform Philips Smart TV. Users now have the opportunity to experience the benefits of an even wider range of TV services and to go beyond the limitations of cable television . "
Albert Mombarg , head of Smart TV company TP Vision.
Read another very interesting article about alternative energy of the Sun, water and air.