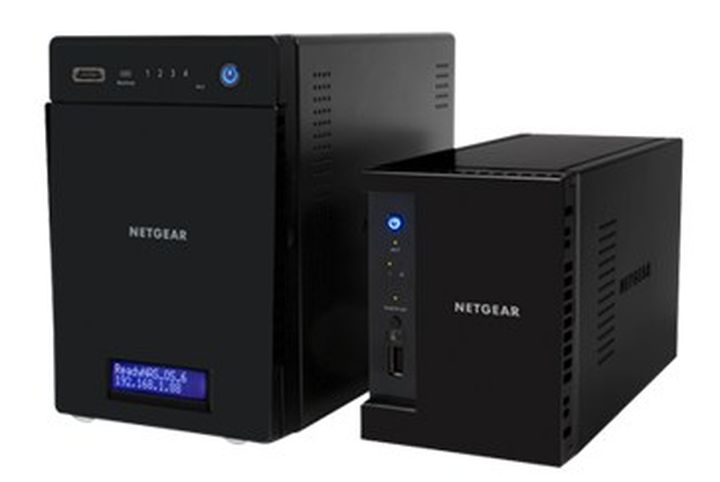 ReadyNAS to support ReadyCLOUD ™ – a great alternative to cloud services Dropbox or Google Drive, next-generation file system BTRFS helps protect data at once on 5 levels, Easy setup and additional functions (using 100+ additional applications), key functions, features and capabilities ReadyNAS 200 :,
New Netgear NAS-system can transfer files at speeds up to 200 MB / sec. New products from Netgear are perfect for storage, protection and transmission.
The units are available in two- and chetyrehdiskovom desktop design (model RN202, RN204) and are intended primarily for all those who need to store large amounts of audio, video and photo content. Presented at CES 2015 series has managed to get a reward CES Innovations Award in the category "Computer accessories".
Technical Base ReadyNAS 200 – a dual-core Cortex A15 processor 1.4 GHz, RAM 2 GB and dual Gigabit Ethernet ports with support for the association (aggregation) channels. Performance and speed can surprise even the most experienced user, especially when working in wireless WiFi-network standard 802.11ac. Today ReadyNAS can transmit data at speeds up to 200 MB / s, which is an average of 2 times more than similar devices from other manufacturers.
"Our ReadyNAS 200 – this is the best solution on the market in home network storage," – says Matt Panke (Matt Pahnke), senior manager of product marketing direction NETGEAR Storage. "These NAS-device ahead of its competitors in all important criteria: performance, speed, memory capacity, data protection, ease of use. In addition, with the help of more than a hundred unique additional features and software applications you can add the system to suit your preferences. Currently on the market there are no other NAS-devices, designed for people keen on collecting media content or photos. The new storage system will provide the user the highest level of performance and security. "
New software core ReadyNAS-devices is the operating system ReadyNAS OS 6.2, which provides data security, backup the data, responsible for synchronizing and managing data using cloud technologies.
ReadyNAS to support ReadyCLOUD ™ – a great alternative to cloud services Dropbox or Google Drive
Among other things, ReadyNAS 200 provide users with a full range of capabilities of public cloud storage data (automatic backups of data (backups), data synchronization, data sharing with different devices). At the same time, for this service do not need to pay a monthly subscription fee. The data will be securely stored and only accessible to you. With features ReadyCLOUD, you'll be able to access their files on the ReadyNAS from anywhere: you simply run a web browser on any Internet-connected device. Thus, the user can manage his data through the universal interface web. ReadyCLOUD applications for desktop and mobile gadgets running on iOS and Android are setting new standards in ease of use. In particular, using a pair of mouse clicks, you can select any folder on the NAS-device to synchronize it with the appropriate folder on the PC. In order to provide shared access to a particular file or folder, just a click of the mouse. But the most remarkable thing about this story is that your precious files are not somewhere far away on servers Dropbox or Google Drive, and on your own ReadyNAS, located at home or in the office. Prior ReadyCLOUD content sharing has not been as easy and safe.
The file system is the next generation BTRFS allows you to protect data directly on 5 levels
ReadyNAS 200 provides users with the highest level of data protection for this class of products. At the heart of the next-generation file system BTRFS, which provides all five levels of protection: (1) the files are written to several drives for RAID level protection in the event of a disk failure; (2) automatic data protection by phenomena such bitrot, the gradual destruction of the data structure; (3) snapshots of the system for subsequent rollback to a specific point in time; (4) free protection against viruses and malware in real-time; (5) light and easy replication of all data in the cloud or on a second system ReadyNAS.
Easy setup and additional functions (using 100+ additional applications)
Thanks to the innovative OS ReadyNAS, new ReadyNAS storage 200 can be configured only with the help of cloud management system to download additional client applications is required. Your network ReadyNAS 200 is determined automatically. Access device mode hot-swappable hard drives. If the user requests above average, the ReadyNAS 200 functionality can be expanded with more than one hundred additional applications.
Key functions, features and capabilities ReadyNAS 200:
The dual-core Cortex A15 processor 1.4 GHz and 2 GB of RAM
Two network Gigabit Ethernet ports with support for link aggregation
Read / write speed up to 200MB / s * in RAID-configurations
Filesystem professional level BTRFS with five levels of data protection
Powerful applications for file synchronization and automatic data backup
Support for Time Machine® for Mac® computers all
Increased functionality via 100+ additional applications
Easy to use features. For example, the provision of public access in one click (with a single mouse click you create a web link to the file)
Media opportunities with DLNA®, iTunes® and Plex.
Free mobile applications for cloud access and archiving photos
Expandable final volume of data storage: up to 12 terabytes in a 2-disc version, up to 24TB in a 4-disc.
Drive spin to save energy
On the news 3-year warranty on the chassis and telephone technical support 24×7 within 90 days of purchase. NETGEAR experts recommend that you have to have at least one full backup (backup) of all stored data.
Price and availability
Netgear ReadyNAS device 200 Series will be available for purchase in Russia at the end of the first quarter of 2015. The price will be announced later.
Read another very interesting article about alternative energy of the Sun, water and air.