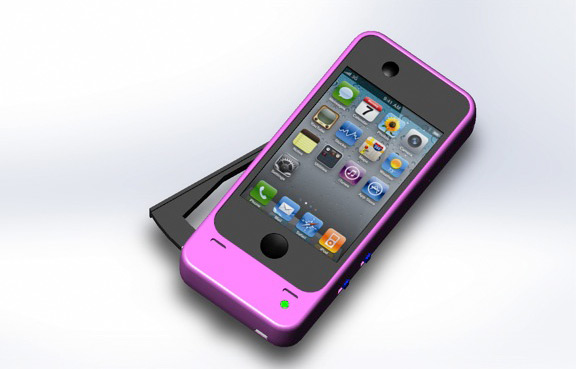 In matters of autonomous power in the absence of electricity or loses, you can use the so-called alternative energy sources. The new portable device from the company Mipwr is an original model in the family of autonomous oscillators for iPhone. The source of power for the smartphone is the kinetic energy of motion of the user's hand.
Novelty is a case for iPhone 4S / 5 with hand generator, which is powered by human muscle power. Besides the fact that the handle Mipwr Dynamo have to press himself, he has a number of advantages. It does not depend on the weather conditions (wind, sun), also mobile, easy to handle and can be used anywhere. Suffice minute twist generator to recharge the mobile phone to make an urgent call.
Case medium size allows to develop a relatively small amount of current that charges the internal battery pack. And from her already powered smartphone itself. When the battery is "sit" it can be recharged. This solution enables constant use of energy and at the same time to turn the generator only when the buffer battery energy end.
At the moment, case Mipwr Dynamo is in preparation for mass production. In the coming days, will be launched on site Kickstarter.
Read another very interesting article about alternative energy of the Sun, water and air.