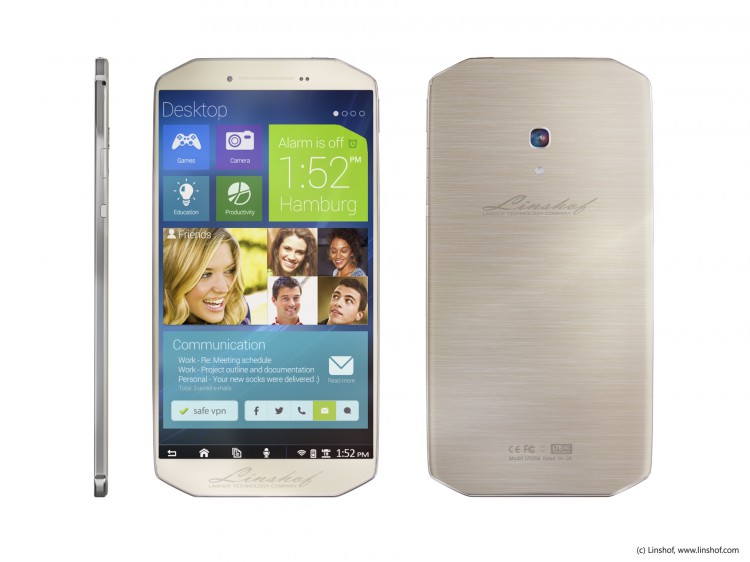 Our first mobile phones were made in Europe. German Siemens, the Finnish Nokia and Sweden's Ericsson ruled the ball. Now around one Samsung, LG, HTC, Lenovo, Xiaomi and other products of Asian companies. All of them are similar to each other, and many are somewhat similar to iPhone. But the Germans did not give up! Preparing to release a German smartphone that cannot be compared with anything in terms of both design and performance. Now we describe in detail Linshof i8.
In Linshof outside the box came to the design of their future smartphone. It can truly be called non-traditional, as well as all that will be said below about i8. This smartphone will not find anything familiar. It branded user interface and features that are confusing. Read more about them Linshof told to PhoneArena.
I would like to start with the most unusual figures. 80 gigabytes of internal memory. How to obtain this amount? In Linshof i8 used memory module and an additional 64 gigabytes to 16 gigabytes on a higher speed for applications. Both modules are available SanDisk. Without going too far from the chips on the board, i8 runs on an eight 32-bit processor, 2.1 GHz, which works in tandem with 3 gigs of RAM. Although the release final specifications may vary.
Linshof i8 – Made in Germany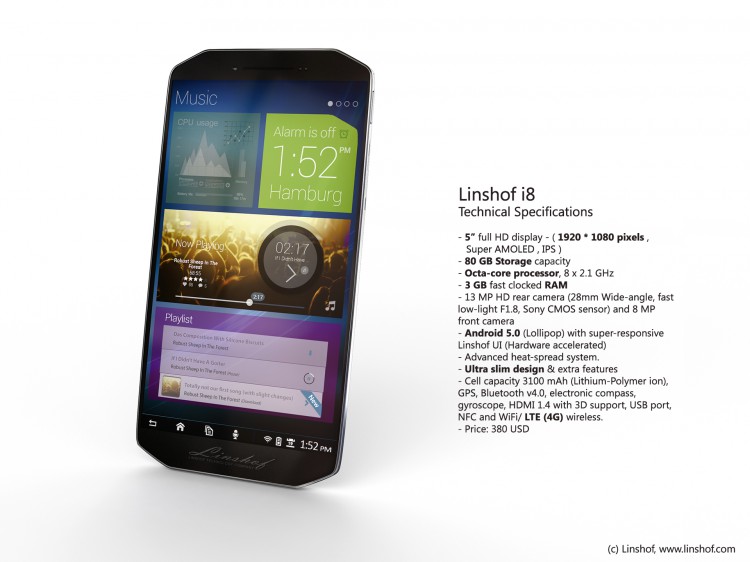 Very unusual and the Germans came to the display. 5 FullHD-inch screens may be configured as a technology SuperAMOLED, and IPS-on technology. Different versions are used for different markets. The company has rightly pointed out unnecessarily caustic color AMOLED-display, and stated that their screens are calibrated to the performance IPS.
What else can you mention? 13-megapixel camera with F1.8 aperture and 28mm wide-angle lens, an 8-megapixel front camera, the battery capacity of 3100mAh, LTE, Bluetooth 4.0, NFC – all this smartphone. Do not forget about HDMI 1.4 with support for 3D.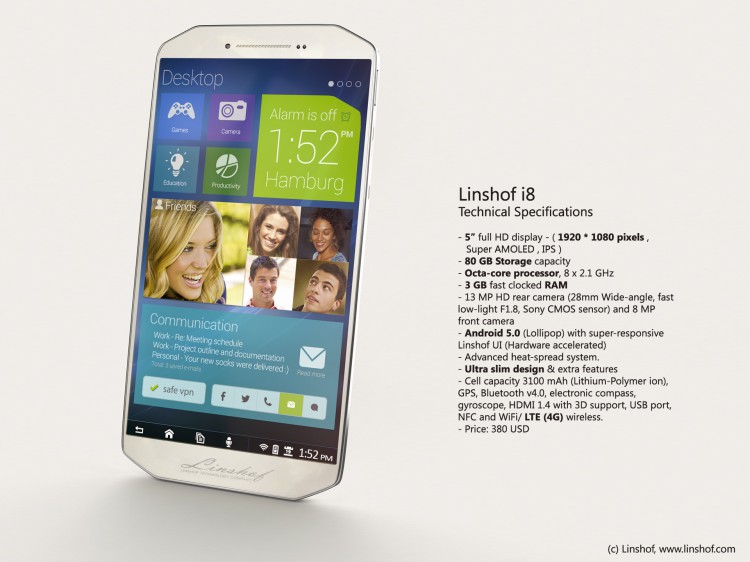 The smartphone Linshof i8 will run on Android 5.0 Lollipop, decorated with a proprietary user interface from Linshof. It resembles a cross between Windows Phone and interface TouchWiz, but is ready to surprise unusual arrangement of keys.
Linshof i8 to go on sale in the first quarter of 2015 at a price of $ 380. Very interesting proposal for such an unusual smartphone.
Read another very interesting article about alternative energy of the Sun, water and air.