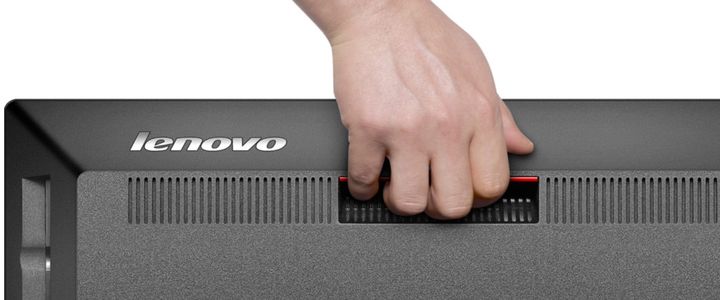 To the computer, which is designed for the workplace, there are very specific requirements. It should be compact, but it should not be closely work. It should be productive, but not expensive. And he, regardless of the price, must be reliable, functional, practical.
Hero of this review, monoblock Lenovo ThinkCentre S40, meets all these requirements. It is well suited for various business tasks and not worth the money space.
Appearance
Monoblock design resonates with other products Lenovo. In particular, with laptops. Corporate plastic, red insert, clean lines, rounded edges but – that is the basis of the corporate identity of this undoubtedly esteemed company. Diagonal LED-display is 21.5" permission – Full-HD (1920×1080 pixels). The screen itself leaves a good impression. Against this is not a sin and photos to process.
Web camera itself is, of LEDs present only activated icon. On the sloping ends of the connectors are different. So, on the left side is DVD-ROM drive (someone he still is needed), on the right – a pair of connectors USB, SD card slot and a jack for microphone and headphones. On the back side stashed two HDMI, 3 more (!) USB, and Ethernet, and a connector for power. Wi-Fi, of course, in a monoblock is.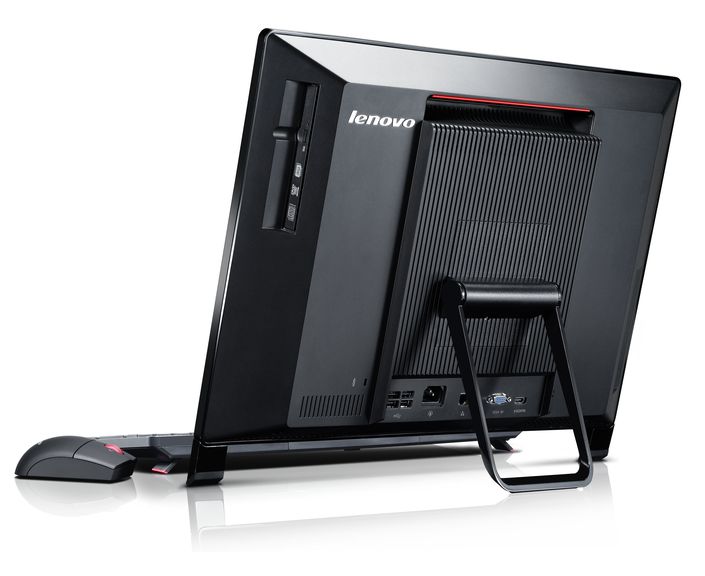 An interesting feature of Lenovo ThinkCentre S40 is also a fact that, stand for him to choose. This is convenient.
Our model is equipped with adjustable foot, like iMac. Included were a wired mouse and keyboard is wired. With so many USB connectors, of course, is not critical, but anyway somehow not modern.
Speakers are located at the bottom. By the way, built-in sound in a monoblock pretty decent buy more individual speakers if you do not have the most discerning ear, need not arise.
Options – Lenovo ThinkCentre S40
Together with our instance were wired mouse and keyboard, as well as the power supply (as well as virtually all other Windows-monoblock, it is not built-in). And, in general, except that they are wired, they put the blame nothing more. Keyboard polnozarazmernaya filled with all the necessary keys. In addition she is also equipped with such useful link button as a "conductor" or "search".
Performance
Processor is installed in the candy bar is not the best: Intel Core i3 4150 processor with a clock frequency of 3500 MHz. RAM – 4096 MB DDR3-1600MGts volume. Hard disk capacity of 500 GB. Running a computer running MS Windows 8.1 (64-bit).
Measurement of power monoblock most popular benchmark PCMark 7 gave us 2,960 points: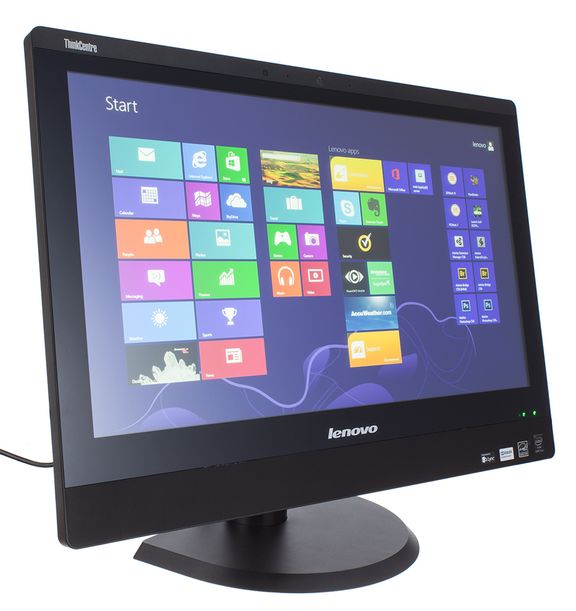 In good, this notebook level. Moreover, not the masthead. But here it is worth considering that the device is a budget (at least it was once), and if that's the sacrifice, then it is better performance. For most modern needs of these facilities will suffice. That it will make uncomfortable? Open at the same time dozens of "heavy" pictures in Photoshop, heaped play modern games, edit video … In general, all the things that most people at work (and sometimes at home) is not required. A few open tables in Microsoft Excel or watch a movie – it easily.
All of the above true only for our configuration. But it can be almost any.
If we talk about is not exactly office applications, but, for example, the popular online games (that which is already there, and in some offices are popular), here, for example, the popular World of Tanks on it goes. Moreover, no brakes, if we talk about the minimum graphics speed. If put everything to the maximum, to play, of course, is impossible.
Corporate software
Manufacturers rarely indulge in dump their computers various brand applications. Usually is not very. Lenovo in this regard – a happy exception. Their program something just very helpful.
For example, Power up will appeal to all those who have access to operational data may be required at any time. Access is performed regardless of whether or not the computer is enabled. The only condition – you need a device running Android.
Another program that can be very useful, is the center solutions Lenovo Solution Center. Configure the system backup – everything is quickly and easily solved through it.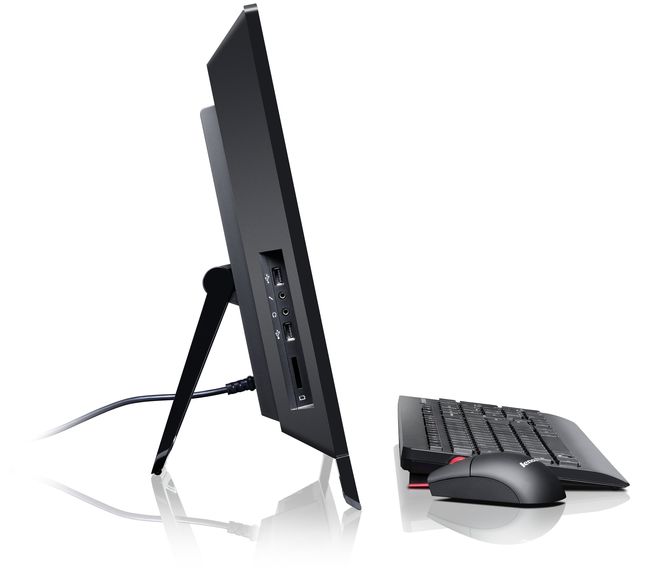 In addition, Lenovo offers its cloud storage Lenovo Cloud Storage with its own interface.
Results – Lenovo ThinkCentre S40
Lenovo ThinkCentre S40 pretty ordinary hard worker, with "ordinary" in a good way. Smooth in performance without obvious merits, without any significant deficiencies. Just a computer. What an average computer of 2015 year. Measure of age. You can take 15 such pieces in the office, or buy a home child "that went" well, just as a second home computer. Although, if modern games you do not play, or do you prefer the console, and as the main computer ThinkCentre S40 also amiss.
Read another very interesting article about alternative energy of the Sun, water and air.