If you do not have a network storage system (NAS), then you are depriving yourself of a couple of pleasant moments. First, it is the easiest way to back up data from a connected PC, secondly, NAS can broadcast any information stored there, on the other PC and audio devices in the network. You can also arrange to stream on your TV or home theater.
Network attached storage (NAS) allows to gain remote access to information from any device from anywhere you have Internet access. And it does not require imposing costs. However, one must keep in mind – if you are going to store the information that fail to recreate and can not afford to lose – it is better to make a backup.
Test samples
Dismantle the mid-range (up to 7 thousand rubles.) That can hold at least 1 TB of data, support remote access to the Internet and work with media servers that are certified iTunes and DLNA.
Consider the NAS four manufacturers – Buffalo Technology (LinkStation Live), LaCie (CloudBox), Seagate (Central) and Western Digital (My Book Live).
The configuration of these devices are quite similar – all 3.5-inch hard drive, 1-Gbps Ethernet and power adapter. They differ mostly for its software.
Buffalo LinkStation Live
Among the considered our NAS device is a 6 th. with the possibility of streaming offers the best feature set. Weak as it places – low speed data copying and slow user interface, besides not being intuitive to use and configure.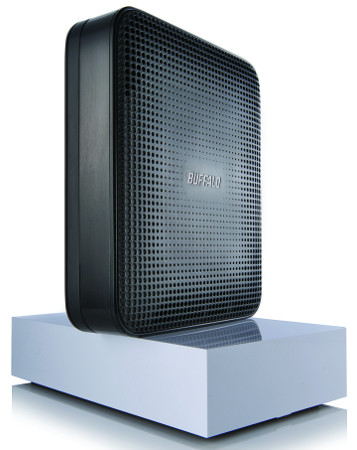 Buffalo's LinkStation Live – full of functionality
LinkStation Live 2 TB (model with 1 terabyte of disk costs a little more than 4 thousand rubles.) Allows you to create shared folders, user accounts, workgroups and domains, which provide access to the files by FTP or AFTP, supports multimedia servers (iTunes and DLNA).
There is also a BitTorrent to download torrent files and built-in service Eye-Fi, allows you to copy images from the camera to the NAS via Wi-Fi. It also supports integration with Flickr, a full-featured utility NovaBackup to backup from PC to NAS, the ability to perform backups on other devices and remote access via BuffaloNAS.com.
This unit occupies the second place in the test speed. When data is transferred 10GB (not included in the files and folders) write speed was 17.5 MB / s read speed – 29.9 MB / s. But a single large file of 10 GB showed the best results: 22.7 MB / s – write and 49.1 MB / s – for reading. Streaming NAS performs well, the video at 1080p with a rate of 40 MB / s is no problem.
It is considered one of our NAS, converting video on the fly for viewing in Windows Media Player via DLNA.
As for the installation and configuration, LinkStation Live showed the worst results. But this does not negate the advantages in terms of functionality.
LaCie CloudBox
The device of LaCie is a white rectangle, designed by Neil Poulton. Its not so easy to configure for remote access, but in 7 th. (Disk capacity – 2TB), it offers quite a good performance and functionality.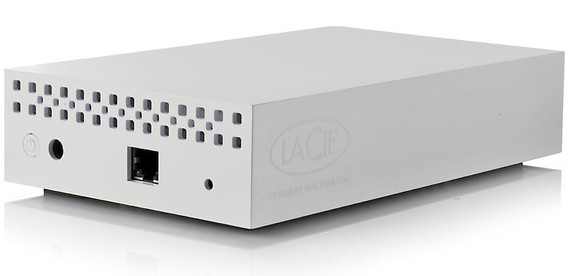 Lacie's CloudBox – the most beautiful in the NAS review
Powered NAS operating system Dashboard. In addition to features such as shared folders and user folders, working groups and FTP, you get the BitTorrent, and a full file manager (browser-). In addition to being offered various backup functions – in conjunction with the company's My Book Live Western Digital, with Genie Timeline for PC and Intego for Mac, plus to this – copying from device to device using Rsync.
In tests CloudBox proved himself well. Working with DLNA and ITunes is ideal, the device is easily coped with streaming video (40 MB / s) on three PCs at a time. The speed of reading and writing data array ClousBox takes first place: reading array of files and folders – 33.7 MB / s, Write – 16.5 MB / s. A single file is 10GB – 31.6 and 63.5 MB / s (read and write, respectively).
For remote access, LaCie offers a special application for iOS and Android (for Windows Phone 7/8 is not here yet). Applications are not as concise as Dashboard OS from Seagate, but they do their job. And the user will receive a free one-year subscription to Wuala – Online Storage Services.
If you add to the listed advantages of client BitTorrent, good design and excellent performance, the device looks quite attractive.
Seagate Central
This is the simplest NAS. To configure remote access you only need to go to the settings page and create an account by entering your desired username, email and password. The selected username will be the name of your network, and the mailbox – login for remote access.

Passive cooling makes Seagate's Central Silent
To access the settings page, you can use the built-in Dashboard or manually enter the desired URL. Remote access can be managed by SeagateMedia applications for iOS, Android and Kindle or using the site Tappin.
Due to the design having a thin perforated bottom and a lid without a special cooling device is a fan. With such a cooling system it runs smoothly, allowing you to place it near the product (if it retrodizayn NAS fit into the interior).
The device costs a little more than 5 thousand rubles. (2 TB) and is the only one presented in the review of the owner of the port USB, for which a Seagate developed a special interface. There is a special feature that allows you to save all photos to the device from your account Facebook. However, there is a drawback – you can easily make a backup of the data from the PC to the device, but that means backing up data from the NAS to another device Dashboard does not provide.
With tests Central coped well: streaming video (40 MB / s) on three PCs went without problems. This is the only NAS, sending a stream in Ogg Theora.
With the transfer of these problems have arisen. Thus, the write speed of the array of information (multiple files and folders) 10GB 16.9 MB / s and read – 20.1 MB / s. Recording a single large file of 10 GB equals 40.3 MB / s read – 75.2 MB / s.
Quiet and easy to set up Seagate Central is well suited for A / V-systems. But I would like to have added support to the Seagate Backup data from the device, BitTorrent and a bunch with a large number of social networks.
Western Digital My Book Live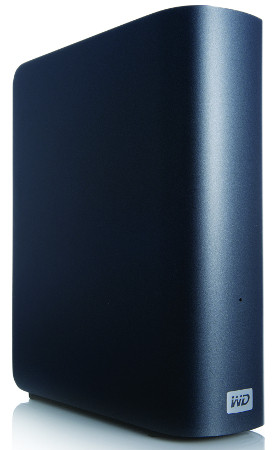 Like other NAS, device My Book Live is available on the network without additional configuration – just plug it in to the router, and all. Of useful properties have public shared folders and sub-folders, you can use to share photos, videos and music. There are convenient backup features (including work with TimeMachine Backup and proprietary WD – SmartWare). Secured and backed up the contents of the NAS via a special function, creating a "safe point of recovery."
My Book Live supports most video codecs (except for Ogg Theora). This is the only NAS of four case that converts FLAC format files for playback on a PC via iTunes.
The device has experienced some complications when reading an array of 10 GB (multiple files and folders) – reading speed was only 16.4 MB / s. But the same writing speed array has more than three previous NAS, – 26,9 Mb / s. Indicators for a single large file size of 10 GB: record – 32.4 MB / s read – 77.1 MB / s.
WD My Book Live has the best set of applications, having a version of its media player WD2go for iOS, Android and Windows Phone 7.
As a result
Thus, the device Seagate Central – absolutely silent, high-speed USB and availability make it an excellent choice for use with A / V-systems. But here it would look more modern. Buffalo LinkStation Live performs well as a tape drive, but folds up to speed and ease of customization. CloudBox from LaCie – solidly made product with useful features at an affordable price. However, it is Western Digital My Book Live has the best combination of price, performance, functionality, and ease of customization. All this and brings him first place in the survey.
Read another very interesting article about alternative energy of the Sun, water and air.