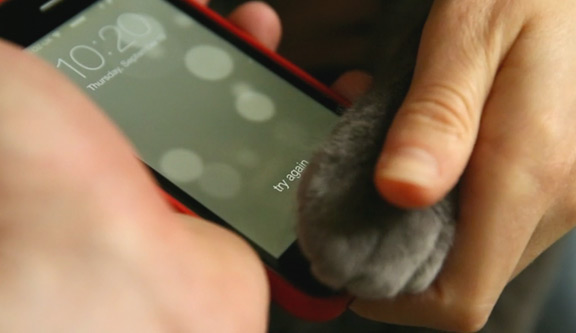 The fingerprint scanner smartphone iPhone 5s can read cats paw prints, reports TechCrunch. Despite the fact that the pet with paw was an increase number of failed attempts, resulting in the test successful.
The site TechCrunch published a video demonstrating the operation of the built fingerprint scanner iPhone 5s. Experts point out that in the case of the cat's paw of failed attempts is greater than when you scan a person's fingers.
It is also noted that the other three legs sensor is not triggered, because cats "fingerprints" differ as humans. "So if you think that your pet need access to your accounts, quietly enroll them in one of the five profiles Touch ID», – writes TechCrunch.
Previously, Apple reported that the main drawback of iPhone 5s fingerprint sensor is its resistance to wet your fingers and toes with skin lesions on a cushion.
During the tests, the smartphone revealed that the sensor may not detect the prints if the fingers are covered in sweat, lotion or any other liquid. Furthermore, some people with skin lesions on the fingertips problems also arise. However, the smartphone can store data on the thumb of the other hand, as a last resort – any other finger.
Read another very interesting article about alternative energy of the Sun, water and air.