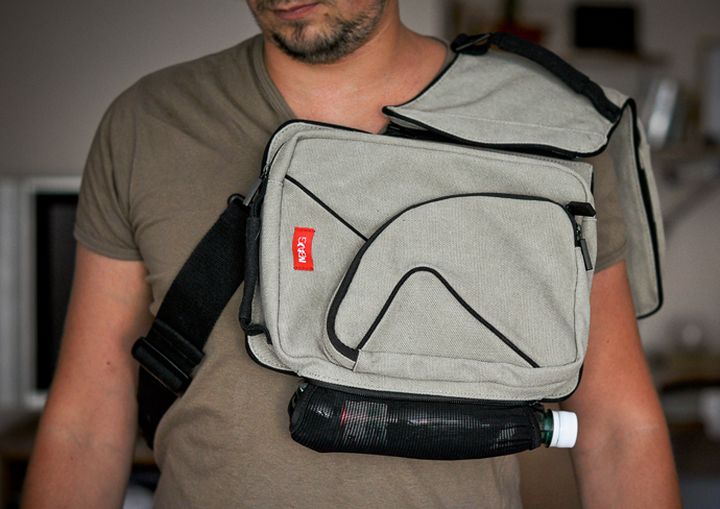 Traditional backpack or briefcase – it is very comfortable and familiar. But, unfortunately, these bags are very and need to have them all to close the existing needs. And you want everything to be easier to bag had one and could change depending on the context in which it is the owner.
The idea of the bag has been designed and brought to life by David. As a person who prefer an active lifestyle, Korovin tried to make a bag that would satisfy the needs of tourists, bikers, and many others.
On the test we came to the second generation of bags MIXBAG, supplemented and revised based on comments received by the company after the commencement of sales of bags.
Approximately bag offers brand MIXBAG
MIXBAG features a very deep attention to detail. It catches the eye immediately, as soon as you see the box. Bag-transformer comes in a box-transformer is composed of two parts and intricate folding. In the box besides the bags still find and carefully packed shoulder strap.
Cardboard box – it is a trifle, and she even some strain, but I think this is important – to feel that your purchase is important for the producer that it does not lay on some stock and it did not go kicking and God knows what . I have worked in the field of trading in equipment and know how it usually happens.
Bags come in three different sizes: 30h19,8h5,5 see 32,5h23h5,5 and see. If simplified, the first for carrying notebooks with up to 11.6 cm, the second – to 13.3 cm. 10.6 is perfect for tablets, netbooks and compact DSLRs.
MIXBAG bags made of cotton. Inside sheathed nylon manufactured from synthetic and all internal elements.
It is assumed a set of different scenarios. There are two basic form factor: the whole bag – two connected parts of the bag and, looking about as borsetka. In addition to the aforesaid form factors there are also dozens of options on how it can be worn. They can be seen in the diagram. However, it all depends on your curiosity and it is possible that you have come up with some way. By default, the same basic is wearing over his shoulder.
The idea of connecting two bags initially scared me, because it was feared that I would get a whole bag instead of one half of the two bags, and this will backfire. But connects all very sensible – with the help of lightning and nine special magnets, which are placed on the inner surface of both sides, so as a result we get a single unit.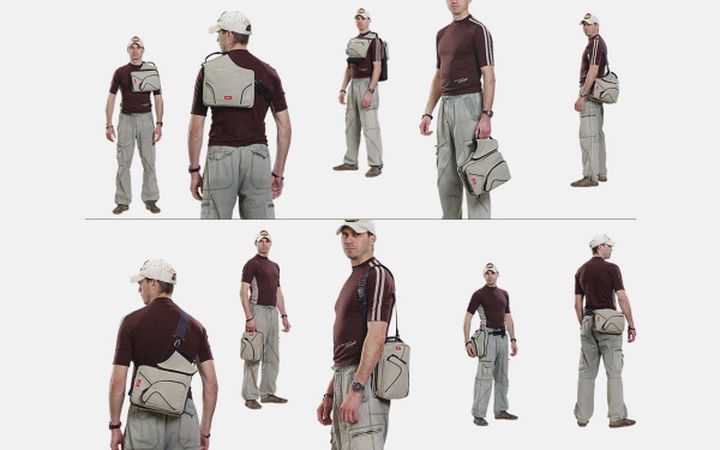 Lightning is used very dense. And it looks quite robust. On the connecting inset sewn layer of neoprene. This is a very good solution, thanks to which the bag tightly sits on his shoulder and will not slide off.
In previous versions it was necessary to insert paste yourself: tab, and special glue were included. But it's strange. Not all are able to do it accurately. But the new bag glue stain can all.
Complete with shoulder strap bag is, it clings to the special rings sewn on the inner surface of each of the parts. All three rings on each side – it allows you to carry the bag both horizontally and vertically.
Metal rings, circular cross-section. It is known that in the previous generation bags were rings with rectangular cross-section, i.e. flat and made of plastic, which caused a lot of complaints. Now everything is different.
No claims to own belt. It is wide, is equipped with a massive plastic latch that allows you to wear half MIXBAG as a waist bag or fix the bag on his shoulder. Soundly look and carbines – they are plastic, but the dog is made of metal.
Carbines cling to the rings are quite comfortable, does not cause the slightest difficulty. Strap length of about 90 centimeters – it allows you to carry the bag comfortably on your shoulder. If the belt is longer, you can adjust the user's height.
On the part of the bag, which can be used on their own, there is a special carrying handle. It is located directly above. In the second part of the bag, there is another pen – she put to the connecting valve and seems a little off-center. But when using the bag handle assembly is strictly in the middle between the parts.
Filling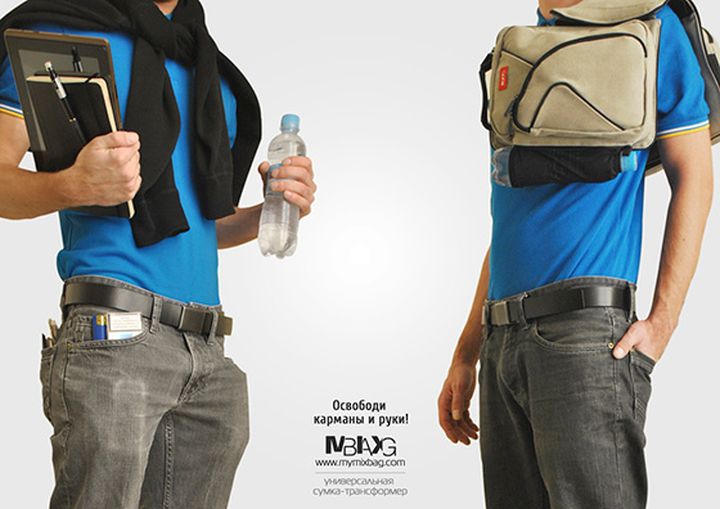 Each of the bag has its own functionality, and they complement each other. In view of this the second part of the design features of the first to use without complicated. First there may be absolutely alone, we have already said, and should be completely functional. The main element here – external pocket organizer.
Inside organizer carabiner for keys and there (you will laugh) pocket-transformer. In fact, this jumper with Velcro, allowing depending on the situation, or to obtain a large pocket and a tiny compartment for pens, or two medium-sized pocket.
The main compartment includes a great feature set. There is one large compartment with several small pockets for small items. One compartment is less, and one very compact zipper – the so-called hidden pocket where well hide important.
Overall, this place enough to accommodate documents, wallet, laptop or tablet, external battery, a few pens and Multitools. As part of the test in the large compartment I climbed two smartphone cases and iPad Air 2 in the bag.
On the outside of the bag, there is another lightning – is a dummy pocket, which is hidden mesh bag for a water bottle. This is a very nice solution, usually this grid is rapidly losing the look and drags and the whole bag. The possibility of its hide is very practical.
The second part of the bag – extra. It can significantly increase available capacity.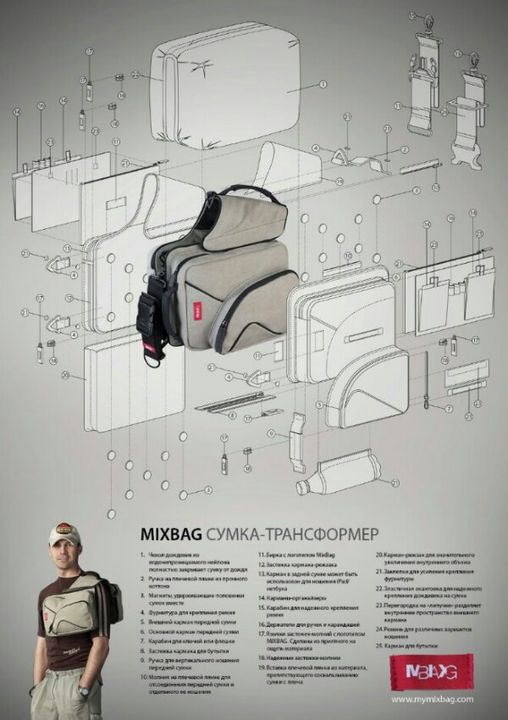 There is another exterior pocket. It contains the "germanium" – sealed bag raincoat that helps protect bag and contents in the rain.
Inside two large compartments, pockets for small items and accessories and another hidden zippered pocket. The peculiarity of the second branch in the presence of a special valve located under the zipper at the bottom of the bag. This additional amount, in the form of the haversack, which opens out and increases the displacement bag three times. Nuance that the bag is made of a dense material formed in the basic design of the bag, including the inserts with a cotton fabric.
This allows the bag to look harmonious in the unfolded state and create a cohesive visual impression. The downside is that when folded it all kept inside the bag and its volume reduces the available space.
A cool feature of the collapsible haversack available side zipper. This element is clearly moved from trekking backpacks, which always leaves room to get to the content not only from above but from below, not pulling out of the bag things, lying on top. And here it is not a forethought – heavy things always are put down, but they may need.
Noting the existence of another ring on the haversack, which will allow more tightly secure the bag on the road, and leather inserts in the bottom of the bag, which is much more practical than cotton – you can simply wipe if it is stained. And at the same time and additional strength.
Experience in using and conclusions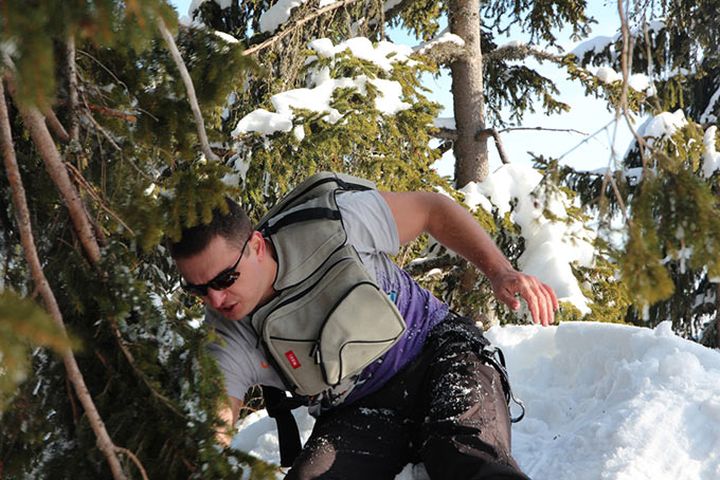 During testing, I took along a part of the bag and went with it in his hands. This is a convenient format that allows you to place the wallet, documents, keys and money. In my case, a couple of smartphones, tablets and external battery. By the way, MIXBAG book offers a battery as an option when buying a bag. The battery can be placed in a separate compartment, firing just outside the cord.
Bag assembly may be worn in the hands, but also as a main involves wearing shoulder or through the shoulder. This is convenient when traveling by bicycle or motorbike. Own ideology MIXBAG Alexey Korovin just a biker. Now in Moscow on these modes of transport are not particularly train, but on the whole bag sits well. Plays a role and neoprene insert, we spoke about.
Using bags with open additional volume is very convenient. I can bring a lot of all unnecessary. But to carry the bag in such a case it is necessary only over his shoulder. In other cases, it seems a little unbalanced.
Well, another important point – practicality. In the dirt, spray and other road joy that is present in our 9 months of the year, the bag very quickly spoiled. Wipe it by getting rid of specific spots, very difficult. You can wash. But it is much more troublesome task. Or always be "herm", but it is not very convenient.
In fact, this particular all. MIXBAG – great bag, the work on which a lot of thought about which responses were collected and used in the production of the second generation. For lovers of active leisure – perfect. For everyone else – a cool accessory that will look like a tough guy. It's not too little.
Source: Mymixbag
Read another very interesting article about alternative energy of the Sun, water and air.